MUSIC
Nearly 140 musicians have joined a campaign in support of Planned Parenthood.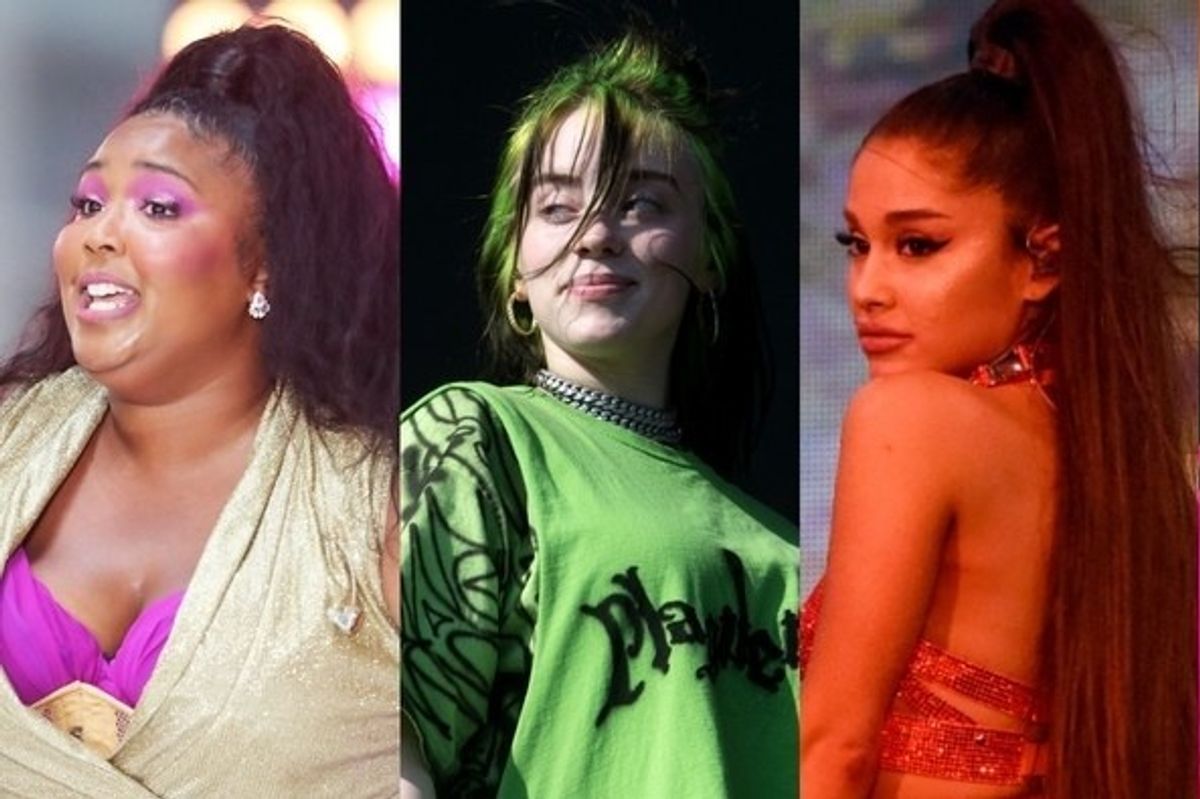 Some of pop's brightest stars have come together in support of a new Planned Parenthood initiative called "Bans Off My Body."
Nearly 140 musicians have pledged to support the reproductive rights organization, including Kacey Musgraves, Nicki Minaj, John Legend, Haley Kiyoko, Miley Cyrus, Bon Iver, and Nine Inch Nails. Other luminaries on the list include The 1975, Carole King, Mitski, Maggie Rogers, Megan Thee Stallion, Kim Gordon, Halsey, Princess Nokia, Vic Mensa, Troye Sivan, and many more.
Some of these artists have spoken out about reproductive justice before, such as the 1975's Matty Healy, who delivered a tirade about the topic at a concert in May. "The reason I'm so angry is because I don't believe [the abortion ban] is about the preservation of life, I believe it's about the controlling of women," he said.
Matty's speech about performing in Alabama and the abortion ban @the1975 thank you https://t.co/fxiREQin9C

— anna (@anna) 1558140253.0
Bon Iver also has an organization called 2ABillion, which supports gender equality (we love a feminist dude). And of course, Halsey, Lady Gaga, Lizzo, and many of these artists have made significant contributions to feminism in their own ways, speaking out about assault, body positivity, and more. Ariana Grande donated $250,000 in proceeds from a June show to Planned Parenthood, and hopefully, more artists will follow suit.
Noticeably absent from the list is Taylor Swift, whose newly liberal persona and love of LGBTQ+ rights wasn't enough to get her to join the list. (To be fair, lots of other famous artists didn't appear, like Lana Del Rey and Cardi B, both of whom have become notoriously political). Still, in the case of something this urgent, silence is its own kind of statement.
Following the announcement of the "Band Together, Bans Off" initiative, some of the featured artists took to social media to raise awareness about the message.

US Friends: 25 MILLION. That's how many women live in a state where abortion could be outlawed if Roe is overturned… https://t.co/d5nip5yqr6

— DUA LIPA (@DUA LIPA) 1566666811.0
billie on the abortian bans in the US sign the #BansOffMyBody petition yourself here: https://t.co/750mjtvFDb… https://t.co/cKSSa0Hl7U

— billie eilish update account (@billie eilish update account) 1566848650.0
Billie Eilish—whose newest album just became this year's most streamed on Spotify—said, "I'm proud to be standing up for Planned Parenthood as they fight for fair and equal access to reproductive rights. We cannot live freely and more fully in the world when our basic right to access the reproductive health care we need is under attack. Every person deserves the right to control their body, their life, and their future."
Today, over 130 musicians and artists are standing with Planned Parenthood. Who's with us? Sign the petition: tex… https://t.co/C9UrKB7NDK

— nine inch nails (@nine inch nails) 1566851464.0
According to Planned Parenthood's website, "Musicians across the country are standing in solidarity with Planned Parenthood….they're saying access to sexual and reproductive health care is about the same type of freedom that allows them to create music and speak their truth—because no one is free unless they control their own body." It seems that, no matter what kind of music or art these musicians create, reproductive justice is something that they all can agree on.
Why is reproductive freedom such a popular consensus among musicians? It might have something to do with the act of creating art itself. "Music is storytelling," said Alexis McGill Johnson, Planned Parenthood's acting president/CEO. "If you go back to the origins of movements for equality and freedom, and the very rights that control our bodies, it starts with telling stories about your own experience and then defying people [who] judge you."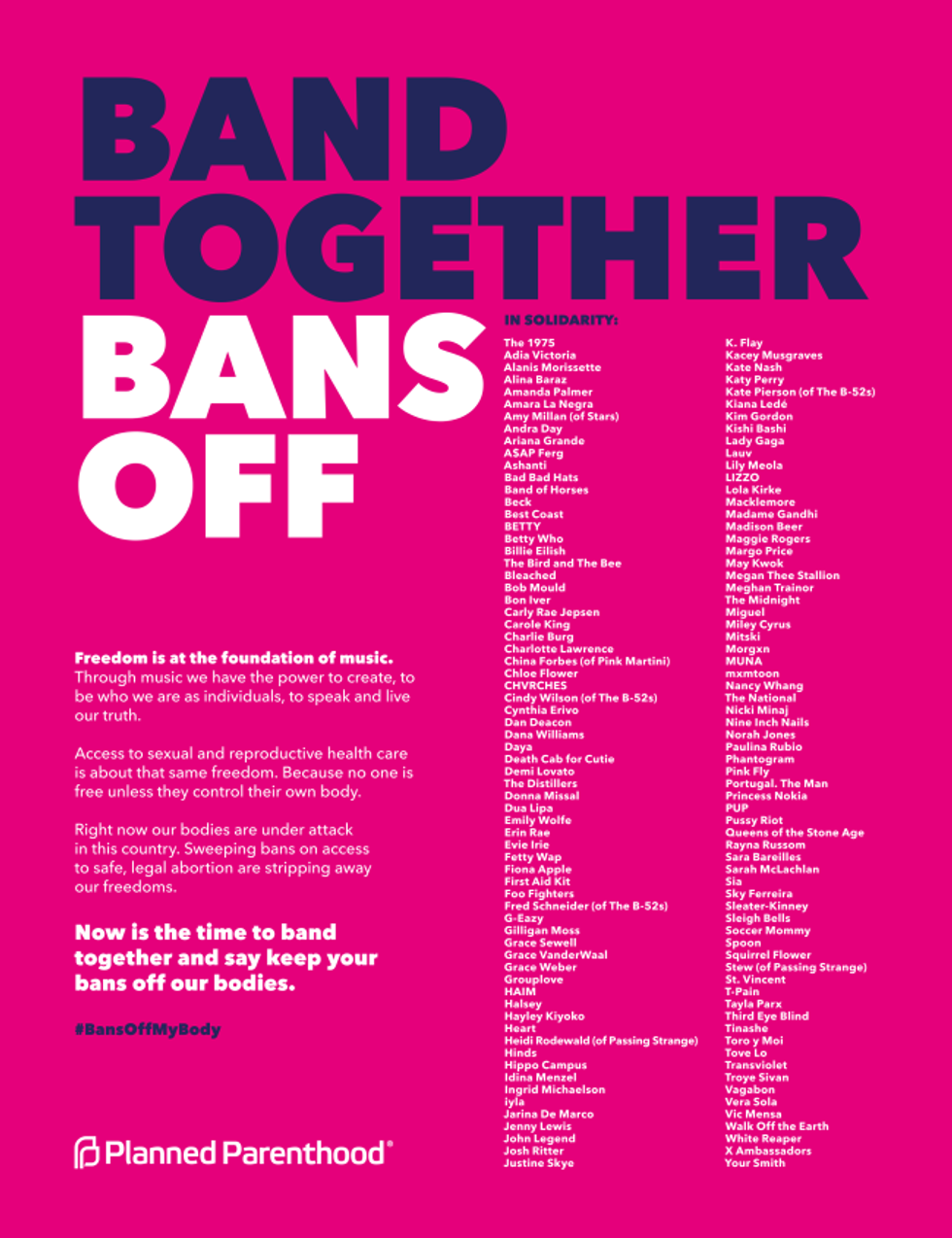 billboard.com
Planned Parenthood's new campaign is intended to raise awareness and spread information about their mission. They hope to garner 500,000 signatures on their online petition by January 20, 2020, which is the 47th anniversary of Roe v. Wade, the landmark decision that cemented a woman's right to choose in American legislature.

The campaign comes at a critical time, due to harsh new policies in states like Alabama, Arkansas, and Georgia. Right now, the ACLU is currently fighting Missouri's Unborn Act, which would prohibit abortion after the detection of a fetal heartbeat, even in cases of rape and incest. Just this week, Planned Parenthood announced its decision to abscond from Title X, meaning it will no longer be receiving federal funding. Previously, the organization was given about $60 million per year in federal funding, which enabled them to perform 1.5 million abortions for low-income people in need of reproductive care.
Of course, this campaign has garnered outrage from Catholic and conservative publications. While it is fair to say that not all women who undergo abortions want to get them, the truth is that 1 in 3 women will have an abortion in their lifetimes—meaning that you probably know many people who have had one. If these strict and drastic laws continue to gain traction, more people will be forced to undergo dangerous, covert abortions when they could have received safe, free care.
Sign the Planned Parenthood petition here.