MUSIC
PREMIERE | Ryan Hamilton and the Harlequin Ghosts with "Bottom's Up"
The group gives a new vibe to an old hit and follows it up with an original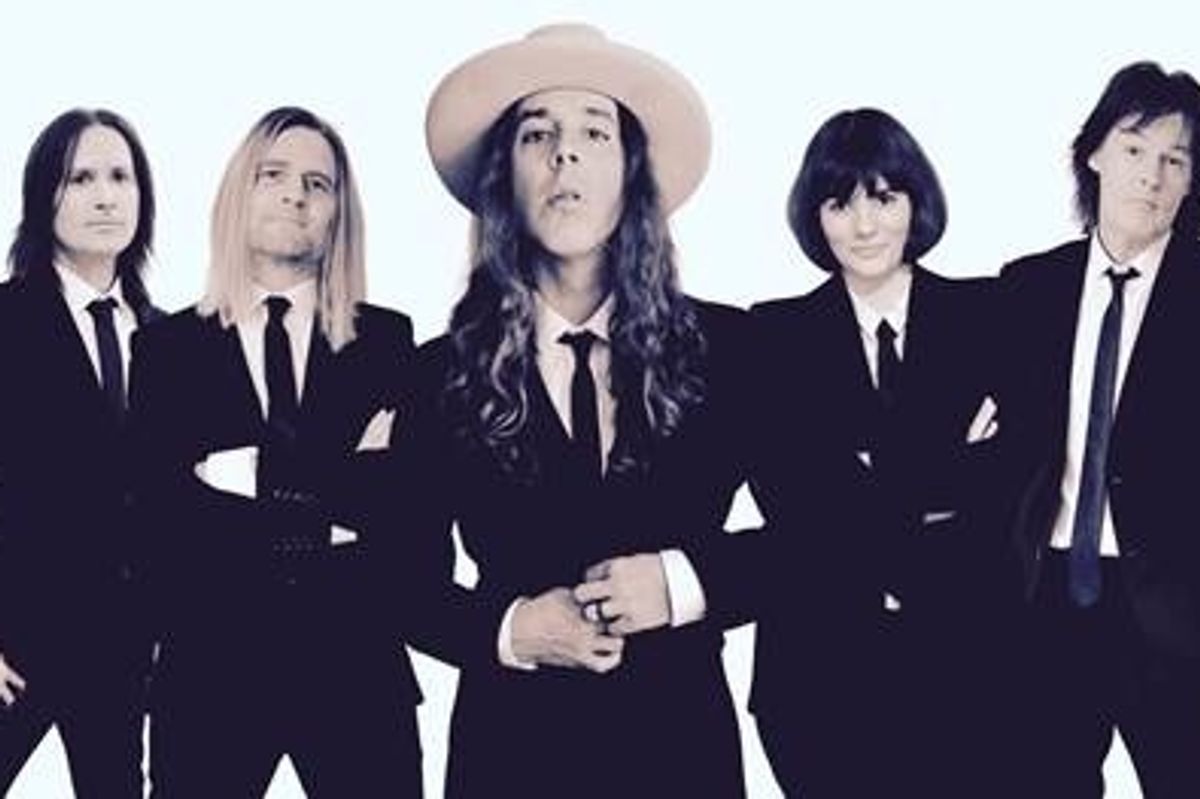 Courtesy of Press Here
"There's something special about this song that gets me extra excited."
Although the name of Ryan Hamilton's band has changed over the years, their ability to know what makes a good song has not. An American among Brits in his band, Hamilton has not been afraid to shy away from the U.S. past when seeking out inspiration for their music, especially with their new material. He has also spent years bouncing around the music scene in bands such as People On Vacation and Smile Smile, giving him a resume worthy of producing a hit (or at least re-working one).
We have the exclusive premiere of the video for their latest single, "Bottom's Up" followed by an interview with Ryan Hamilton about everything that went into the recording plus what is coming up for them next.
Hear the new single "Bottom's Up" below!
How did you become interested in music and start recording together as a group?
I went and recorded my first solo album (Hell of a Day) with studio/session guys. It turned out really great and got an incredible reception. I don't think I was quite prepared for how well that album was going to do. After the response, I decided to try and put together a tour, and take the show on the road. Mickey (drums) and Rob (bass) were in my previous band (People On Vacation) and the 3 of us developed a really great connection as bandmates and friends.
So, they were the first people I called. It's been non-stop since that first tour. Though I recorded that first album on my own, everything we've done since then has been together. I write the songs, then they come in and do their thing (they are an amazing rhythm section), and it just works. They're old-school UK rockers. So, on paper, it shouldn't work, considering I'm from Texas and grew up on The Beatles and Country Music... and they're obsessed with 80s Hair Metal.
How might you describe your sound? What artists have inspired your music the most?

I'm not sure how I would describe it. It's just rock n roll. With some Pop. I think it's silly when bands go out of their way to describe their music as something obscure. Seemingly trying to invent a genre. The artists that have inspired me the most are Bob Dylan, Tom Petty, The Beatles, The Rolling Stones... and I better throw John Mellencamp in there. His album Scarecrow feels like the soundtrack to my entire childhood.
The band has taken on different names and formations over the years before reaching your current state. What have you learned from this evolution?
I've learned that it's REALLY frustrating to find a name that 1) isn't taken ... and 2) everyone agrees on. But I love our new/current name. I hope it sticks. I hope we get to doing everything we're currently doing... just as we're doing it now.
Tell us a little bit about your new song, "Bottom's Up".

I'm super proud of this song. It's a fun rock n roll song, with a fun sound/vibe. But over the top of some pretty serious subject matter. Alcoholism... and how to escape a bad relationship. Something about this song. You always hope a song is going to be a "hit" ... and it rarely actually happens. But there's something special about this song that gets me extra excited. Fingers crossed.
This is an original track, whereas one of your most recent buzz-worthy songs was a cover. How does the recording process differ for both for the band?
Yeah, this Paula Abdul cover is going CRAZY in the UK! Who knew. The recording process is the same. I'm a big believer in, "If it ain't broke...". So we recorded both songs the same. With the same producer (Dave Draper. He's amazing) and the same guys/girl. Just as we've been doing for a couple of years now.
Now that you are signed to Wicked Cool Records, can we expect to hear a full-length release in the future?

Yeah you can! Just finishing it now. 12 songs. Hoping for a release early/middle of next year. I think they're the best songs, and this is the best album, I've ever written/recorded.
What is coming up next for you?
We are currently on the road in the UK. So, we'll do this tour and all the coinciding press etc... Bottoms Up will officially drop the last day of tour here. Then back home, where I will finish the new full-length album. Then back to the UK, to support The Alarm! Then a break for the Holidays. After that it's gonna be all about the new album, and touring in support of it. We've got some great opportunities to support bigger bands in the UK and the US. Couldn't be more excited about the future. The last few years seem to be happening in fast forward... and next year is shaping up to be our busiest, biggest year yet.
---
Follow Ryan Hamilton and the Harlequin Ghosts on Facebook | Twitter | Instagram
Rachel A.G. Gilman is a writer, a former radio producer, and probably the girl wearing the Kinks shirt. She is the creator of The Rational Creature and suggests you check it out. Also, visit her website for more.