FILM
Lin Manuel Miranda's smash hit Broadway musical is coming to the big screen.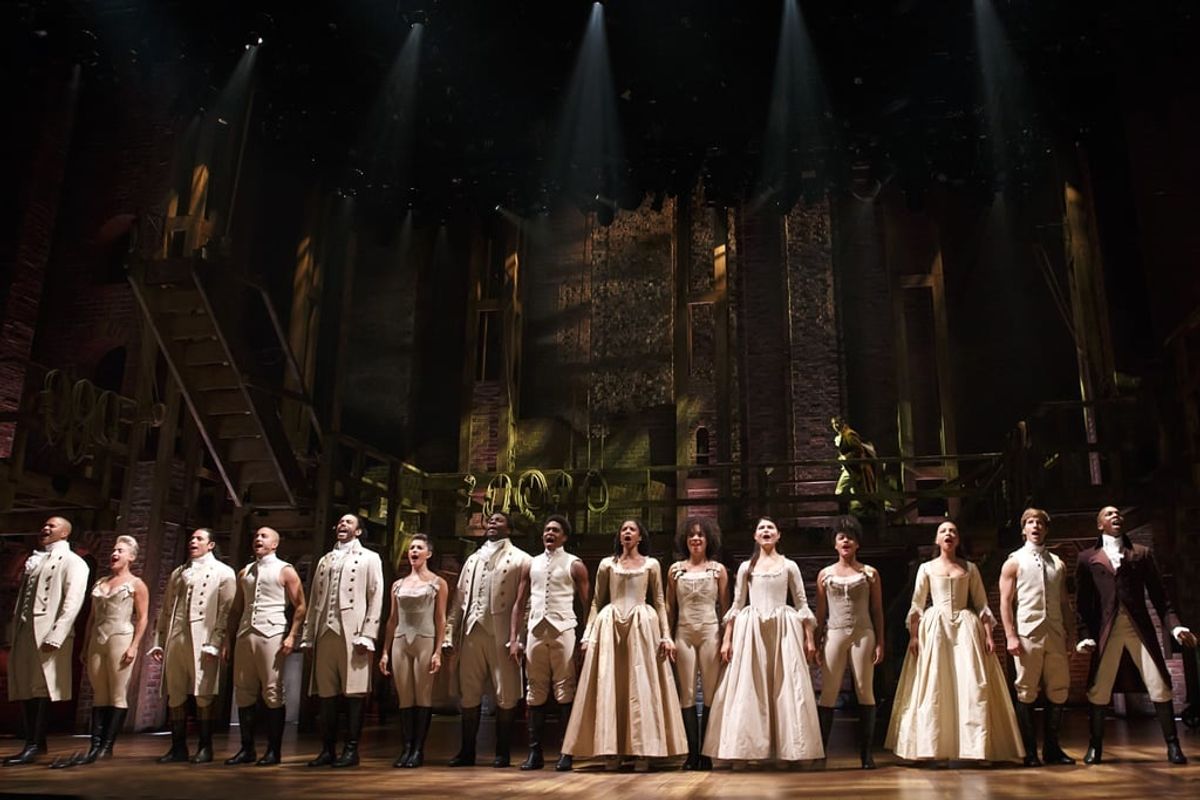 "Hamilton" is officially coming to theaters. For the price of a movie ticket, fans will be able to experience Lin Manuel Miranda's smash hit musical for themselves.

The movie will be a live recording of the original Broadway cast, so fans will be able to see Lin-Manuel Miranda gallivanting around the stage as Alexander Hamilton, along with Leslie Odom, Jr. as Aaron Burr, Renee Elise Goldsberry as Angelica Schuyler, Jonathan Groff as King George III, and many more. The musical will be hitting theaters on October 15, 2021.
The Broadway musical became a smash hit partly thanks to its ability to mix American patriotism with progressivism, as well as its radically diverse cast and its innovative fusion of hip hop and musical theatre styles.
But the show—which is really about scrappy young working-class people fighting for their American dream—was never exactly accessible to the people it aimed to represent. Hamilton tickets went for hundreds to thousands of dollars and was only available to New Yorkers and visitors with the ability to go to the theatre.
To stay true to the show's mission and message, Miranda and the Hamilton cast made sure that the show focused on philanthropy. When Philippa Soo, who plays Hamilton's wife, discovered that the orphanage Eliza began in Hamilton's honor still existed, she created an organization called "The Eliza Project" to raise money and offer support for the Bronx-based Graham Windham facility.
Hamilton dance captain Morgan Marcell has also done his part, helping to start The Eliza Project and launching "Share Your Stories," a pen-pal program that connects cast members and kids at the orphanage.

The show also hosts a series of matinees for 11th graders in public school, which go for $10 a ticket. "I can only imagine what the show would have meant to me as a 16 or 17 year old," said Leslie Odom, Jr. of the project. "I know what Rent meant to me in my life, how that show changed the course of my life, and we can only hope that Hamilton will have the same effect on a few kids. We get so much doing this glorious material, and we get so much from our audiences, and so when you're in a moment like that, you feel the responsibility very acutely to pay it forward."
Now, Hamilton will be lending its revolutionary sentiments to the big screen. "Lin-Manuel Miranda created an unforgettable theater experience and a true cultural phenomenon, and it was for good reason that 'Hamilton' was hailed as an astonishing work of art," Disney CEO and chairman Bob Iger told Variety. "All who saw it with the original cast will never forget that singular experience. And we're thrilled to have the opportunity to share this same Broadway experience with millions of people around the world."
Certainly, Hamilton is a life-changing show. But will it be as effective as a film?
While movies can be impactful, there's nothing like the magic of live theatre. Still, as a movie, the show will be reaching far more people than it could've on the Broadway stage. Hamilton's spirit of populist energy, activism, and political fervor is something we could all use right now at the start of election season.
The show also makes a powerful statement about immigrants and how they shaped America. "I just recognised that guy," said Miranda, describing his connection to Alexander Hamilton. "When you see Hamilton as an immigrant story, it becomes universal to me because I grew up in a largely immigrant neighbourhood in New York and we just knew the deal was: we have to work three times as hard. I don't remember a time when my parents had less than three jobs each. That is just the immigrant story and in Hamilton's case, he ends up shaping the nation. He gains the trust of George Washington and he ends up shaping our financial system, inventing the coast guard, creating the New York Post and a million other things."
Hamilton the Musical hasn't been without criticism, especially among those who criticize the show for exploring white history and emphasizing a "bootstraps" immigrant narrative, which blames any immigrants' failures on their lack of hard work rather than systemic forces of oppression. "The assertions here, that Hamilton worked harder and was smarter, true or not, imply that other immigrants who have not experienced success in their new nation are somehow at fault. They either do not work hard enough or, simply, are not smart enough. Such logic neglects and obscures the material obstacles and violences (structural racism, predatory capitalism, long-burned bridges to citizenship) imposed on racialized immigrants within the United States in order to celebrate the (false) promise of the American dream and the nation-state," writes James McMaster for Howlround.
All that said, Hamilton is still a powerful tale that strikes more than a few meaningful chords. Now audiences across the country can decide what they think of the ten-dollar founding father and his musical origin story.