In a dystopian American future, a man who has lost everything and been shamed and brutalized beyond recognition is revived by a mega-corporation and brought back into society as both a hero of the people and a tool of fascism. Welcome to Dancing With the Stars starring Sean Spicer.
As disgraced ex-U.S. press secretary Sean Spicer glorbled his way around the dance floor to "Spice Up Your Life" by Spice Girls, the very fabric of reality collapsed around my computer screen. "Glorbled" isn't even a real word, but there's no other way to capture the alienness of witnessing Sean Spicer gleefully smacking bongos in a frilly, lime green top and dumpy, ill-fitting slacks. This is a man who used his official position as the White House mouthpiece to knowingly lie to the American public, and now that he's left the government in disgrace, we're watching him crotch slide. Excuse my language, but what the f*ck is wrong with us?
Sean Spicer's Salsa – Dancing with the Stars www.youtube.com
Then it dawned on me. This premise is ripped straight from RoboCop, Paul Verhoeven's enduring 1987 cyberpunk-satire that warned against capitalism run amuck.

RoboCop takes place in a dystopian-future Detroit on the brink of collapse until a mega-corporation called Omni Consumer Products (OCP) steps in to save the day. OCP turns the once-downtrodden city into a bustling, high-end utopia and also takes control of the police force. So when Alex Murphy, one of the best officers on the force, gets brutally murdered in the line of duty, OCP uses his corpse as the test subject for an experimental cyborg program, reanimating him as RoboCop.
RoboCop quickly becomes a hero to the public, operating on three Prime Directives: Serve the public trust, protect the innocent, and uphold the law. But there's a secret fourth directive RoboCop doesn't know about: "Any attempt to arrest a senior officer of OCP results in shutdown." In short, RoboCop is designed to be a tool of corporate fascism, capable of reinforcing the ruling party's will while never turning against his creators, no matter what they do.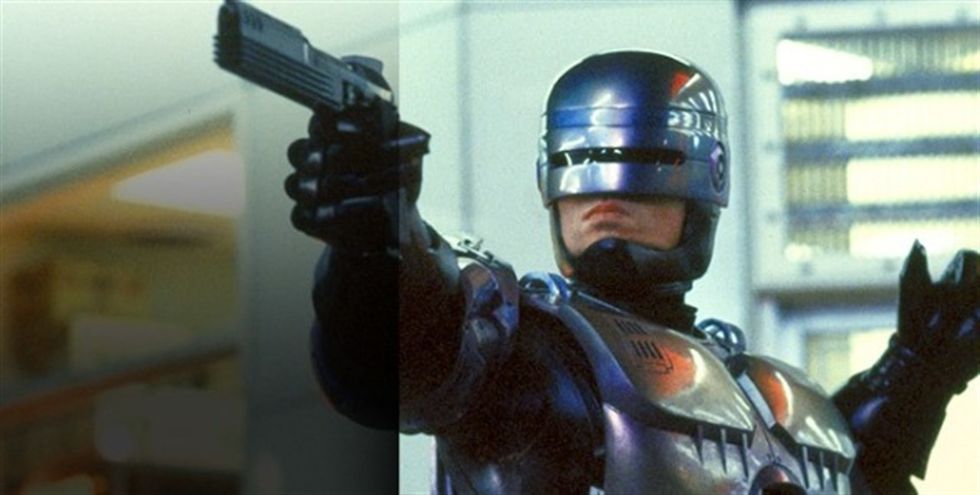 Orion Pictures
Verhoeven's entire point in RoboCop is that corporations only care about social goodness to the extent of their ability to profit off it. ABC seems to be doing everything in their power to prove him right, and what better way to do that than by stealing RoboCop's character arc for Sean Spicer?

Like RoboCop, Sean Spicer is a man who has been brutalized by society. There are some differences, of course––Alex Murphy was very good at his job, while Sean Spicer was a total nincompoop––but for all intents and purposes, Sean Spicer's public image is battered and bloody, just like Alex Murphy's corpse after being torn apart by shotgun blasts.
Luckily for Spicer, ABC can rebuild him. They have the technology and, more importantly, a primetime TV slot. So just as OCP outfits Murphy's corpse with android technology and sends him out to patrol, ABC outfits Spicer in silly costumes and sends him out to dance. They hope that, in the same way the dystopian Detroit public came to love RoboCop, so, too, will the dystopian American public––most of whom ABC hopes have been lobotomized by the 24-hour news cycle––come to love goofy dancing Sean Spicer.
One would hope people could see through the charade and crush ABC's attempts to normalize a guy who literally defended Hitler. But I'm not so confident we can do that.