Popdust Presents
Popdust Presents | Stela Cole Will Absolutely Blow Your Mind
Cole's Debut EP, Throwing Up Butterflies, Mixes the Very Best of Hip-Hop, Pop & Doo-Wop Into a Delicious Blend
Cole is here to rearrange the status quo.
August 17, 2018 | Stela Cole is an intergalactic warrior. One listen through her debut EP, Throwing Up Butterflies, will tell you that much. She's equal parts sunshine and gum-drops but isn't afraid to take a few hostages if need be. Anchoring single "You FO" splices together doo-wop style with the kind of high-powered hip-hop that bites hard and leaves you breathless. The opening track is quite the high-flying displaying, almost delightfully acrobatic in nature, as if to backdrop a Cirque de Soleil routine, complete with extravagance and feather boas.
---
During a stop into the Popdust office, Cole pulled out her guitar for two essential cuts and chatted with host Deascent about her childhood in Atlanta, how she came to pursue a musical career and the backstory and intent of her new tunes.
A Nashville transplant, by way of Peachtree, Georgia, a rural, self-proclaimed "golf cart community," as Cole puts it, the 20-year-old is as explosive in acoustic settings as she is on record. Where "You FO" rides the blurred lines of various genres, the EP's title song comfortably inhabits a more straightforward hip-hop grind, containing a slickly-produced and ethereal hook. "In My Pocket," the set's closer, bubbles and ticks with electronic blips and burps like a vintage Nintendo original.
Watch "You FO" | Live & Acoustic
If Throwing Up Butterflies is indicative of what lay ahead, Cole is going to completely upended the music scene. The playful venom of "You FO," which has raked in nearly 300,000 streams on Spotify alone, hits a sweet spot between larger-than-life cinema and deeply-rooted pain. Cole's vocal is icy, and she's not about to back down from expressing her hurt. But she channels those chest pains into a song both cerebral and intensely bombastic. "I've been thinking, why don't you FO," she hisses.

"Lucky Day," which is a bit smokier in tone, slugging along at a more vulnerable pace, highlights a more restrained sensibility. The hip-hop chew is still ripe and earnest, but Cole's nearly whisper-like cadence is wistful, perfectly-cooked and quite addictive. As you'll witness below, it rises quite tall with just an acoustic guitar, too, which is in large part to her impressive song-craft.
Watch "Lucky Day" | Live & Acoustic
Growing up, Cole's father made a concerted effort to expose her to as much music as possible, from Led Zeppelin to Run DMC. But on her own, she naturally gravitated to the music of The Chordettes, The Mamas & the Papas, The Beach Boys, and even Elvis Presley, instilling within her a cool, breezy, and commanding understanding of how to construct and deliver melodies and grooves. "There is something so...charming about the simplicity in those songs," she told us in our exclusive sit down.
"I also grew up as an athlete. That's kind of what I did my whole life," she continues, "I also love hip-hop. It was something I grew up listening to. Before every practice and every game, it was what my teammates and I grew up listening to together." Music later became a passion project for her when she was 16 or 17, and through drawing up on such an eclectic musical past, the irresistible blend of hip-hop and doo-wop only made sense in her own work.
Throwing Up Butterflies is not only an impressive start to Cole's career but stands as one of 2018's best EPs across all genres.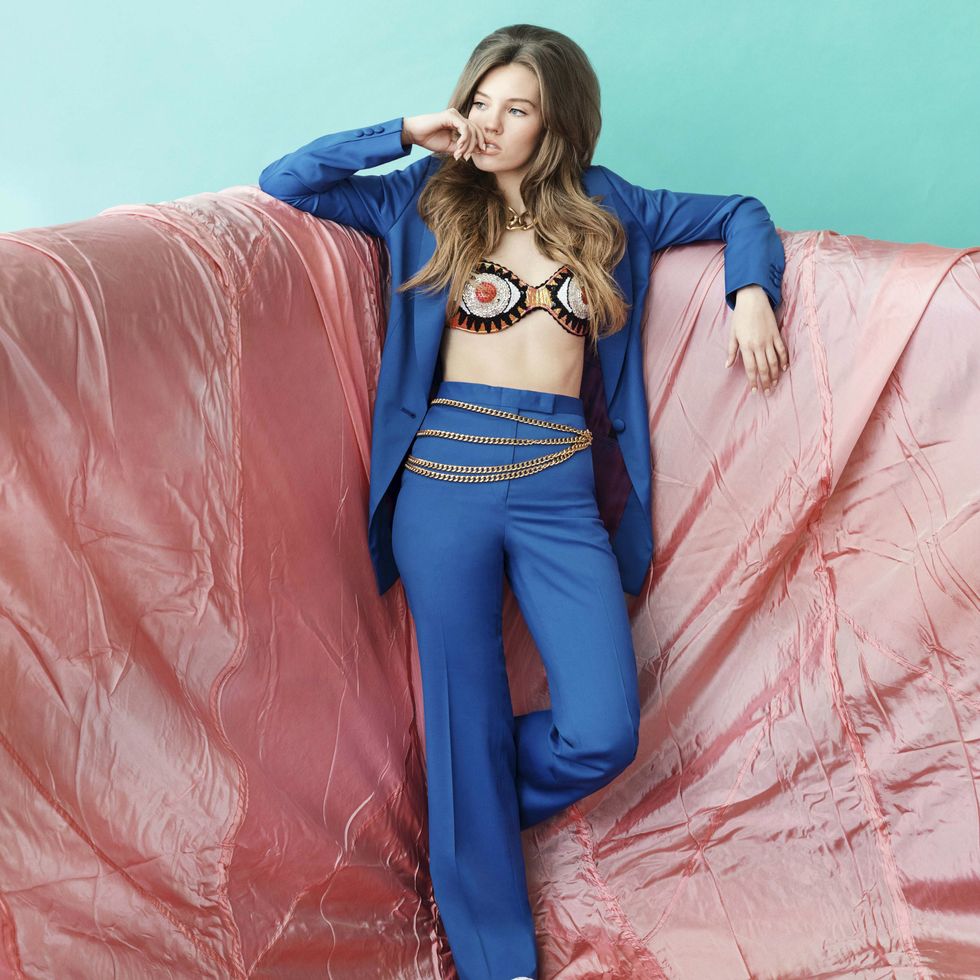 Kacie Tomita
---
Jason Scott is a freelance music journalist with bylines in B-Sides & Badlands, Billboard, PopCrush, Ladygunn, Greatist, AXS, Uproxx, Paste and many others. Follow him on Twitter.
---
POP⚡DUST | Read More…

Popdust Presents | Get Stoned (On Good Music) with Paul McDonald
READY TO POP | Henley, The Dill & More Wear a Wild-Child Heart on Their Sleeve