MUSIC
From Rock and Roll Hall of Fame to Silver Screen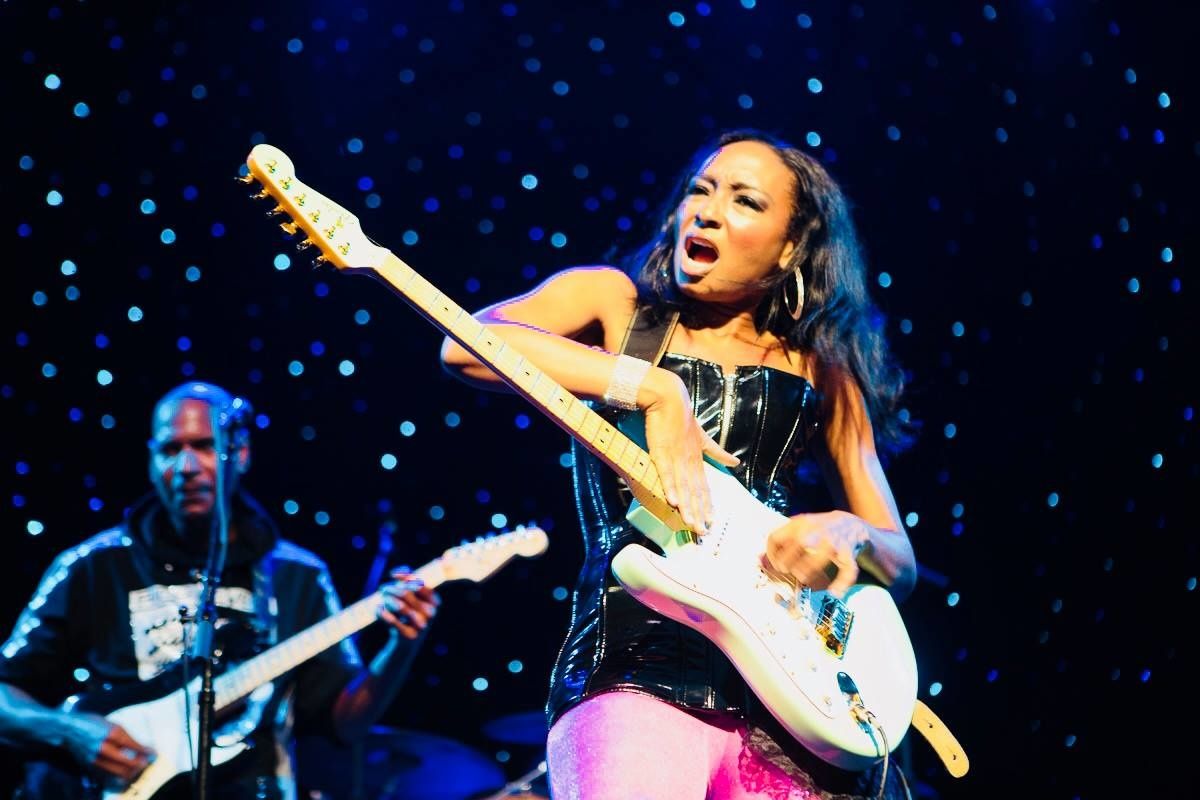 Malina Moye Music
"Know your craft, have boundaries for yourself, and always leave the situation better than it was before you got there."
Women are killing it in the music industry, and song lovers couldn't be happier! In our column, #WomenCrushWednesday, each week, we'll feature an awesome lady whose tunes are blowing up our playlists and ask them about their musical journey.
This week, Malina Moye is sharing about her experience in the music industry as one of the best guitarists around. She talks about the influences on her powerful sound, the process of writing her new records, and what advice she would give to other women who are looking to get into the music industry. Keep reading until the very end for more on her latest venture into the acting world for a film called The Samuel Project, about an outcast teen who connects with his grandfather for a school project.
---
How did you become interested in music?
My mom and dad are musicians. So I guess you could say my brothers and I grew up in music. We always had incredible artists just hanging around our house.
You've been named one of the best guitarists in the world but your style is considered unorthodox. What do you think makes your guitar playing style unique?

Thank you for the compliment. I think naturally being left-handed and playing upside down in itself gives you a whole other perspective of the instrument. I would also like to think my phrasing, tone, and feel make me Malina. No matter what, I'm all about finding your own voice. Your signature sound and style.
What words would you use to describe your genre of music? What has influenced your sound?
Well, I'm not too big on labels. So I generally ask one question when I'm asked about my genre. And that question is , "Did you like the music?" But if I had to describe it, I'd say Pop-Rock with elements of Funk and Soul. But so many things inspire my music: by what's happening in my life at the time, by the pioneers who came before me, by my music DNA and where I grew up. Born in Ohio and growing up in Minnesota, the Minneapolis sound and Funk are just a part of me. So taking that funk and rock marriage, I just try to evolve songs to something contemporary and catchy, and discover a sound that's true to me.
You performed at the Rock and Roll Hame of Fame tribute to Chuck Berry. What was that like?
That was an incredible experience. The president of the Rock and Roll Hall of Fame personally called and asked me to join in the celebration and I said 'when and where?' It's definitely one of my favorite highlights of my career so far. Meeting and talking to Chuck Berry, the architect of Rock n Roll, and his beautiful wife was inspiring. It really puts things in perspective and continues to remind you (of) the shoulders of the giants your standing on.
What has been your experience as a woman in the music industry?
Like many women, I'm constantly having to prove myself. If I had to pass on what I've learned to future women in the industry, I'd say: know your craft, have boundaries for yourself, and always leave the situation better than it was before you got there. It helps the next woman who is coming through! The great news is, it's been evolving for the better since the #metoo movement and #TimesUp and I'm so excited to see people finally being held accountable for their actions. I'd say as women, we need to continue to speak up, always know our worth, and always prop up others who need it. Together we are stronger.
Tell us a little bit about the writing and recording process for your latest release, Bad as I Wanna Be.

With this record, I heard certain melodies and just started to map them out on the guitar. When I sat down, I just started writing from my experiences and realized afterward that my album became a celebration of self. It's an encouragement to others to be your own superhero, and to never forget that you matter and you count. I'm so happy it resonated with so many. This was my first number one album on Billboard.
Have you any favorite tracks off the release?
Two of my favorite tracks are "Betta Than You" and "Enough." I love the stories and the messages in these songs. The power of belief is immeasurable.
You also have a killer sense of fashion. What inspires your style?

Thank you! Everything inspires me. I love looking at magazines and going into thrift shops, and getting one-of-a-kind pieces. Pairing up old with the new and using cool colors, patterns, and materials. I think fashion and music go hand in hand. It's all a creative choice.
What is coming up next for you?
I'm so excited to be in a new film called The Samuel Project coming to theaters September 28. I get a chance to showcase another art form I've been passionate about—acting. Also, stick around for the end credits of the film, where you will hear the song "Enough" that I wrote for the movie as well. Let me know what you think!
---
---
Rachel A.G. Gilman is a writer, a former radio producer, and probably the girl wearing the Kinks shirt. Visit her website for more.
Have a female or femme-identifying artist we should profile? Send a pitch email to Rachel
---
POP⚡DUST | Read More #WomanCrushWednesday...
#WomanCrushWednesday | Priscilla Renea
#WomanCrushWednesday | Linda Bella
Related Articles Around the Web