Culture Feature
We're not saying Chrissy Teigen bullies John Legend... But if she does, he probably likes it.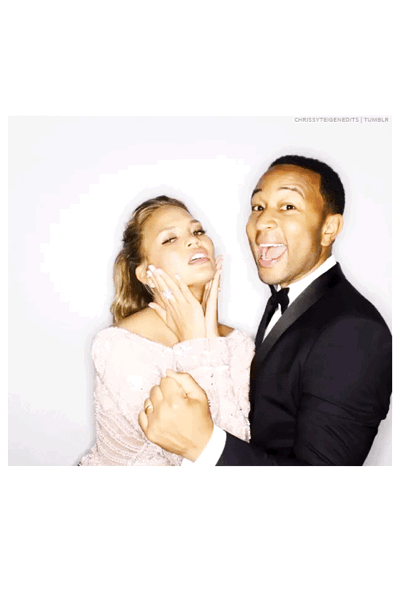 John Legend has received a distinction no man has ever earned.
Sure, he's achieved a full EGOT (Emmy, Grammy, Oscar, and Tony), he stars in an Emmy Award-winning TV show, and he's only the fourth person of color to be named People's "Sexiest Man Alive," but his most impressive credential by far is having Chrissy Teigen as his wife.
"My secret is out," she tweeted in 2019. "I have fulfilled my dream of having boned @people's sexiest man alive!! an honor!!!!"
my secret is out. I have fulfilled my dream of having boned @people's sexiest man alive!! an honor!!!!! https://t.co/xu7ygnhOZk

— chrissy teigen (@chrissy teigen) 1573608253.0
Legend is arguably a trailblazer in this new avenue; as a baby-faced 40-year-old, his new "sexy" honor tips the balance in the eternal battle between being "cute" or "hot" but never a hybrid of both. Legend commented right away on the vacuous nature of the "Sexiest Man" title, "Everyone's going to be picking me apart to see if I'm sexy enough to hold this title," he told People. I'm [also] following Idris Elba, which is not fair and is not nice to me!"
No, it's not nice. But with Chrissy Teigen as his wife, Legend knows better than to expect niceties; because it's clear that no one, absolutely no one, is better at dragging John Legend than his wife.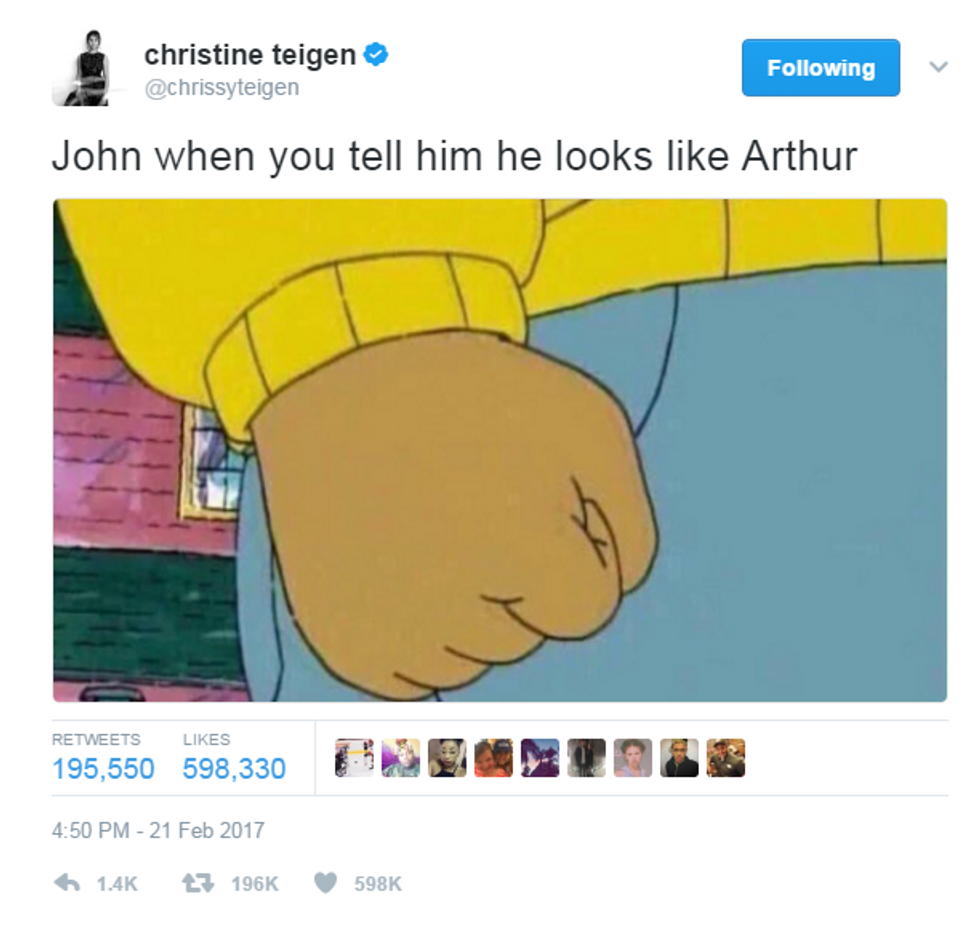 Twitter
John Legend: The Icon, the Meme, the Aardvark
The Internet's love of the "John Legend looks like Arthur" meme doesn't compare to Chrissy Teigen's. She's returned the public's attention to it when it simply wasn't being appreciated enough, especially in reference to their daughter. Once upon a time, it seems Legend could appreciate the joke, even dressing up as the children's cartoon for a commercial once. But marriage is long and arduous, and not even eternal vows can't prepare you for having the Queen of Twitter as a spouse. Really, John Legend's exasperation in his wife's Instagram comments is the delicious coda to every little dig.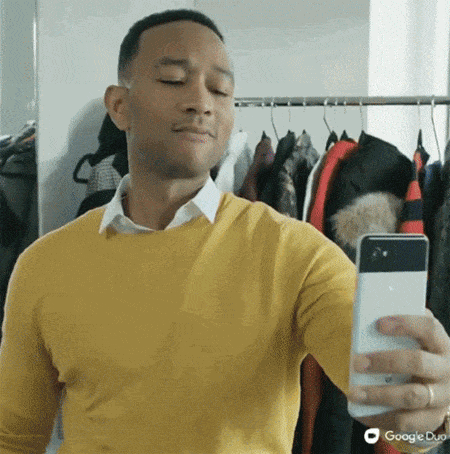 Chrissy Teigen: John Legend's Worst Fear
Shortly after being crowned the most symmetrical face in mainstream media, Legend guest-hosted the Ellen DeGeneres Show. Inevitably, during one of the interludes, Chrissy Teigen popped out of the fake piece of furniture that's always lying around Ellen's set so nearly every celebrity guest can be caught on camera having a moment of pure, animalistic fear. This is John Legend's fear face:
Chrissy Teigen Scares Guest Host John Legend www.youtube.com
Even
scared
, he looks so carefree. How? I don't trust it.


After bantering about the uncomfortable logistics of sitting in a box so you can yell "boo" at your husband, whom you probably live with and could do a better job of scaring the next time he's emerging from the shower, Teigen seemed to believe that her husband genuinely had no idea she was in the studio. Teigen asked him, "You didn't hear me banging around the box?" "No, I did not," Legend answered. Teigen lamented to the audience, "This helps because he's very unaware of anything around him. Like we get in fights on the airplane and stuff. He'll hit people with his bag. And I'm like apologize!"
Chrissy Teigen Isn't a Huge John Legend Fan
What makes that Ellen scare even better is that Chrissy Teigen seems to alternate between flippantly sharing intimate details about her and John's love life and also not knowing pretty basic, very public information about her own husband. Why? Because she's busy. No, she never saw Selma, despite her husband taking home his first Oscar for writing the moving score. Why? Because she didn't feel like it, mind your business!
Chrissy Teigen Doesn't Know Jack About John Legend www.youtube.com
Chrissy Teigen: Not Afraid to Challenge Idris Elba
In order to clearly communicate his deep feelings of inferiority compared to Idris Elba, John Legend took to Twitter to compare a picture of himself at 17 to the aesthetic pleasure that is the one and only Idrissa Akuna Elba, OBE. To her credit, Teigen wrote an encouraging response that magnanimously pointed to the fact that we all have old photos of ourselves in which we look like a half-transformed Animorph beast...except Idris Elba. "Yeah but let's see an @idriselba pic from 1995 (prob still very hot)," she wrote.
And indeed, Elba accepted her challenge and posted a photo of himself as a smoking hot twenty-something year old in 1995, which at a certain point is honestly tantamount to an attack on society, because who needs to look like this?
1995 John would be very perplexed to be following 2018 @IdrisElba as #SexiestManAlive. Hell, 2019 John is about as… https://t.co/RADR10O8o5

— John Legend (@John Legend) 1573612167.0
@chrissyteigen 👀👀 1995-ish. https://t.co/7dC1S5gG9p

— Idris Elba (@Idris Elba) 1573747466.0
😂😭 sorry @JohnLegend, I tried!!! https://t.co/6ijcPf3HfZ

— chrissy teigen (@chrissy teigen) 1573747794.0
Yes, Chrissy Teigen tried, but must you, Idris Elba?! One day I'm going to start a movement to dismantle beauty biases in Hollywood and all of American culture just so I can shame people for being so hot. Oh, what? That's already a toxic take that's historically targeted women who vote and write and have senses of humor while daring to look better than an unwashed bridge troll? Much like former Sports Illustrated model-turned-author-turned-beloved-TV-personality Chrissy Teigen? who has the honor of being the target of Trump's Twitter rampages??? Nevermind, then. Clearly, Chrissy Teigen bullies John Legend, the "Sexiest Man Alive" in 2019, as an ironic commentary on beauty biases and shame that pervades American media. I get it now.