CULTURE
What the Most Stylish People on the Internet Packed For Fashion Month
Designer grails and dupes inspired by what the most fabulous fashion month street style stars are wearing all around the world this season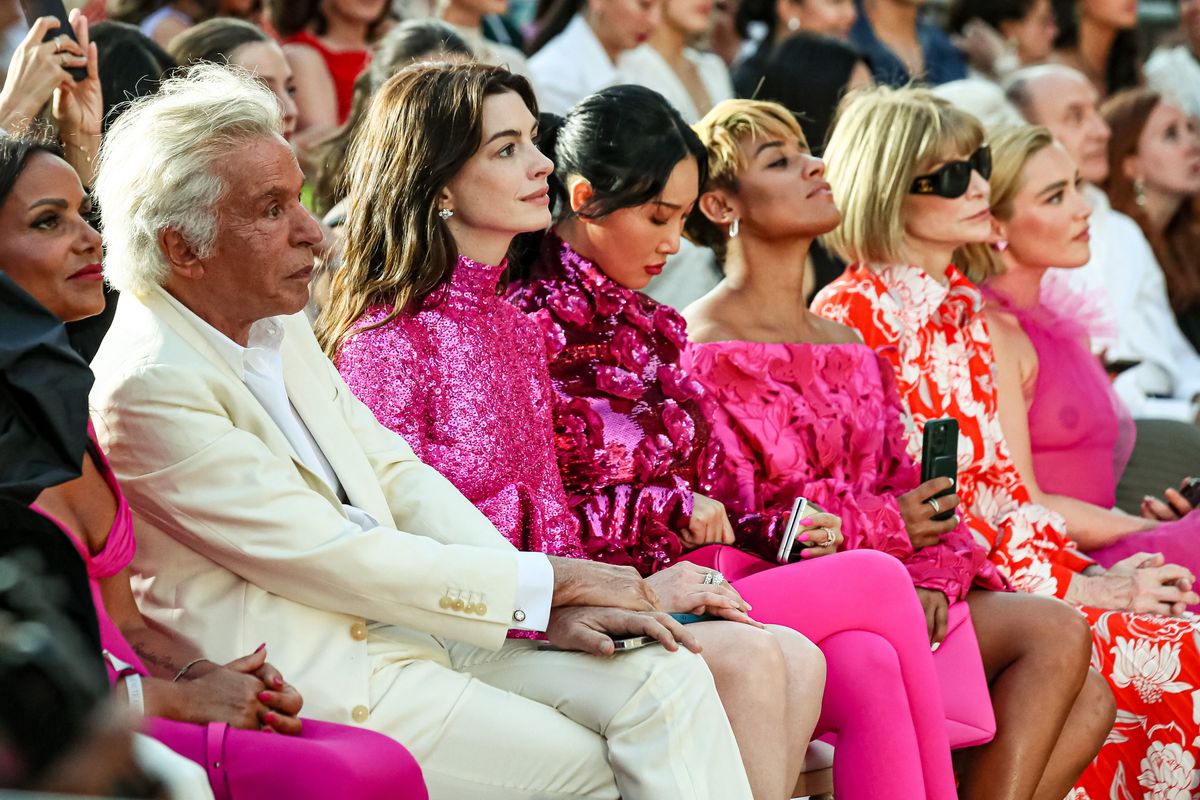 Piovanotto Marco/ABACA/Shutterstock
Each year, fashion month grows larger. Better? Only critics can tell. But it certainly gets more extravagant and yet, seemingly more exclusive. Every year, the entire month of fashion week showcases is complimented by parties, events, and lots and lots of street-style photos. As fashion and celebrity increasingly enmesh, we don't just look to our favorite models we look out for fashion inspo itself.
---
So many celebrities are taking a greater interest in fashion. Red carpets are their own fashion shows. So, of course, fashion month is a feast of celebrity cameos. Timothee Chalamet taking a break from his crazy-busy schedule to pop up at Loewe. Then Doja Cat and Kylie Jenner in full couture in Paris. And even events like Vogue World putting celebs on the runway.
And I eat it up. Sitting at home in a full sweatsuit, I judge the looks I loathe and make Pinterest boards of the ones I love. It's spectatorship as sport. And I live for it.
And while I'm not going to encrust myself in crystals in an attempt to mimic Doja's recent costume, or attempt any other wild looks that fashion month VIPs were throwing, I do take some smaller inspo from what my favorite celebs, models, and influencers post on social media.
I'm especially moved by fashion influencers. Their looks are more attainable, and, like me, they're also fashion fan girls. Unlike me, they nab front row seats to all the shows. But I find that their looks provide realistic inspo for what I'd actually wear when I leave my house — and on the off chance someone invites me to an "event."
Oh, to be a fly on their wall, or the Apple Tag in their suitcase while they're packing. If I could curl up tight in my favorite fashion inspiration's Rimowa luggage, I would. But scrolling through their socials for outfit inspo is as far as I get.
Through my research, I've come up with 'packing lists' of designer grails and dupes inspired by what the most fabulous fashion month street style stars are wearing all around the world this season:
All products featured are independently selected by our editors. Things you buy through our links may earn us a commission.
GKJ is one of the most influential names in fashion. She sits a mere tier below Anna Wintour as a Global Contributing Editor for Vogue. You may know her from her unapologetic critiques of last year's Yeezy show — and his subsequent "clap backs". But you should know her as one of the most chic people on the planet. Thanks to her Vogue Edit, I know exactly what she packed for fashion week. Here are some of my favorite pieces:
To call Lena the Emma Chamberlain of France would be reductive, but it gives you an idea of her impact. She's a Vogue France treasure and frequently featured on the channel. One of France's most followed influencers, she has an infectious energy that makes it obvious just why she's so beloved. Oh, and of course she has impeccable style, too:
Berlin is a haven for the super cool, alternative crowd. It's also a fashion hotspot where a ton of my favorite European influencers live. Namely, Mel, an OG blogger and certified Cool Girl with effortless style that reminds me fondly of Tumblr at its best. She made the trip to Milan for Fashion week and her outfits were simply exhilarating — as always.
When she wasn't strutting the runway all month, Paloma was throwing immaculate street-style fits. She perfectly blends high and low, glam and casual. I'm taking notes and you should, too.
Imani Randolph is a model and NYC It Girl for a reason. She wears some of the smartest outfits on Instagram, always switching it up and subverting expectations without losing the plot. Her outfits drive me to rethink some of my basics and wear them in more expressive ways. This fashion week was no exception:
I couldn't resist. Despite Timmy's status as a true Fashion Bou, he's eshewed brand campaigns and official affiliations with any company but AppleTV. But as his Bones And All co-star Taylour Russel is a brand ambassador for Loewe, he pulled up alongside director Luca Guadinino in a fit I want to replicate precisely. And perfect hair, of course.