CULTURE
Hailey Bieber Responds to the Nepo Baby Article in the Most Hilarious Way
Hailey's contribution to the Nepo Baby discourse: a T-Shirt that I want right now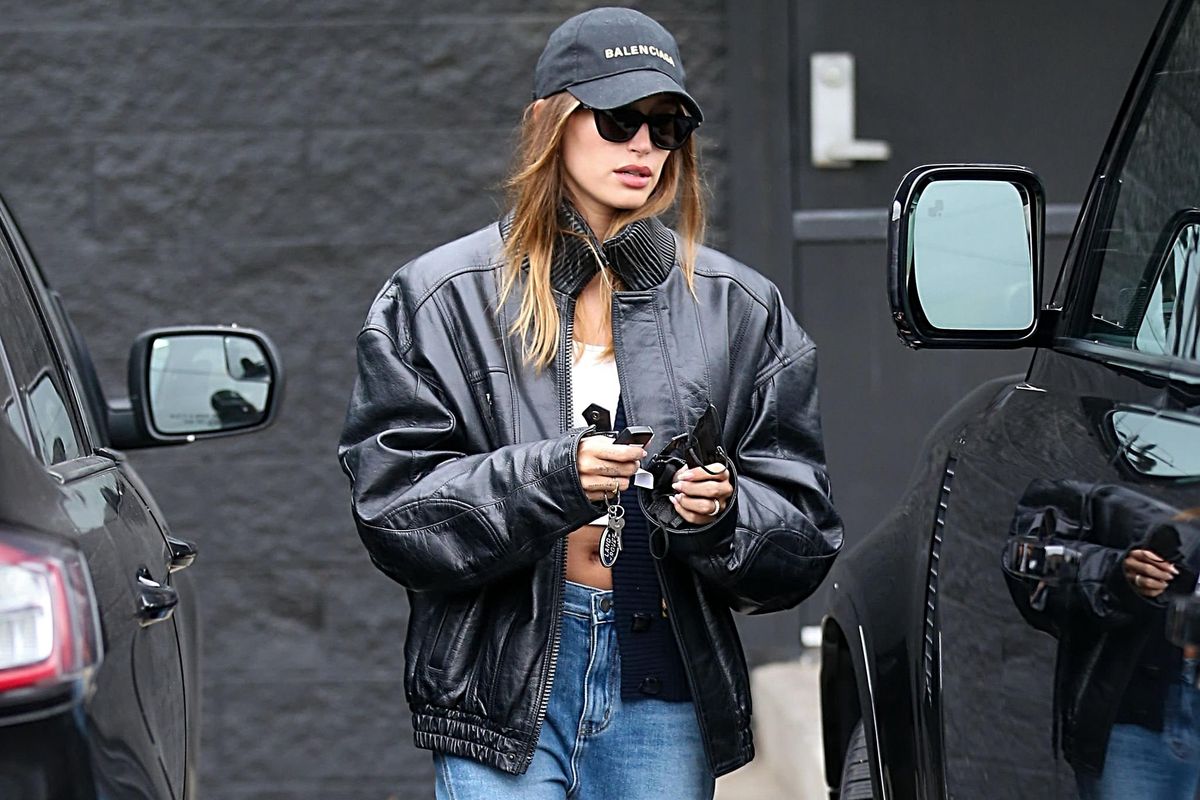 via Midary on Shutterstock
As if I couldn't love Hailey Bieber more, she goes and gets even more iconic. Hailey Bieber just appeared in an instantly viral outfit: jeans, loafers, and a white tee that's completely blank except for the words "nepo baby."
---
Known for her Gen-Z-adored street style, this is not the first time Bieber has had an outfit go viral. This one, however, is viral not for its trendy brands or expert styling. But for the subtle — yet potent — phrase "nepo baby" proudly displayed on her chest.
The nepo baby discourse has been simmering since the term caught the world's attention on TikTok, but it skyrocketed in December after a New York Magazine cover article mapped out a web of all the most famous nepotism babies and their preeminent parents/family members.
In the ensuing month, many nepo babies have come under fire for disputing the allegations. Tweets, Notes-app statements, and interview clips have been flying around from these famous people's kids desperately trying to dodge the claims that their privilege discredits their fame.
Most stars had the good sense to shut up and keep it pushing. Initially, Hailey Rhode Baldwin-Bieber was guilty of being one of those. But now she's finally responded in a move that's bound for the Fashion Hall of Fame.
@homohoney0

meanwhile the other nepotism baby girls are hootin and hollering about their privilege like be quiet tiffany!!! #haileybieber #haileybaldwin #haileybieberstyle
Now that her surname is Bieber — is "nepo wife" a moniker? Or do we just call that a Real House Wives star? Her famous husband is not the original source of her fame. Nee Baldwin, her maiden name comes from her father Stephen Baldwin a popular American actor. You'll also recognize her famous uncles: Alec Baldwin, Daniel Baldwin, and William Baldwin. But that's not where the fame-genes end! Bieber's maternal grandfather is the Brazilian pianist and arranger Eumir Deodato, who worked with musical legends from Frank Sinatra to Björk.
Suffice it to say: Bieber is genuine Hollywood royalty. And unlike many celebrities in similar positions — whose responses to the discourse were cringe-worthy — at least Bieber owns it.
This move is reminiscent of 90s nepo babies Liv Tyler and Stella McCartney showing up at a Met Gala in Hanes T-Shirts that read "Rock Royalty." Self-aware. Badass. Iconic.
Bieber is part of one of the most well-known friend groups in. The. World. From Jenners to Hadids, she's surrounded by fellow nepo babies, but she's never had to qualify her success. Unlike her peers, she's never come under fire for making light of her superstar circle.
Perhaps this is because she's miraculously managed to make her own name over the last few years. Baldwin and Bieber are powerful names. But now, so are Hailey and Rhode. The model used her clout to become a Gen Z favorite beauty guru and then plastered her middle name all over the internet with her eponymous brand: Rhode Skin.
You can toss around the term Nepo Baby all you want. It doesn't scare Hailey. Why would it? Other nepo babies have strived to reach her level of influence and failed. And none of them could pull off anything this instantly notorious.