CULTURE
Borrowed From the Boys: Hailey and Taylor Make the Case For Girls in Menswear
Menswear is in for everyone — just ask Hailey Bieber and Taylor Swift.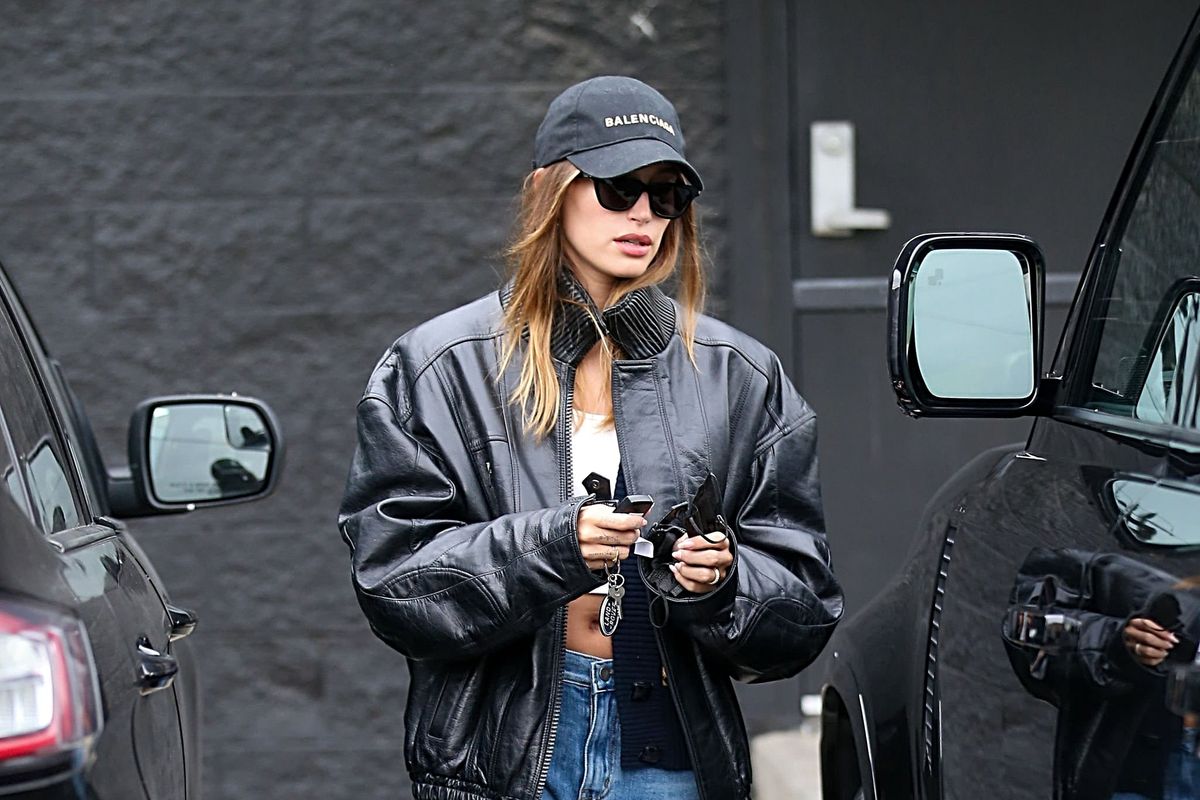 By Midary / Shutterstock
Halloweekend came with its parade of stunning, spooky celebrity looks. But before the star-studded parties and the outrageous costumes, some major streetwear fits were thrown by some of our favorite style girlies. And, like we predicted for the fall, menswear is in for everyone — just ask Hailey Bieber and Taylor Swift.
---
First, Taylor — on the heels of her 1989 (Taylor's Version) smash hit rerelease — has been making headlines for more than just her music and her new man. Just like in 2014, when Taylor Swift moved to New York and wrote the original 1989 album, the superstar was often spotted out in the city with her girl gang, living the Sex and the City dream.
Years later, the queen of New York is back. Paparazzi spot her every night dining with the likes of Sophie Turner and Blake Lively, and they also see her every day strutting through the West Village. Her most recent outfit made a case for two of the hottest seasonal trends: menswear and prep.
Taylor sported an oversized Stella McCartney rugby shirt as a mini dress, accessorized with a cool girl Ralph Lauren dad hat and an enviable pair of knee-high Prada boots (here's the Steve Madden dupe). While Swift dressed up the rugby look, it's a menswear fit that will go down in the fashion history books.
And if that wasn't enough for my Pinterest boards, then the Biebers stepped out in a charming and disarming couple's fit as they so often do. Justin wore a silky pair of argyle dress pants with an open dress shirt and tasseled Santoni loafers. He paired it with a leather jacket and sunglasses to add some rockstar edge to the uncharacteristically straight-laced look. But Hailey rocked the standout look of the night. For once, Hailey was the more casual of the two — and after he wore that sweatsuit while she donned a killer red mini, I never thought I'd see the day.
Hailey dressed for the weather in a long coat from celebrity-favorite brand, Khaite. For a lesser dresser, the coat would've been the standout piece — and Hailey has made headlines in the past few weeks for rocking men's coats and statement jackets. But Hailey paired this piece with a surprising menswear choice: overalls.
The kind of piece you can find at any flea market, surplus store, or for $45 on Amazon, Hailey dressed up these Dickies denim overalls with heels and chic sunglasses to transform the daytime denim into an enviable date night stunner
In fact, denim and a long black coat is one of the hottest fall menswear trends — just ask Bradley Cooper (getting style tips from Gigi Hadid, perhaps?) and Jacob Elordi, who is on his fashion press tour for Priscilla andSaltburn.
So, if you had any doubts, let this be the proof that the borrowed-from-the-boys aesthetic is in for the fall. Inspired to take it for a spin? Here are some choice pieces to dress up for your next day out or date night.

All products featured are independently selected by our editors. Things you buy through our links may earn us a commission.
Dickies Overalls
Levis Vintage Demin Overalls
Free People Ziggy Courdoroy Overalls
J Crew Relaxed long-sleeve rugby T-shirt
Rowing Blazers Checkered Rugby
Polo Ralph Lauren Striped Cropped Jersey Rugby Shirt
Drake's Emblem Cap