CULTURE
What's With Justin Bieber's Pimple Patches?
King-of-Chaos, Justin Bieber, has a new accessory: pimple patches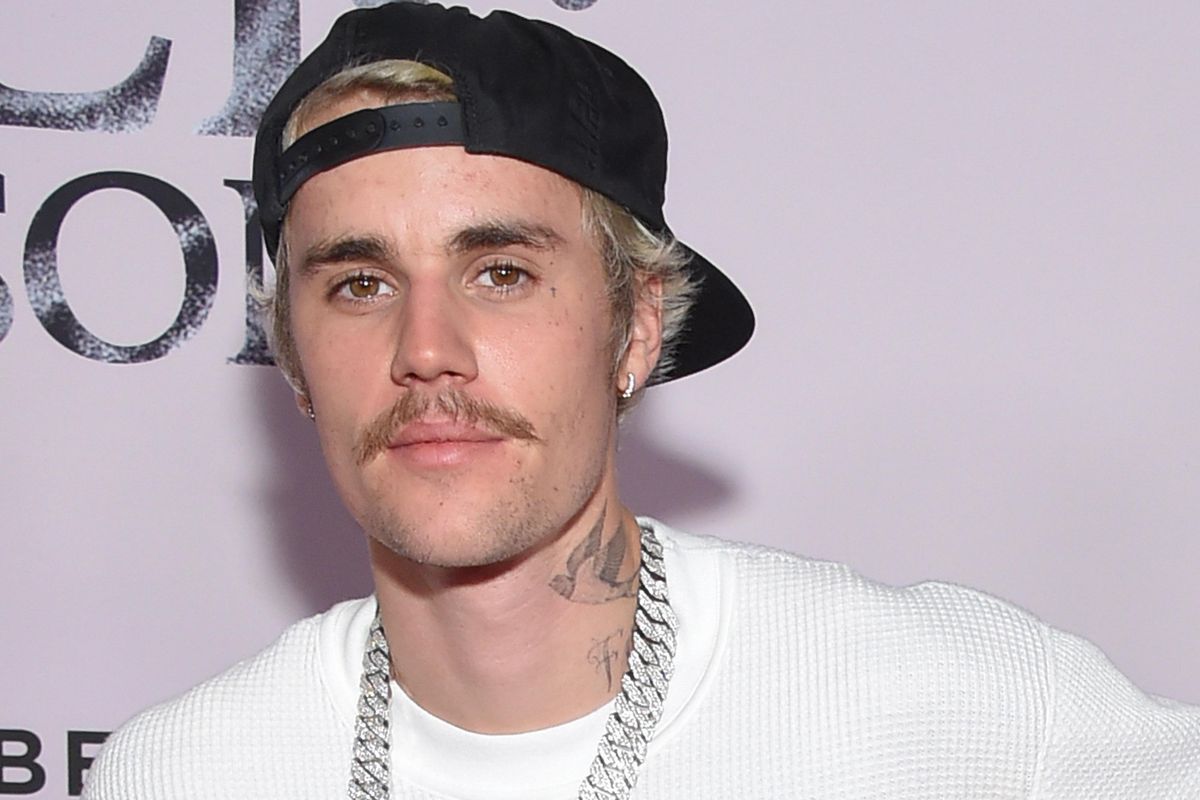 by DFree / Shutterstock
There's a lot to say about Hailey Bieber. In fact, we've said it. TikTok's beauty guru, founder of Rhode, and one of fashion's favorite cool girls, Hailey is Gen Z's muse. 2022 was the Year-of-Hailey — she even has a Forbes 30 Under 30 cover to prove it.
What's most impressive is that Hailey, a nepo baby who's been in the spotlight for eons, hasn't shriveled under the weight of her married name. Somehow, she's managed not only to maintain her individual identity while married to Justin Bieber — one of the biggest pop stars on the planet — but launch her name into the stratosphere.
---
In fact, the jumbotron at a 2022 hockey game went so far as to describe Justin Bieber as "Hailey Bieber's husband." Call it a masterclass in true love, branding, or the divine feminine? But sometimes Justin seems like just one more of Hailey's glittering accessories. We've all seen the paparazzi shots of Justin playing the perfect Instagram boyfriend by snapping her social media photos. And then there are all those paparazzi shots of her epic street style, in which Justin is a constant in the background wearing the most unhinged outfit imaginable.
These days, JB's fits are more chaotic that ever — if you can believe it. The Drew House founder is still rocking his classic oversized silhouettes. But lately, he's been accessorizing with pimple patches. Yes, pimple patches.
Hailey's known for her skincare brand, Rhode. But even before launching the cult-favorite line, her personal skincare routine caused thousands of skincare products to go viral. From Tower28's facial spray to Kosas concealer, whatever Hailey uses, we buy. And we're not the only ones. A woman with as much influence as Regina George herself, Hailey started wearing Starface pimple patches, so Justin started wearing Starface pimple patches.
Thanks to what I'm assuming is Hailey's influence, Bieber cannot stop sporting those damn pimple patches. Men: take notes. A skincare 'routine' that consists of washing your face with bar soap and nothing else will no longer do.
JB gets facials and wears pimple patches. We should all aspire to that level of skincare maintenance.
I, for one, am carrying this energy into 2023. It's shameless, it's a statement, it's Starface. And while I can't relate to most of Bieber's life, a shared love for these $11 pimple patches is the one precious thing we have in common.
Many celebs and beauty brands try to market an image of perfection, but JB has been known to own up to his imperfections and inherent chaotic nature. Starface is on a mission to drive the beauty industry to do the same. The brand identifies as acne-positive. It's similar to body positivity in that it promotes accepting yourself at every stage, despite beauty norms. Don't be ashamed of your breakouts — everyone gets them.
And frankly, I think wearing pimple patches is a flex. It shows you don't care too much about what people think and that you put your skincare first. It's a win-win. So rather than aggravating your breakouts by covering them with makeup or trying to pop them, try a pimple patch for every need.
In the words of Hailey Bieber: "take your skincare seriously, but not yourself."
So, go forth, and pimple patch. Whether you're a Starface stan or use another brand of choice, don't be afraid to take them out on the town.
I've been a fan of pimple patches for years, so here are my picks for you to wear shamelessly whenever the need arises:
All products featured are independently selected by our editors. Things you buy through our links may earn us a commission.
There's a reason this is Bieber's brand of choice. While Starface has branched out into cleansers and masks, so I'll never get bored with their classic patches. Shrink spots fast with these fun, star-shaped skin stickers. Lately Bieber's been rocking the Black Star. The 100% hydrocolloid patches have been clinically proven to absorb fluid and help reduce the appearance of inflammation to shrink spots overnight. Time to join Justin and partake in the fun. Trust me (and JB), try them.
If you're familiar with Skincare TikTok, you've no doubt seen Hero Cosmetic's viral Mighty Patch. These full-face-sized patches are fitted for the forehead, nose, cheek, and chin. Handle a whole breakout area with one patch overnight, or combine all five for a full-face acne emergency mask.
Zitsticka has a range of patches for every need. These standout Hyperfade patches lighten and brighten the appearance of dark spots and hyperpigmentation. They utilize self-dissolving micro darts that melt within 2 hours of application, releasing regenerative, brightening ingredients. Try them to see more even skin in two weeks or less.
CorsX patches are K-Beauty favorites that have been a staple for years and years. They absorb oils and extract impurities while creating a barrier to protect against outside irritants — so it's like they're made to be worn outside. The classics truly are the best.