CULTURE
The Coolest Moms In The Whole Wide World
How Millennial Moms Are Changing The Game and Romanticizing … Cleaning? With the help of your favorite celebs, of course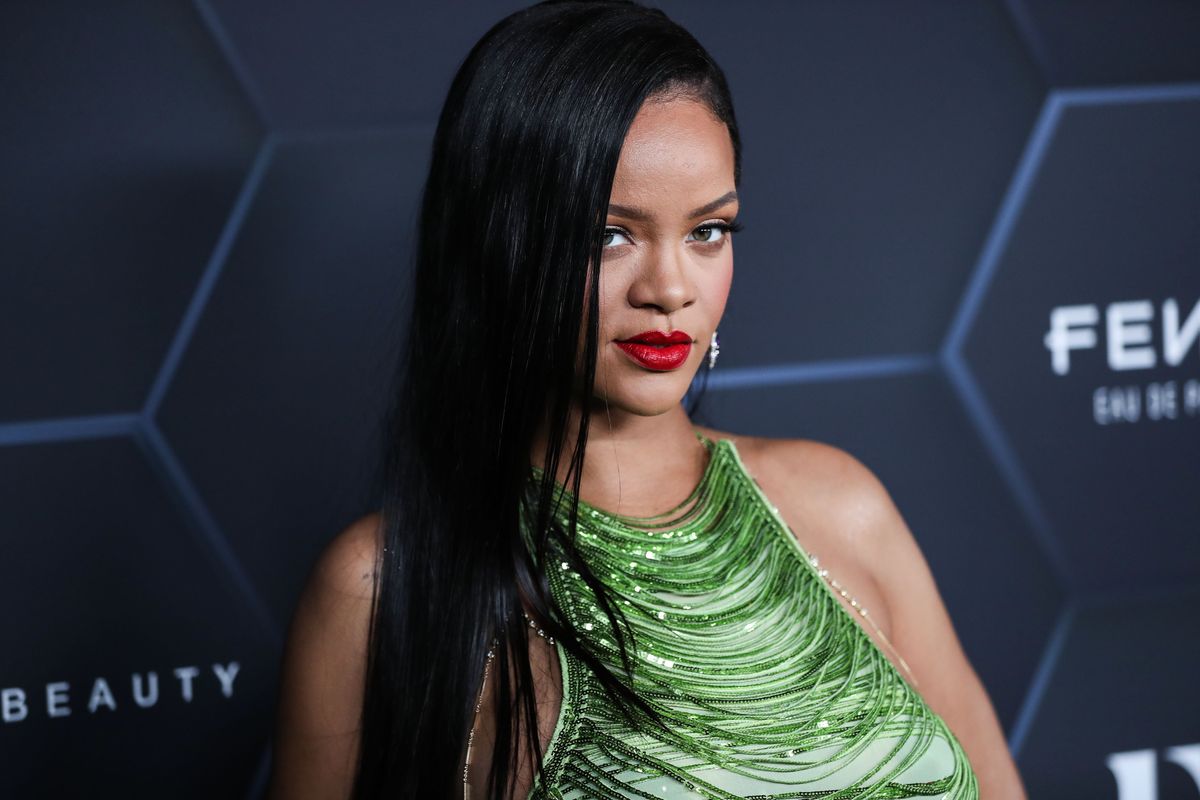 Image Press Agency/NurPhoto/Shutterstock
A new generation of moms is emerging. A generation that was shaped by Amy Poehler in Mean Girls (2004) spreading the gospel of being a "cool mom." A generation that's been inundated by mommy influencers who make childbearing chic. A generation influenced by Rihanna's belly-baring pregnancy outfits.
---
Oh, to be a mom at the dawn of Rihanna's motherhood era. Rihanna's pregnancy and subsequent second pregnancy have signaled the vibe shift. Riri and other celebs like EmRata, Megan Fox, and even Kylie Jenner prove that you don't have to give up your personality, your playfulness, or your coolness to be a mom. In fact, being a mom makes you cooler.
Women are waiting longer to settle down and have kids — meaning we can discover our genuine personalities and live adult lives rather than becoming mothers and only mothers in our early 20s. And when you think about it, the mainstreaming of the empowered mom is a relatively recent phenomenon.
It's only been 51 years since Title IX was passed. And it would have been 50 years since Roe v Wade this year … if it hadn't been overturned in 2022. Harrowing. But the Pew Research Center reports that in 22 out of 250 metro areas, women under the age of 30 earn as much — or more — than their male counterparts. Though the pay gap persists, culture is moving forward as gender roles shift and archaic notions of who — and how to be — are slowly fading away.
Pop culture being the mirror of our shifting social norms, it's no surprise that celebrity moms reflect how millennial mothers are changing the game.
Consider: Keke Palmer's SNL hosting debut and simultaneous pregnancy announcement. And, of course, Rihanna's casual and pregnant Super Bowl performance and BritishVogue cover — famously featuring her "pussy facing the world." Basically, Rihanna is the blueprint for millennial moms — leading to a generation of cool moms. God bless the child(ren).
\u201cI need \u201cPussy Facing The World\u201d the band, the party, the book, the poem, the album, the anthology, the dissertation, all of it.\u201d

— Danez \u201c\ud83d\udc08 Facing \ud83c\udf0d \u201d Smith (@Danez \u201c\ud83d\udc08 Facing \ud83c\udf0d \u201d Smith) 1676929867
Yet despite all these shifting norms and progressive culture moments, patriarchy persists. According to data from the Organization for Economic Cooperation and Development, in the United States, women performs an average 4.5 hours of unpaid work a day, compared to 2.8 hours for men daily.

Unpaid labor such as housework eats up far more than mere time. It's a mental strain and added responsibility that impacts women's mental health. According to the New York Times, "It's not unpaid labor itself that is problematic, research has found. Rather, it's all the baggage around it — whether it conflicts with someone's other responsibilities, like paid work, and whether it's what someone wants to be doing." Apparently, women feel pressure to keep their homes clean and feel judged if they don't. Men, are free of this invisible burden.
So, as we advance culturally, and move back-and-forth politically, the little things matter, too. Who does the housework? How they do it. After all, a millennial mom doesn't have the time on her hands that a 1950s/Don't Worry Darling housewife did. So housework has to be taken care of more rapidly and efficiently — yet done well enough to keep that visitor-ready home.
It's no wonder that working moms have forged a fresh retail sector: elevated house and home care products. Made by moms, for moms, this emerging industry is making housework an elevated pursuit. You truly can romanticize anything. That's right — with CleanTok booming and "That Girl" wannabes the-world-over posting videos of their daily reset routines. (Reader, that's just an pretty way to say cleaning!) Women have attained the impossible: made unfair, unpaid labor into something that's aesthetically pleasing.
According to Snipp, millennial moms prioritize brands that portray authenticity, meaningfulness, uniqueness, and innovation. They support brands that promote safety, healthiness, nutrition, and education. That's why women-founded brands that are targeted to moms are so much cooler than anything else on the market. The girls that get it, really do get it.
Here are some of the must-have elevated cleaning essentials for the moms in your life.
All products featured are independently selected by our editors. Things you buy through our links may earn us a commission.
Homecourt Steeped Rose Set
Of course, Courtney Cox would own the chicest, most-aromatic brand out there. The original 90s Cool Girl, Cox has leveraged her fame not merely to schill beauty products, but so your home can smell like heaven. Get the full set, and thank me later.
Being Frenshe
If you're still thinking of Ashley Tisdale as Sharpay from High School Musical, you're definitely a millennial. But if you're a millennial mom, you're familiar with her brand, Being Frenshe. Made of natural ingredients, its home essentials include scents, sprays, and more versatile products that will fill your home in exquisite scents. This is what I now imagine as I watch her Architectural Digest video.
JB Skrub
Got boys? Julie Bowen — TV's favorite mom known for her role in Modern Family — launched her boys brand of shower and skincare products that genuinely work with ingenious packaging that just might get your stinky, smelly boys to use them.
Proudly Launch Collection
Another one for the kids, this babycare brand prioritizes ingredients that nourish babies with melanin-rich skin. This is your one-stop-shop for everything baby — no harsh chemicals or irritating ingredients included. And it's owned by Gabrielle Union and D-Wayde, some of the best — and coolest — parents in the game.
DedCool Detergent
Looking for a laundry refresh to replace your Laundress products? Look no further than DedCool. As the name implies, it's the cool girl of home goods. Infuse your sheets, curtains, and clothes in their signature scents for a whiff of cool all over your home.
Goop Martini Soak
You don't have to be a mom to enjoy this, but moms will enjoy it most. Thanks to Miss Gwenyth, this GOOP bath soak is a splendid way to switch off, grab a glass of wine, and dive into some me-time. You've earned it.