Popdust Presents
The New York City Four-Piece Bounces Beyond Genre Labels for an Explosive Hybrid
The band gets candid about roots and influences.
September 1, 2018 | New York alt-pop band Scruffy Pearls leans into the wave of quirky-pop rippling outward from mainstream these days. Lead singer Carly Brooke waltzes through a dreamy mix of classic soul and guitar-laden singer-songwriter, propelled from band mates RJ Gatsby (on keys, guitar and ukulele), Billy Pearson (lead guitar) and Renee Hikari (drums and percussion). The now-four-piece weave together the past and present, a tapestry of tightly-crafted grooves and melodies.
In a recent promo tour, the band, which is made up of two couples with long-standing relationships, hung out in the Popdust office for a jam session and discussion with host Brent Butler. The conversation delved into the meaning behind the band name, growing up on Long Island, melting genres, and upcoming new music. Watch the interview above.
Earlier this summer, the quartet curated a playlist of their biggest influences and current favorites, from Bill Withers, Alabama Shakes, Kacey Musgraves to Prince, Janelle Monae, Vulfpeck, C2C, and The Revivalists. They also shared insight into essential cuts of their very own. On "Good Things," which tears at the seams, they told us, "This song was our first single inspired by the ups and downs of our dream chasing. Facing rejection over and over can be mentally grueling, but we decided to put a positive spin on it because we believe that nothing can destroy your dreams as long as you keep loving what you do and doing what you love."
"Love Song," chiseled in mesmerizing Billy Joel form, suits up the band to tap into their romantic sensibility. "We are a romantic bunch and writing love songs has always been one of our favorite things to do," they shared. "This song is about the ups and downs relationships go through. Love changes over time, but there are always ways to keep the magic alive."
Watch "Forrest Gump" | Live & Acoustic
Where EP standout "Here's to the Times" is staunchly anthemic, imparting a message of camaraderie and hope, "Where You Belong," which feels like a demo outtake, allows Brooke to plant her feet at the center of the (musical) storm. From top to bottom, the band's 2016 self-titled EP glides across funky-inspired beats ("Good Things"), piano-based intimacy ("Love Song") and giddy indie-rock ("People Keep Talkin'"). Brooke's voice is equal parts blues-rock, soul and pop, floating somewhere between Amy Winehouse and ZZ Ward. It's both towering and capable of squeezing out a few more tears.
The band is currently finishing up a their second EP, anchored with "Forrest Gump" (above), and is expected "soon."
Watch "Taking a Hold on Me" | Live & Acoustic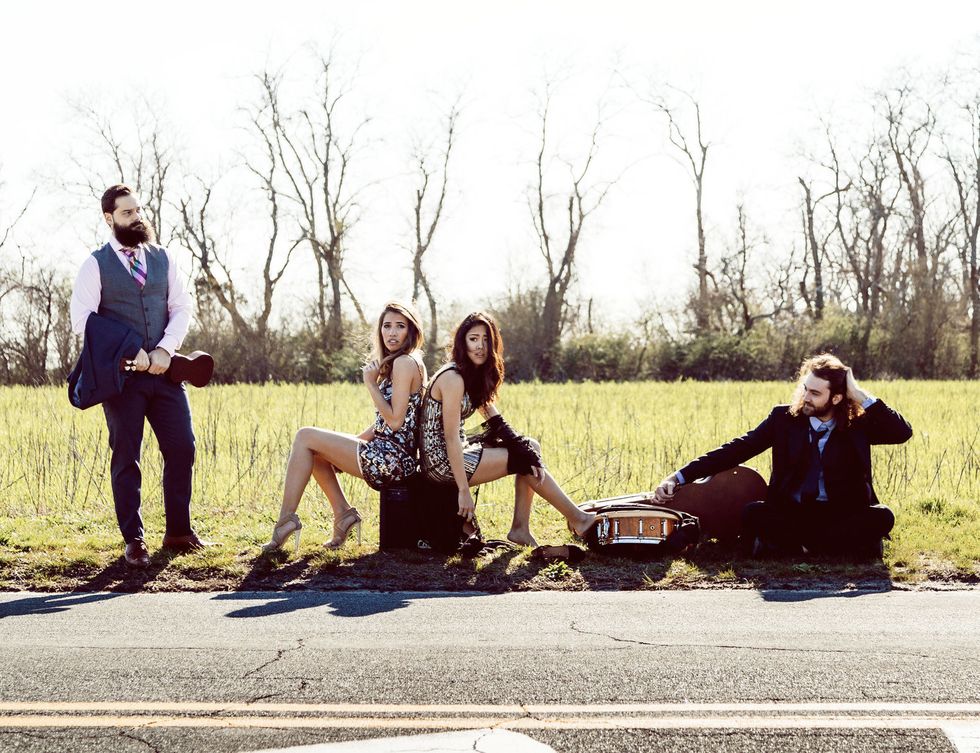 Nick Glimenakis
---
Jason Scott is a freelance music journalist with bylines in B-Sides & Badlands, Billboard, PopCrush, Ladygunn, Greatist, AXS, Uproxx, Paste and many others. Follow him on Twitter.
---
POP⚡DUST | Read More…

Popdust Presents | Stealth Takes Us Away Into Eternal Freedom
READY TO POP | Harrison Wheeler, Haley Vassar & More Pour Out Shots of Sugar