Connor Cruise embarked on a somewhat misguided Twitter rant about Caitlyn Jenner on Wednesday.
In a series of tweets, quickly deleted, the 20 year old adopted son of Tom Cruise and Nicole Kidman questioned the decision to award Caitlyn Jenner the ESPY Award's Arthur Ashe Courage Award.
Cruise Jr suggested there are way more deserving recipients in the world of an award for courage;
"Really?? Winning the AA award for courage?? Ashton is gonna come out and yell PUNK'D. Don't get me wrong. Do what you feel like doing and don't let anyone stop you. But everyone is taking this way too seriously…There are so many more important things that should be talked about…And SO MANY MORE IMPORTANT PEOPLE that actually deserve an award.
He went on to suggest a few more worthy recipients as well as suggesting topics that we should be focusing on—over fishing, war, poverty. The overwhelming response to his tweets was one of support for the famous 65 year old transgender woman and Cruise later removed the angry tweets and tried to defend himself against the backlash and explain his motive.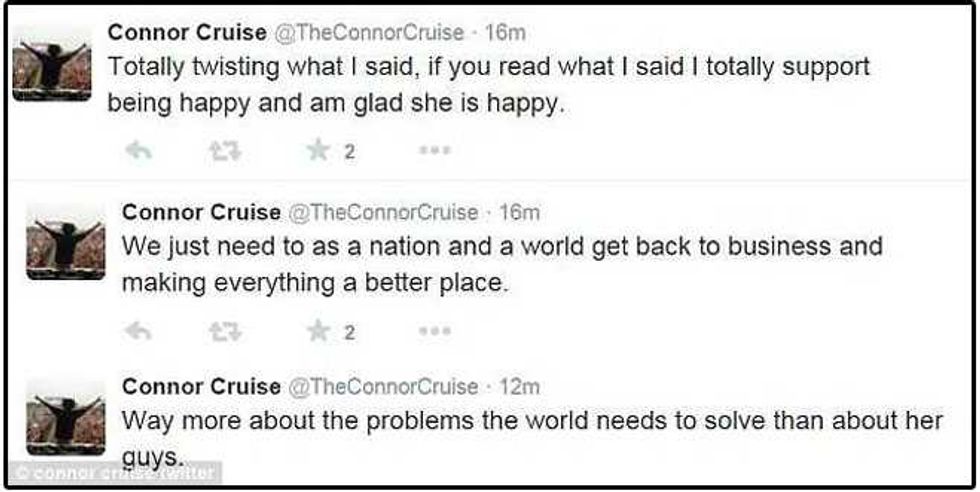 The DJ, left the Church of Scientology, of which his father Tom is the most famous member, last year in favor of finding self awareness and spirituality. Bearing in mind the countless messages from both stars and the general public since the Vanity Fair cover was revealed on Monday, we think he kinda misjudged the public support for Caitlyn—maybe a bit more self awareness training required!