Whatever you do, do NOT suggest the iconic stars of Sesame Street, Bert and Ernie have STDs because you will be shut down immediately!
A new advert for Mately, a New York City based company who offer discreet testing for STDs and HIV, has used the puppet pals in their latest campaign, and Bert and Ernie's owners are not happy about it at all because they didn't get permission to use the characters.
The cheeky ad shows Bert and Ernie looking over their test results with Bert saying "See Ernie, you've got nothing to worry about everything is positive!"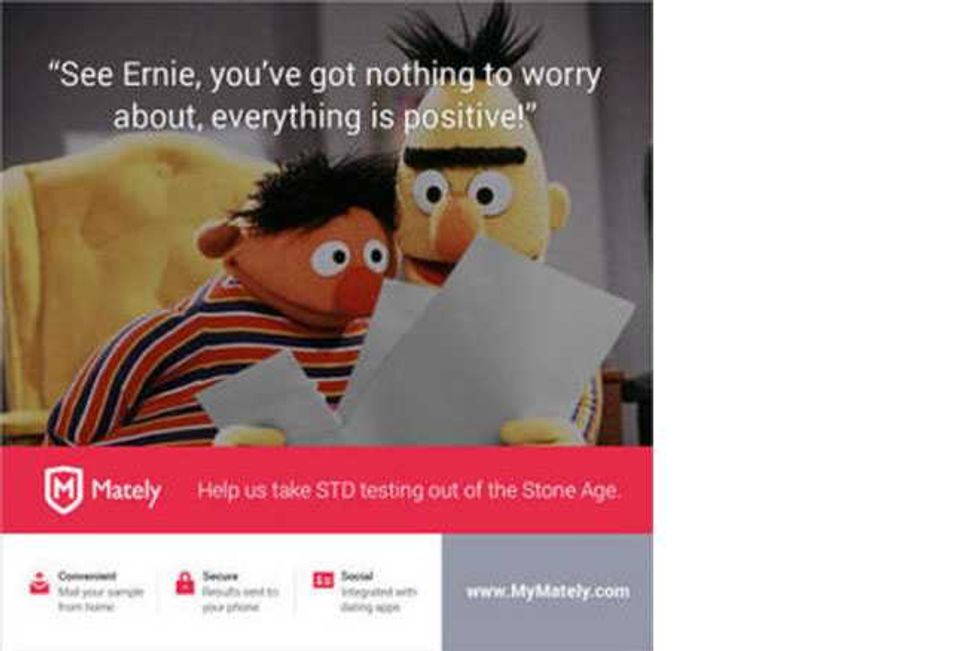 A spokesperson for Sesame Workshop has told TMZ that;
"The Mately ad is an unauthorized, unlicensed use of our characters.  We will be contacting Mately and the appropriate parties with a cease and desist letter instructing them to take this down."
The image has now disappeared from the website, but the startup company must be over the moon with the attention their latest marketing campaign has attracted—mission accomplished!
Mately is a subscription service offering users the ability to send in samples they've taken at home for analysis. The results are accessed online and can be shared with prospective partners on online dating services like Tinder and Grindr. They were hoping to raise $500,000 through a crowdfunding campaign, and with their profile raised as a result of illegally using Bert and Ernie's images, they should be well on the way to their goal.
Poor old Bert and Ernie's sexuality has been under scrutiny for years.  The private lives of the puppets have their own Wikia page and they have appeared on at least one gay wedding cake. The pair were also featured on the cover of the New Yorker in 2013 after the defeat of the Defense of Marriage Act in California.
The makers of Sesame Street have tried to play down the speculation saying;
"They are not gay, they are not straight, they are puppets. They don't exist below the waist."