A Night of Powerful Hip Hop Transforms Ithaca's State Theatre.
The State Theatre in Ithaca, New York is far from the sort of venue in which one might expect to see an act like Vince Staples perform. The stage, framed with intricate baroque sculptures, carvings, and medieval shields, gives the impression that this theatre has seen significantly more Shakespeare than bass-heavy, bone-rattling hip-hop. But, then again, Vince Staples is not your run-of-the-mill emcee. Staples is unique, which has always shone through in his music. That shine, as it turns out, is just as bright in his live show.
The March 1st concert marked the beginning of the second half of his 37-city "Smile, You're on Camera" tour, but the raw energy of all three acts could have fooled you into thinking that the tour was just getting started.
Katori Walker — a rapper from Pasadena, California — kicked the show off with heavy tracks about gang violence interweaved with calls for peace and unity. The crowd seemed relatively unfamiliar with Walker but gradually warmed up to his music over the course of his set. It's safe to say that he made more than a few new fans that night.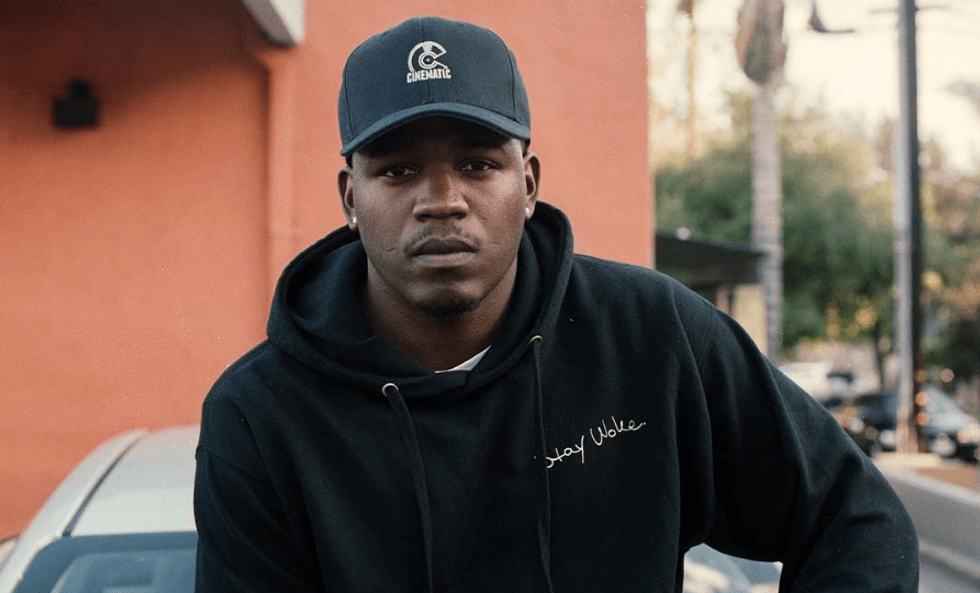 Katori Walker
Once Walker finished, Baltimore rapper JPEGMAFIA took the stage and did nothing to prepare besides setting up his laptop. The rapper, who sometimes goes by Peggy, acted as his own DJ, playing his songs on Spotify and rapping over them. Well, to put it more accurately, what he did was closer to screaming rhymes over glitchy, experimental beats. The energy was crazy, and the whole thing was very punk rock.

But the contrast to Staples' characteristically buttery flow and lyrical precision was jarring, and the set came across as sloppy and abrasive. But the crowd appeared to disagree, rising to meet Peggy's chaotic energy. The audience seemed to know every lyric, and they screamed them along with Peggy as he flailed and moshed about the stage, providing almost as much energy as a young Black Flag.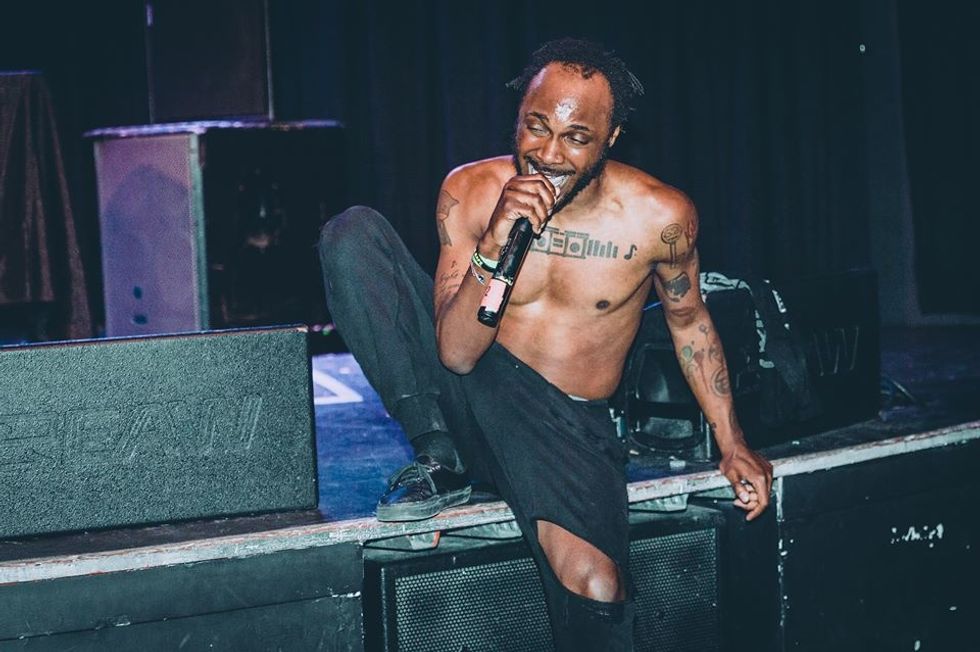 JPEGMAFIA
At around 10:30, with the crowd now sufficiently amped up, Vince Staples finally took to the stage. In stark contrast to JPEGMAFIA's stripped down, hardcore set, Staples took a more theatrical approach, employing an elaborate light show, enough smoke machines to keep him almost perpetually cloaked in a dense and eerie fog, and projections of cracked TV screens alternately broadcasting flashes of porn and live views of the audience and the emcee himself.

Through the cinematic and interactive experience, Staples drove home the theme of the tour: Smile, You're on Camera.
He opened his set with "Feels Like Summer," the first track off his latest album, FM! During this number, Staples opted to keep the screen mostly black, minimizing distractions and allowing him to captivate the audience with his confident stage presence and bars.
Not only was the set design and overall concept of the show creative and engaging, but Staples' performance was masterful. His flow and delivery were spot-on and controlled, never missing a beat. He paced himself well, demonstrated expert breath control, and kept up with even the most complex, rapid-fire, and tongue-twisting schemes in his catalog.
Seldom have I seen an emcee spit his bars live with such precision and care that they sound as if they could have been the original studio recordings. This is just one more piece of evidence added to an already sprawling list as to why Vince Staples is one of the best in the game right now.
After performing the majority of FM! (a remarkably short album, even in full) and plenty of classics off both the critically acclaimed record, Big Fish Theory and a fan favorite, Summertime '06, Staples shifted the attention off himself and dedicated the last fifteen minutes of his set to late rapper, Mac Miller, who passed away last September of an accidental overdose. The two emcees were contemporaries and longtime collaborators and friends, so it was touching to see Staples pay his respects to Miller.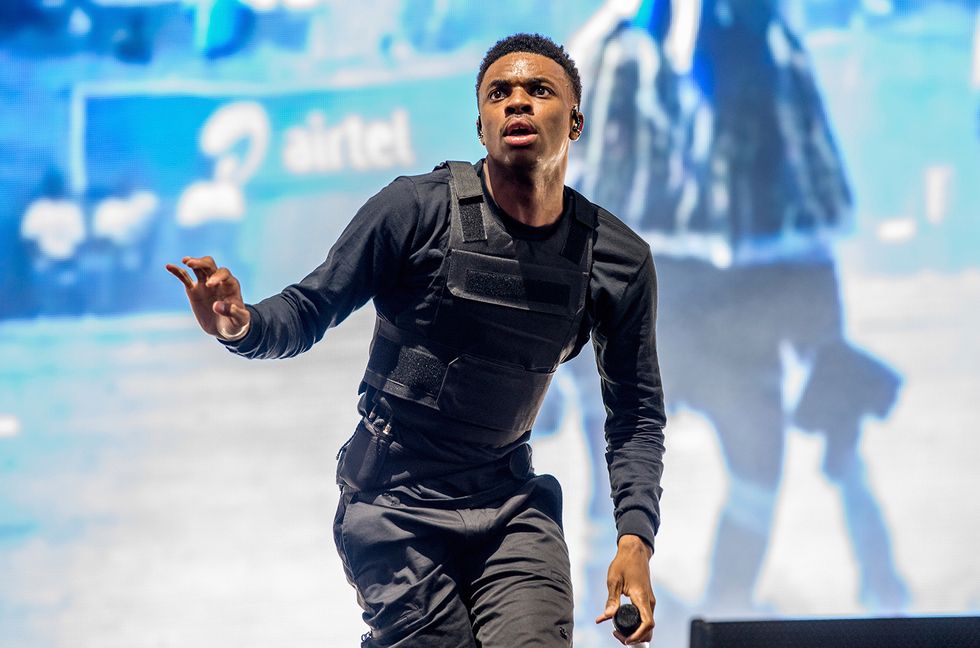 Vince Staples
Staples ended his set with "Yeah Right," and then thanked the audience for coming. As he exited the stage, the lights did not come up. Instead, the entirety of Mac Miller's NPR Tiny Desk concert played on the screen from start to finish. Mac Miller was transported beyond the grave to be on tour with Staples so the two could rock the same stage one last time.

Seeing Miller perform stripped down versions of his songs was a powerful moment for many in the crowd. More than a few audience members were brought to tears.
It's rare that we are blessed with an emcee like Vince Staples — someone who is just as raw, real, and complex as his music. If you have the chance to go see him for the second leg of this tour, you definitely should. And if you aren't already familiar with Vince Staples' music, there's a good chance you will be in the years to come. At just 25 years old, he's only going up from here.
---
Dustin DiPaulo is a writer and musician from Rochester, New York. He received his MFA in Creative Writing from Florida Atlantic University and can most likely be found at a local concert, dive bar, or comedy club if he's not getting lost somewhere in the woods.
---
POP⚡DUST | Read More...
Fetishizing Autism: Representation in Hollywood
Post Malone Crocs Sell Out: Succumb to the Darkness