Film News
90s kids everywhere had their trust so broken by the new trailer that we might as well go back in time and swallow Hot Wheels tires.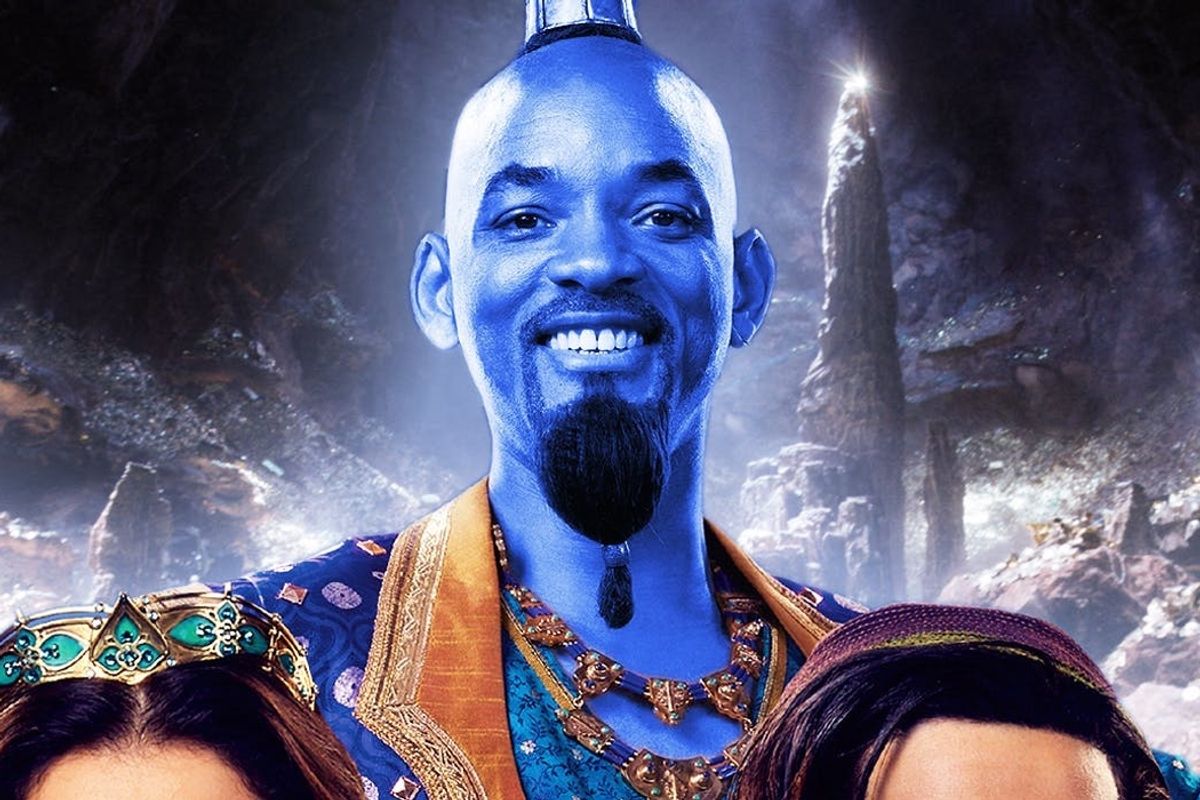 In 1992, Bill Clinton had just been elected as America's favorite stocky sax player, Michael Keaton was safeguarding the Batman franchise from the future ruin of George Clooney, and, most importantly, Disney released the original Aladdin.
Fast forward to 2019, however, and Bill Clinton keeps getting into shape to become the "First Gentleman" in the White House, Ben Affleck's Batman made George Clooney's look fine, and, as we all saw yesterday, Will Smith is too 3D to play Aladdin's favorite, blue life coach.
During Sunday's Grammys, Disney debuted the first full trailer for Guy Ritchie's live-action version of Aladdin, starring Mena Massoud as Aladdin, Naomi Scott as Jasmine, and Marwan Kenzari as Jafar. But it's Will Smith as a bloated, blue CGI Genie that's prompting fans to react as if human progress is a lie and this reality is an alternate ending to Aladdin after Jafar trapped us all in the lamp.
The breakdown of why we hate it:

1. He's just so blue
When the first teaser images of the film were released in October, people were put off by how much Will Smith-as-Genie resembled plain Will Smith. In response, the actor promised that the film would preserve the iconic face of the original character (voiced by the masterful Robin Williams) with CGI technology. So when Smith posted the full trailer on Sunday, he thought he'd made good on his word, "I told y'all I was gon' be Blue!! 🧞♂️ Y'all need to trust me more often! 😆 #aladdin."
But, in reality, that trust was so despondently broken by the new trailer that we might as well go back in time and swallow Hot Wheels tires.
Will Smith genie is what appears in my room when I have sleep paralysis https://t.co/NzMDOgvkkz

— Jenny Nicholskeleton (@Jenny Nicholskeleton) 1549851015.0
All three of my wishes would be to unsee the Will Smith genie

— ghoulish sambino (@ghoulish sambino) 1549886233.0
2. Movement: Is Genie swol or exploding?

Even though he appears in only a few frames of the trailer, the jerky movements of Smith's Genie seem off. Part of the reason is how much extra work went into the CGI to make Smith appear as larger-than-life as his animated counterpart. As Slate's Sam Adams points out, the result is more bloated than godly.
guys calm down Will Smith looks fine https://t.co/t90CPqY2VR

— Sam Adams (@Sam Adams) 1549851449.0
3. Aladdin is set in the Middle East, topknots are Japanese, and Genie's hair doesn't exist anywhere
When the first stills of the movie showed Smith in Genie's human form, it wasn't just his lack of blue-ness that didn't look right. With a large hoop earring, bangles up and down his wrists, and a braided topknot perched on his head, the question is: how dare they? Even Smith's facial hair deviates from the Genie's pretty straight forward thin beard. One writer posted, "Will Smith's genie hair in the live-action #Aladdin is going to be a major source of anxiety for me in 2019."
Will Smith's genie hair in the live-action #Aladdin is going to be a major source of anxiety for me in 2019. https://t.co/FwG44LHiUj

— Jason Carlos (@Jason Carlos) 1545223805.0
But, as Cinemablend published Monday morning (after the roaring screams of the Internet had paused and we collectively buried our fond memories of 1992): "Wait, What Did You Think Will Smith's Live Action Genie Was Going to Look Like?" Simple: he's supposed to look as perfect as our imaginary friends but with Robin Williams' charisma.
Let this be a warning to Disney, who's taking a lot of risks this year with more live-action adaptations, from Dumbo to Lion King: they do so at their own peril. When Will Smith wasn't a blue Genie, we demanded a blue Genie, damnit! When Will Smith pretended to be a blue Genie, we were offended by this smurf imposter. All we want is our childhood perfectly crystallized in 2019's special effects so we can swallow it down like a nostalgia pill. Is that so much to ask?
The internet reacting to Will Smith's genie https://t.co/gK6ginlrxQ

— Ryan Satin (@Ryan Satin) 1549854400.0
---
Meg Hanson is a Brooklyn-based writer, teacher and jaywalker. Find Meg at her website and on Twitter @megsoyung.

---
POP⚡DUST | Read More...

Please Help, I Liked Ariana Grande's New Album Way Too Much