MUSIC
Gaga's album has been delayed, but she's rolling out imagery that reminds us of the fashion that made her famous—and channeling all her time into raising money for coronavirus funds.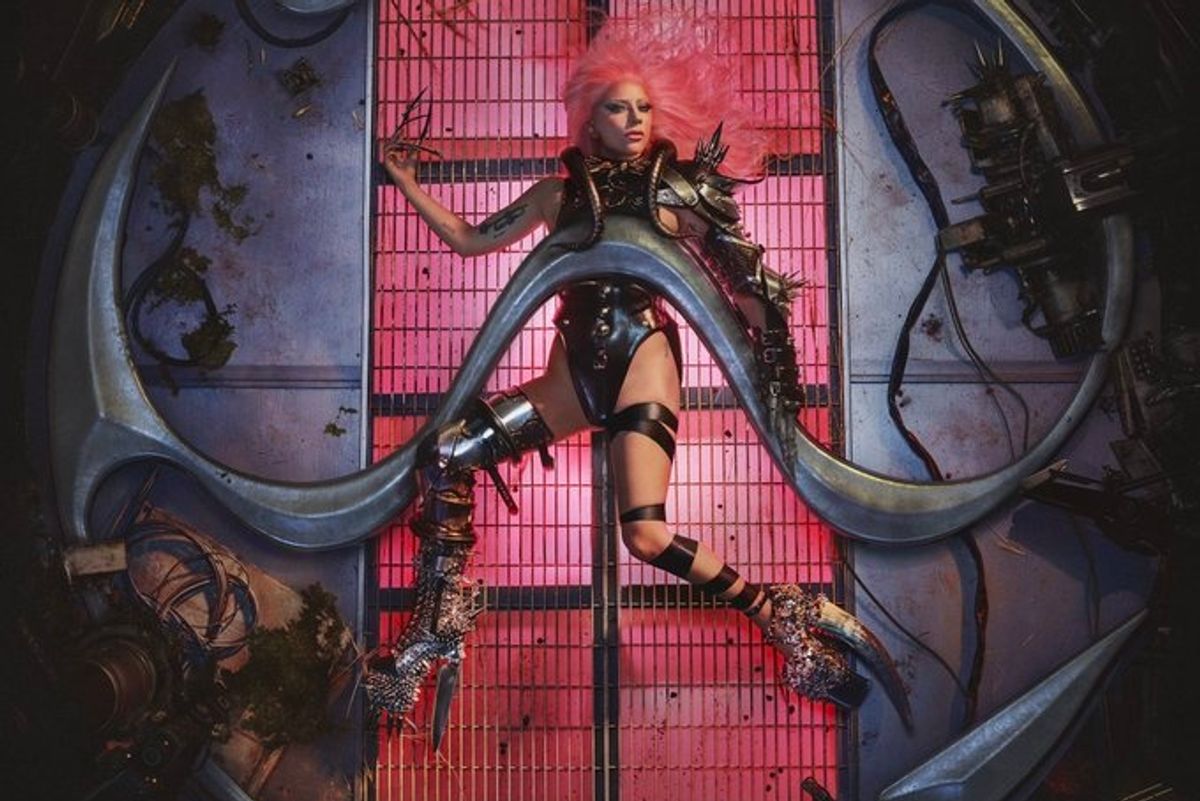 Lady Gaga has performed so many different roles over the past decade that it's easy to forget that in her early days, she was a fashion pioneer.
Gaga's wild outfits—from the iconic meat dress to the Haus of Gaga "Bad Romance" music video creations—earned her a front page spot on tabloids and helped launch her pop career.
She's just released the cover art for her new album, Chromatica, and it's as futuristic, complex, and opulent as anything we've seen from her before.
Gaga's album release has been delayed due to COVID-19, which she announced in another Instagram post:

That doesn't mean that the perpetually and often mind-blowingly active star has been taking a break, though. Tonight, she's speaking (virtually) at the World Health Organization's press conference to announce the next #TogetherAtHome virtual concert series, slotted for April 18, which will feature Paul McCartney, Lizzo, Billie Eilish, Stevie Wonder, Elton John, Alanis Morissette, Billie Joe Armstrong, Common, Kacey Musgraves, J Balvin, and of course, Lady Gaga herself.
The show will be co-hosted by Jimmy Kimmel, Jimmy Fallon, and Stephen Colbert.
WHO will have a special guest at today's #COVID19 press conference: @ladygaga will be joining us to announce the… https://t.co/Lp1RsH6eP8

— World Health Organization (WHO) (@World Health Organization (WHO)) 1586186680.0
⭕️ We're excited to announce One World: #TogetherAtHome, a global broadcast on April 18, curated in collaboration w… https://t.co/mXtqzpfXiW

— Global Citizen (@Global Citizen) 1586188531.0
In a recent briefing, Gaga announced that along with Global Citizen, she's raised $35 million in the last week for The Who's COVID-19 Solidarity Response Fund.
Lady Gaga announces #TogetherAtHome virtual global special (part 1): https://t.co/0aTU31YE5v

— Gaga Media 💗 (@Gaga Media 💗) 1586188936.0
In the meantime, while we wait for Chromatica, we can rewatch the futuristic "Stupid Love" video and bask in the glory of Gaga's "kindness punks" dance cult.
Lady Gaga - Stupid Love (Official Music Video) www.youtube.com