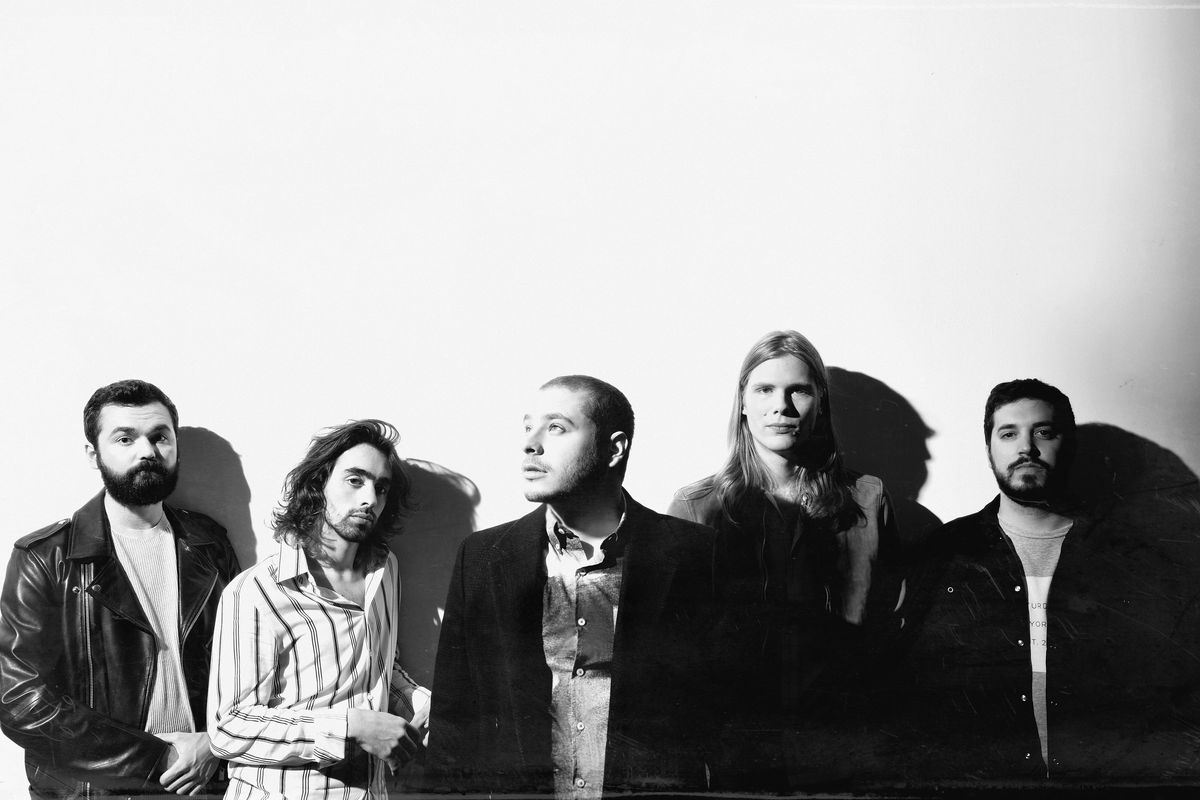 The Chordaes are taking us back in time this week.
Native New York band The Chordaes are lovers of classic rock- all things nineties included. This shines through in their sound: a sweet blend of classic rock and power pop. Recently, The Chordaes have released a new EP In Itinere which has garnered great reviews from Impose Magazine and more. The band's recent single "What Do You Want From Me?" and it's accompanying visual as received praise from PopMatters and All Things Go. The music video was directed by legendary Phil Harder who has worked with the likes of The Afghan Whigs, Robert Plant, Billy Talent, Prince, Rob Thomas, Matchbox Twenty, Incubus, and many more.
Watch "What Do You Want From Me?" here.
The music video is brilliant (obviously), vibrant, and moody in all the right ways. The visual plays with the line of reality and subconscious, sobriety and intoxication, dream and awake. The pastiche of the Busby Berkely choreography flirts with the groovy seventies feeling they've created with the colors and movement in the visual. The gorgeous colors and layers of the music video only heighten the rich layers of the song. I love that there is a performance aspect to the video showcasing the band themselves.
Comprised of Leo Sawikin (Lead Vocals/Guitar), Ethan Glenn (Drums), Nick McFly (Bass), Dan Cobert (Keys), and Kevin Foley (Guitar/Backing Vocals) the sound of The Chordaes is full and powerful. Today, Leo Sawikin has curated a playlist of his favorite songs from the nineties just for Popdust readers. He says, "This list comprises songs by alternative rock bands who wanted to be more than just plain alt rock and transcended their genres."
Check out Leo's playlist here:
New Radicals | "You Get What You Give"
This song by New Radicals combines Burt Bacharach-esque chords and melodies with a much more grungy vocal approach and arrangement. Major 9 chords ring out on the piano over a straightforward yet restrained beat.
The Sundays | "Here's Where The Story Ends"
A very dreamy song about a breakup. In a lot of ways it has elements of a more stripped down version of a U2 type of song.
Cocteau Twins | "Heaven Or Las Vegas"
This song has a massive and unique wall of sound. Major 7 chord arpeggiations play over a slow but an intense r&b/hip-hop drum approach.
Jeff Buckley | "Je N'en Connais Pas La Fin"
Jeff Buckley's cover of the Edith Piaf classic is absolutely heart wrenching. The arrangement takes on a new character as it is composed of just fingerpicked guitar. The original song has a much more orchestral arrangement.
Radiohead | "(Nice Dream)"
"Nice Dream" is by far one of the strongest tracks on The Bends. The song combines Beatles-esque arpeggiations in 6/4 with a more modern acoustic guitar feel. "Fake Plastic Trees" is another wonderfully sad inclusion that fits with the internal turmoil emoted by Tom Yorke.
Garbage | "Stupid Girl"
"Stupid Girl" by the group Garbage is such an iconic songs from the 90s. The group started by Shirley Mason and Butch Vig strived to be alternative rock that went beyond simple arrangements. "Stupid Girl" takes a simple two step disco feel and combines it with flange guitars and some of the best synth sounds of the era.
The Smashing Pumpkins | "1979
"1979" by the Smashing Pumpkins was also produced by Butch Vig. This song works off of a riff that uses a raw major 7 interval that resolves into a plain octave. The chords and melodies give off a vibe that is simultaneously gritty and clean.
Nirvana | "Heart-Shaped Box"
"Heart-Shaped Box" has always stood out to me amongst Nirvana's other songs. This song is made special by the use of the raw tritone or flat fifth interval to create tension at the end of each phrase. The tension in a flat fifth is much stronger than in any other interval. With multiple guitar tracks playing the interval the power behind it is undeniable.
Elliott Smith | "Bled White"
"Bled White" is by far the most harmonically intricate song is this list. This song is not about the style or arrangement, it's about the melody, chord progression, and lyrics. Simple melodies allow incredibly complex musical and linguistic ideas to glide effortlessly through the mind painting vivid colors and shapes.
Radiohead | "Let Down"
OK Computer is perhaps the most masterfully produced album of the 1990s. Of all the songs on the album, the song "Let Down" stands out the most. The guitar sound is similar to that of "Woman in Chains" by Tears for Fears. That sound is then combined with much more modern sounding synths. These sounds are then put against the Beatles restrained "Ticket to Ride" drum feel.
For more of The Chordaes check out their recent EP In Itniere.
---
Anie Delgado is a contributor to Popdust and is an actress and musician based in NYC. Follow her on Instagram | Facebook | Twitter and check out her music on Spotify.

---
POP⚡ DUST | Read More About Music...
MUSIC MONDAY | SondorBlue takes over this week's playlist
MUSIC MONDAY | A healthy pre-winter mix of uplifting tunes