Brent chops up Michael Jackson vocal samples and brings in top tier indie rappers for the remix to his single, "vybrent." - now available everywhere!
Out today, NYC-based rapper/producer Brent Butler's latest track brings the sounds of summer to an already fresh beat, adding an energetic flair and some cool collaboration from rappers Ohene Cornelius and Deascent. "vybrent [REMIX]" is ripe and ready for a never ending summer, taken up a notch from the original with bold sounds and brand new lyrics.
For an unsigned artist, mostly producing music in his bedroom, this kid's got serious talent. But I'll let you be the judge.
More from Brent Butler on Spotify:
---

"When rapper, Ohene Cornelius, heard the original 'vybrent' he immediately demanded a remix with a verse of his own. At that time, I still had months of writing and producing ahead of me to finish the EP – remix considerations
were nowhere on my radar."
Undeterred, Ohene crashed a studio session later that week. According to Brent:
"Ohene laid down a verse that captured the energy of the song so perfectly that I began rethinking everything. Cut to the next day: Deascent wanted in as well. His verse completely blew me away; I couldn't ignore fate... a remix was inevitable."
Original "vybrent," featuring indie rapper, Crimdella.
"This is a track I'm probably most proud of. I've always been inspired by producers from Pharrell, to Just Blaze, Kanye, and even rock producers like Rob Cavallo. I hope "vybrent," both the remix and the original would make all of them proud."
2018 has been a big year for Brent. 2 months ago he traveled out to the deserts of California to shoot this new video for another single off his debut solo EP, L I L A C, which was released in June, "in the desert," featuring vocals from the incredible singer, Lauren Renahan.

Popdust featured all three of the talented musicians from "vybrent [REMIX]" (and 8 others!) back in February, when he brought 13 local artists together for the appropriately titled single, "13."

"I'm all about collaborations, so working on my first solo EP, L I L A C, may have had me a bit stir crazy in the studio. When Deascent heard the track and responded with his own 8 bars, I was like... okay let's go nuts... Next it was 4 rappers, then 8, then 11, and it kept going. It easily would have gone over 13, but we drew the line there decided to do a surprise release on the 13th... cuz you know, numbers."
Read our exclusive premiere, and check out the teaser below.
---
And what about his personal music influences?
"I grew up wanting to be a punk rocker. I was obsessed with Green Day, NOFX, Weezer, Bad Religion, Nirvana, The Ramones (who I shout out in the original version of "vybrent"), and so many more. Later in life I fell deeply in love with hip hop thanks to artists like T.I. - his record "What You Know" opened my mind up. It just rocked. From there I become a huge fan of lyricists like Lupe Fiasco, Jay Z, Eminem and others. To me, punk and hip hop share so much. Both genres deliver tremendous energy while simultaneously giving a voice to people and issues that are largely overlooked. Ironically, another commonality of the genres is that both have become inextricably ingrained in pop music. There is no popular music today that doesn't, in some way or another, have some punk and hip hop in it's DNA."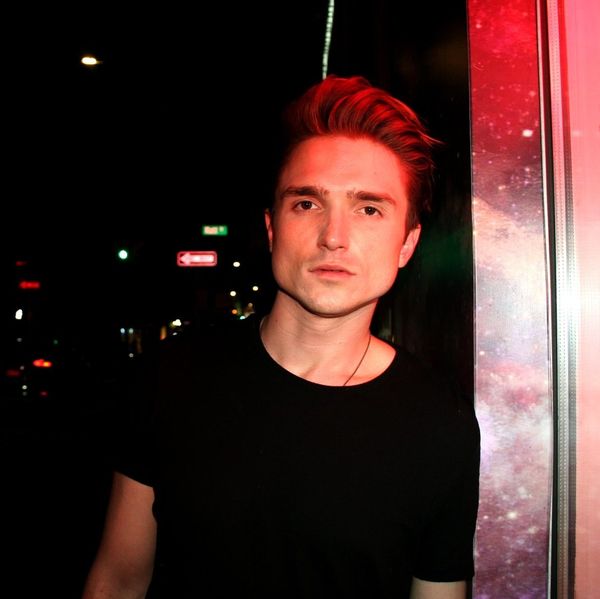 Via Facebook
Love the remix? Lucky for you it's available everywhere for streaming and download. Work your way into the weekend with something new, something hot, and something special. Brent Butler is giving us reimagining by way of remix and its worthy of a listen.
---
UPDATE! MORE NEW MUSIC!
Since the time of this articles publication, Brent's music has been featured in quite a few more music outlets including The Daily Shuffle, Earmilk, and more! Plus he has two more incredible videos to share, the first of which features Butler's longtime collaborator, Deascent! Watch "idny" below:
Then, channeling 90's nostalgia rock, Butler just yesterday released his most impressive visual yet - "watching me closely."

---
Melissa A. Kay is a New York-based writer, editor, and content strategist. Follow her work on Popdust as well as sites including TopDust, Chase Bank, P&G, Understood.org, The Richest, GearBrain, PayPath, The Journiest, Bella, TrueSelf, Better Homes & Gardens, AMC Daycare, and more.
---
POP⚡DUST | Read More…

Scruffy Pearls Brings us Soul-Pop Sweetness
Chris Jobe gives us some "Love in the Morning"
Playlist Takeover by Megan Davies