MUSIC
Fans are calling this the "messiest" Lana era ever. But it also could be the best, judging by the quality of the music. Here's everything we know.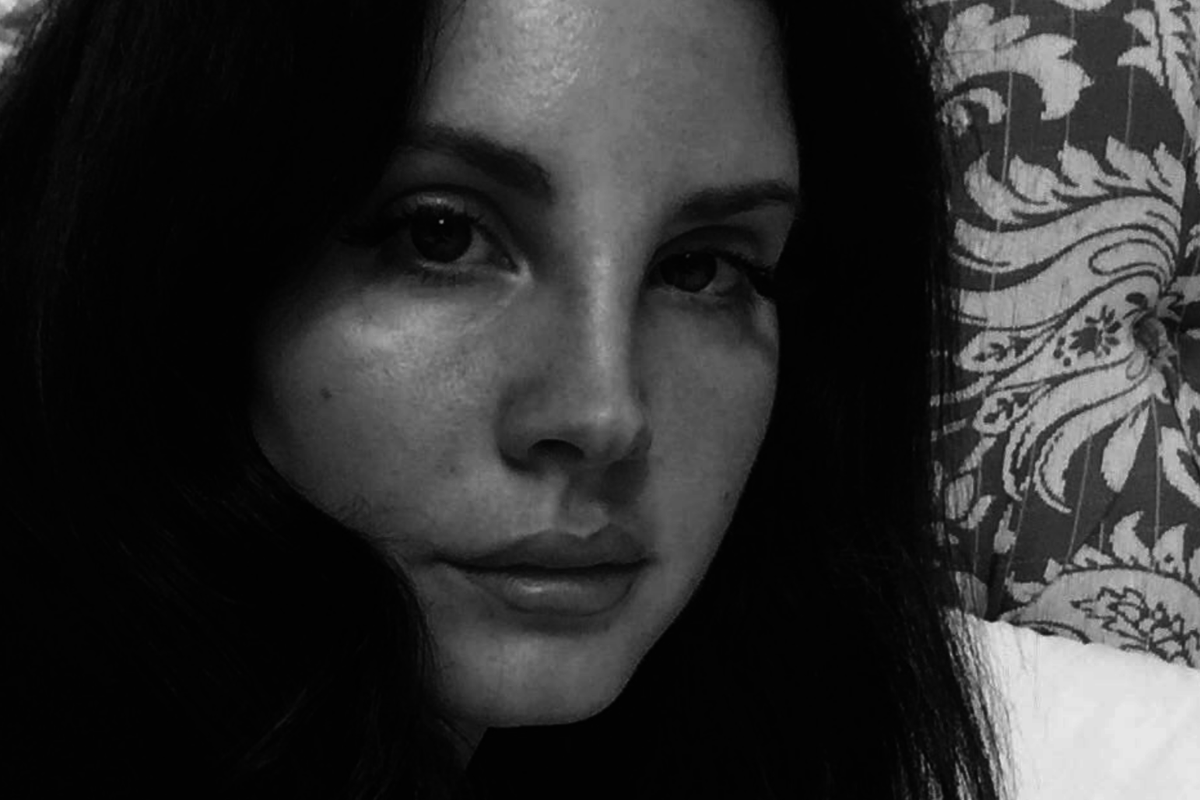 In January 2019, Lana Del Rey told the world that her sixth album, Norman F**king Rockwell, was complete.
Since then, she's teased dozens of songs and visual clips—but the album's release date remains elusive, infuriating legions of devoted fans.
It's unclear whether the album is still undergoing a prolonged period of revision, if she's decided to scrap the whole thing, or if it's all beyond her control, though it's always hard to know with Del Rey, who has never been one to follow rules. Still, she's certainly given fans a fair amount of teasers to hold them over in the interim. Here's a timeline of every quote, whispered clip, and blurry visual we have so far.

In January 2018, in an interview with Pitchfork, Lana mentioned that one of her newest songs was called "Bartender," and described it as "super weird."
Then on February 25, Del Rey uploaded a video that featured her hanging out with Jack Antonoff, prompting later-confirmed suspicion that they were working together on a new project.
Lana Del Rey hanging out in the studio with Jack Antonoff www.youtube.com
On February 28, Del Rey visited the Ryan Seacrest Foundation, where she began writing a song called "Starry Eyed" on ukulele, which she promised to finish and dedicate to the foundation; it's also unclear whether this song will be on the album.
Live in Seacrest Studios with Lana Del Rey www.youtube.com
On March 5, 2018, Del Rey first teased the lyrics of a song called "Happiness is a Butterfly," a lullaby-like sigh of a track that has continued to reappear throughout Norman Fucking Rockwell's forked pathway to release. On March 30, she released a snippet of the song on Instagram, which she later removed and then un-archived.
On June 12, MTV released a list of upcoming albums, which featured an obviously false March 29 release date for Norman Fucking Rockwell.

A few months later, Del Rey teased and then premiered the psychedelic, Leonard-Cohen-quoting "Mariner's Apartment Complex," which was released on September 12.
Lana Del Rey singing Mariners Apartment Complex acapella www.youtube.com
Lana Del Rey - Mariners Apartment Complex www.youtube.com
Then on September 18, she released the equally trippy, luxurious "Venice Bitch" on an interview with Zane Lowe for Beats 1. [links] Regarding the song's length, Del Rey said, "I played it for my managers and I was like, 'Yeah, I think this is the single I want to put out.' And they were like, 'It's 10 minutes long. Are you kidding me? It's called 'Venice Bitch.' Like, Why do you do this to us? Can you make a three-minute normal pop song?' I was like, 'Well, end of summer, some people just wanna drive around for 10 minutes [and] get lost in some electric guitar.'"

Lana Del Rey - Venice Bitch www.youtube.com
In the same Zane Lowe interview, Del Rey also said, "Working with Jack [Antonoff], I was in a little bit of a lighter mood because he was so funny. So the title track is called 'Norman Fucking Rockwell' and it's kind of about this guy who is such a genius artist but he thinks he's the shit and he knows it and he, like, won't shut up talking about it… I just like the title track so much that I was like, 'OK, I definitely want the record to also be called that."
Several music sites later reported that these singles were "fan singles" and would not be on the actual album, though Del Rey has not confirmed this speculation.

Then on October 4, Del Rey posted an extended video of "How to Disappear," which she later deleted and subsequently unarchived.
Lana Del Rey - How to Disappear (Snippet) (Instagram Video) www.youtube.com
On October 12, Del Rey posted a clip of her singing a song called "Cinnamon" on Instagram, which she later deleted and then reposted as well.

In response, a fan Instagram account posted a 2017 quote from an interview with Pitchfork where Lana stated, "I had some people in my life that made me a worse person. I was not sure if I could step out of that box of familiarity, which was having a lot of people around me who had a lot of problems and feeling like that was home base. Because it's all I know. I spent my whole life reasoning with crazy people. I felt like everyone deserved a chance, but they don't. Sometimes you just have to step away without saying anything."
Del Rey commented on the post, "the quote [from Pitchfork] is a perfect quote to go along with cinnamon [sic]. Some people don't deserve a chance."

On October 30, Del Rey performed "How to Disappear" and "Venice Bitch" at an Apple special event in Brooklyn, a show that was widely praised by fans including CEO Tim Cook.
Lana Del Rey - How to Disappear and Venice Bitch Live at Apple Event 2018 www.youtube.com
She also released the full audio for "How to Disappear."
Lana Del Rey - How To Disappear (Official Audio) www.youtube.com
On December 5, she officially announced the album's title at Jack Antonoff's concert for the Ally Foundation and performed two country songs which she announced would not be on the new album.

Lana Del Rey - Hey Blue Baby [Live at Ally Coalition Talent Show] www.youtube.com
Lana Del Rey and Jack Antonoff - Ally Coalition Talent Show "I Must Be Stupid For Feeling So Happy" www.youtube.com
On January 1, 2019, Del Rey posted a video of her singing along to a song called "In Your Car," featuring the lyrics "In your car / I'm a star / and I'm burning through you."

Lana Del Rey teases new song "In Your Car" on her Instagram (Snippet) www.youtube.com
The next day, she posted the audio for her song "Hope is a dangerous thing for a woman like me to have — but I have it."
Lana Del Rey - hope is a dangerous thing for a woman like me to have - but i have it www.youtube.com
Producer Jack Antonoff tweeted his support, advising fans to "listen at night alone."
hope is a dangerous thing is one of 2 songs that happened the first day that lana and i were in the studio. recorde… https://t.co/VdgOxSBJHx

— jackantonoff (@jackantonoff) 1547163555.0
Then on January 11, 2019, she released an extended clip of a video for "Happiness is a Butterfly," which used the same visuals she had previously released alongside teasers for "Mariner's Apartment Complex" and "Venice Bitch." The video, relatively dreary and mellow compared to Del Rey's earlier work, featured Ashley Rodriguez and Alexandria Kaye and was directed by Lana Del Rey's sister Chuck Grant.

On March 23, 2019, Del Rey performed "Mariner's Apartment Complex" live for the first time in New Orleans, taking to an onstage swing and thanking the audience for "indulging [her] little folk sensibility" in the process.
Lana Del Rey @ Buku 2019 (Mariners Apartment Complex, Video Games, High by the Beach) www.youtube.com
Most recently, on April 3, 2019, Del Rey posted a snippet of a song that fans have named "You Don't Ever Have To." Some fans speculated that it's a part of "In Your Car," but this remains unknown.
In the midst of it all, she also released a Gucci ad with Jared Leto and has been teasing a book of her poetry, periodically releasing haikus and typewritten pages and even putting out a call for indie bookstores who might want to sell it. When asked about the price, Del Rey said that the book will cost $1, because "my words are priceless."
It's anyone's guess as to when Norman F**king Rockwell will drop, but Del Rey has always been adept at draping all of her work in auras of mystery. She's a master of contrasts, always throwing critics for a loop by combining kitsch and rawness, strength and vulnerability, apathy and passion. She's also always been great at making us wonder about the extent to which her appearance and art have been meticulously manufactured.
Maybe she's leaving a paper trail of sorts that resembles her own fractured consciousness. Maybe she's painting our schizophrenic reality, one defined by upheaval and exponential technological innovation. Or maybe she's just a free spirit whose artistic vision "gets messy" when it comes in contact with reality, as a friend once said.

Regardless, judging by the quality of the fragments that we do have, when the album finally does appear, it'll have been worth the wait.
---
Eden Arielle Gordon is a writer and musician from New York City. Find her on Twitter @edenarielmusic.
---
POP⚡DUST | Read More...
Beyoncé Walks Out of Reebok Pitch Meeting, Citing Lack of Diversity
Every Time Jameela Jamil Has Taken Down the Kardashians' Toxic Diet Culture

Six Songs About Fluid Sexuality More Outrageous Than Ariana's or Billie Eilish's