CULTURE
With #dualipaisoverparty trending on Twitter, we need to have a talk about strippers and sex worker rights.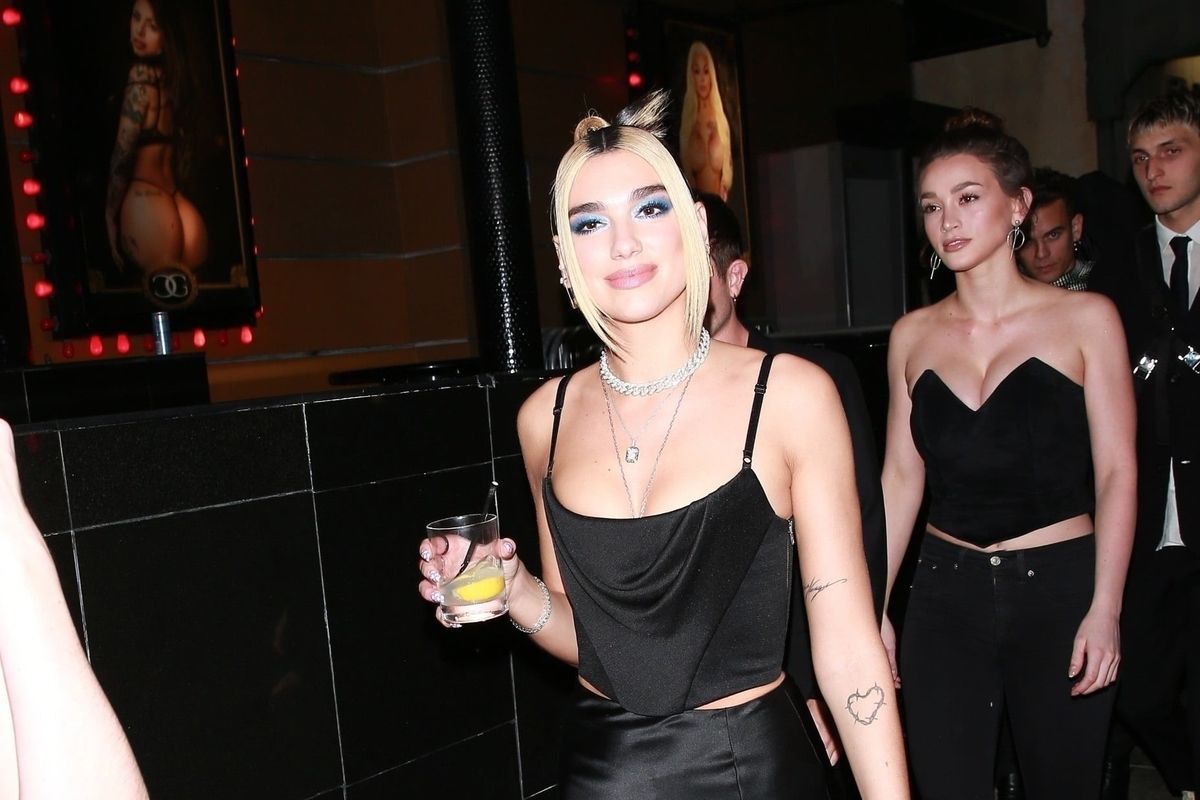 In the age of an imperfect cancel culture, Twitter users have harnessed the power of hashtags to superfluous extremes, often at the expense of innocent stars.
This morning, #dualipaisoverparty began trending on Twitter, a response to a video that surfaced of the singer attending a strip club for a Grammys afterparty and throwing bills on twerking dancers—you know, what male rappers have been doing since the dawn of hip-hop. Lipa was criticized for perpetuating the oversexualization and objectification of women while proclaiming to be a feminist.
#DuaLipaIsOverParty trends on Twitter after viral tweet questions Lizzo, Rosalia & Dua Lipa's feminism for attendin… https://t.co/aPPUSavsto

— Pop Crave (@Pop Crave) 1580228203.0
The origin of these #isoverparty hashtags is frequently attributed to K-pop fandom's futile attempts to "cancel" everyone but their idols, but bot accounts and the dense, virtue-signaling side of "fake woke Twitter" can also be credited for bolstering the virality of this kind of hashtag. In this case, Lipa's critics set a clear example of misdirected fake-wokeness, neglecting to consider the fact that sex workers and strippers are as deserving of respect as women in any other industry.

Cardi B, since taking the hip-hop limelight, has been open about her experience as a stripper. She's emphasized that she chose to go into sex work when she was of legal age to do so, and she was able to have fun while accruing enough money to go back to school. "It made me open my eyes about how people are, how men are, about hunger and passion and ambition," she explained.
When practiced safely, there are many pros to sex work for both sex workers and their clients—it can even contribute to aiding natural disasters. Cardi is just one example of how sex work, in its myriad of forms, has allowed many women to feel empowered, independent, and even allowed them to reclaim a degree of power. Criticizing Lipa for attending a strip club perpetuates the stigma that stripping and sex work isn't a valid profession, which further discourages governments from legalizing and regulating other forms of sex work like prostitution. Similar to abortion, criminalizing sex work doesn't make it go away—it just results in women resorting to much less safe and regulated ways of carrying it out. Though legality makes stripping and prostitution undoubtedly different, it's time we have an open mind about all forms of sex work and end the stigma.
"I find it interesting that as a medical doctor, I exchange payment in the form of money with people to provide them with advice and treatment for sex-related problems; therapy for sexual performance, counseling and therapy for relationship problems, and treatment of sexually transmitted infection," wrote Dr. Tlaleng Mofokeng in an op-ed for Teen Vogue last year. "Isn't this basically sex work? I do not believe it is right or just that people who exchange sexual services for money are criminalized and I am not for what I do. Is a medical degree really the right measure of who is deserving of dignity, autonomy, safety in the work place, fair trade and freedom of employment? No. This should not be so. Those who engage in sex work deserve those things, too."
Dua Lipa isn't any less of a feminist for attending a strip club, and neither is anyone who chooses to safely and respectfully participate in sex work. For many women, sex work isn't just one option—it's their only option. We should respect the women who choose to go into that profession as much as any other, and let their clients mind their own business.