MUSIC
Halsey, Dua Lipa, Tame Impala, and more.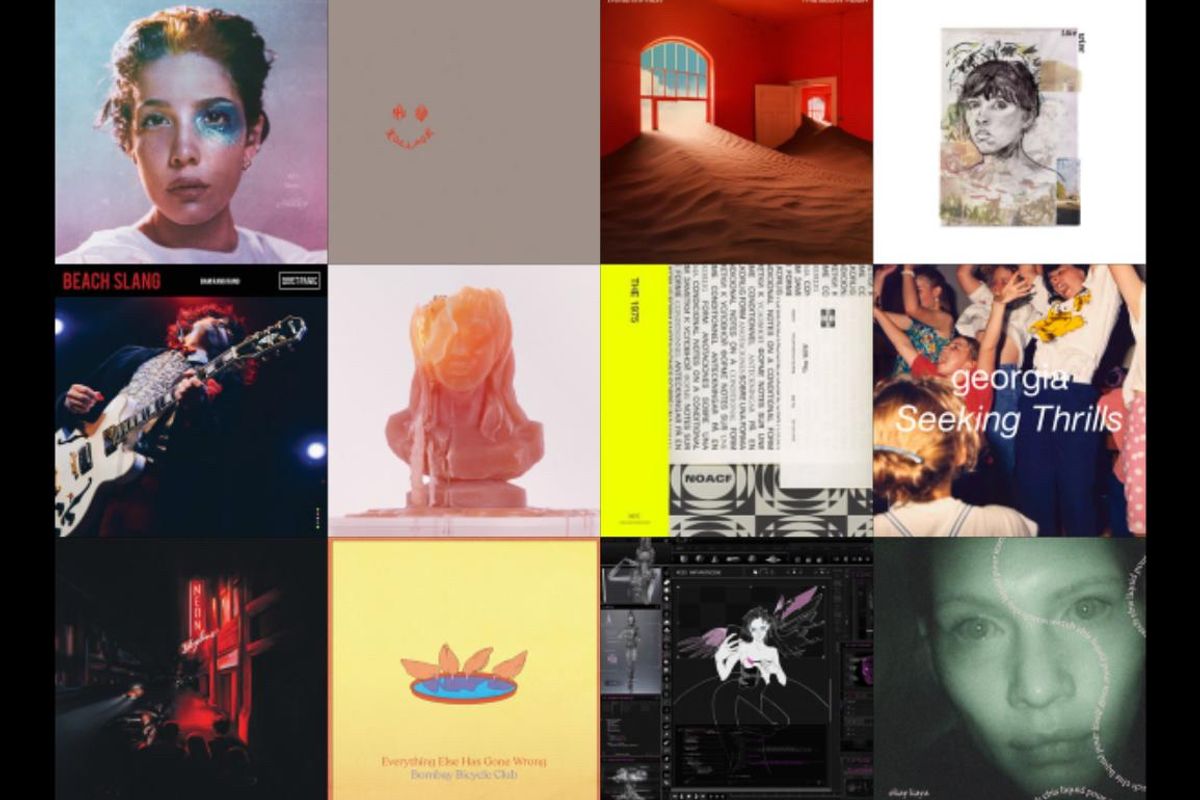 While it's plenty fun to revisit music of the last year (or decade), it's equally exciting to point our focus to future releases.
2020 is coming soon, with no shortage of both indie and major-label releases in the early months to keep our ears busy. Below, we've picked just a few that we can't wait to hear.
The 1975: Notes On A Conditional Form (Interscope/Dirty Hit, 2/21)
After dropping their acclaimed A Brief Inquiry into Online Relationships late last year, the modern indie pop legends return this year with their fourth studio album. They've released three songs from it so far, including opener "The 1975," featuring teen climate activist (turned Matty Healy's friend) Greta Thunberg.
The 1975 - People (Official Video)www.youtube.com
Grimes: Miss Anthropocene (4AD, 2/21)
The follow-up to Grimes' 2015 magnum opus, Art Angels is "a concept album about the anthropomorphic goddess of climate change." She's released five singles, most recently "4ÆM."
Grimes – 4ÆMwww.youtube.com
Georgia: Seeking Thrills (Domino, 1/10)
British producer Georgia Barnes' second album is due at the beginning of the year. If '80s-indebted synth-pop is up your alley, check out her fantastic single "About Work the Dancefloor."
Georgia - About Work The Dancefloor (Official Video)www.youtube.com
Frances Quinlan: Likewise (Saddle Creek, 1/31)
Frances Quinlan is best known as the lead singer of Philadelphia indie rockers Hop Along, but her inimitable voice still packs a punch as a solo act. Her first album under her own name comes out next month. Check out a single from it, "Now That I'm Back."
Frances Quinlan - Now That I'm Backwww.youtube.com
Tame Impala: The Slow Rush (Interscope, 2/14)
The Slow Rush is Kevin Parker and company's first album since 2015's instant-classic, Currents. The Australian band has released three singles so far: "Borderline," "It Might Be Time," and "Posthumous Forgiveness."
Tame Impala - Borderline (Audio)www.youtube.com
Halsey: Manic (Capitol, 1/17)
Manic is Halsey's third album. It includes her No. 1 hit "Without Me," as well as features from Alanis Morrisette, Dominic Fike, and Min Yoon-gi of BTS.
Halsey - Without Mewww.youtube.com
Beach Slang: The Deadbeat Bang of Heartbreak City (Bridge Nine, 1/10)
Last year, James Alex released the mellowed-out, acoustic-focused Everything Matters But No One Is Listening as Quiet Slang. Now he's back with his full punk band, Beach Slang, with their third studio album. It features Tommy Stinson of the Replacements on bass.'
Beach Slang - Bam Rang Rangwww.youtube.com
Kesha: High Road (Kemosabe, 1/10)
After the stream of empowerment anthems that comprised 2017's Rainbow, Kesha is returning to her party-pop roots for her fourth album. Singles "Raising Hell," "My Own Dance," and "Resentment" are out now.
Kesha - Raising Hell (Official Video) ft. Big Freediawww.youtube.com
Mura Masa: Raw Youth Collage (Polydor, 1/17)
Grammy-winning British producer Mura Masa's second record is on the horizon. It features guest vocals from pop darling Clairo, idiosyncratic rapper slowthai, lo-fi R&B upstart Tirzah, and more.
Mura Masa, Clairo - I Don't Think I Can Do This Again (Official Video)www.youtube.com
Bombay Bicycle Club: Everything Else Has Gone Wrong (Island, 1/17)
After taking some time off, London indie pop band Bombay Bicycle Club are back with their first new album since 2013. So far, you can hear "Eat, Sleep, Wake (Nothing But You)," "Racing Stripes," and the album's title track. Read our interview with bassist Ed Nash about the band's return.
Bombay Bicycle Club - Racing Stripeswww.youtube.com
Okay Kaya: Watch This Liquid Pour Itself (Jagjaguwar, 1/24)
Norweigan singer-songwriter Okay Kaya's second album is out soon, intertwining her themes of melancholy and anxiety into dark, eerie pop. She's released three singles so far: "Ascend and Try Again," "Baby Little Tween," and "Asexual Wellbeing."
Okay Kaya - Ascend and Try Againwww.youtube.com
Wolf Parade: Thin Mind (Sub Pop, 1/24)
Indie rock stalwarts Wolf Parade are back with their fifth album, their first since departure of multi-instrumentalist Dante DeCaro. They've already released two songs from it, "Forest Green" and "Against the Day."
Wolf Parade - Forest Green [LYRIC VIDEO]www.youtube.com
Andy Shauf: The Neon Skyline (Anti-, 1/24)
Canadian singer-songwriter Andy Shauf is soon releasing his sixth solo album. The singles "Things I Do" and "Try Again" are out now.
Andy Shauf - "Try Again"www.youtube.com
Dua Lipa: Future Nostalgia (Warner, TBA)
Dua Lipa's second studio album doesn't have a set release date, but we know it's coming in early 2020. If the two lead singles so far—"Don't Start Now" and "Future Nostalgia"—are any indication, it won't be a disappointment.
Dua Lipa - Don't Start Now (Official Music Video)www.youtube.com