MUSIC
Bassist Ed Nash spoke to Popdust about the band's reunion and their upcoming fifth album, Everything Else Has Gone Wrong.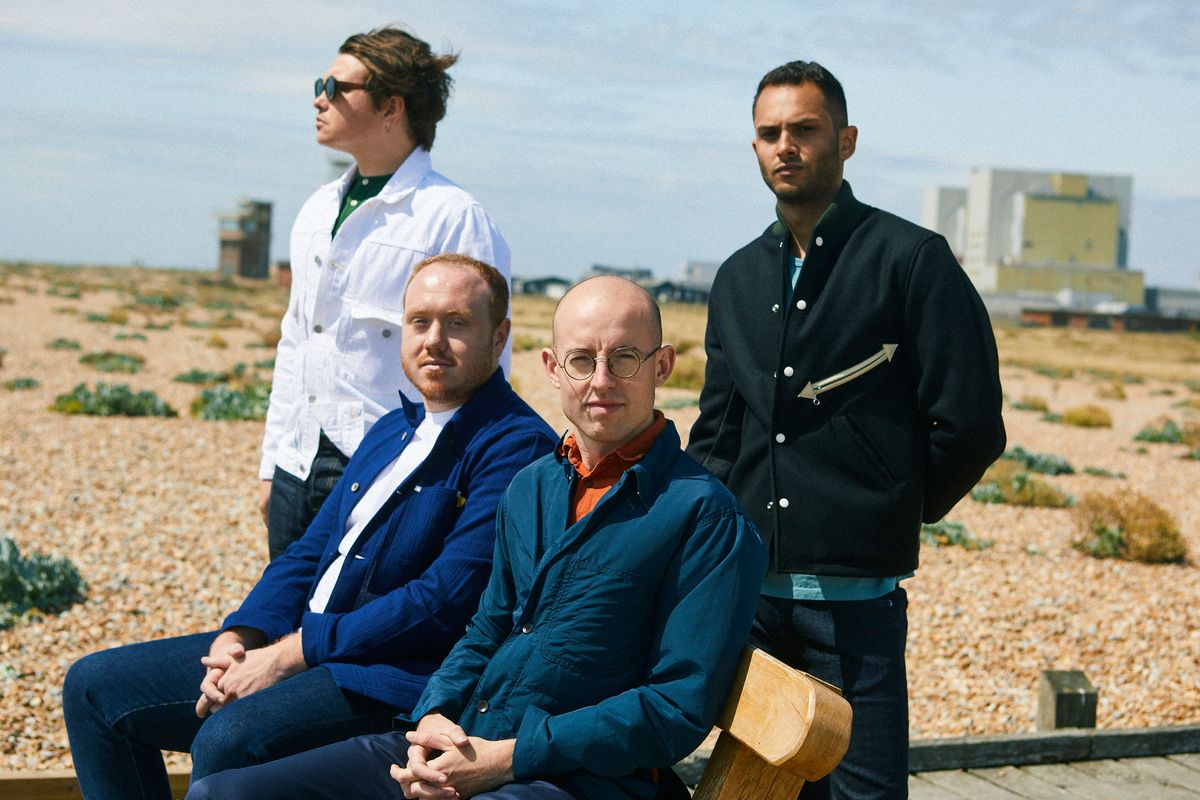 Josh Shinner
The video for "Eat, Sleep, Wake (Nothing But You)"—Bombay Bicycle Club's first new music in half a decade—begins with with a foreboding, albeit slightly satirical, message: "In 2016, the UK was rocked by a seismic event," reads the screen. "Bombay Bicycle Club went on indefinite hiatus. Without their music, British society crumbled."
"To be honest, I didn't feel that way personally," bassist Ed Nash admits, calling me from the band's native London. "I think we all tend to worry and be hard on ourselves. Before coming back, I thought, 'I wonder if everyone's forgotten about us?'"
But those worries were soon relieved. Though it's been six years since the beloved indie pop quartet released the massive, dazzling So Long, See You Tomorrow, the announcement of their reunion in early 2019 was received with a swarm of overwhelming support. Bombay Bicycle Club's fifth album, Everything Else Has Gone Wrong, is due January 17, but they've already been reeling in fans' excitement, having spent much of 2019 touring.
When I caught one of Bombay Bicycle Club's back-to-back New York City shows in October, they'd only released one new single since their comeback; still, over 1,500 dedicated fans filled the pit. Some jumped and yelled every word, while others stood near the back in admiration—everyone, it seemed, had been patiently waiting for the band to come back.
Below, Nash discusses the motives behind the reunion, what fans can expect from Everything Else Has Gone Wrong, and how "terrifying" it feels that their debut album is a decade old.
Bombay Bicycle Club - Eat, Sleep, Wake (Nothing But You) www.youtube.com
Popdust: So many bands announce a hiatus and then just never return. Did you envision Bombay Bicycle Club coming back or did you think the band was finished?

Ed Nash: In all honesty, I don't think any of us knew at all. We used the word "hiatus" because it was the most fitting thing. Bands like LCD Soundsystem say they're breaking up and then they get back together, like, a year later. We didn't want to do that. But at the same time, we didn't have any plans to do anything. Everyone was doing something different, and then it was kind of in doing our separate things that gradually made us realize what we had and start talking about doing it again.
How did the reunion come about?
I was doing my project (Toothless), and going through that, you kind of realize all the things you've taken for granted over the past 10 years: playing shows, being able to talk and work with other people. All of us kind of had a realization that [Bombay Bicycle Club] was actually something really, really special to us, and the time off made us think that. It kind of coincided with like this year's 10-year anniversary of our first album. We started talking about doing some 10-year anniversary shows for that, just to mark the occasion. But we're all 28 or 29; it'd be ludicrous to do our 10-year anniversary shows now. We're not in our 50s! But we thought because we missed playing shows, and because everyone was still up for it and still liked each other, we figured we might as well make new music. It was a slow process of realizing what we had and then being excited to work on music together again. Part of the reason we took the time off was because we weren't excited about these things we felt we should be excited about.
I was thinking of the lyric in "Everything Else Has Gone Wrong" that goes "I guess I found my peace again / And yes, I found my second wind." What moment did you find your second wind?
In 2014, we were on tour for, like, nine months of the year. And playing in the States should be the most exciting thing in the world, but after doing it for so long, things that you were previously super excited about become annoying. I'd be like, "Oh, man, I've got to go to Berlin. That's so annoying." You kind of catch yourself. You shouldn't be tired or annoyed by that, and if you are, you need to step away from it. So, yeah, I guess making this album was our second wind. Everyone was up for it.
Bombay Bicycle Club - Everything Else Has Gone Wrong www.youtube.com
A big theme of this album is "about finding hope and safety in these times of despair." Besides the hiatus, were there any other moments of despair you felt in the process of this album?

On the album is a song called "Good Day," which I wrote, and it's a similar theme to "Everything Else Has Gone Wrong." I love doing music, but for quite a while, I was wondering if it was the right thing to do or if it was time to pursue something else. [I was] worrying about things that actually don't matter that much and picking things apart. I certainly found that incredibly prevalent when we took the break. The band was part of my identity and what I've been doing my whole life, and then all of a sudden, I didn't have it. I think that those are themes on the album, just finding a place in the world, getting older, finding friends and companions. But it's all with the underlying message that music will always be there, regardless of the problems.
Did reuniting the band help you find hope and safety?
Yeah. I mean, I wasn't in the worst place in the world, but being able to come back to those people you've spent your whole life with is a really, really positive thing. Just having people there that make you feel like you're never alone is lovely. Coming back to that felt really good.
What were you listening to when you wrote the album? I was wondering if you revisited any of your old material, since it reminds me a lot of A Different Kind of Fix.
Jack, who writes most of the music, was listening to a lot of jazz and classical music—music without words. I think he fell back on that and was just enjoying music for its melody and structure. I was listening to a lot of radio and podcasts and audiobooks, which can be helpful and quite inspiring in a different way. You're taking in so much information that you never knew before. For me, it's the equivalent of reading tons of books. Also, listening to other artists' interviews went into the creative process, for sure.
I don't think [the similarities to A Different Kind of Fix] were intentional, but I agree with you completely. I think with the first four albums, because we were very young when we wrote them, we were forever changing and taking on different ideas and being quite magpie-like. Our first record was very straightforward indie rock. The second one was kind of acoustic-folk. The third, I wouldn't even consider a guitar record—it's kind of an electronic-pop record. I think we've been able to kind of cherry pick the best bits from all of those. So it's more of a mix, I would say, which led to it sounding a bit like A Different Kind of Fix, because that one was kind of our crossover point.
Since you just did 10-year anniversary shows for I Had the Blues but I Shook Them Loose, what's your relationship with that album now, a decade later?
It's terrifying to think about. I don't listen to it. Not because I don't like it, but because it's just so attached to memories of being a teenager and what you were doing at that time. It's quite emotional. I was 18 when we recorded that record, and we didn't really tour it that long after it came out because we'd moved on to our next album pretty quick. So it's weird playing these shows. And these were by far the biggest shows we've done, playing a lot of these songs we hadn't played since we released the album. So it is emotional coming back to it. It very much highlights the fact that you're not a teenager anymore, which is quite a strange thing. But the really positive side of it was that the shows were absolutely amazing. And when we released the album, we played to 250 people in the pub and nobody gave a f--k. We just played to 5,000 people, and they were singing all the words back to us. I'm so glad we revisited it, because it wasn't as big of a thing at the time. It's just kind of shown that this record has become something a bit more than itself.