CULTURE
16 Films To Look Forward to at Tribeca Film Festival
Tribeca Festival kicks off June 7th. Here are some of the most anticipated films premiering at the Festival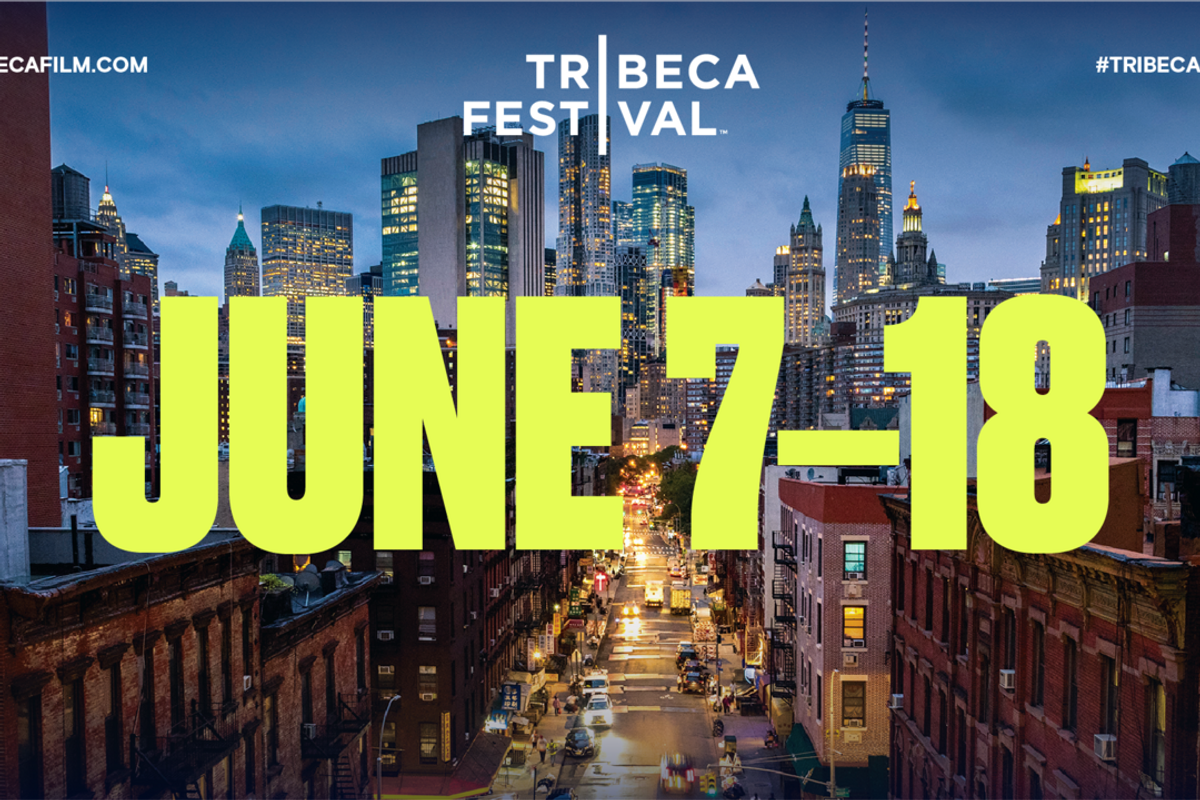 via Tribeca Film Festival
It's film festival season. After a stunning display of fashion and film at Cannes, we are finally deep in the pomp and circumstance that comes with film festivals.
---
And as much as I love the red carpet looks, the interviews, and the star-studded events, film festivals are unique to other premieres because they really remind us to celebrate the achievements of films themselves. More than the politics of award shows or the polish of press tours, film festivals feel like the truest celebrations of the current climate in film.
Tribeca Film Festival, held annually in New York City, is one of the most anticipated festivals in the festival circuit. Started in 2003 by Robert De Niro, Jane Rosenthal, and Craig Hatkoff, Tribeca has strong roots in independent film — celebrating the most innovative and interesting films and artists in the cultural zeitgeist.
This year, Tribeca Festival will be held from June 7 to June 18 in New York City, with a lineup of exciting films, events, and artist conversations. Film lovers will be running around downtown New York City to witness some of the highly anticipated films and conversations on the lineup.
As we prep for a summer of blockbuster movies like
Barbie
, we're also highly anticipating smaller projects that will be premiering at Tribeca this year. Here are 16 of the films we're looking forward to seeing this year at the 2023 Tribeca Film Festival.
The Good Half
After years spent avoiding his problems, Renn Wheeland (Nick Jonas) is forced to face his greatest fear: the recent death of his mother, Lily (Elisabeth Shue). While traveling home to Cleveland for her funeral, he forges a new relationship with fellow passenger, Zoey (Alexandra Shipp), and later, heals an old one with his overbearing sister, Leigh (Brittany Snow). Together, with the help of his eager-to-connect father, Darren (Matt Walsh), an old high school friend, and a hoarder priest, Renn tries to confront his past, his problems, his step-father (David Arquette), his grief, and his new reality.
Starring: Nick Jonas, David Arquette, Brittany Snow, Alexandra Shipp, Matt Walsh, and Elisabeth Shue
Eric Larue
In the aftermath of a shocking crime at the hands of their son, two parents seek solace in rival religious congregations in Michael Shannon's emotional directorial debut.

Starring: Alexander Skarsgård, Judy Greer, Alison Pill, Tracy Letts, and Paul Sparks
Smoking Tigers
​Set in the early-2000s SoCal, Smoking Tigers follows a Korean American girl as she navigates derision and growing tensions while balancing the duality of her low-income family and wealthy, elite high school environment. Staggered by the separation of her parents, a Korean-American girl struggles to find herself. Caught between supporting both parents in their work while longing for their old life together and burdened by the responsibility of a younger sibling, few things seem to be falling into place. Upon starting a new year of high school among wealthy elites, she also has to balance the duality of her new friends and low-income reality.
​Starring: Ji-Young Yoo, Jung Joon Ho, Abin Andrews, Erin Choi, Erin Yoo, Phinehas Yoon
Cold Copy
An ambitious journalism student falls under the thrall of an esteemed yet cutthroat news reporter whom she's desperate to impress, even if it means manipulating her latest story… and the very idea of truth itself.
Starring: Tracee Ellis Ross, Bel Powley, Jacob Tremblay, Nesta Cooper
Cypher
Cypher is a fictionalized version of the life and career of magnetic rapper, Tierra Whack. It is a semi-autobiographical characterization with a twist. The film satirizes all the conspiracies and theories about secret societies running the music industry.
Starring: Tierra Whack
Rock Hudson: All That Heaven Allowed
This timely exploration of Hollywood and LGBTQ+ identity examines the life of legendary actor Rock Hudson, from his public "ladies' man" persona to his private life as a gay man.

The Adults
When Eric's (Michael Cera) short trip back home turns into an extended stay, relationships with friends and family come to a head. The trip reunites him with his sisters, Rachel (Hannah Gross) and Maggie (Sophia Lillis), and unearths some old wounds as Maggie yearns to rekindle moments of their youth. At the same time, Eric falls back in with his old poker buddies, asserting his dominance as the best poker player in town. They gradually reveal their complicated inner lives, trauma, and relationships through theatrical performances and shared histories. The film's strength lies in the cast's nuanced performances and writer-director Dustin Guy Defa's use of raw emotion and close-ups to convey the siblings' complicated dynamic.
Starring: Michael Cera, Hannah Gross, Sophia Lillis
Fresh Kills
The daughters of the Larusso family struggle to break the unspoken code of the women behind the men in the mob world of Staten Island in the late '80s and early '90s. Unlike any mob movie you've ever seen before, FRESH KILLS reveals the women behind the men — the stories never told. Violence, fear, and unspoken rules dictate who they are and who they are allowed to become.
Starring: Emily Bader, Odessa A'zion, Jennifer Esposito, Domenick Lombardozzi, Annabella Sciorra, and Nicholas Cirillo
The Lesson
Liam (Daryl McCormack), an aspiring and ambitious young writer, eagerly accepts a tutoring position at the family estate of his idol, renowned author J.M. Sinclair (Academy Award nominee Richard E. Grant). But soon, Liam realizes that he is ensnared in a web of family secrets, resentment, and retribution. Sinclair, his wife Hélène (Academy Award nominee Julie Delpy), and their son Bertie (Stephen McMillan) all guard a dark past, one that threatens Liam's future as well as their own. As the lines between master and protégé blur, class, ambition, and betrayal become a dangerous combination in this taut noir thriller.
Starring: Richard E Grant, Julie Delpy, Daryl McCormack, Stephen McMillan, and Crispin Letts

Maggie Moores
When two women with the same name are murdered days apart, small-town police chief Jordan Sanders (Hamm) finds himself wading through an unlikely collection of cheating husbands, lonely hearts, nosy neighbors and contract killers in an effort to put the pieces of the case, and his life, together. The film is inspired by actual events.
Starring: Jon Hamm, Tina Fey, Micah Stock, Nick Mohammed, Happy Anderson, and Mary Holland

The Line
Ethan Berger's feature narrative debut THE LINE is an engrossing dramatic thriller that contemplates blind adherence to tradition from the viewpoint of Tom (Alex Wolff), a devoted "brother" from a fictional college fraternity. Tom is charmed by the promises of high social status and alumni connections that open doors, and pledges allegiance to an institution without fully understanding the cost of that loyalty. As the sophomore year begins, Tom's view of his fraternity culture, and his own identity, is challenged by a new acquaintance outside his social circle (Halle Bailey) and by the dangerous fraternity hazing antics perpetrated by his best friend (Bo Mitchell) as he goes to war with a freshman pledge Gettys (Austin Abrams) who won't conform. As the exuberant freedom of college darkens, Tom's dedication to his fraternity threatens to overshadow his future and makes him question everything he thought he valued. Led by Wolff's gut-wrenching performance, the coming-of-age film also stars Mitchell, Bailey, Abrams, Lewis Pullman, Angus Cloud, Scoot McNairy, Denise Richards, Cheri Oteri, and John Malkovich.
Starring: Alex Wolff, Lewis Pullman, Halle Bailey, Austin Abrams, Angus Cloud, Scoot McNairy, John Malkovich, Bo Mitchell, Denise Richards
Shortcomings
​Ben, a struggling filmmaker, lives in Berkeley, California, with his girlfriend, Miko, who works for a local Asian American film festival. When he's not managing an arthouse movie theater as his day job, Ben spends his time obsessing over unavailable blonde women, watching Criterion Collection DVDs, and eating in diners with his best friend Alice, a queer grad student with a serial dating habit. When Miko moves to New York for an internship, Ben is left to his own devices and begins to explore what he thinks he might want.
Starring: Justin H. Min, Sherry Cola, Ally Maki, Debby Ryan, Tavi Gevinson, Sonoya Mizuno, Jacob Batalon, Timothy Simons
Blood for Dust
​Cliff, a traveling salesman drowning under the weight of providing for his family, finds himself on a dangerous path after a chance encounters with Ricky, a colleague from a dark past. Desperate to keep his fragile home life intact, Cliff agrees to partner with Ricky running cocaine across Montana, and finds himself embroiled in a struggle to get away clean, in a business where no one does.
Starring: Scoot McNairy, Kit Harington, Josh Lucas, Stephen Dorff, Ethan Suplee, Nora Zehetner, and Amber Rose Mason

Downtown Owl
Welcome to Owl, North Dakota, 1984, where a widowed farmer invents his happiness, righteous teens uncover a local scandal, and an English teacher searching for more out of life upends the peaceful existence of the locals. "Downtown Owl", based on Chuck Klosterman's novel, is a rollicking dark comedy, about running away from home in order to find it.
Starring: Lily Rabe, Ed Harris, Vanessa Hudgens, August Blanco Rosenstein, Jack Dylan Grazer, Arianna Jaffier, Finn Wittrock, Henry Golding

Mountains
Xavier, a dutiful middle-aged Haitian demolition worker, is outgrowing the Little Haiti home he shares with his wife Esperance – a seamstress and school crossing guard – and their adult son Junior, caught between two cultures as he pursues a standup comedy career.
Mountains is a multigenerational drama that explores the relationships between immigrants and their children, Miami's own stratification of race and nationality, the looming threat of gentrification, and the pursuit of the American dream. What results is a loving portrait of the Haitian community in Miami.
Starring: Atibon Nazaire, Shelia Anozier, Chris Renois

The Perfect Find
Looking for a fresh start and career comeback, Jenna (Gabrielle Union) returns to the workforce, where she must navigate a challenging workplace, a demanding boss, and a lusty secret romance.
Starring: Gabrielle Union, Keith Powers, Aisha Hinds, DB Woodside, Janet Hubert, Alani "La La" Anthony, Gina Torres