Hey ladies! Colder weather getting ya down? We get it – the post-summer blues are real. It's times like these we need a little retail therapy, but going on a shopping spree can sometimes remind you just how broke you are. This is exactly what you don't need 😥. So, if you're wondering how you can #treatyourself without breaking the bank, our editors just got the inside scoop on this limited time sale from FabFitFun!
I know, I know, you've seen them all over Facebook and Instagram, but what isFabFitFun, you ask? Hear me out on why I am a FabFitFun lifer. Their team of editors hunts down the most sought-after, trendiest, in-demand products every season and puts them all together in one box just for you. You get at least 8-10 premium products that range from luxe skincare to coveted makeup to chic home decor, jewelry, and beyond, shipped right to your doorstep 4x a year. But wait, there's more. The whole box only costs $39.99 for [Popdust] readers (its usually $49.99) when you get your 1st box, and the total value of the box contents is over $200! Their Fall box is here and we are READY 🔥
And here's the best part – when you purchase this box, you'll receive a m y s t e r y gift bundle of TWO extra items. Shh.. 🤫 We can't tell you what it is, BUT we got a sneak peek and LET ME TELL YOU - this Gift with Purchase retails for up to $125! All these products plus the gift are worth up to $325 combined - and you can get the entire box + free gift for only $39.99!
FabFitFun's Fall box includes all of the fabulous items you'll need this Autumn 🍂 Here's a little sneak peek into a couple of our faves:
The AVEDA Damage Ready™ Daily Hair Repair treatment puts the shine back into your parched, sun-damaged hair. Good for all hair types, it also protects your hair from future damage and helps give you longer, stronger hair - perfect since Fall weather can be so unpredictable. ($30 retail value)
Use Harper + Ari Exfoliating Sugar Cubes in the shower as a body exfoliant and refresh your dried out, post-summer skin. The ingredients are green apple, pineapple, and kiwi – they smell delicious. 🍍🍏🥝 ($16 retail value)
Human + Kind Body Soufflé is a natural, vegan, cruelty-free moisturizer derived from an international Irish brand and formulated with shea butter and apricot oil. Apply this after exfoliating and your skin will feel sooo soft - just the TLC you deserve. ($18 retail value)
Besides these three must-haves, you'll receive another five items out of a possible 18 total products to choose from, including an ultra soft plush & trendy plaid scarf, a cute, pink full size hair straightener, Baublebar ear crawlers, a Kate Spade lunch tote, a cute travel yoga mat from Anthropologie, wooden cheese board, refreshing skin detox pads for your face, a salt & pepper mill, or more high-quality beauty & skincare products. Each item alone is worth nearly the price of the entire box! 💸
Of course, you'll receive that super luxurious mystery gift. Trust us, you'll love it. And if you're worried about not liking the secret gift - or any item for that matter - you can always re-gift (but trust us, you won't want to). This offer is only temporary, so act fast. What are you waiting for?
Hurry: Don't miss this limited time offer from FabFitFun + Popdust. Follow this link to get $10 off your first box AND a $125+ mystery gift!
I live for my annual beach vacation with my girls. After enduring what feels like 10 straight months of winter, I can't wait to be poolside, sipping on tropical cocktails and forgetting about the stress of everyday life back home. This year, I decided to get ahead of the dreaded swimwear dilemma. I have a love/hate relationship with swimwear -- when I find a bathing suit that fits me perfectly, it makes me feel great, but those are few and far between (and usually cost an arm and a leg). I find it really tricky to find a bikini or one piece that hugs my curves in the right spots, and there's nothing worse than an ill-fitting bathing suit. Any woman will tell you, it makes you feel so self-conscious. I usually wear a medium or large on the bottom, and a 34D on top. I kept finding a lot of bikinis that I liked online, but the retailer was selling them as a set, so it was impossible to decide what size would fit. After a week of looking online, my best friend who has similar sizing problems recommended LIVELY, a line of lingerie and swimwear that is designed for real women.
After checking out LIVELY's website, I immediately loved that they had real women modeling the swimsuits. This instantly put me at ease, because every other site I looked on had retouched, size zero models, making it hard to know what would suit my body type. I also loved that LIVELY takes the same approach to its swimwear as they do to their lingerie -- they offer a huge range of sizes and styles all designed to flatter a variety of body shapes, and all the bikini tops and bottoms can be bought separately (finally!). Their size guide clearly tells you what size to order based off your bra size, and all of the styles and prints are adorable! I was a little nervous buying swimwear online without trying it on first, but the prices were so great, I decided to order one to see what the fit was like. My friend raves about her Busty Bralette, so I ordered the bikini version in Garden Print, and matching bottoms. I usually go for swimwear that has an underwire because I need the extra support, so I was intrigued to see what the wire-free bralette would feel like.
A few days later, my bikini arrived. I tried it on, and couldn't get over the fit of the top! It molded to my body perfectly, gave me a lift and just enough coverage, and the back wasn't too tight either, so there was no weird bulge. I couldn't believe the lift the Busty Bralette was able to give without an underwire. The bottoms fit great, too -- super flattering without being too skimpy! The whole bikini set cost only $80 -- I've paid twice as much for bikinis that have made me feel half as confident. Seriously, the material is so nice and well made, it's well worth it. I immediately went online and ordered another bikini set, The Bandeau in Mint (ideal for sunbathing), as well as the Tank One Piece in a beautiful red color. I couldn't wait for Mexico!
We had a great week in Cabo, and my gal who recommended LIVELY ended up with the same Bandeau in Tomato Red as me -- we have some hilarious photos of our twinning moment! LIVELY swimwear is super comfy and so flattering, I loved putting them on every day. The fabric was stretchy and stayed in place even after a dip in the ocean. After I got back from my trip, I was so happy with the swimwear I decided to try out their bras and bralettes, too. LIVELY are now my everyday go-to bras -- who knew a size D could really find a cute bralette that fits?!
UPDATE: Follow this link to get 10% off your first LIVELY order today!
Culture Feature
Featuring work by Colum McCann, Billy Collins, Luanne Rice, Malachy McCourt, and many more.
Colin Broderick's imagination was forged by The Troubles in Northern Ireland and his work as a "chippy" (carpenter) after he landed in New York City.
His dream of becoming a writer may have seemed impossible to him at times, but it never left him. Despite his near fatal attraction to booze and countless personal and artistic concussions, he continued to swing his creative hammer and push past the character he once felt he had to play—the hardcore drinker, the Irish scribe. Those early struggles and triumphs have been recently documented in his first feature movie "Emerald City," an autobiographical account of his shift from a struggling construction worker to published author (it has just been released on VOD). After finding sobriety and refining his talent, he has gone on to build an impressive body of published work.
Most recently, Broderick serves his mission by pulling together and editing The Writing Irish of New York, a collection of essays by and about Irish writers who in essence lay out the entire history of Irish literature in America. The book tells the stories of a community bound together by the thick green tug rope that connects Gotham and Ireland. Writers like National Book Award winner Colum McCann, Poet Laureate Billy Collins, The New York Times Best Seller Luanne Rice, and best-selling author Malachy McCourt give intimate accounts of their own early days trying to make a living doing what they love in a city that will either make or break them. Interspersed with these accounts are snippets penned by Broderick himself; miniature, heartbreaking and inspiring portraits of the legendary Irish authors who have paved the way in America: Brendan Behan, Maeve Brennan, J.P. Dunleavy, and Oscar Wilde, among many others. The pages are filled with tales of the late greats, as well as a newer generation's first hand accounts of the sometimes trying, always rewarding life as an Irish writer—it's hard to imagine a library this collection doesn't belong in.
Author Colum McCann, internationally renowned for such novels as Let The Great World Spin, and This Side of Brightness, writes an exclusive account of his early days as a writer in NYC. For the first time ever, he tells of the struggles, the doubt, and ultimately, the hope. It's a vulnerable and heart-felt account of exile. It's Colum McCann as we've never seen him before. This essay alone is worth the price of this book.
Broderick tells of Oscar Wilde, whose works are so iconic and richly steeped in mystery and drama that it can be easy to forget the madness of his life. He disregarded societal taboo, pushing boundaries and advocating for an honest exploration of homosexuality, both in his written work and his life. At every turn, Wilde was met with disapproval, judgement, and ultimately, punishment—but he reveled in it. It fueled his flamboyant character and led him to New York City, where he finally found the celebrity he so desperately craved. There his ego exploded, and his blatant disregard for others' opinions shifted from triumph to tragic, ultimately leading to his downfall.
Purchase The Writing Irish of New York on Amazon.
Wilde exemplified all things theatrical in his writing, but, in stark contrast, the story told by contemporary New York writer, Kevin Fortuna (though equally powerful) is softer in tone, more humble. A great-grandson of Ireland who reconnects with his maternal bloodline, Fortuna, in his essay, illustrates the simple social magic that is part of normal life in Ireland, the love of language and conversation. Fortuna's story is an unusual one that involves the intersection of business and art, and can be traced back to his first trip to see family in Cobh, County Cork. This time spent in Cobh ignited a passion for the written word, a hunger for truth—and a driving need to avoid a "boring," wasted life. He ends his story by taking you back to that formative first trip to Ireland. The haunting conclusion to his essay captures the dark days of Ireland's past, but also the light that shone through, forged from sheer will and talent.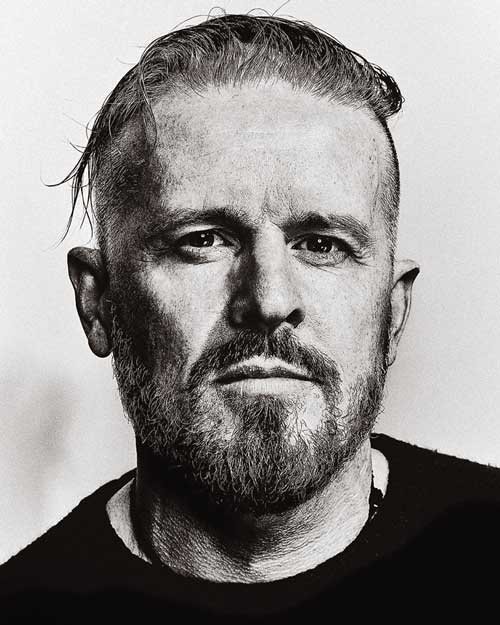 Editor Colin Broderick, "Writing Irish Of New York"
Those brighter days illuminated the life of America's prince, John F. Kennedy Jr., who was born into more fame and fortune than most of his fellow Irish writers would know in a lifetime. He married his father's integrity and love of country with the ever-growing, sexy world of pop culture to form George, a little-known NYC-based magazine that blurred the lines between politics and celebrity. Kennedy and his team asked the tough questions, and though he never shied away from the cloud of controversy surrounding his family, he would never rely on it. George's voice was objectively critical of leaders regardless of party politics, yet Kennedy still managed to lace his criticisms with undertones of his late father's idealism. He lead a blessed life that ended in tragedy, his potential never fully reached.

Dreams touched upon, but never fully realised, is a common Irish refrain, like the fleeting life of Frank O'Hara. O'Hara spent his wild days scribbling poetry on the back of napkins in NYC, and his life story is as crazy as his genius. Born to strict Catholic parents, O'Hara was destined to break from these religious restraints from an early age. He served in the U.S. Navy for two years, where his unconventional mind must have struggled with the relentless routine. His service was rewarded with his education at Harvard, where he published his first body of work and met a fellow poet with whom he fell madly in love. The two moved to New York, and like so many of his Irish brothers and sisters, what followed was a life riddled with addiction, self-loathing, and relentless pursuit of recognition. New York City is where O'Hara penned his best poetry—the uneasy flow of Manhattan seemed to mirror his own chaotic mind.
Purchase The Writing Irish of New York on Amazon.
Those NYC streets were a hazard and a haven to Dublin-born Maeve Brennan. Like her fellow Irish icons, Brennan's life was a combination of brilliance and insanity, the ratio of which was constantly bouncing back and forth, fighting and complimenting each other at different stages of her fascinating life. A child of revolutionary 1916 Ireland, her father founded The Irish Press and moved the family stateside where she found her voice, and began penning short stories for The New Yorker. Although not feeling confident enough to return to a religiously and socially-repressed Ireland until her later years, Brennan never forgot her roots; many of her short stories were based in her beloved hometown. As the years went on, her perfectly put-together ensembles began to slowly fall apart. Her genius stayed intact while perhaps a little lost at times. Like many talented and tortured artists, she left the Earth relatively unknown in the land of her birth, where her heart remained in the land that seemed to have forgotten her.
Lives bound together in talent and struggle, steeped in whiskey and self-doubt, the authors in The Writing Irish of New York span three centuries, but ultimately their heritage unites them. Far greater than the written words is the unspoken feeling you get when reading this book, the power of heritage spanning generations and oceans. Broderick closes the book with his own short story, his life fitting seamlessly with those of his much-loved idols, securing him a well-earned seat at the table.
It's easy to get caught up in the legend and deep sea of beautifully written words, but what makes Broderick's book worth reading is the way he mythologizes these writers when discussing their work but humanizes them in his portrayal of their character. It's the non-chronological narrating of these stories that captivates you. The vacillation between the biographical snippets of literary giants and the stories of newer writers serves as a gentle reminder of the hard path that came before and the history that unites them all.
Purchase The Writing Irish of New York on Amazon.