Sponsored
Many people struggle with their weight for their entire lives. They find themselves standing in the grocery aisles picking up ingredients, examining their labels, then chopping and prepping for hours. There are better ways to spend your precious time.
Between us, our editors have tried hundreds of diets in our quest for our ideal weight. So, we're always on the lookout for the smartest solutions for our readers.
We've found two of the most popular brands that offer convenient and nutritious meals for weight-loss. Both have been industry powerhouses for decades — Nutrisystem® and Jenny Craig.
Both send ready-to-eat meals right to your doorstep, but which service do we recommend? To find out how they measure up, keep reading:
Some Key Similarities
Both are top performers in the weight-loss space
Both are designed for steady, long-term weight-loss
Both have mobile apps
Both have accessible support or coaching available
Both feature customizable meal plans
Some Key Differences
Nutrisystem® offers 130+ menu items | Jenny Craig has 100 menu items
Nutrisystem® sends high-quality, pre-portioned meals and snacks right to your door | Jenny Craig ships to your doorstep and has brick-and-mortar weight-loss centers
Nutrisystem® has been top of their game for 50+ years | Jenny Craig has been going strong for 40 years
Nutrisystem® meal plans start at $9.99 per day | Jenny Craig ranges from $97.93 to $203 per week
Nutrisystem® Overview
With 50+ years and counting, Nutrisystem® is a seasoned expert in the industry and has helped millions of people achieve their weight-loss goals. Perhaps that's because you can eat six times a day with their high-protein, lower-glycemic meal plans that work to keep your blood sugar steady and curb your hunger for longer.
Nutrisystem® has 130+ amazing food options in categories like Restaurant Faves and their latest offering Hearty Inspirations® premium dinners that have up to 30g of protein. Their wide range of customizable meal plans cater to various dietary needs and preferences, such as: diabetics, men, women, partners, and people who want to lose weight quickly.
But with Nutrisystem®, you still get to eat your favorite foods. How about a serving of Bistro-Style Toasted Ravioli that comes in at a mere 280 calories!?! Think BBQ Chicken Burritos, Thick Crust Pizza, Buttermilk Waffles, Vanilla Ice Cream Sandwiches, and Dark Chocolate Sea Salt Nut Squares — so yummy. You'll never get bored with Nutrisystem®'s menu.
Many people lose their motivation early on in the dieting process because they lack a support system. But you are not alone. Nutrisystem® has excellent weight loss coaches and an active online community who are there for you. Their NuMi® app keeps track of your progress, creates accountability throughout your weight loss journey so you see real results.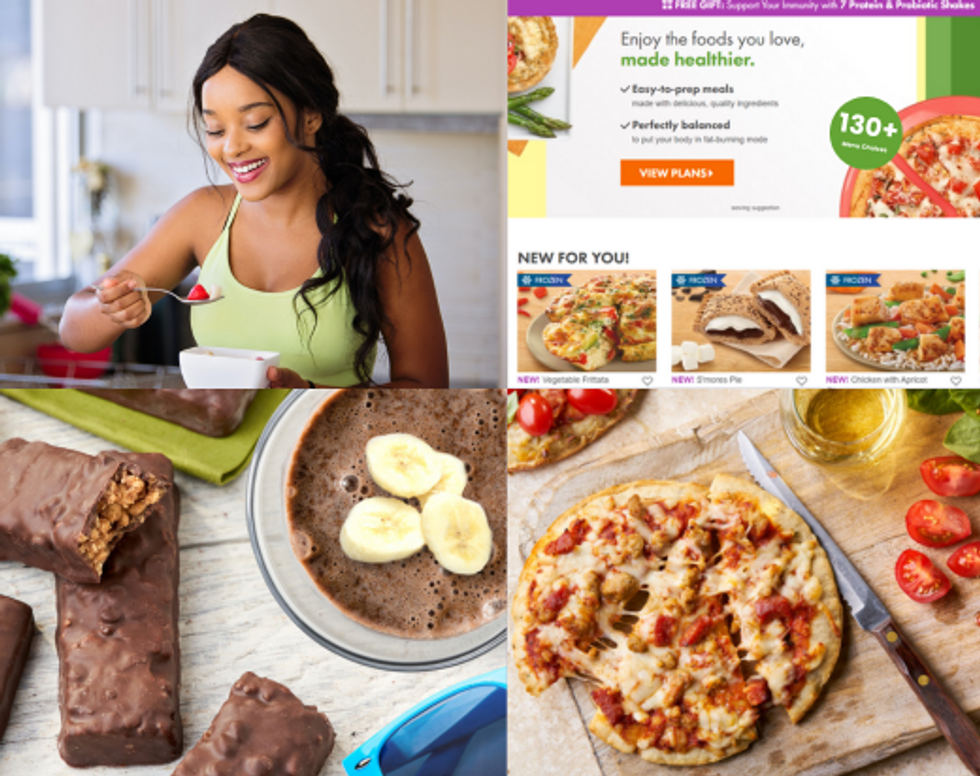 Jenny Craig Overview
Founded in 1983, Jenny Craig is one of the top weight-loss programs out there. It features a structured diet plan that provides pre-packaged meals and snacks — many of which arrive frozen — that can be heated in the microwave within minutes.
With tasty menu choices like Cheesy Egg & Steak Quesadilla, Chicken Margherita Pasta, and a Vanilla Buttercream Cupcakes, its customizable menu is a great stress-free way to lose weight.
Jenny Craig's program has 3 plans that allows for only 3 meals and 1 snack a day. That's far too restrictive for us. Especially because we're used to eating 6 times a day with Nutrisystem®.
What really ended it for us is that Jenny Craig's food tastes bland, the quality is slightly lacking, and portions are rather small. For such skimpy meals, they're pricey. Meal plan costs can range from $97.93 to $203 per week.
There's free-shipping for the first 5-weeks, after that orders $200+ ship for free. But you can save on shipping costs by picking up your order at a Jenny Craig center near you.

Final Notes
We are now officially fans of Nutrisystem®, hands down. Their NuMi® app is a true lifesaver and will help you stay the course for your weight-loss goals in your own time – no need for weekly meetings.
Honestly, going with a four-week meal plan that allows you to eat six times a day makes everything so convenient. Depending on your plan, you're still able to eat your own food or celebrate milestones in a smart way. Even cookies have their purpose in your diet! Jenny Craig's program just doesn't have the same flexibility.
Nutrisystem® plans start at only $9.99 per day, while Jenny Craig ranges from $97.93 to $203 per week. Plus, Nutrisystem® sends you four weeks' worth of meals so you're guaranteed to stay on track.
While both programs aim to help individuals achieve their weight loss goals and improve their overall health, we're going with Nutrisystem® for learning about sustainable weight loss. As established experts in the weight loss industry, they've cultivated a diet plan that's foolproof and achievable for anyone.
They do all the work for you, the food is enjoyable and satisfying, and the plan is affordable. It's a no-brainer. If you want to achieve your goals, try Nutrisystem®!
UPDATE: The awesome folks at Nutrisystem are extending a new special offer to our readers. Save 50% OFF Two Months Of Nutrisystem Meals & Shakes!