With a finale as complex as this one, this time around fans might need a summer to brace themselves for the new TWD world to come. What has been resolved, and what has been initiated by the end of season eight? Many viewers already are speculating about the inner rift between Rick and Maggie and their viewpoints on Negan. Who do you agree with?
It's Not Over 'til He's Dead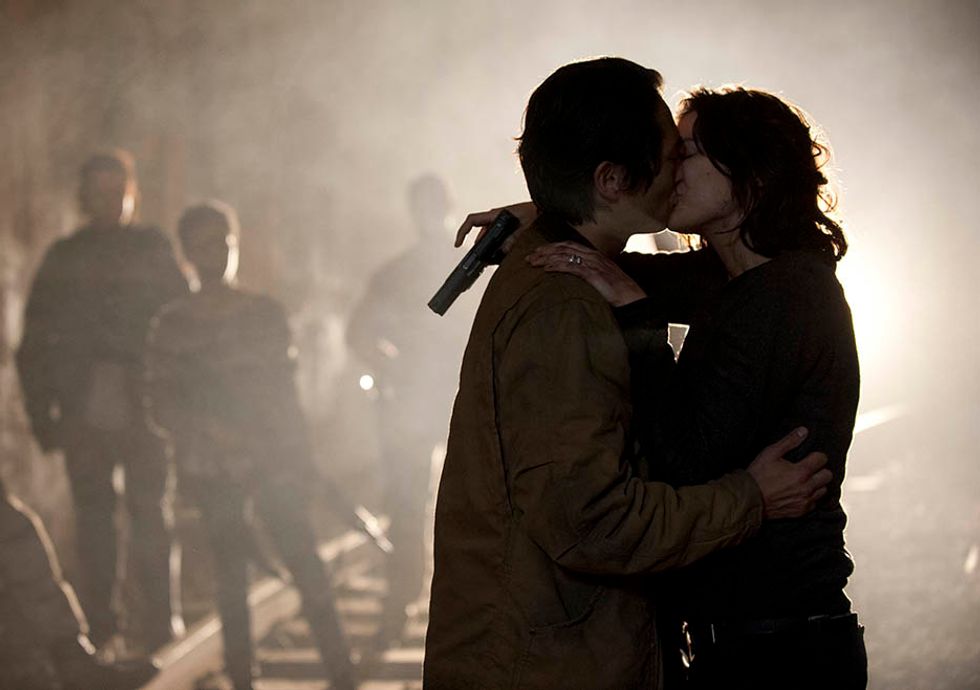 Glenn Rhee (Steven Yeun) and Maggie Rhee (Lauren Cohan) in Season Five Photo by Gene Pagevia AMC
While "Wrath" was packed with unexpected emotional moments, one of the most gut-wrenching ones was Maggie's reaction to Rick saving Negan. She has held it together so well for so long, it's as if all the vengeance and anger she has been harboring was utterly unloosed. The cry she lets out is a cry of grief, and when you hear it, suddenly you remember that even though it feels like two years since Glenn was killed to viewers, not a lot of time has passed for the characters. And, as far as we know, Maggie is still carrying his baby. Maggie has a laundry list of reasons to want to wipe Negan out. Even though her cry of anguish was difficult to hear (enough to move Jesus and Daryl toward her concerns), her blood lust for him is unsettling to say the least. Because of what he did to her and the person she loved, as well as all the other horrors Negan has inflicted upon others, Maggie cannot comprehend Rick's decision to save him. After watching the final scene with Maggie, it begs the question: What would Glenn think of Maggie's choices?

Glenn was adaptable, optimistic, and caring; he chose to save people even when others might abandon them. He reminded others to help people as well. Would Glenn want to see Maggie so consumed with violence and hate because of his death? Is Maggie right in believing a man like Negan should die? And, what will killing him accomplish and how will it change her and the rest of the group?