MUSIC
A new version of the holiday classic "Let It Snow" is out now
Interview and Photos by Jordan Edwards

This past week, Josh Levi released a cover of "Let It Snow," the Christmas classic made famous by Boyz II Men. The track is faithful to the original while adding his own modern touch and updated production.

The single caps a busy year for Levi, which has also included a "scratched up" version of his DISC TWO EP as well as the singles "EGO" and "Birthday Dance."

Levi first gained attention for his run as Darius in the beloved Friday Night Lights TV series. While he's done some acting, he's stuck mostly to music over the last few years. Last year, Levi combined both. Pixar fans might recognize his voice as 4*TOWN member Aaron Z. from the animated feature Turning Red.

Before a recent show at The Sun Rose in West Hollywood, we met up with Levi for some photos and a conversation about his music.

Why did you decide to cover "Let It Snow?"
So many reasons. "Let It Snow" was my dad's favorite when I was growing up, so this song is engrained in my brain cells. Also, Boyz II Men is my favorite group. So it was my favorite Christmas song, plus my favorite group, and it just meant a lot to me.

How did you approach it to make sure it sounded different than the Boy II Men original?
I think I wanted to keep it as close as I could to the original because it's such a classic, but I changed a few of the notes in the harmonies. Louie Lastic, the producer, worked with me to choose nostalgic and modern sounds to bring it to life, while still keeping in the elements that made the song what it is. Believe the snare and the high hats are different!

When you were a little kid, who did you want to sing like?
A few people actually—definitely Michael Jackson, Brandy, Stevie Wonder, and Jazmine Sullivan. They are my Avengers team!

You don't have a lot of collabs in your discography. Would you like to do more of that in the future?
1000%, I'm super selective with who I collaborate with, but I have a long list of people I'm burning to work with. There will definitely be collaborations on my album!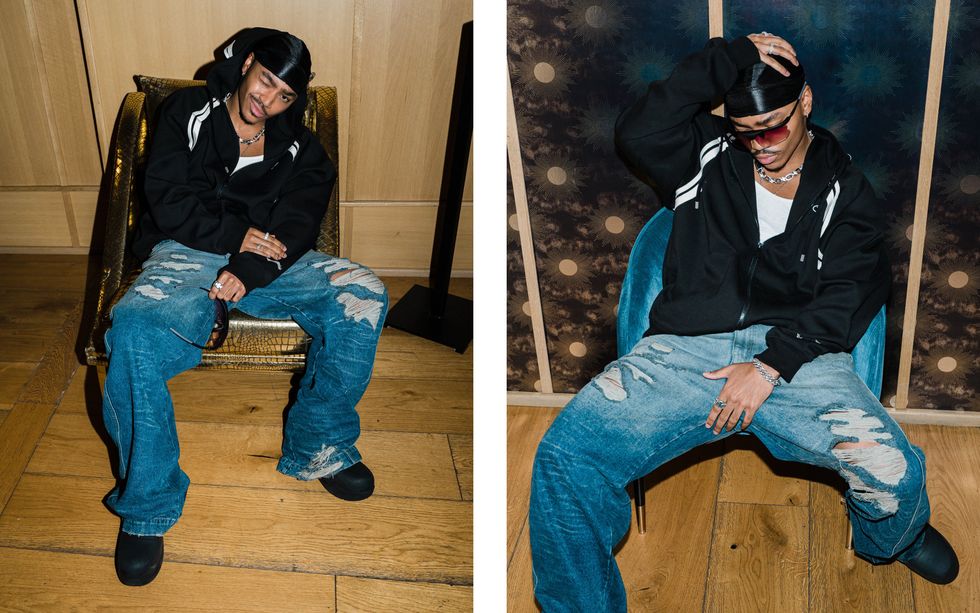 What's your favorite song to perform live?
Right now, it's gotta be between "SEE LOW" and "NOSEBLEED." Those songs have a special energy in them that feels really good to me live! Also, the lyrics are some of my favorite to perform and watch the fans sing back at me. They always have so much attitude and energy, with really all my songs—but I love when they sing those lyrics back to me.

How do you prepare for a vocal session?
I drink a lot of water, I don't eat, I drink throat coat tea, and I take a two-hour shower for the steam haha.

What was it like to be part of an animated boy band?
It was really dope, I'm a huge fan of Pixar and The Incredibles is actually probably in my top 5 movies of all time, so it felt full circle. Watching my character come to life through animation was also cool. I loved that he was black and had brown skin and textured hair!

Your personal style has a '90s vibe. What influences your taste in fashion?
I really just dress how I feel. Every day, when I go to my closet or am planning looks for something, it first starts with a feeling. I think I've also gotten a chance to learn my body and know what fits me best. My influences change all the time. Right now, I'm inspired by New York fashion.

What's the best Christmas present you've ever received?
This probably sounds random but one of my favorites was some Ugg slides (haha) from my sister! I wear them all the time and they are comfortable. I also got an egg nog-scented candle once, which was very creative and specific to me (an egg nog lover)!


For more from Josh Levi, follow him on Instagram and TikTok.