MUSIC
After a long period of silence, popular musicians like Grimes and Lil Dicky are taking notes from Joni Mitchell and have started to release climate protest songs—but will their efforts be enough to launch a movement?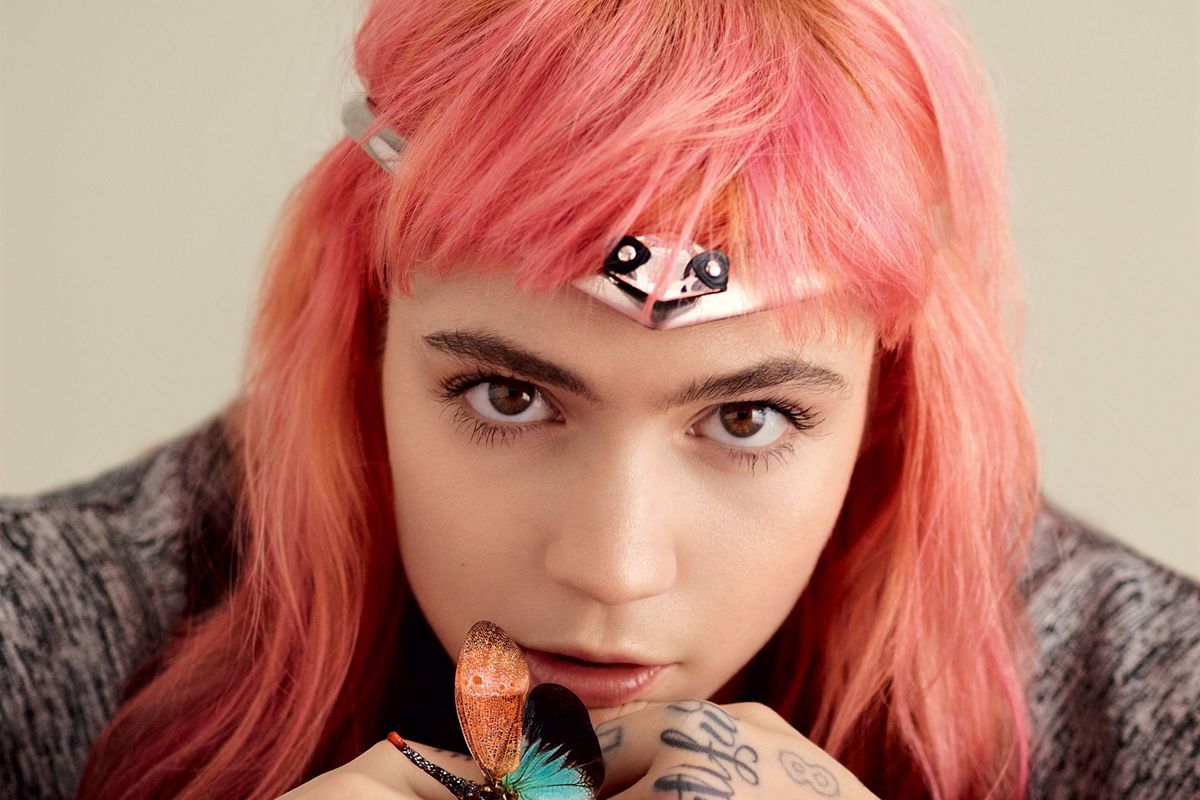 For his new video "Earth," Lil Dicky managed to rally some of pop music's titans to form a truly unique visual and auditory experience.
Featured artists include Ariana Grande (as a zebra asking if she's black or white) and Snoop Dogg (as a marijuana plant); as well as Halsey, Justin Bieber, Ed Sheeran, and even an all-knowing Leonardo DiCaprio. It's a deeply disorienting animated journey across time and space, led by a caveman-esque Dicky.
But if you can get past all of the dirty jokes and layers of fluff, at its heart, "Earth" is a climate change protest song—and for that, it's revolutionary.
Lil Dicky - Earth (Official Music Video) www.youtube.com
Music, art, and activism have long gone hand in hand. In the 1960s, musicians sang tirelessly about bringing the boys back from Vietnam and taking down "the big man," and artists like Bob Dylan and Billie Holiday have long inspired activist movements. Today, artists like Kendrick Lamar and Childish Gambino are steadily releasing protest anthems that are sure to go down in history.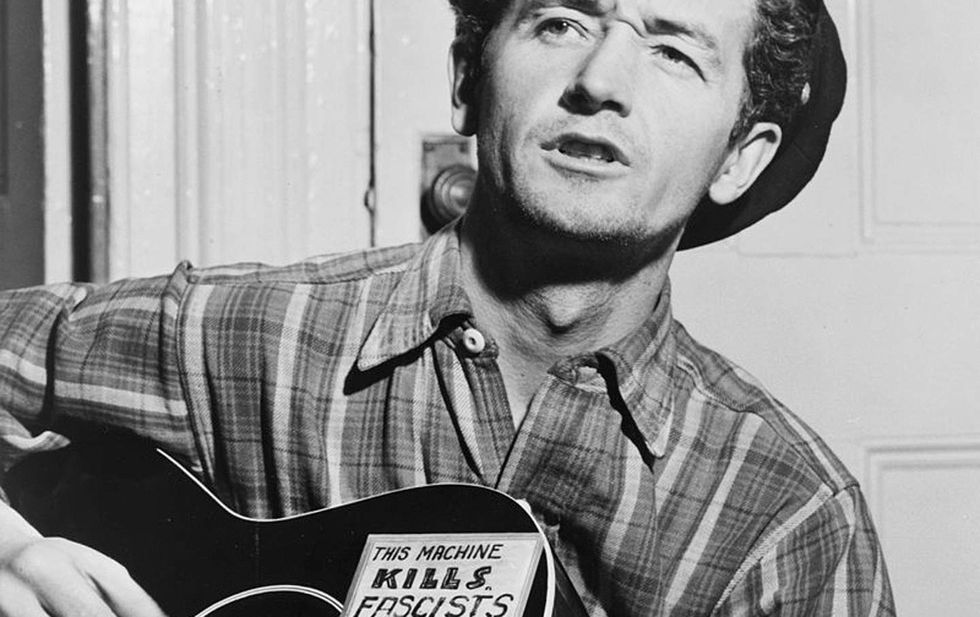 Woody Guthrie and his guitar. Image via The Nation
Childish Gambino - This Is America (Official Video) www.youtube.com
Still, though it is one of the most fundamentally pressing issues of our time, climate change has been largely ignored in modern protest music. Just Google "climate change protest music" and you'll find articles with headlines like "Where are all the climate change songs?"

In a way, this lacuna makes sense. Climate change can feel like an abstract and unimportant issue, especially for people who fear for their lives when simply walking down the street, or who are too concerned with finding their families' next meal to worry about impending ecological decline. However, climate change will disproportionately affect people of color and lower socioeconomic classes, making it an issue with profoundly intersectional consequences.
And it is no longer an abstract threat—a dire 2018 UN report proclaimed that we have twelve years to reverse the worst effects of climate change, which will effectively decimate the human race if it progresses at its current rate. The existential size of this crisis is unprecedented, and so it calls for unprecedented levels of unity and action—both of which have historically been facilitated by music and art.
Though environmental activism has yet to break through to mainstream popular music, climate change protest music does exist, and it seems to be gaining traction. In March, the singer-producer Grimes announced that her next project will be called Miss_Anthropocene, after an alter ego who personifies climate change. "It's a concept album about the anthropomorphic Goddess of climate Change: A psychedelic, space-dwelling demon/ beauty-Queen who relishes the end of the world," she wrote, adding, "She's composed of Ivory and Oil."
Regarding her inspiration behind the character, Grimes (who now goes by c) explained, "Climate change is something I'm only ever confronted with in a sad/ guilty way…. Reading news and what not. So my goal is to make climate change fun...(I mean, everybody loves a good villain… re: the joker, Queen Beryl)...so maybe it'll be a bit easier to look at if it can exist as a character and not just abstract doom."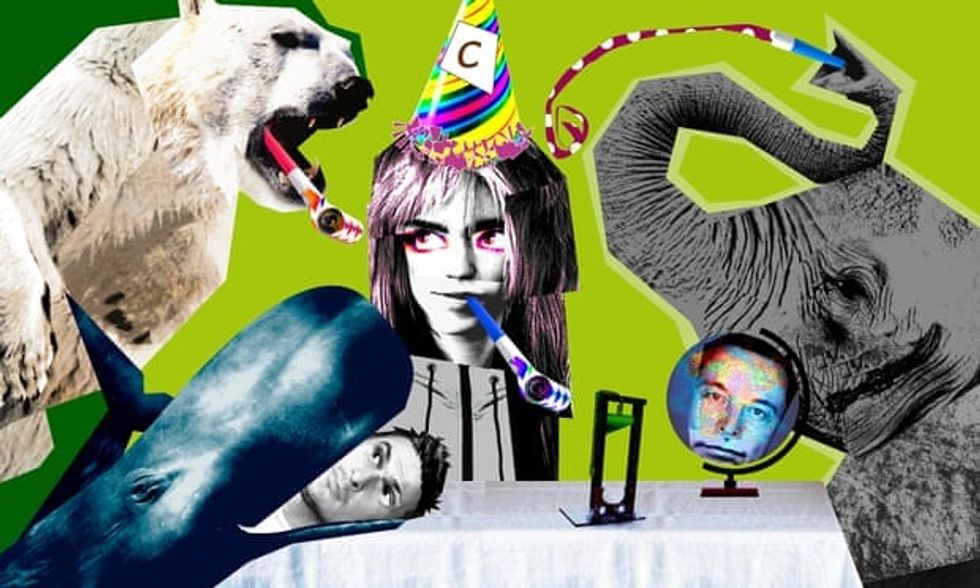 Image via The Guardian
Other musicians have tried different approaches to create popular music that raises awareness about climate change. Recently, the artist Maureen Lupo Lilanda collaborated with other Zambian musicians on a song called "Samalilani." The track was released alongside a video comprised of dire scenes of ecological catastrophe—charcoal burning, charred tree stumps, flames devouring a rainforest. Together, the song and film make a powerful, chilling statement.
Theresa N'gambi, James Sakala, Maureen Lilanda, Pompi & Shaps Mutambo - Samalilani (Official Video) www.youtube.com
"It occurred to me that things were changing," Lilanda said of her inspiration behind the song, noting the severe changes she noticed in the Zambian countryside, which a lack of rainfall had turned from a lush, verdant landscape to a barren desert over the course of her lifetime. "Once I understood it, it felt imperative that I change the mindset," she added.

"Samililani" was a collaboration with National Geographic-led initiative Conservation Music, a project led by geographer and musician Alex Paullin. His nonprofit, which has traveled all over Africa in an effort to work with musicians and artists on raising awareness about climate change, has also collaborated with a Zambian reggae group and collective called Yes Rasta! to craft a climate change protest song called "Sons of October."
Sons of October - Yes Rasta! | Zambian musicians teach climate change solutions! www.youtube.com
With its unique ability to access the deepest and most terrifying of human emotions, music is an important and largely untapped resource that might be instrumental in the fight against climate change. "There isn't any other tool [besides music] that you can use that is as effective," Paullin said of his mission. Indeed, music could be vital in helping us collectively move past a state of paralysis or chosen ignorance, into a more unified mindset that will allow us to band together to enact real change.
Before any of this happens, the music needs to be written. Luckily, from an aesthetic perspective, climate change is rich territory. Since time immemorial, artists have waxed rhapsodic about the beauty and power of the natural world, and the threat of its decline creates the kind of existential tension that has long inspired truly masterful works of art.
All this isn't to say that climate change protest music doesn't exist. If you do some digging, you'll find that there actually is a fair amount of music about climate change and environmentalism, stretching back nearly a century. A lot of the greatest music about climate change comes from the 1960s—before anyone knew the true extent of the damage we inflicting on our world in by ceaselessly pumping fossil fuels into the atmosphere. One prescient track is Joni Mitchell's "Big Yellow Taxi," which still frequently plays on radio stations, having long ago solidified its place as an environmentalist's anthem.
Big Yellow Taxi - Joni Mitchell www.youtube.com
The early 2000s saw another wave of climate-change-inspired music. Increasingly alarming scientific reports had metalheads taking note: Metallica's song "Blackened" and Black Sabbath's "War Pigs" both explore environmental decline. A few of pop's brightest stars had something to say, too—in 2009, Selena Gomez, Miley Cyrus, Demi Lovato, and the Jonas Brothers collaborated on a song called "Send It On" which donated its proceeds to environmental organizations. More recently, artists including Radiohead and Jack Johnson have been actively writing and speaking out about climate change, as have plenty of indie or lesser-known musicians.
Radiohead's Thom Yorke Magically Appears at Climate Talks www.youtube.com
Metallica - Blackened www.youtube.com
Disney Channel Stars-Send It On-Official Music Video www.youtube.com
But the majority of new climate change-inspired music has received little significant commercial attention. Among the outliers are ANOHNI's "4 Degrees" and AURORA's "The Seed," both of which are promising hints at more to come. Weyes Blood's critically acclaimed new album is rife with meditations on climate anxiety, and activists Jimmy and Sid have also been steadily creating innovative protest songs, like many diverse musicians from around the world. Still, much of the most widely publicized recent climate change protest art has, ironically, been created by scientists. For example, in 2015, a young scientist composed a piece for a string quartet based on 133 years of climate change data. While projects like this one are impressive, they are also complex and somewhat inaccessible for those of us who are not scientifically inclined—and certainly, they are not as likely to gain media traction as, say, a song that features Lady Gaga or Beyoncé.
AURORA - The Seed www.youtube.com
4 Degrees www.youtube.com
Scientific proof of climate change has been public knowledge for a long time, but clearly facts and figures have not been enough to spark widespread cultural and political action. What we need now is a never-before-seen level of collective support and unity, and this can only happen if climate change becomes an intersectional cultural movement.

Most likely, the next decade will be defined by intense protests across the globe. As activists flood the streets of London, as movements like Sunrise pack Washington, D.C. offices and chant their slogans to the sky during nationwide strikes, and as young kids stand before behemoth politicians and fossil fuel executives and ask them to stop destroying their futures, at the very least, they ought to have inspiring music to accompany them.
So for all its absurdity, Lil Dicky's "Earth" is, at least, a promising indication that climate change is being recognized by some of pop culture's most influential figures. In light of the literally apocalyptic threat that we collectively face—and considering the massive organizational efforts it will take to even start to heal some of the wounds we have inflicted on the earth—it has to be just the beginning.
---
Eden Arielle Gordon is a writer and musician from New York City. Follow her on Twitter @edenarielmusic.
---
POP⚡DUST | Read More...
Afrojack on the Key to Longevity and His New Single "Sober"
Every Day is Earth Day for These Celebrity Hypocrites