Top Stories
A Glittering Tribute To The Black & Queer Pioneers Of Dance/House Music!
Frank Micelotta/PictureGroup for Parkwood/Shutterstock
*All in-content photos courtesy of M Hatten*
Thursday, July 20th, I was blessed with the opportunity to see, the one and only, BEYONCÉ! I mean why else would one fly close to 10 hours total on Sun Country from NYC to Minneapolis, then back again?
But let me tell you, Bey's Renaissance World Tour WAS BEYOND WORTH IT!
From the moment the jumbo screen exploded to life, to countless, seamless costume changes, and the energy from the dancers, band, and crew, it was honestly one of the best nights of my life.
Yes, I have to admit, that once the crowd realized the show was actually starting, I suddenly became just one more obnoxious fan screaming into oblivion (perhaps there were a few tears . . . don't tell anyone) – ready to be enthralled and in awe of the performer of our generation.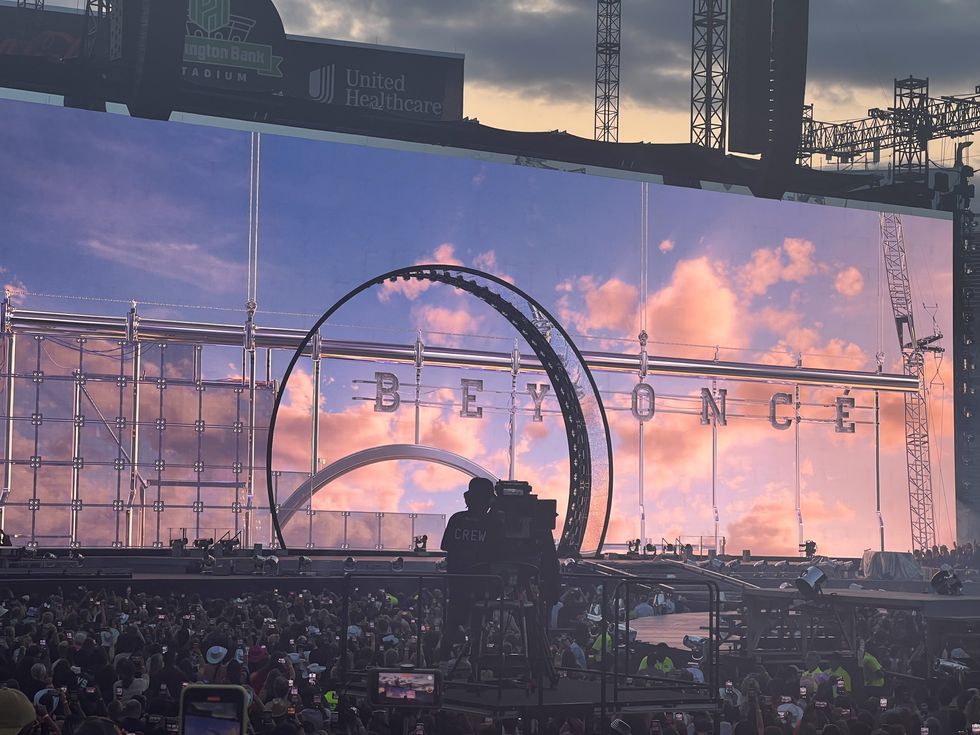 "But who opened up for her?"
In what I can only describe as pure genius, Beyoncé is her own opening act. In a gorgeous, glittery, silvery horse jumpsuit, she serenaded us with the hits of yesterday that launched her to the stratosphere, securing her status as a true legend.
There was Dangerously In Love, 1+1, Flaws and All, and even a fan-favorite from her fourth studio album, I care.
Honestly, I'd have been satisfied with those four songs alone. But no, Beyoncé came to slay!
As soon as she disappeared backstage, the screen lit up, and we were all transported into the mind of Beyoncé, into her Renaissance.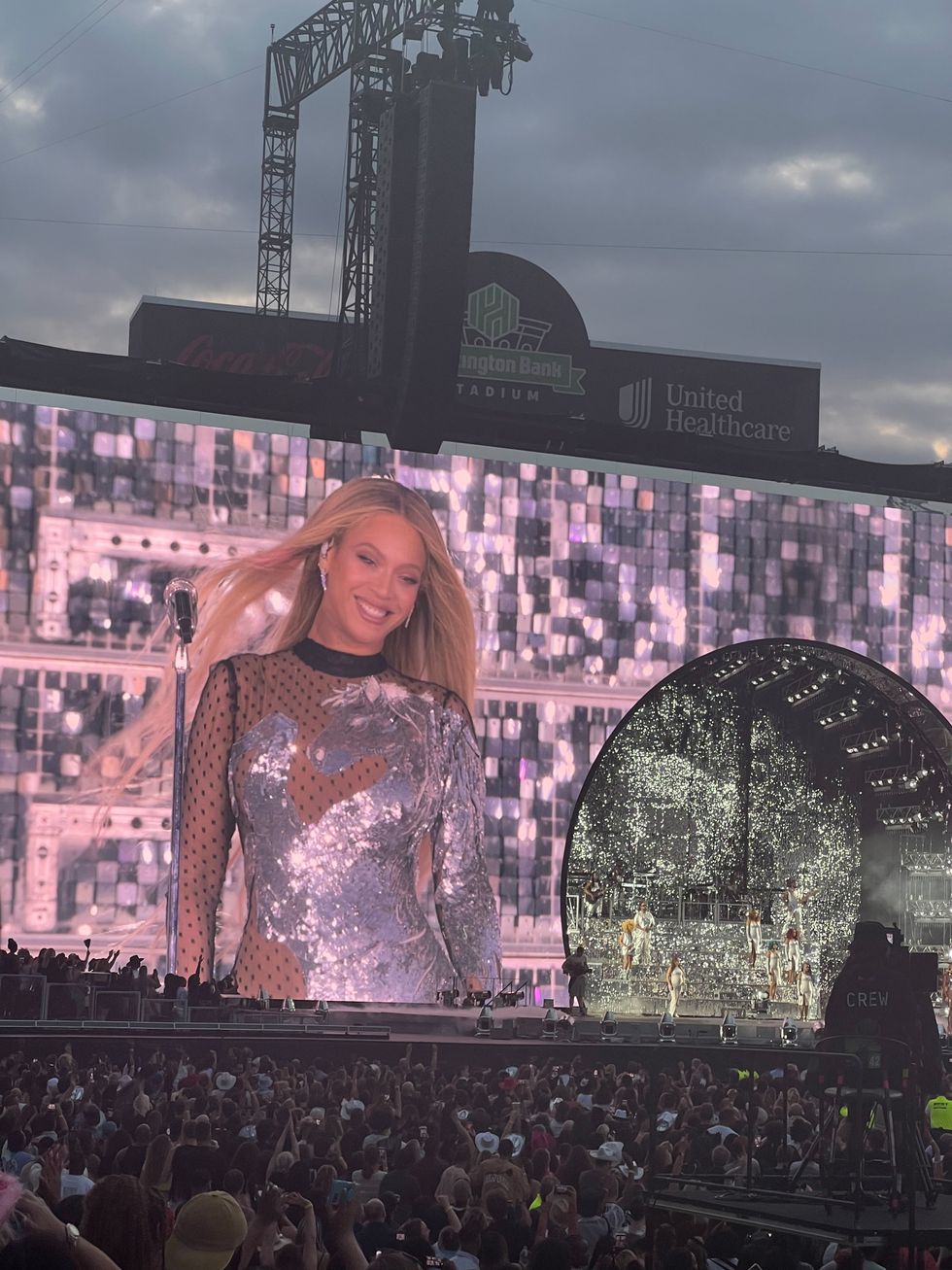 "I close my eyes and travel through realms of space and time
Reality holds no power or control of my state of mind
On my voyage to find a source to charge my inner being
Assembly line frequency as I tap my MPC
I find the Mecca
Chicago, ATL, and NYC
Motor city opulencе
House, these gritty bеats
They looped, I looped the sample to feel free
Soundscape memories
Hands on the machine
The soul's battery
Surrender to the current
Scratch the needle
Check - my body fades in my deepest dreams
Loop the sample release
Loop the sample, be free
Blessed are the hands that touch the machine
Anointed
Is the floor where all are free
Sonic singularity, future liberty
Come with me through my portal
My insanity, where I am home
My Renaissance, my house of chrome
Where I am reborn
Where you at?"
A transformed Beyoncé booms as visuals reveal her new form, The Motherboard.
If I had to pick the best-of-best-of-the night – A Sophie's Choice moment, I know – were my personal Top 3 Renaissance songs: Cuff It, Virgos Groove, and the drake-penned Heated!
I'd be lying though if I didn't say that Blue Ivy Carter joining her mom on stage for a performance of My PowerI wasn't the cherry on top of this glimmering-glamorous, GAY-ASS ice cream sundae.
Of course, Beyoncé is an iconic, celebrated performer known for her Alien Superstar vocals and choreography. But for some fans, myself included, she's more than the music.
As a Queer Black man, I've never been more confident and Cozy to be in my own skin, than I am when I listen to this album and throw away my insecurities! Thank you, Beyoncé.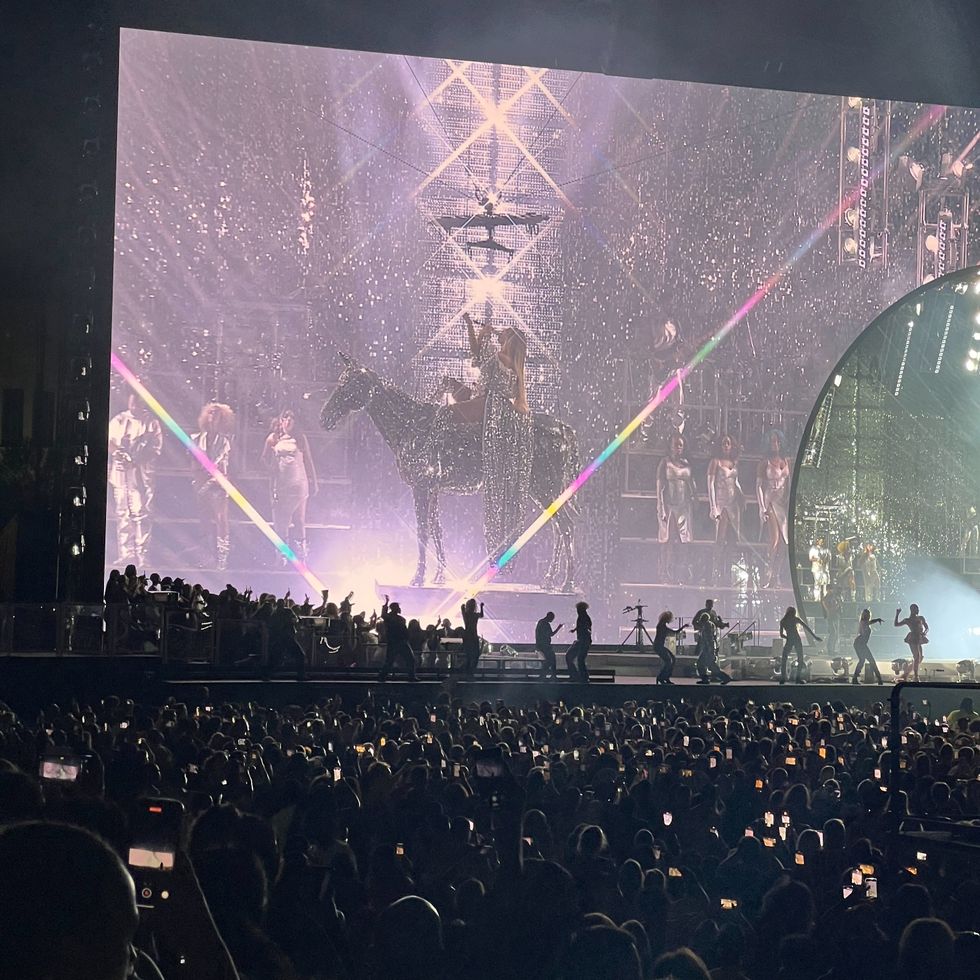 With this latest album, Bey makes me and so many others from the LGBTQIA+ community feel seen, heard, and, above all else, reminds each and every one of us that we're allowed to be our authentic selves.

And that's more than enough for the world.
Go see this show as many times as you can, I know I'll be there (Yes, I have tickets to 2 more shows).
RENAISSANCE WORLD TOUR | Worldwide | BeyoncéBeyoncé via YouTube
And remember – as Queen Bey has taught us – release the stress and release the wiggle!