When I first built my skincare routine, I started with viral Instagram products. A few worked, but most didn't. Honestly, it was tough to tell if a particular product was messing up my skin or if I needed a complete overhaul.
So, I simplified. I focused on reducing the number of steps in my routine by seeking out brands with clean and highly effective ingredients. One item I decided to try was Moon Juice's SuperBeauty — a supplement that helps protect cell health, reduce fine lines, and promote collagen production.
After a couple months of using the supplement, I definitely noticed a difference in my skin - clearer and brighter! So, I decided to switch to a few other Moon Juice products and my skin has never been happier. Now I'm a true Moon Juice convert. Since my friends are tired of hearing me constantly mention it, I decided I'd write about it.
Here are my top 5 Moon Juice skincare must-haves for the best skin: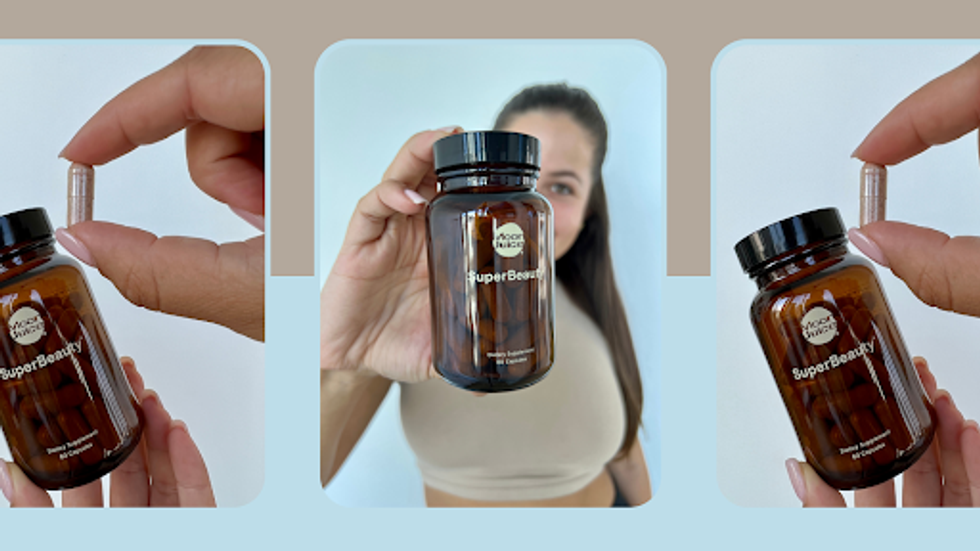 I love the idea of kick-starting skin health from the inside. Moon Juice's skincare follows the guidelines of all of their supplements - transparent ingredients, high potency, maximum efficacy, and simplicity.
Some key ingredients include:
Reduced L-Glutathione - glutathione is a naturally occurring antioxidant in the body that replenishes cells and depletes over time
Organic Astaxanthin - derived from microalgae and sourced from the Himalayan Mountains, it's known to improve elasticity and reduce the appearance of lines
You should start to see results after only 4 weeks of consistent use.
My skin looks closer to how it did in older photos! That youthful energy comes from reduced wrinkles and simple overall health from SuperBeauty.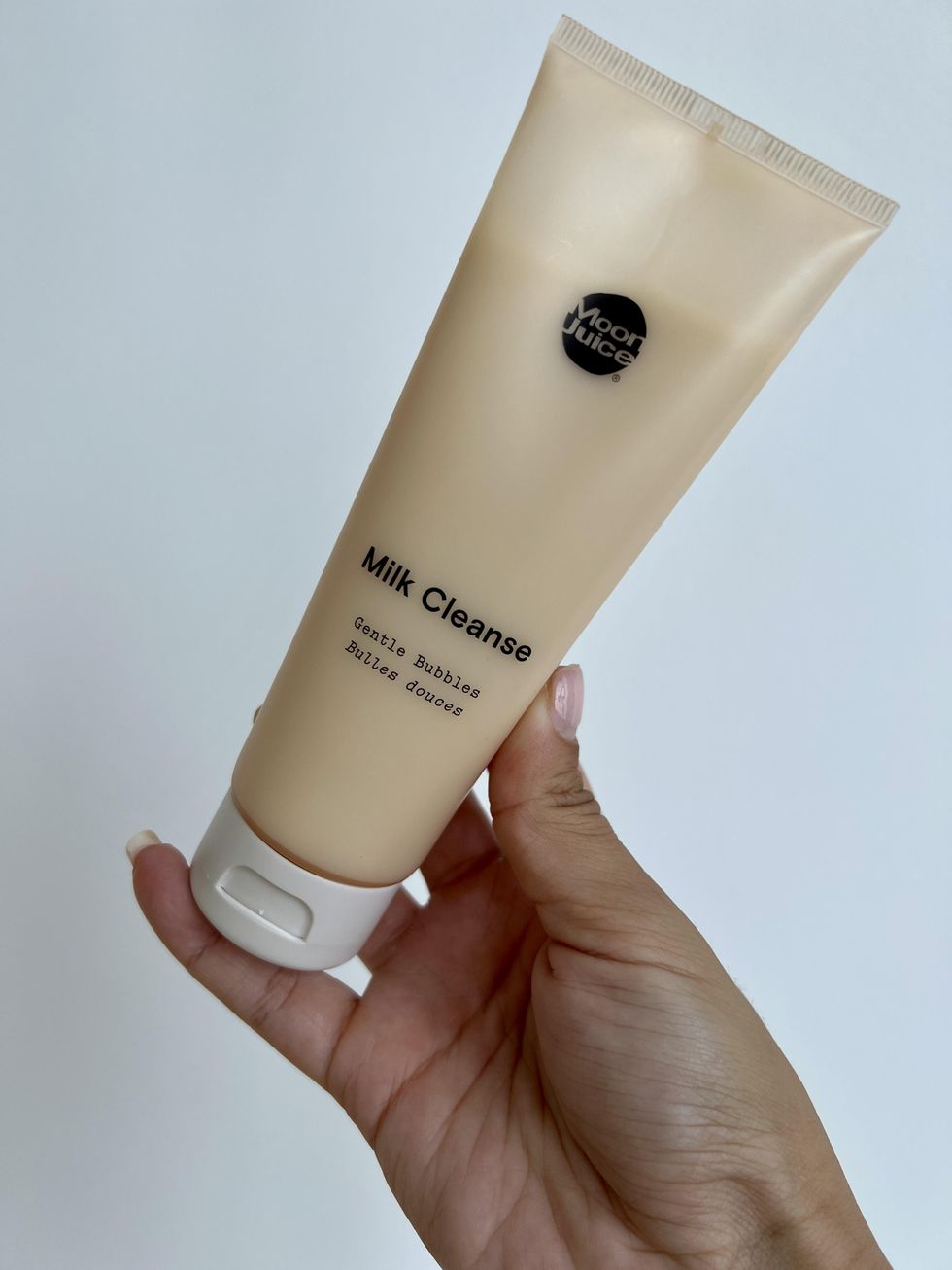 Cleanser used to be one of my least favorite products because they never really took my makeup off, but Milk Cleanse is a hero product. Coconut ferment is what creates the unique pH-balanced bubbles that gently cleanse your face without stripping it of its healthy barrier functions. No harsh sodium lauryl sulfate to be found.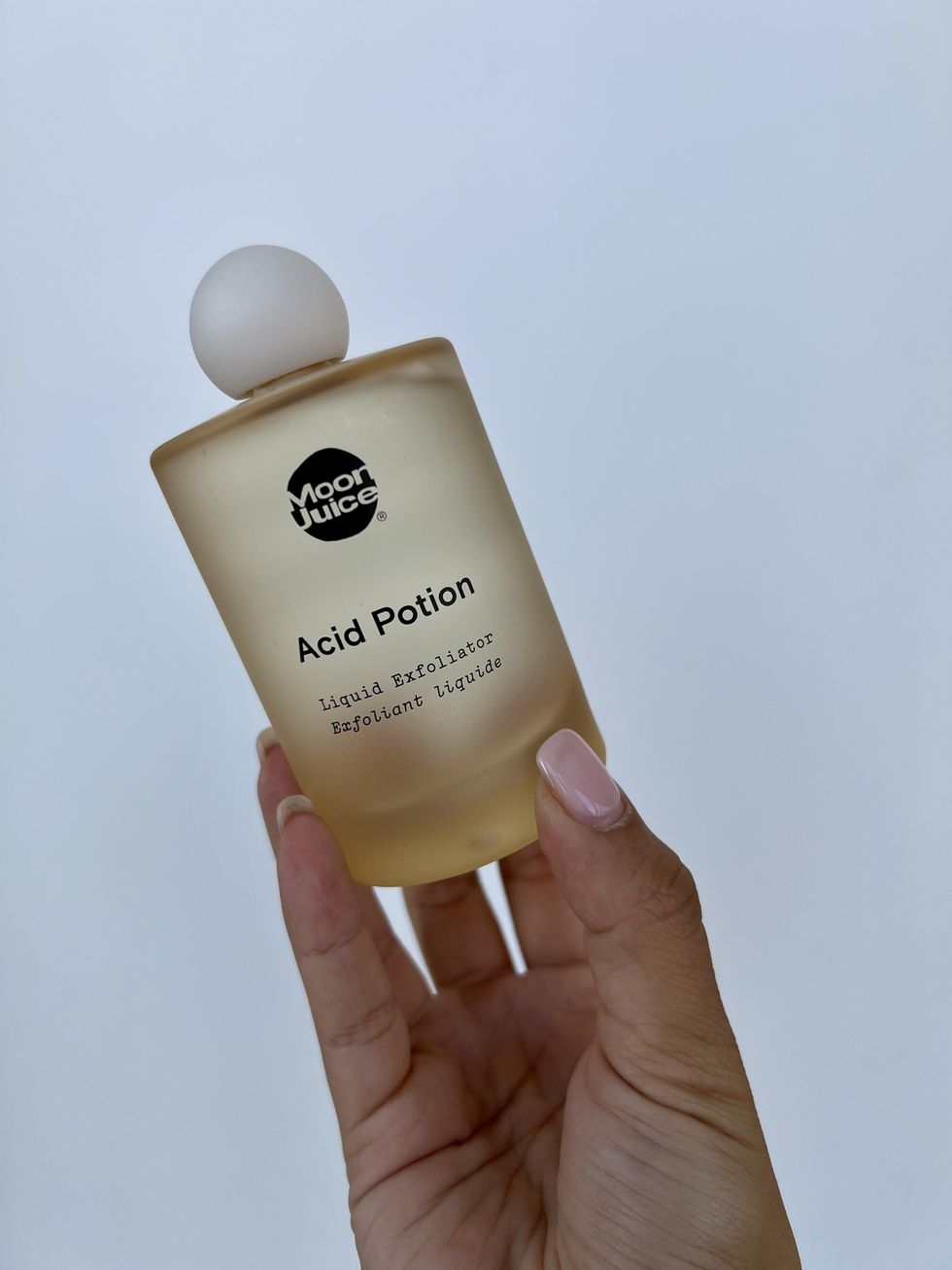 You don't have to give up luxe packaging for quality. Acid Potion is the most gorgeous — and recyclable — bottle in my bathroom. They call this a "quickie facial" for its acid blend and exfoliating nature.
Designed to be used 3 nights a week, simply shake a quarter-sized amount of liquid into your palm and gently pat on your face and neck with your fingertips.
It's a potent 25% AHA + BHA complex of Glycolic Acid, Lactic Acid, Salicyclic Acid, Niacinamide, and adaptogenic Reishi. It will break down your dead cells, unclog pores, and prep the skin so serums and creams can penetrate more deeply.
In the past, I used a retinoid, but couldn't get the hang of it. I'm so glad that this gentle exfoliant has similar benefits.
Like all Moon Juice products, it's 100% plant-based and formulated without parabens, petroleum, pesticides, propylene or butylene glycols, phthalates, sulfates, PEGs, and silicones.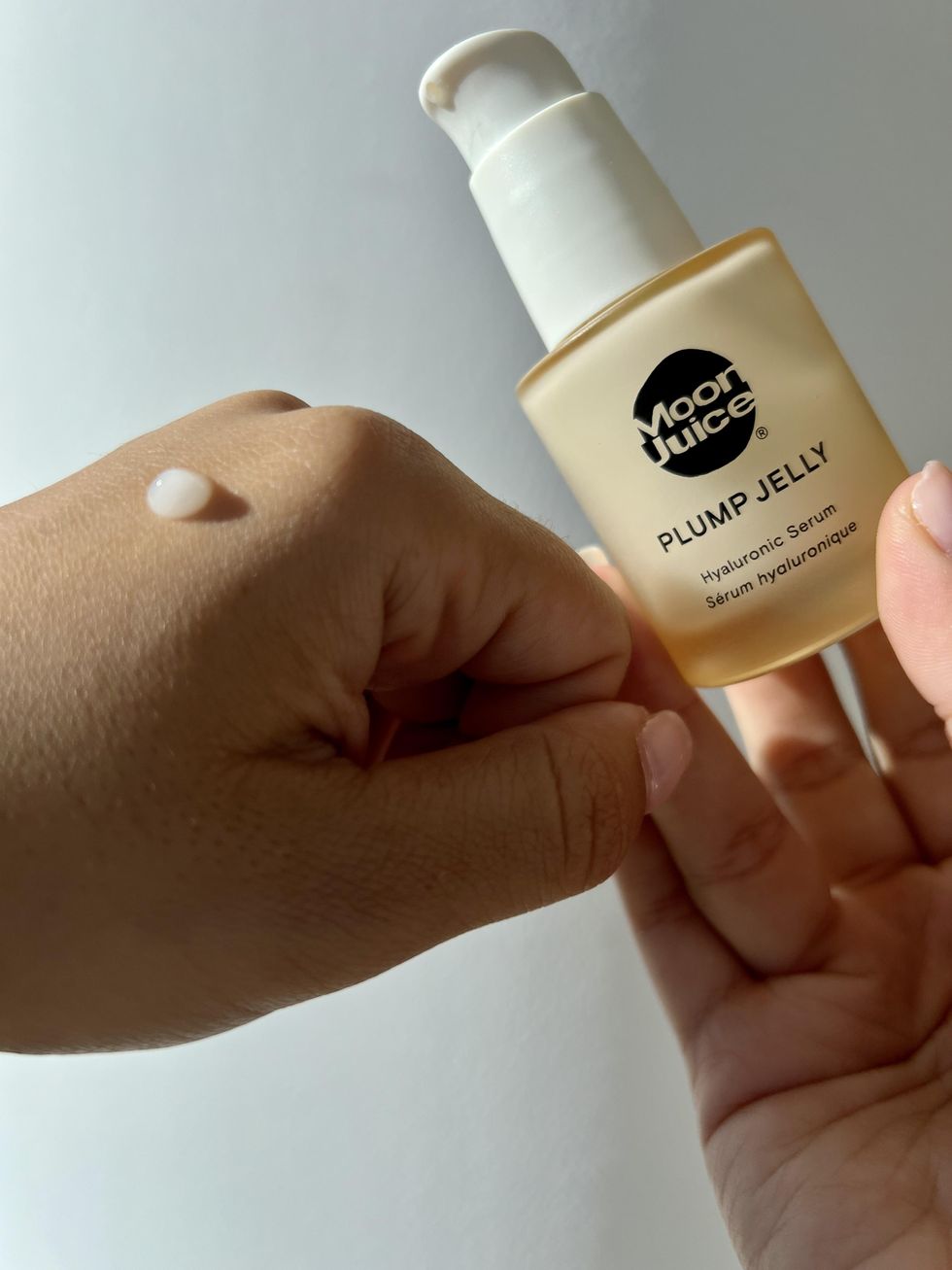 This hyaluronic serum is king of hydration; short-term and long-term. Hyaluronic acid and peptides hydrate around the cells, while natural ingredients like Beet Amino Acid and Silver Ear Mushroom deliver water to the cells and lock it in. Adaptogenic Reishi finishes it off by protecting skin from stress!
I also loved this review so much I have to share it:
"Love this product - As an airline pilot, I have struggled to find clean beauty products that keep my face feeling hydrated after a 10 hr day of flying. I'm so grateful to have found [Moon Juice's Plump Jelly]." - Jennifer T.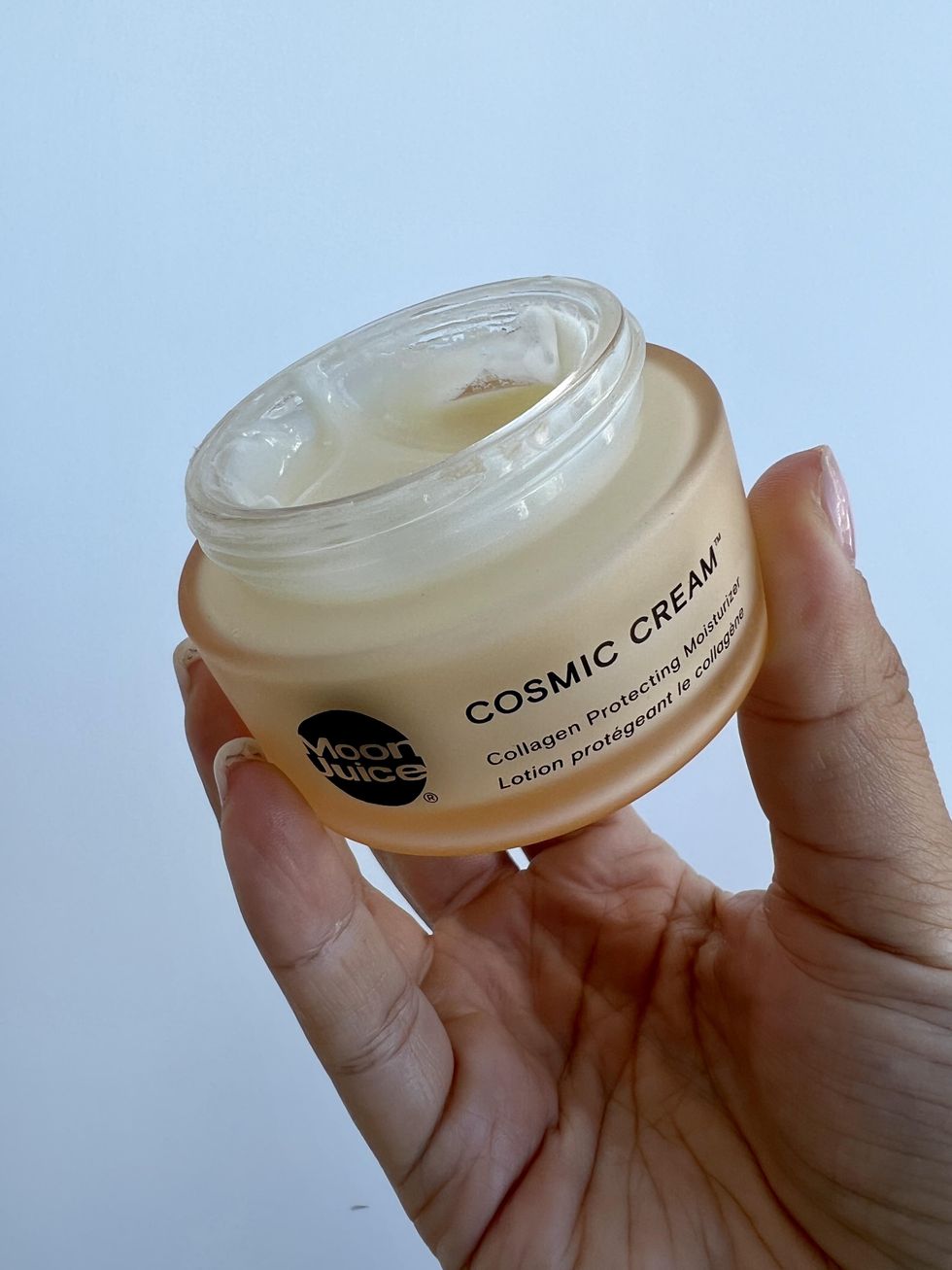 Moisturizers are my favorite skincare product. This one reminds me of another brand — who shall not be named — that used to be clean, but was recently bought by a giant company.
Cosmic Cream is packed with Emollient Fatty Acids and 3 adaptogens: Ashwagandha, Schisandra, and Reishi. It protects against environmental stressors like blue light and airborne toxins, and I swear, you can feel it nourish your skin. It's luxe, dewy, and decadent without going on too thick. This is the final step of my routine before cozying up in bed.
Moon Juiceis a one-stop shop for all things wellness — skin health, sex health, hair health — thanks to clean and effective ingredients (no trade-off!). I've become so much more positive and confident about the aging process. Sure, lines will get deeper and more stubborn over the years, but Moon Juice is helping me handle it with grace.
It's exhausting to check the ingredients of everything nowadays, but I trust Moon Juice's transparency about where their products come from and what they do.
Nothing I've bought from them has let me down. If you need a fresh skincare routine, start with SuperBeauty and my favorite four; you'll be golden.