Events
FESTIVAL | Future! Weezer! Gorillaz! Lizzo! Festival season strikes in the Fall
Getty images/AK illustration
Something for oldheads, newheads and indie rock fiends
The rock critic Zoe Camp reckons the competition between Live Nation and AEG for New York music festival domination to an arms race for geographic hegemony, to be the Woodstock in the mind of the east coast set. Last year, in reaction to the warmly-received debut of AEG/Goldenvoice's missile silo, the Panorama Music Festival (they had bathrooms that could flush! oy!) and a dispiriting turn of events at their own Governor's Ball—the third day had been canceled due to fears of a thunderstorm that never ended up happening--the Gov Ball people (a company called Founders Entertainment, now a division of Live Nation) announced that they were going to have one up on those invading Californians and pull off what so many festival organizations couldn't: a New York music festival that you didn't require an obnoxious ferry line. Put together in a rush and settling for a parking lot in Queens, last year's Meadows Music & Arts Festival was a bit of a mess. Headliner and ostensible raison d'etre, Kanye West, who was among those who were supposed to perform on that ill-fated third day, ended up dipping midway and the festival's second headliner, the reliably chartopping Toronto crooner The Weeknd, didn't even make it and had to be replaced with the vaguely polarizing J. Cole.
This year's festivities promise to be different. Extended into a traditional three-day spread, The Meadows is marking a flag on new terrain for the slowly expanding festival season. Competing for attention this month in the Big Apple will be smaller fare: the return of the Village Voice's Seaport Music Festival, which used to run in the early naughties until it was supplanted by something called 4Knots which, itself, mysteriously disappeared this year and Pitchfork Media's plunge into the New York scene, something called Octfest, which has something to do with their AnBev-funded offshoot of a similar name. Both are old school rock events, headlined by Ted Leo and Guided By Voices, respectively, Meadows is, correspondingly, using their newfound Live Nation weight to bring some of the big names in hip hop over to Queen's Citi Field.
---
Who's a bigger hip hop get than Shawn Carter himself? An even bigger achievement, considering that this would mark Jay-Z's headlining set will mark his first proper New York show in ages (Friday, 8:15), though that does depend on who's counting. Technically, New York's rap ambassador appeared, very briefly, in last year's celebration of Bad Boy Records at the Barclays Center and, the year before, he played a special show of deep cuts for select Tidal members at Terminal 5. He also headlined the Global Poverty Project's big ol' festival at Central Park way back in 2014 but getting tickets to that is always hella weird. SO. We have to go all the way back to January of '14 in order to find the last Hov show you could actually dump a small fortune on and attend in the vicinity of his native borough.
Notably and two days later, Nasir Jones (Sunday, 6:00) will be hitting the main stage; making a lineup pairing that cannot help but feel weighty with the kinds of geographic significance that music festivals die for: both rappers feuded infamously in the late '90s and early '00s for the "King of New York' crown, a battle that Dariel Figueroa once called the "last epic rap war" of our time, rife with the kinds of diss tracks that Meek Mills still dreams of. Some highlights: Jay claiming to have have "left condoms on your baby seat" on The Blueprint's "Supa Ugly" and Nas retaliating by rewriting Hova's most notable flex as "H to the Omo" on a freestyle.
Nowadays, the two have more in common. They shared the same label for some time, Def Jam and, later, Jay-Z brought Nas along for a feature on American Gangster. More recently, both prominently appear in A&E's latest retrospective on Biggie Smalls, the rapper whose legacy they competed so fiercely for. More curiously, both enjoyed critical reevaluations with comeback records that were helmed by Chicago icon No I.D. (Nas' Life is Good in 2012 and Jay's 4:44 earlier this summer). Jay-Z's successful mogul-mythologizing would have you believe that Jay-Z ended up with the crown but deeper heads might disagree; The Source, for instance, named Nas the 2nd greatest lyricist of all time in 2014, two steps above Brooklyn's finest. The hatchet, between the two, was buried live: Nas appeared at Jay-Z's headlining set over at the, ahem, Meadowlands Arena back in the 2005 (it was called the Continental Airlines Arena back then, but whatever). Jay-Z remains a fan of staging reunions, his TIDAL-only set at Terminal 5 notably featured reunions with Beanie Siegel and Memphis Bleek and his latest show, at Live Nation's Made in America Festival in Philadelphia, featured a surprising star turn by local favorite Meek Mill. Fingers crossed that he'll be bringing out the Illmatic on Friday night.
---
Oldheads coming down to remember the battle for King of New York rap will have ample side dishes: both LL Cool J (Saturday, 4:00) and Ghostface Killah (Sunday, 5:00) will be making appearances, the latter choice representing some good synergy with this year's Gov Ball which was able to bring the full clan into effect. This time, another Meadows booking offers a chance for synergy: the Montreal jazz duo BADBADNOTGOOD (Saturday, 2:15) will be playing a set the day before: the group recorded a record with Killah back in 2015. The album's melding of oldschool rap with newschool jazz was largely ignored by the critics at the time but the record is worth a revisit after Kendrick did his whole jazz masterpiece thing two years ago. "Mind Playing Tricks" remains sublime piece of rap braggadocio that feels like it takes place in the first episode of HBO's Vinyl, you know, the Scorsese one.
Ditto Big Boi (Saturday, 3:00), of OutKast fame, who recently recorded his finest solo record in seven years, Boomiverse: a powerhouse of smartly used guests and gunfire bars. "Mic Jack" remains the best I've ever heard an Adam Levine croon.

Younger folk will find ample offerings of this thing the folks are calling trap. Future, Migos and 21 Savage will all be in effect at Meadows (Future: Saturday, 6:00; Migos: Friday, 4:00; 21 Savage: Friday, 3:00) all have recorded landmark records in the past year—Future, for the record, did two. But those coming to hear "Bad & Boujee," should stick around for some of the even fresher talent on the list: reigning queen of Minneapolis, Lizzo (Friday: 2:15), will be bringing her vocal powerhouse to force Friday afternoon. Recently signed to Atlantic, her debut full-length on the label will be coming out later in the Fall but those wanting a taste have her two records on Twin Cities indie sticker Totally Gross National Product to catch up with or can dive in with her on the excellent "Let 'Em Say," a collaboration with Caroline Smith that appeared on Broad City last year. Ditto Kamaiyah (Sunday: 1:30) , the Oakland sensation whose debut mixtape received massive raves last year, enough to land her a smooth feature on the latest YG album, which paired her with Drake.
Those looking for some more of that New York sound will find Flatbush's Beast Coast scene well represented: both scene star Joey Bada$ (Friday: 5:00) and grimy underground lifers Flatbush ZOMBiES (Saturday: 2:15) will be laying down beats and verse under the autumnal sun. But the act most worth skipping your Saturday brunch plans for are a half-New York/half-London duo currently spinning under the moniker the Swet Shop Boys (Saturday: 1:30). A partnership between former Das Racist MC Heems and Riz Ahmed, the beloved actor (Nightcrawler, Girls) who raps under the moniker Riz MC. Their first full-length together, last year's Cashmere, was a lush, funny and powerful political statement; all three adjectives can be used to describe Heems' flex on "No Fly List": "I'm so fly bitch/But I'm on a no fly list."
---
Those looking to rock that weekend should bring tastebuds thirsty for the alternative guitar music of the early millennium: Weezer, Gorillaz and Broken Social Scene (Weezer: Sunday, 6:00; Gorillaz: Saturday, 8:30; Broken Social Scene: Sunday, 5:00) all hit their prime while before Arcade Fire or Vampire Weekend were much more than a twinkle in the eyes of an internet critic. BSS's return has already been properly appreciated; I caught the Canadians playing that jubilant horn music at their slot last year at Pitchfork, fitting as the band was one of the first to ride the website's hype train. The return of Damon Albarn's Gorillaz is a more interesting concern: Humanz, their first record since Albarn's finished reuniting with his old band, deserves revisiting. Anchored by strong performances from festival rap acts like Danny Brown and Vince Staples (the two times I've seen Staples live, he's performed the grime thrust of "Ascension" by his lonesome), the record is a complex attempt to make musically pointed hip hop, dance beats that are worth thinking about. The song that's been on my mind all summer hasn't been any of the singles but the gem of a cut, "Momentz" –a De La Soul feature about the omnipresent chug of time set to a trashing beat-pad stomp and a tinkling keyboard that punches sublimity in the middle of drunken abandon.
De La Soul (Saturday, 5:00) will also be performing earlier in the day than Albarn; which will give both the chance for a nice jam session. The New York native tongues icons have collabed with Albarn's dance project before: most notably, they featured on "Feel Good Inc.," which remains the group's biggest hit on the US charts.

Those looking for some new indie sounds will be rewarded for showing up early. Another New York band, Public Access T.V. (Saturday: 12:45) will be putting on kicks from their debut full-length, Never Enough—a record whose punky charm would have had Pitchfork storming if it came out in 2001. These days, they'll have to contend with appreciation form the guitar-thirsty Brits: raves from NME and The Guardian abound. Further in that direction, Liverpool's Circa Waves (Friday: 1:30) are fresh on the road from the release of their second record, Different Creatures, a kind of fist-pumping animal of choruses and lost Arctic Monkeys demos that they simply don't make any more.

And, speaking of fist-pumping animals, it really wouldn't be a music festival season without at least one appearance from a member of the Strokes. Fortunately, Meadows will have Nick Valensi whipping his sexy hair all around, pumping out the sugary choruses from New Skin, the record he made with his new band CRX (Sunday: 2:15) and recorded with Queen of the Stone Age's Josh Homme.
Lastly, because I would be so remiss if I didn't give one of my favorite DJs and namesake A-Trak (Saturday, 5:00) a shout out. The Brooklyn-by way of Canada and now-lives-in-Cali turntablist is most well-known for spinning for Kanye, circa the late '00s and is considered a big influence on 'Ye's sound on Graduation, my personal favorite of Kayne's old period. But he also mixes lots of indie shit! His latest release, a retrospective of his remix work, features his spin on Architecture In Helsinki, Phoenix, Yeah Yeah Yeahs, among others. I'll take a remix of the Rapture any Saturday afternoon.
The second annual Meadows Music and Arts Festival will take place on September 15th, 16th and 17th. Buy tickets here.
---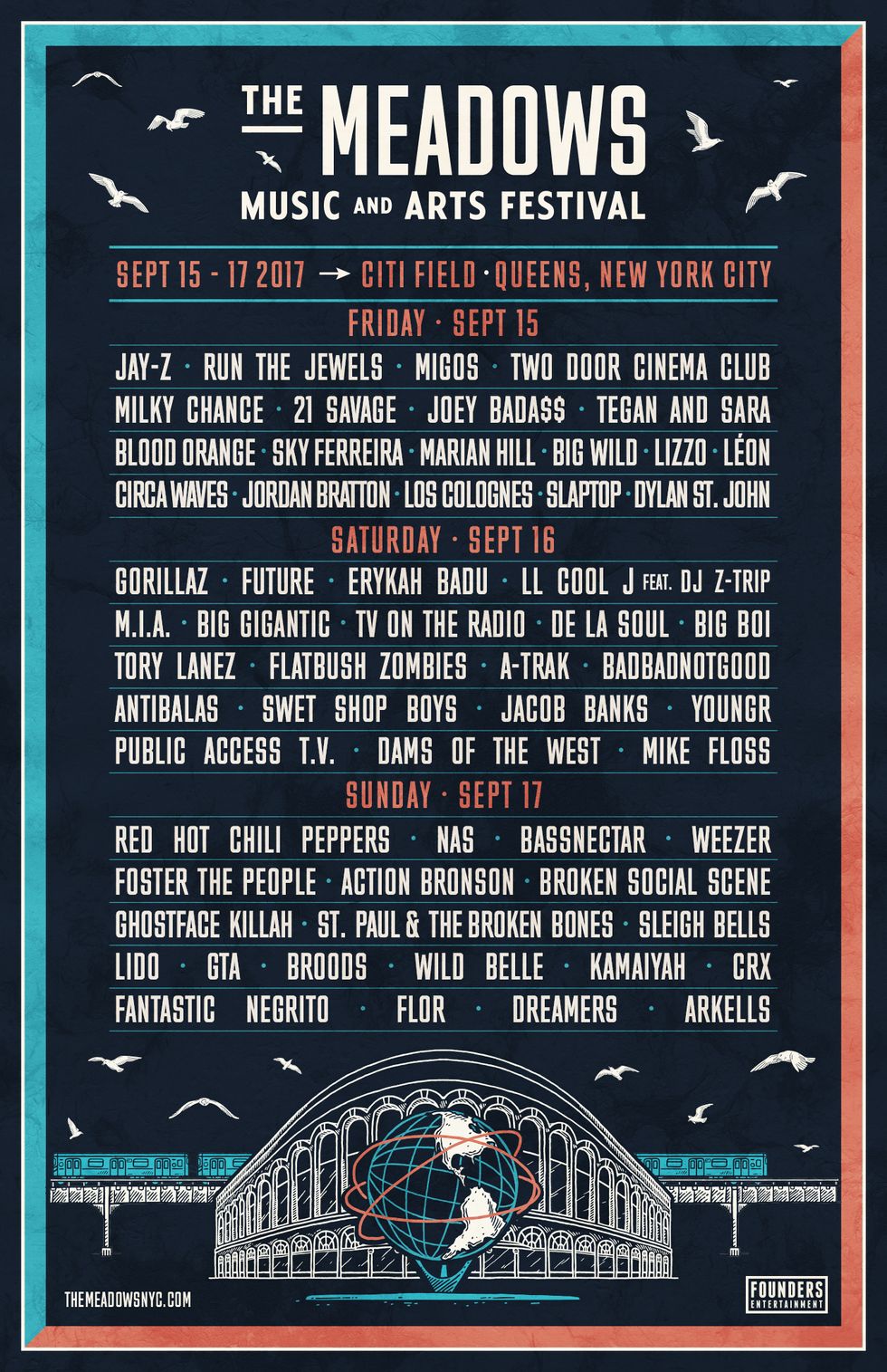 ---
Andrew Karpan is Popdust's Live Music Editor. Imagine if live music was edited. Wouldn't that be wack? Follow him on Twitter
---
More content:

The official Gov Ball NYC Vibe Report: Did you catch any of these?
GOV BALL | Is WELLES the last rocker left?
GOV BALL | TOVE LO is our poet of imperfection
---