Dan Victor
Musician, designer, artist and writer. Living in the Bushwick community of Brooklyn, NYC.
Top Videos
It's giving us serious Summer Forever vibes
MUSIC
Early 80's Indie-Rock Band From NJ
MUSIC
Mission Chinese Food, Roberta's Pizza, Oddfellows Ice Cream Co., KronnerBurger, and More Join 90+ Breweries and 20 Musical Acts
OctFest, the one-of-a-kind beer, music, and food festival presented by Pitchfork and October, today announces its food lineup, curated by Bon Appétit, the award-winning food lifestyle brand. Mission Chinese Food, Roberta's Pizza, OddFellows Ice Cream Co., KronnerBurger, and more join 20 musical acts including Vince Staples and The Flaming Lips, along with 90+ craft breweries from around the world at the reimagined OctFest 2018, taking place September 8-9 on Governors Island in New York City.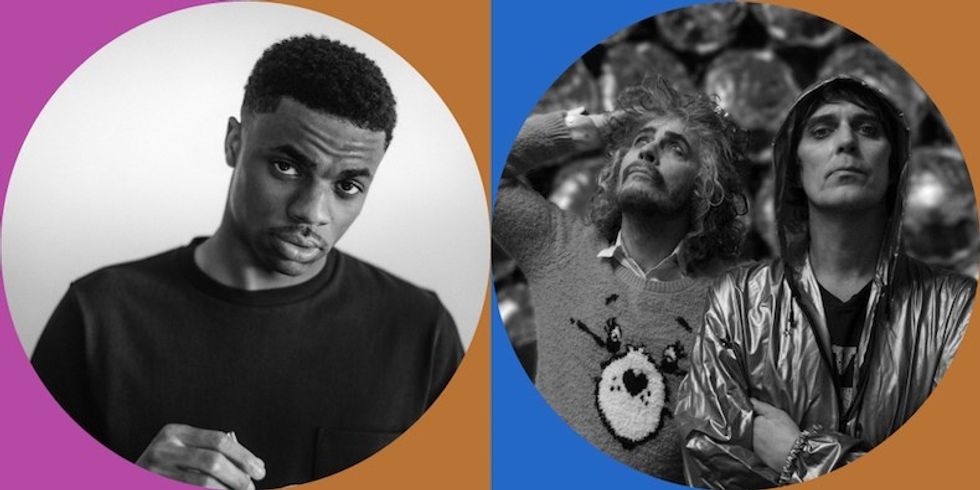 pitchfork.com
The all-new food program features a "Food Village" offering several New York City quick-serve staples like Roberta's, Sweet Chick, and STUF'D Truck. Additional restaurant participants include Cervo's and Best Pizza from Brooklyn, and KronnerBurger from Oakland, preparing specialties from around the world to complement the domestic and international craft beer being sampled."Mission Chinese Food has always had a close relationship with music, so working with Pitchfork on OctFest naturally made sense," said award-winning chef and cofounder of Mission Chinese Food, Danny Bowien. "We've had a few bands perform at the restaurant including my band NARX!, so it will be a change of pace to bring our food to an event with such a robust lineup."

OctFest is also teaming up with Billion Oyster Project (BOP) to help raise money to install and maintain community oyster reefs in New York Harbor. Blue Point Brewing Company, one of the breweries at OctFest is an official partner of Billion Oyster Project and will be launching Good Reef Ale in September. For every pint of Good Reef Ale sold, five oysters will be restored to Billion Oyster Project's Community Oyster Reefs in New York City.
Those five oysters can filter up to 250 gallons of water per day strengthening water restoration.As previously announced, musical acts include Vince Staples, BADBADNOTGOOD, NAO, Saba, Preoccupations, Vagabon, Standing on the Corner, Hatchie, Flasher, and Madison McFerrin on Saturday, and The Flaming Lips, Nile Rodgers & CHIC, Yo La Tengo, Girlpool, Hop Along, No Age, Kamaiyah, Shopping, Julie Byrne, and The Courtneys on Sunday.Additionally, OctFest 2018 is hosting 90 breweries from 20 countries, pouring more than 250 varieties of award-winning craft beer.

Several breweries, including Wicked Weed Brewing, DC Brau, Wedge Brewing Co., Four Peaks Brewing Co., Wild Beer Co., and Karbach Brewing Co., will be making their New York City debut at OctFest.Tickets are on sale now at OctFest.co. Passes are $75 for a single day and $140 for the weekend, and include 15 beer samples per day.For more information, including lineup announcements, event news, and updates, please visit Oct.co and follow @Pitchfork and @ReadOctober.Full food, music, and brewery lineups are below.
FOOD LINEUP:
Curated by Bon Appétit
Best Pizza
Cervo'sHank's
Juicy Beef
Island Oyster
KronnerBurger
Los Viajeros Food Truck
Mission Chinese Food
Oddfellows Ice Cream Co.
Sweet Chick
STUF'D Truck
Roberta's Pizza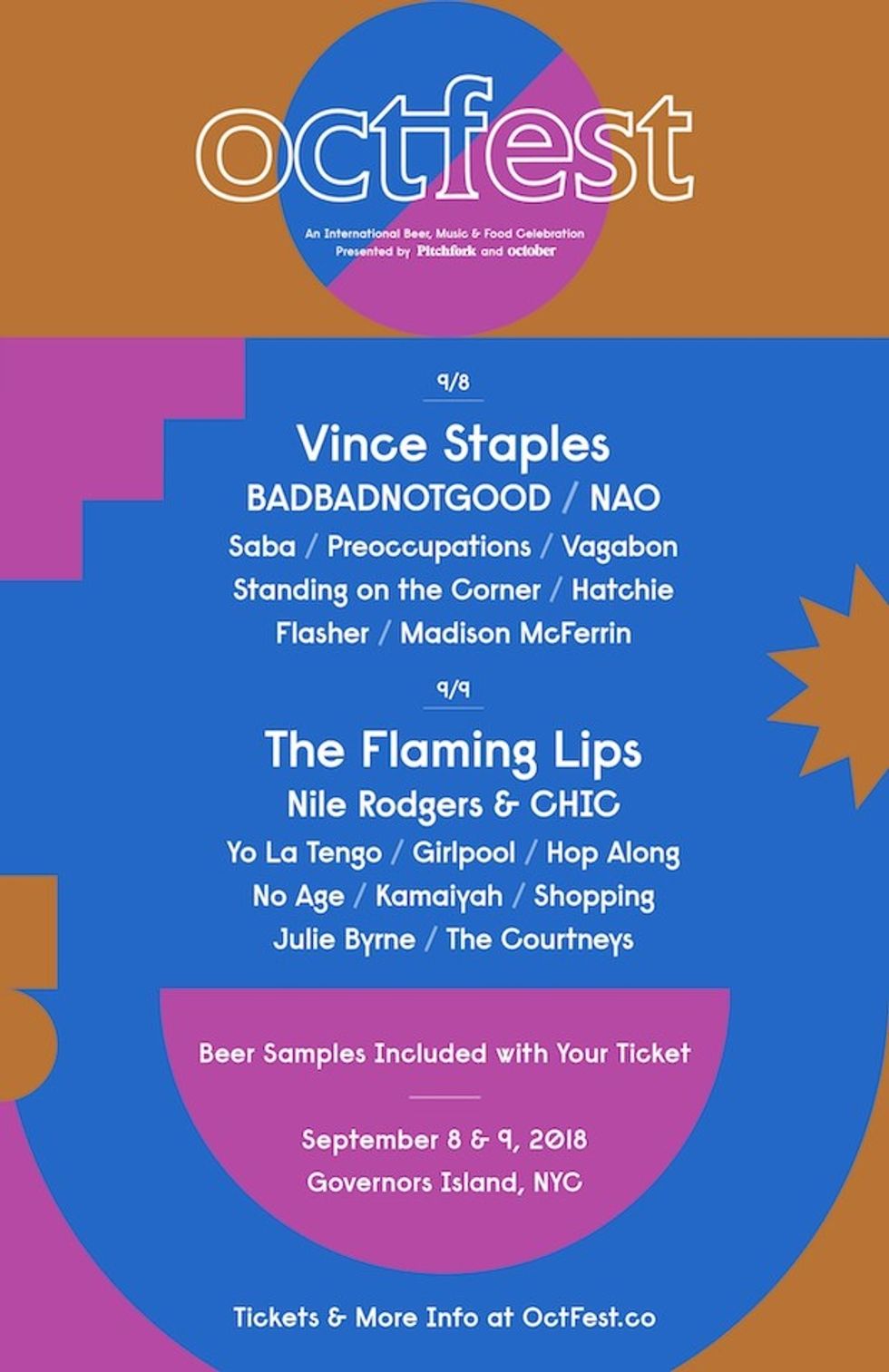 pitchfork.com
MUSICAL LINEUP:

Saturday, September 8
Vince Staples
BADBADNOTGOOD
NAO
SabaPreoccupations
Vagabon
Standing on the Corner
Hatchie
Flasher
Madison McFerrin
Sunday, September 9
The Flaming Lips
Nile Rodgers & CHIC
Yo La Tengo
Girlpool
Hop Along
No Age
Kamaiyah
Shopping
Julie Byrne
The Courtneys
BREWERY LINEUP:
North America - West
10 Barrel Brewing Co. (Bend, OR)
Austin Eastciders (Austin, TX)
Breckenridge Brewery (Littleton, CO)
Elysian Brewing Company (Seattle, WA)
FiftyFifty Brewing Company (Truckee, CA)
Firestone Walker Brewing Company (Paso Robles, CA)
Founders Brewing Co. (Grand Rapids, MI)
Four Peaks Brewing Co. (Tempe, AZ)
Golden Road Brewing (Los Angeles, CA)
Goose Island Beer Co. (Chicago, IL)
Jolly Pumpkin Artisan Ales (Dexter, MI)
Karbach Brewing Co. (Houston, TX)
Kona Brewing Company (Kailua-Kona, HI)
Live Oak (Austin, TX)
Monkless Belgian Ales (Bend, OR)
On Tour Brewing Company (Chicago, IL)
Rogue Ales (Newport, OR)
The Shop Beer Co. (Tempe, AZ)
Virtue Cider (Fennville, MI)
North America - East
Blue Point Brewing Company (Patchogue, NY)
Brasserie Archibald (Canada)
Braven Brewing Company (Brooklyn, NY)
Brewery Ommegang (Cooperstown, NY)
Brickworks Cider (Canada)
Circa Brewing Co. (Brooklyn, NY)
Cisco Brewers (Nantucket, MA)
Collective Arts Brewing (Canada)
DC Brau (Washington, D.C.)
Devils Backbone Brewing Company (Roseland, VA)
Flying Dog Brewery (Frederick, MD)
Hanging Hills Brewing Company (Hartford, CT)
Jack's Abby Craft Lagers (Framingham, MA)
Keegan Ales (Kingston, NY)
Lamplighter Brewing Co. (Cambridge, MA)
LIC Beer Project (Long Island City, NY)
Lord Hobo Brewing Company (Woburn, MA)
M.I.A. Beer Company (Doral, FL)
Microbrasserie Gainsbourg (Canada)
Mill Street Brewery (Canada)
Narragansett Brewing Company (Pawtucket, RI)
Sand City Brewing Co. (Northport, New York)Springdale (Framingham, MA)
Stanley Park Brewing (Canada)Sunday Beer Co. (Brooklyn, NY)
The Bronx Brewery (Bronx, NY)
Veza Sur Brewing Co. (Miami, FL)
Wicked Weed Brewing (Asheville, NC)
Zero Gravity Craft Brewery (Burlington, VT)
Europe

Aktien Brewery of Kaufbeuren (Germany)
Birra del Borgo (Italy)
Brasserie La Binchoise (Belgium)
Brouwerij Bosteels (Belgium)
Brouwerij DeKroon (Belgium)
Camden Town Brewery (UK)
Ginette (Belgium)

MUSIC
AUGUST 6 | Asian Tour with HALSEY & new EP FLIGHT
THE MIX | Souls Gets Lit
08.06.18 | This playlist is inspired by artists that I've worked with and artists that I believe in. Every song is strong and makes you feel like a fires lit up in your soul.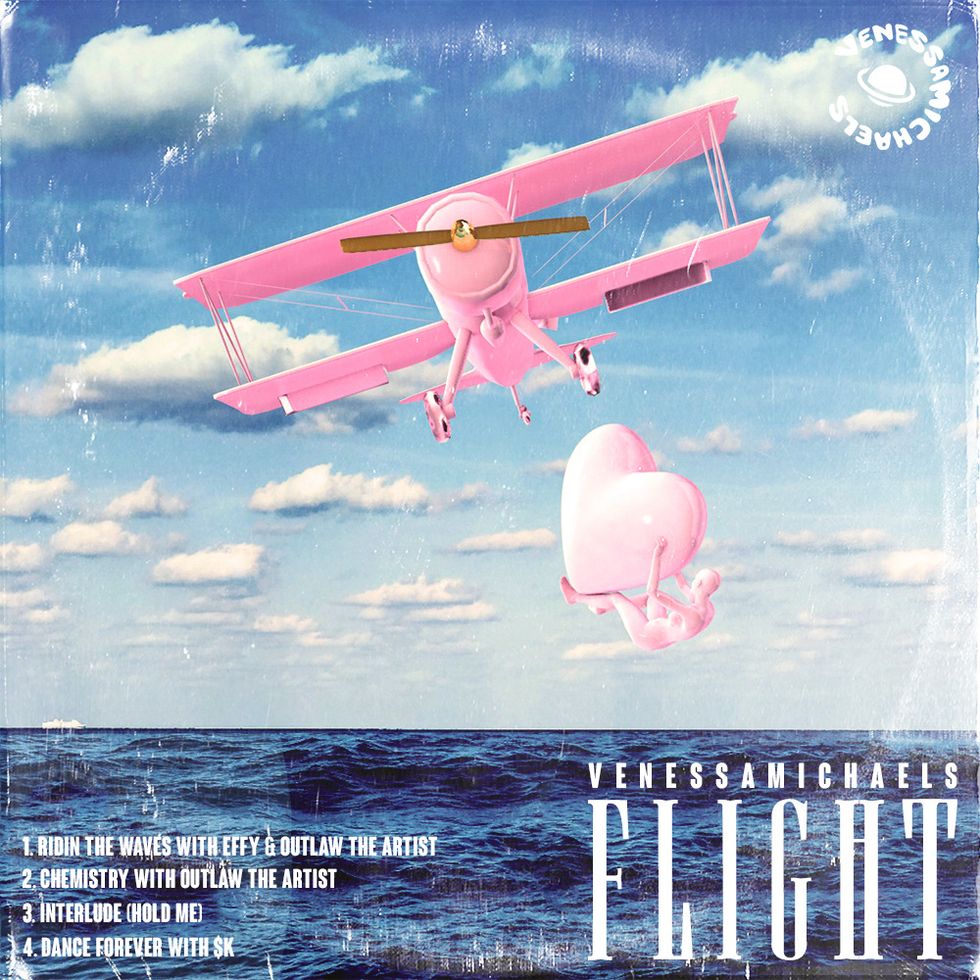 Listen to FLIGHT by VenessaMichaels VenessaMichaels just released the exciting new EP called 'FLIGHT'. It is riding the wave of chill, pop and dance music. Popdust asked her to make a hot mix to go with the heat her new EP is getting. It features Outlaw the Artist, Effy and $K on various tracks. The vibe incorporates styles that collide to create a unique experience that you could study or enjoy in the background. The British flavor adds a global consciousness while bridging the gap, standing out among many producers today. It is refreshing to listen to a collection of songs that build chemistry among one another. Listen to the first track and you'll have to finish it... and put it on replay. One to save.
"We are almost never fully honest with the struggle of relationships in love, life, or work. Everything we care for takes effort and persistence to keep up, otherwise, it falls apart. FLIGHT is about the beginning, middle, and end; it's the imperfections that make up the full piece. What a relationship is, is all perspective. Hope you enjoy the FLIGHT." – VenessaMichaels
Producer, songwriter and DJ, VenessaMichaels brings her unique vibe to the table in the form of "2090". A sound and lifestyle she defines as transforming the past into future. Heavily influenced by hip-hop & pop from the 90s /early 2000's, she recaptures the spirit of a musical movement that raised a generation.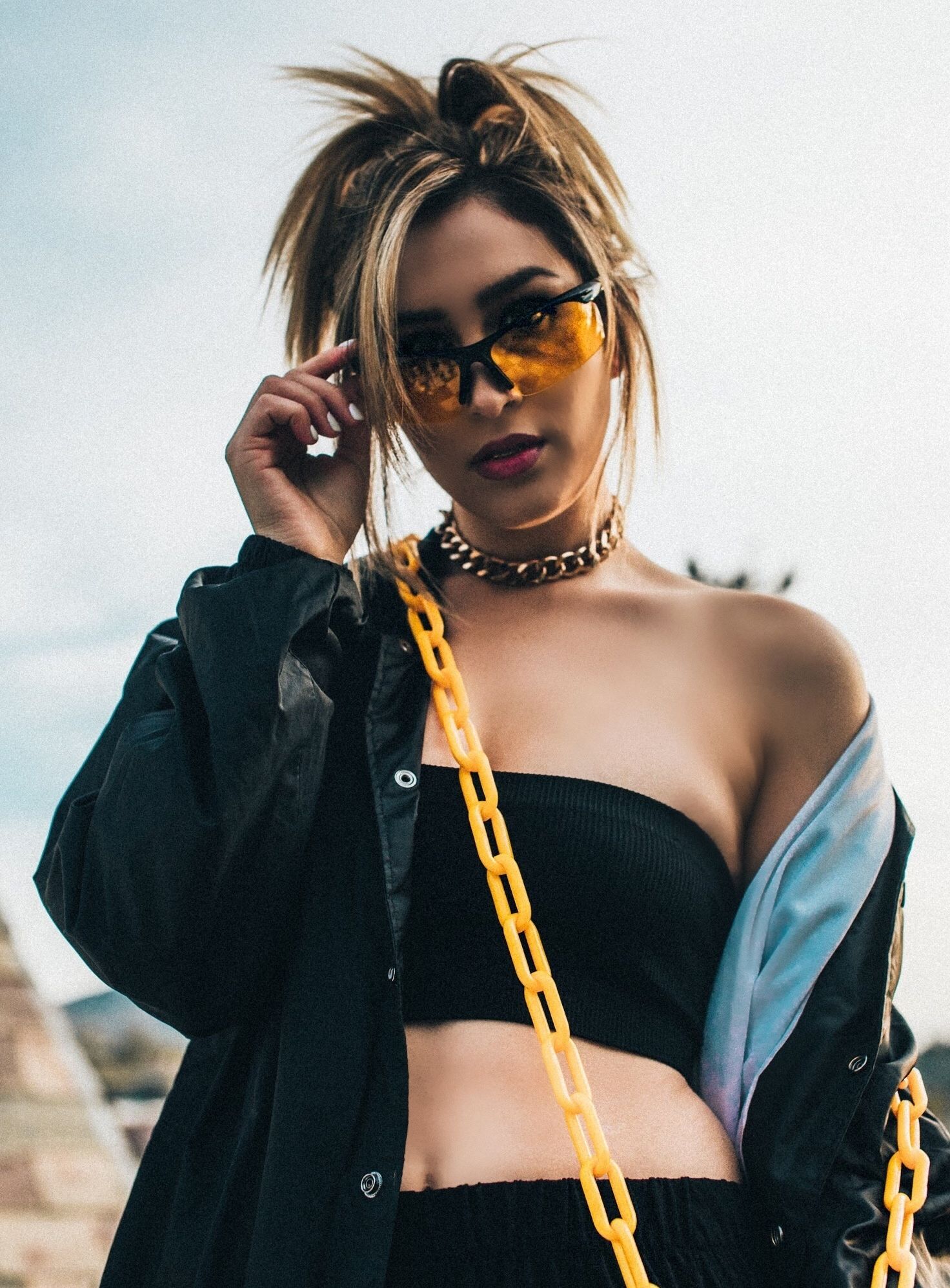 VenessaMichaels
Hailing from San Diego, CA and currently based out of Los Angeles, CA VenessaMichaels consistently flexes her songwriting, DJ, and production skills; working with up-and-coming artists like
Kiana Ledé, Leven Kali, MOONZz, Tay Jasper, Jackson Breit, Effy and more... Performing at legendary Los Angeles venues such as The Shrine, El Rey, The Palladium and outside of her city she has also performed all along Northern California, Southern California, Texas, Arizona, Minneapolis, New York, Chicago, & more.
THE BREAKDOWN

1. VenessaMichaels & Olmos - Good Love (Feat. Effy)
I had to start the playlist off with a fool good track. Good Love puts you in a good mood. I love working with Effy so much, because she has this incredibly unique tone and emotion when she's singing anything. You can feel it in this song.

2. Hare Squead - Herside Story
This is just hands down one of my favorite tracks ever. The beat jumps in and makes your shoulders bounce and your head bop right away. The way they ride the beat lyrically is insane, too. This is the perfect summer song.

3. NIKI - I Like U
This song gets stuck in my head all the time. NIKI has so much good energy and she's so full of life. You can hear it in all of her music and you can see it when she performs. This song is so catchy & her music makes you feel everything she's singing about.

4. Leven Kali - Joy
Leven Kali is everything. He's one of the most positive people on this planet and always makes a statement in his tracks. There's a powerful message in Joy and it brings out a perspective that makes you open your eyes to what's really going on in the world.

5. Kiana Lede - Fairplay
This song just makes you angry in the best way ever. Kiana goes all the way off in this song and it's perfect. Not to mention her voice is always one of my favorites to listen to. She's got so much fire in her soul, its unreal. I can't wait to see what she does next, because there's no doubt in my mind that she will takeover the R&B and pop world. So much love for this girl.
6. RAYE & Kojo Funds - Check

Just for the simple fact that they sampled Craig David's "7 Days" caught my attention. But then to be able to cut the track just as hard as Craig David is why this song is so good. RAYE seriously goes crazy on this track. Kojo Funds & Raye literally make this track feel like it's all theirs. How can anyone not love this song? I could listen to it on repeat aaaallllll day.

7. Audra the Rapper - Done.Did
I have so much to say about Audra the Rapper. She's so incredibly talented. I've recently gotten the pleasure to be able to work with her and the vibe she brings to a room is so f*cking crazy. She takes every track to the next level. This song in particular is such a fun track, but just waaaait til you hear what she has coming up next.

8. Outlaw the Artist - Sensei
I love Outlaw. Listen to him go nuts on this track. He has the ability to spazz on any track, it's amazing. He's one of my favorite writers, because he can literally write to any type of record and make it his own. This is his first solo original release in a long time and it goes so hard.

9. LUVK - Try My Wave
It's hard to even put words into how good LUVK is. She seriously has a voice that makes you feel everything. LUVK is doing something so different in her tracks. She is taking music to another level, because not only does she sing opera but she also has this rock vibe in her music. It's hard to even explain, you have just to listen to understand what she's creating.

10. VenessaMichaels - Dance Forever (Feat. $K)
To end off the playlist, I had to bring it back to Dance Forever. $K & I had so much fun making this track together. He's one of a kind. This is one of my favorites I've produced, because of the bounce of the drums, the heavy bassline, and the simplicity of the melody.
Frontpage Popular News
The undercurrent runs strong
The art for the Album Cover is such an amazing piece of artwork, like a drawing that has come to life. Cody Simpson & the Tide have just released "Underwater." Produced by Simpson and Adrian Cota, Cody's latest track fuses catchy, beach-pop hooks, with rock-and-roll sensibility and electric beats. The video's striking, underwater choreography perfectly encapsulates the feeling of a carefree summer. It impacts the senses with such clarity
We were so excited to have Cody Simpson & The Tide on Popdust Presents, although we didn't know exactly how lucky we were. It was a serious lesson in the way it is supposed to be done! Brent Butler spoke with the band about the Wave One EP and an acoustic performance that blew us away. I was struck by how philosophical Cody's approach to music as he was. It was as serious as it is fun. The songs evoke a different era but through the prism of today. Following a positive attitude, the music reminds me that it's coming from a higher place. These sounds course through my veins as thick as a wave that overwhelms me. An undertow pulling me closer to the music on the beach, near a fire, plenty of drinks and a beat that wags my head.
The band mates we sharing a genuine enthusiasm to each other's energy. It is part of what makes a band different than a solo artist. Like parts in a machine, vital to the other. Cody feels very strongly about establishing the rebrand from him as a solo artist to that of a collective. So it is not just Cody alone. Adrian and Shareef join him, not simply to accompany him, they elevate the music. That chemistry is apparent as soon as you see them live.