Culture News
Change doesn't happen solely through massive, revolutionary actions. It's about starting with one small step and then taking those steps over and over and over again.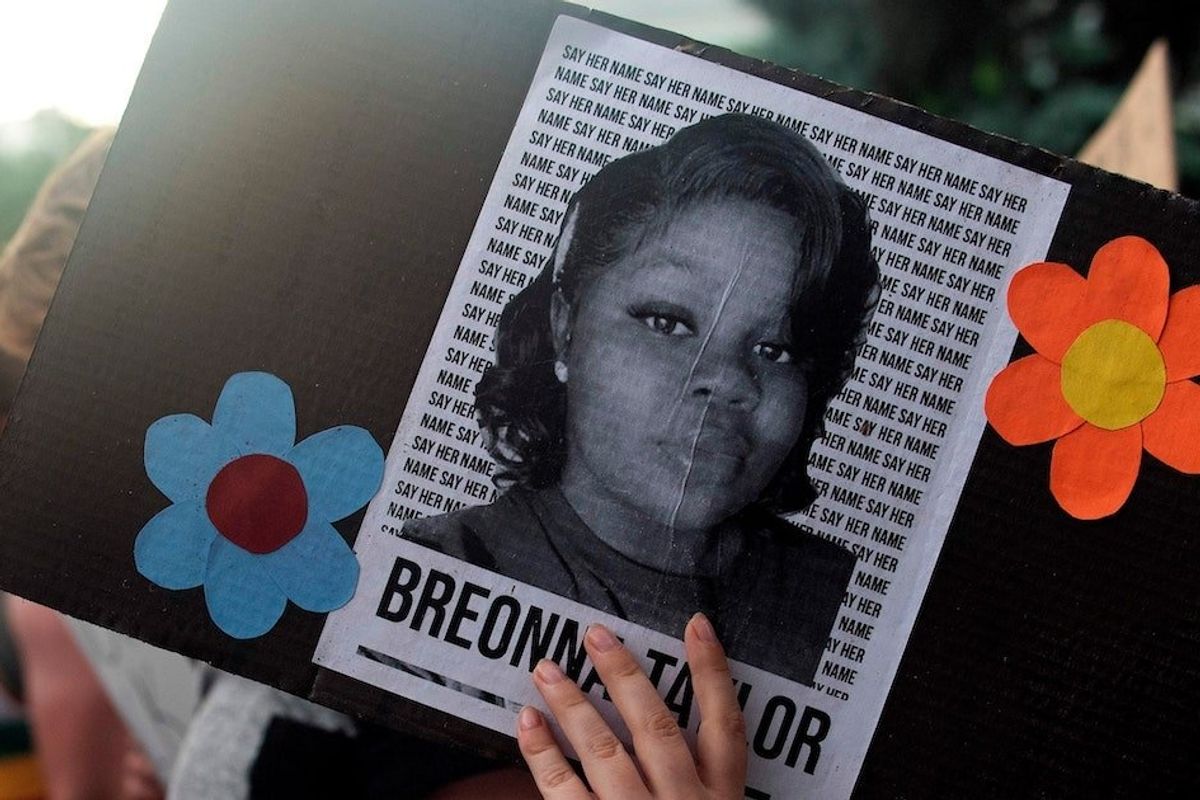 Sometimes the amount of change that the world needs feels totally overwhelming, and it can be impossible to know where to begin.
But the truth is that change doesn't happen through massive, revolutionary action. It's about starting with one small step and then taking those steps over and over and over again.
This roundup is by no means meant to be all-encompassing. Instead, these are six steps to take if you don't know where to start on your journey towards fighting for true justice. These are jumping-off points you're frustrated by the world's ills and you want to fight, but are searching for a place to start.
1. Fight for Breonna Taylor
This week, many Black Lives Matter organizers are concentrating their efforts on accountability for cops who killed Breonna Taylor.
---
If you'd like to help, there are many ways to do so. Here's an easy way to help from home: Reach out to www.powertous.org (email contact@powertous.org) if you're interested in writing postcards to Mayor Greg Fisher demanding justice for Breonna. Plus, this is a great excuse to buy some stamps and support the postal service.

You can also visit this website and use their script to make calls and send emails to relevant people in charge of handling this case.
You can also use this resource from KDJA Hour of Action to call, email, and tweet your support for Breonna as well as Saraya Reed, a 14-year-old Black girl incarcerated after experiencing a mental health crisis, and Matthew Rushin, an autistic 18-year-old black man who received a 50-year sentence after a car accident.
2. Help Support Beirut
Beirut suffered a horrible explosion this week, and hundreds of people's livelihoods have been destroyed. Residents affected by the crisis say that anyone who wants to help should only donate to the local Red Cross, as many other funds won't actually make it to the people in need. Donate here.
You can also donate to the NGO Humanity and Inclusion, which has over 100 workers on the ground in Beirut, or Islamic Relief, which is also providing necessary aid in Yemen and elsewhere.



3. Join (or Start) a Local Mutual Aid Network
Mutual aid is a practice rooted in community exchange and the concept of "solidarity, not charity." If you live in NYC, your neighborhood almost certainly has a mutual aid network—and Mutual Aid NYC has a weekly Wednesday call if you want a place to start.
You can join one and spend time delivering groceries to neighbors in need (most are reimbursed!), compensating neighbors for their deliveries, or organizing mutual aid relief efforts. Hey, you might even get to know your neighbors for once.
Mutual aid networks have cropped up across the US and world during COVID-19, and it's quite possible that your neighborhood has one. If not, you could even gather some of your neighbors and start your own. Here's some advice on how to start a mutual aid network via Slack, via Bed-Stuy Strong, a massive mutual aid network born in early COVID-19 days in NYC.
4. Support the #fundexcludedworkers Movement
The Fund Excluded Workers movement is a push to tax billionaires in order to provide emergency income to New Yorkers unable to receive unemployment benefits. According to their website, 9 out of 10 Black and brown immigrant families surveyed reported job loss or loss of income—but only 5% reported that they received unemployment insurance.
Check out the legislation here, and check out the website to call your local legislators and to join the movement to tax billionaires in order to fund our essential workers.

5. Join a local organizing group
The best way to stay plugged into organizing efforts and to avoid feeling totally overwhelmed by all these different causes is to join a local organizing group. That way, you'll be able to build relationships and join teams that are already plugged into this work. Consider joining your local chapter of Sunrise Movement, DSA, the Movement for Black Lives, Showing Up for Racial Justice (SURJ), or another organization that appeals to you. Just start by signing up for their email lists and going to some of their trainings, and you'll find yourself with literally endless amounts of work to do. We are so much more powerful together than we are alone.
6. Keep Learning: Read About Black August, Black Women's Equal Pay, and More
This month is Black August, a month dedicated to commemorating the Black radical tradition. Check out Noname's reading list and get educated about what they didn't teach you during Black history month.
While you're at it, read, tweet, and speak out about the movement for Black women's equal pay.

And whenever you're able, attend online workshops and educate yourself however you can about the history and current work of activist movements. The inimitable AOC is offering a variety of organizing workshops in the coming months, so check those out and keep it up!

7. Redistribute the Wealth: Give Directly to Those In Need
If you have the means or come from generational wealth, it's always a great idea to give money directly to people in need. There are a variety of wealth redistribution groups on Facebook, such as Ask For Money & Help and GoFundMe -> Cash App -> PayPal Donations Platform. The page @blackwomxnexhale also shares requests directly from people, or you could literally just search "Venmo" or "cashapp" on Twitter. If you're looking to make a bigger commitment to wealth redistribution, check out Resource Generation.