Pete Davidson avoided stage makeup on this week's episode of Saturday Night Live, a decision that I respect, but I'm concerned.
Davidson has always rocked a sultry, exhausted, baggy-eyed look, but lately things seem to have spiraled out of control.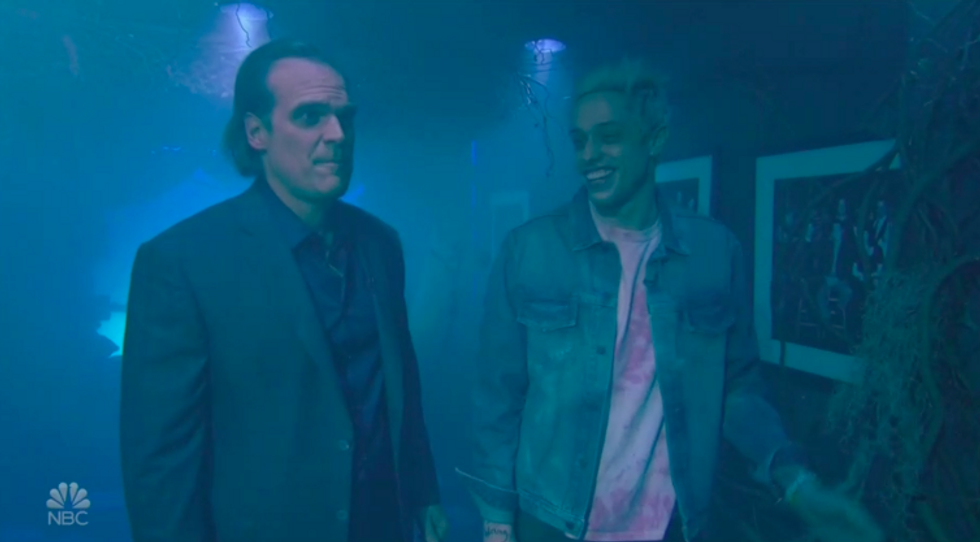 Variety
Davidson was notably absent for the past two weeks on SNL, as he was reportedly wrapped up in Suicide Squad engagements. This week, he reappeared in David Harbour's opening monologue and confessed that he'd been lost inside Stranger Things' Upside Down. Later, he emerged in his usual spot as a guest on Weekend Update alongside Colin Jost (who appeared to be glowing with health in comparison, perhaps because he's married to a tree). Throughout it all, I could not stop thinking about the sheer size and scope of the vast plum-colored shadows that surrounded Davidson's eyes. Like black holes or those doorways to the Upside Down, they almost resemble portals to other worlds.

Let's be clear: I'm a fan of Pete Davidson's appearance (against the majority of my better judgment). You have to admit that there's something to the super-tall, bleach-blonde, white-toothed, tattooed, I'm-clinging-to-life-by-the-smallest-thread aesthetic that he so effortlessly displays.
Or there once was. Now, Pete appears to be seriously pushing the boundaries between heroin chic and vampire who's gone vegan to save the planet. Since seeing him on the show, I haven't been able to sleep because I can't stop thinking about how little he's probably slept in the past few weeks. If anything, all this has only made my Pete Davidson obsession worse.
Ariana Grande - pete davidson (Audio) www.youtube.com
Why does Pete Davidson's gaunt appearance have such an impact on me and other women? It's probably related to the innate impulse I have to try to help him, an impulse that I've intellectually transcended but that still lurks in my subconscious, rearing up like the odd recurring dream. It's absolutely the same impulse that Bailey Gismert, the teenage girl played by Heidi Gardner who appeared later on Weekend Update, thinks she could probably "help the Joker." (Davidson even connected himself to the Joker while on Weekend Update, saying, "And by the way Colin, I don't know if you've seen The Joker, but I think you should start being way nicer to me.")
Weekend Update: Bailey Gismert on Fall 2019 Movies - SNL www.youtube.com
Weekend Update: Pete Davidson on Sexually Transmitted Diseases - SNL www.youtube.com
Sometimes I do wonder why I and so many others are attracted to Pete Davidson and similarly bedraggled, frequently bedridden types. There's that old, mostly incorrect stereotype that argues that women are only drawn to bad boys, but even if that stereotype were true, Davidson isn't exactly a James Dean or Ted Bundy. So why do we (and by we I mean me, Ariana Grande, Kate Beckinsale, and probably you, if you've read this far) love him so much?

Pete Davidson scholarship is a growing field, so there are plenty of theories. It could be the BDE, but some thinkers propose that Davidson is so alluring because he seems like a genuinely nice guy. Perhaps all his frank openness about his disorders, illnesses, and marijuana addiction make him seem honest, like the kind of guy who wouldn't assault women and then lie about it. Context could also have something to do with it; Urban Dictionary defines the Pete Davidson Effect as "when women are influenced by their peers in determining if a man is attractive or not." And perhaps there's a misguided, deeply buried impulse within some of us that believes if we only find someone more messed up than we are, we will gain the empathy and understanding that we really should have given to ourselves all along.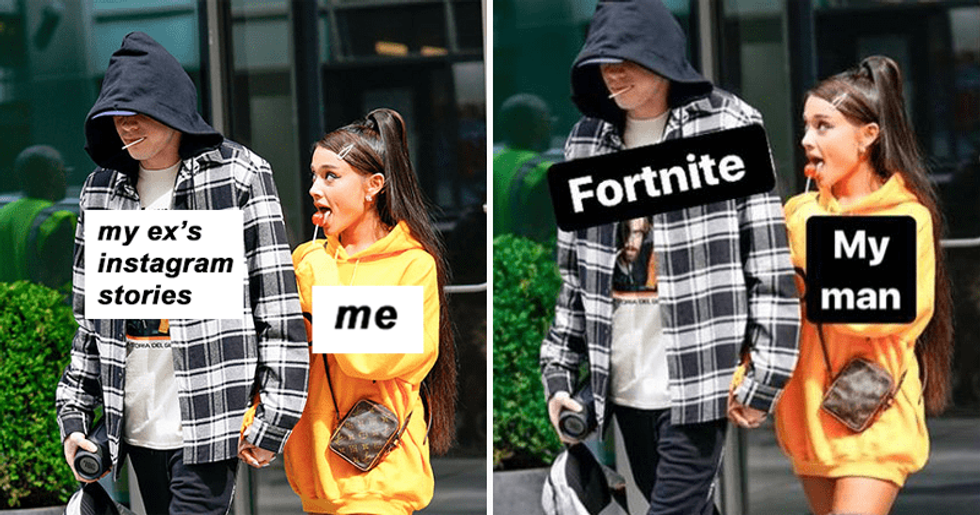 knowyourmeme.com
Or perhaps it's more—perhaps Davidson on the whole is indicative of some kind of existential millennial/Gen-Z exhaustion, narrowly hidden under the guise of nihilistic meme-inspired humor—or could it be nothing at all?

In the end, Pete Davidson's dark eye circles have reminded me to remember that I cannot save Pete Davidson or the Pete Davidsons of this life. Only structural healthcare reform and a new form of religion that reintegrates meaning into this life can do that job. I can only love them from afar, write articles about them on the Internet, and convince myself that I'm only ironically listening to "thank u, next." Unless..?