Arts
Noted for his seminal work, Rosencrantz and Guildenstern Are Dead, Tom Stoppard's Travesties receives a frenetic revival at Roundabout Theatre
Photo: Joan Marcus
"It may be nonsense, but at least it's clever nonsense"
So says Tom Stoppard's lead, Henry Carr, in Travesties. In doing so, inadvertently or not, he offers what may be the most succinct summary of this work. The play, currently showing at the American Airlines Theatre as part of Roundabout's Spring Season, is a font of historical minutiae, literary criticism, pontification on the meaning of art, and wordplay so athletic it could be in the Olympics. And yet for all its undeniable, sparkling brilliance, you can't help but wonder what it was all for when you leave the theatre.
Set in Zürich in 1917, the play follows Henry Carr (Tom Hollander), an elderly man who reminisces about his time in the consular service during the First World War. He recants interactions with James Joyce (Peter McDonald) who at that time was writing Ulysses, Tristan Tzara (Seth Numrich) who was enjoying rise of Dada, and Lenin (Dan Butler) who was surfing the lead up to the Russian Revolution. All of them were in Zurich in this time period, and the play shows a world in which Carr becomes a focal point for them all whilst starring as Algernon in a production of The Importance of Being Earnest. All of this is processed through the framing device of Henry's gradually worsening senility, which occasionally gives way from actual events and breaks in to his bizarre dreamlike interpretation of them.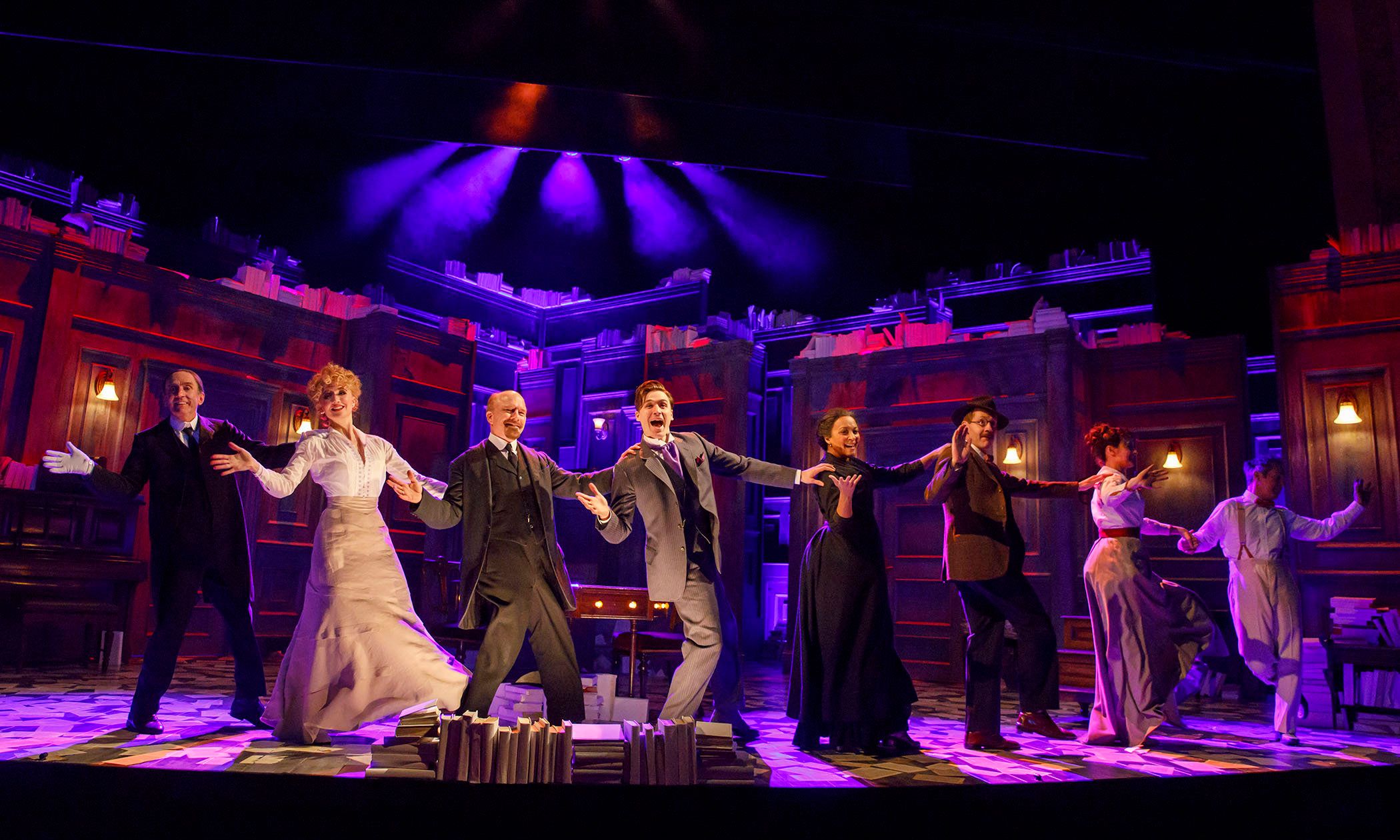 Photo: Joan Marcus
Patrick Marber directs this blisteringly-paced revival of the 1974 Stoppard standard, and he and the cast's understanding of the the material and its needs is undeniable. Stoppard's impossibly intelligent and voluminous dialogue is given it's full day in the yard, and is expertly thrown out with the Wildean grace it demands. The script's absurdly theatrical interjections (which include a literary striptease and a musical argument) are meticulously over-produced to the point where bombastic seems like too small a word to describe them. The characters are broad stroke archetypes that are alternately taken to pantomimic extremes and mined for exquisite detail. From topper to tailcoat this revival is a masterpiece of practical stagecraft, however the question still remains as to what the purpose of the show is.

"Patrick Marber takes Stoppard's impossibility and forms it in to an enviable surreality"
Much of it appears to boil down to the discussions that take place within the play between Carr, Joyce, and Tzara about the nature of art. Hollander, McDonald and Numrich each belt out their characters' arguments with the ferocity of a Sex Pistols concert. In doing so they pose the question for each other, as well as the audience, as to whether art should have meaning or not. Stoppard appears to agree and disagree with all parties. Travesties as a work is full to the brim with fact, fiction, and meaning beyond the ken of even its most intelligent characters. The playwright offers thoughts on the Russian revolution, the politics of Switzerland, patronage, the consular service, the horrors of World War One, turn of the century fashion, and much much more. Yet in doing so he offers no moral of any sort for the audience to leave with, or any grander emotional purpose for the piece. One leaves feeling satiated, empowered, and in a state of marvel at what can be done in a theatre, and yet also incomplete, emotionally lost, and unsatisfied. It's brilliant.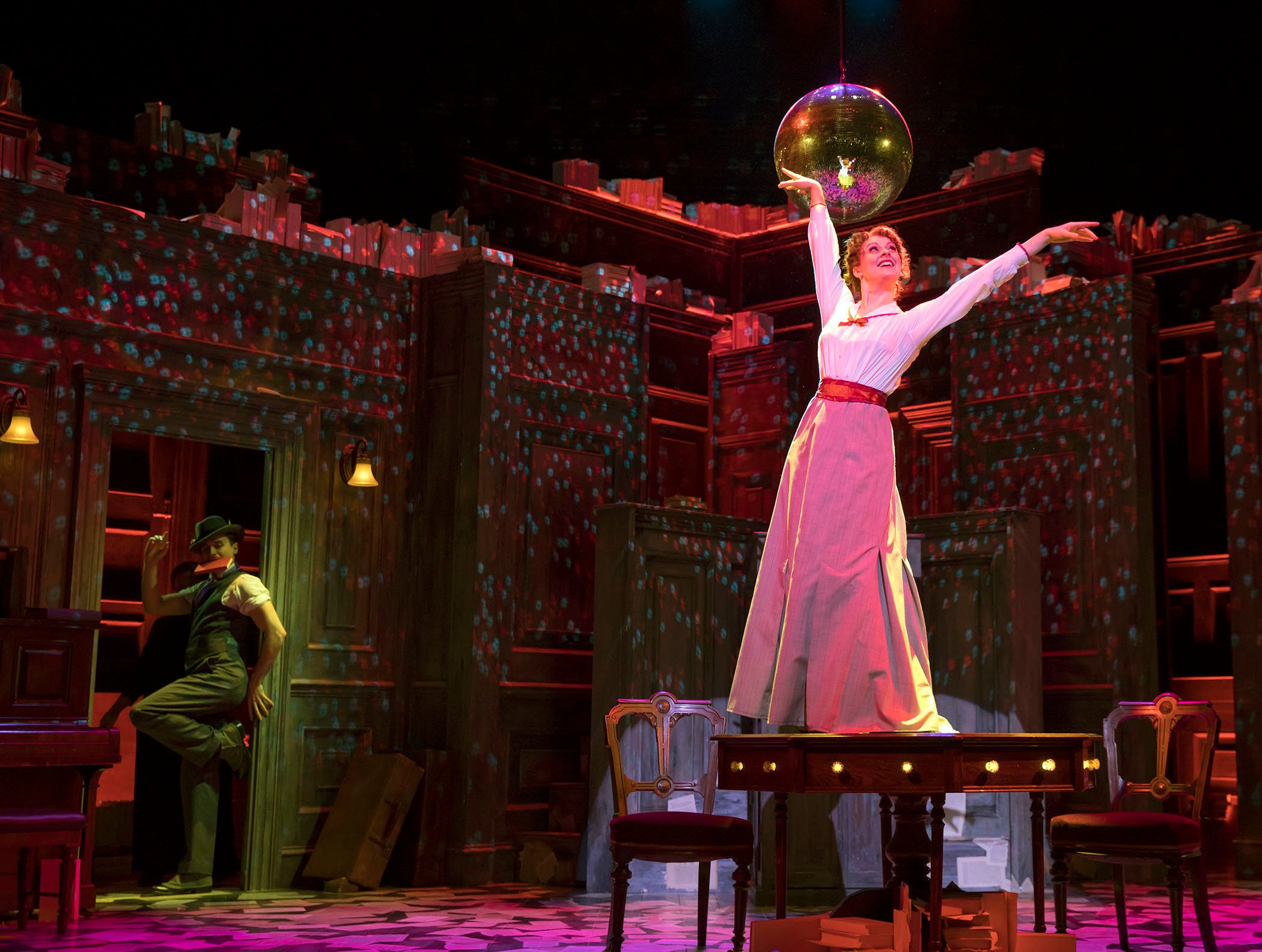 Photo: Joan Marcus
Travesties' marketing suggests a British comedian in the mold of a Cowardian farce, and yet it delivers an experience of intellectual anarchy that strips the viewer of all pretense and asks them to question exactly why it is they feel the need to go to theatre in the first place. It almost feels like a practical joke. For the discerning theatre-goer it is a must-have ticket. Hollander as Carr is a modern acting genius. Numrich as Tzara takes the word ballistic and claims it as his own. Sara Topham and Scarlett Strallen as Cecily and Gwendolen, respectively, will make you want to shoot anyone who says women aren't funny. McDonald embodies the poet Joyce with a quiet ferocity that both allures and terrifies. Butler is a perfect Lenin; and Opal Alladin and Patrick Kerr round out the cast in a way that seems to be in every way the theatrical personification of absolute perfection. Patrick Marber takes Stoppard's impossibility and forms it in to an enviable surreality. Go and see Travesties.
---
Thomas Burns Scully is a PopDust contributor, and also an award-winning actor, playwright, and musician. In his spare time he writes and designs escape rooms. You can follow him on Facebook, Twitter, and Instagram
---
POP⚡DUST | Read More…

'Wonder Woman', 'Beauty and the Beast' and outrage film marketing
Eddie Izzard: transgender, hilarious, and heartbreaking
'Pop Punk High', a pop punk musical comedy? Um... yes please!
---