FILM
Murphy's performance as Rudy Ray Moore is his best work in decades.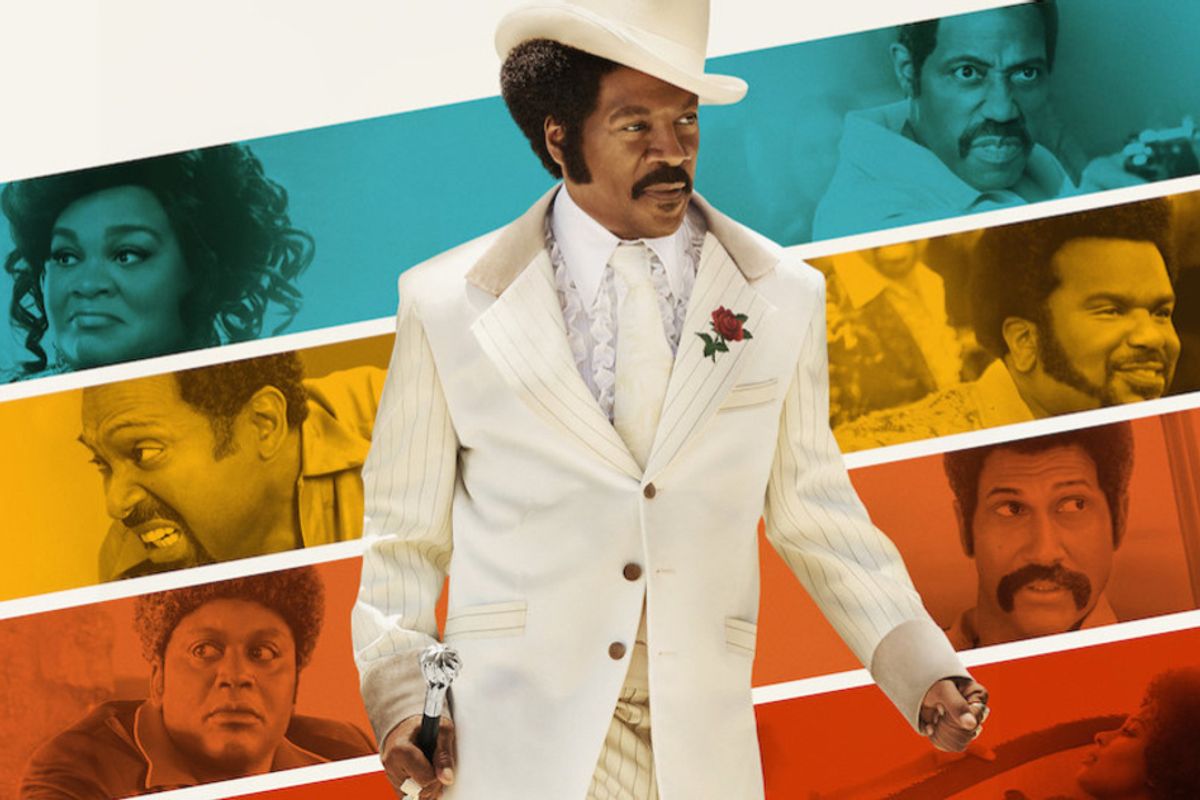 Eddie Murphy is funny...right?
I mean, I know I loved The Nutty Professor as a kid, though I probably wouldn't go back to it. Trading Places, Beverly Hills Cop, and Coming to America are all classics—I'll always watch at least a few minutes if they're on TV. They also all came out before I was born. Other than that, uh… Mushu? Donkey? Do those really count?
Coming To America (All of the Barbershop Scenes) 1080p HDwww.youtube.com
Back in the '80s, Murphy was considered one of the best working stand-ups, and he became a huge crossover success with a series of timeless comedies. He followed up that success with Norbit, The Adventures of Pluto Nash, Meet Dave, and a dozen mediocre family-friendly hits (Bowfinger being the notable exception). But he did not make his name being family-friendly. At his peak, Eddie Murphy was crass, real, and raw. It became too easy, as time went on, to write him off as a sell-out—another bland Hollywood comedian slotting into the wacky dad role—but Eddie Murphy is better than that. And Dolemite Is My Name, which started streaming on Netflix last Friday, is the perfect vehicle to remind us of that.
Dolemite Is My Name | Official Trailer | Netflixwww.youtube.com
The story follows the true story of a blaxploitation icon, with Murphy portraying Rudy Ray Moore, an aging would-be entertainer who's working in a record store, running from a share-cropping childhood, and still clinging to the scraps of his ambition. He wanted to be a comedian, singer, and actor, but the work he started doing to support his passions soon became his permanent gig, and everything else fell away. The only creative work he does now is a little sanitized stand-up that no one cares about while opening for his friend's band. And while his arc is all about embracing escapism, the world Moore inhabits is realer than any world depicted in Murphy's previous movies.
South Central Los Angeles in the early 70s was faded from the heyday of Jazz and populated by homeless men with ravaged faces. In this environment, Moore is the paunchy, balding everyman who's continuously clawing and fighting for some recognition, some new avenue for making something of himself. The inevitability of Moore's failure seems obvious to everyone but him. Snoop Dogg, playing the record store DJ who refuses to put Moore's old singles into rotation, tells him that "we missed our shots." And Moore laments to his friend, "When did my life become so small?" It's at this point that Moore finds an act that can direct this energy into something empowering: a strutting, signifying, make-believe pimp named Dolemite.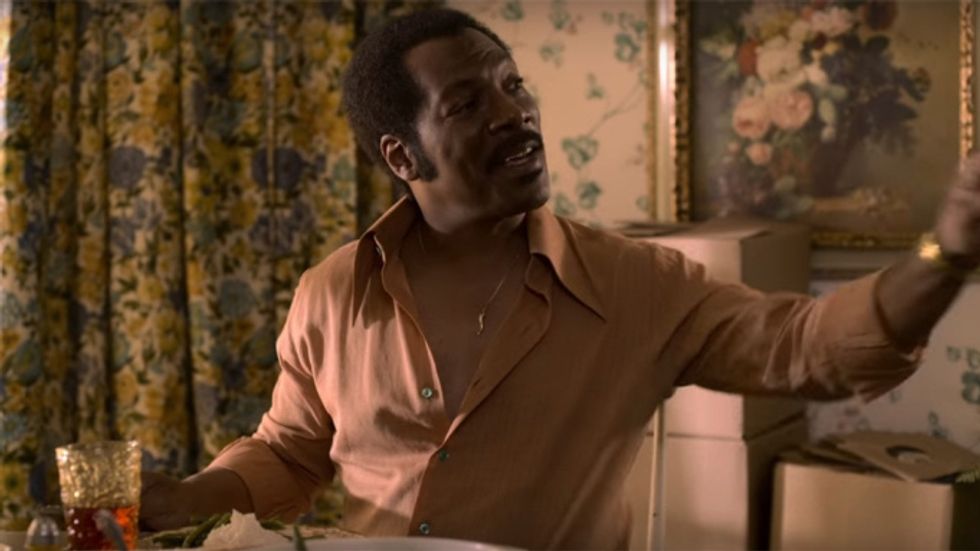 Dolemite is his name, and f*cking up motherf*ckers is his game. He is the stuff of African American folklore, constructed out of the rhyming braggadocio recited by the homeless man who begs in the record store. He's a sexual dynamo so potent he can bring "a she-elephant to tears" and literally bring down the ceiling of the bedroom where he's plying his trade. Blended with the inherent toxicity of a pimp with a "stable" of kung fu-whores, is the embrace of absurdity and the obvious artifice of the hyper-masculine front.
Dolemite! THE SIGNIFYING MONKEYwww.youtube.com
He is an afro wig and a colorful suit, a driving beat and a pile of machismo in rhyming couplets. A synthesis of badass bravado that's halfway between fantasy and caricature. Is he Shaft, or is he Austin Powers? Dolemite resists the idea that there should be a difference, and for a community that is struggling and suffering, he provides a foul-mouthed catharsis—rejecting the norms and conventions of what's polite and acceptable.
He is not a nice man telling "family stories," as Moore's aunt says admiringly of Bill Cosby, nor does Moore have any ambition to make the kind of stodgy, staid white comedy that alienate him and his friends when they go to see The Front Page in a theater full of white people. Dolemite says and does whatever he wants, as only a caricature can, and he empowers Moore to push past all the people telling him that there's no audience for anything so vulgar.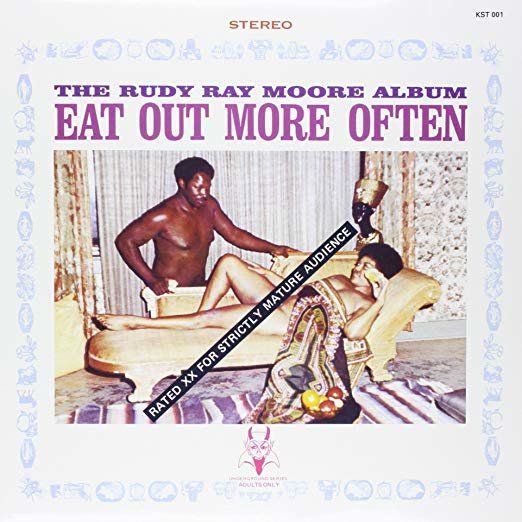 The Cover of Moore's First Album
As the movie progresses, Dolemite's act evolves from a night-club act to a series of hit albums, and finally to his immortalized action-comedy heroism. He overcomes every gatekeeper who tells him no, and delivers escapism in the form of kung fu, comedy, explosions, and nudity. He never sanitizes or tones it down. He doesn't make a mediocre, family-friendly comedy. He goes all out and produces the rhythmic, rhyming and norm-deriding foundations of rap, and a quintessential piece of absurd cinema that went on to birth seven sequels.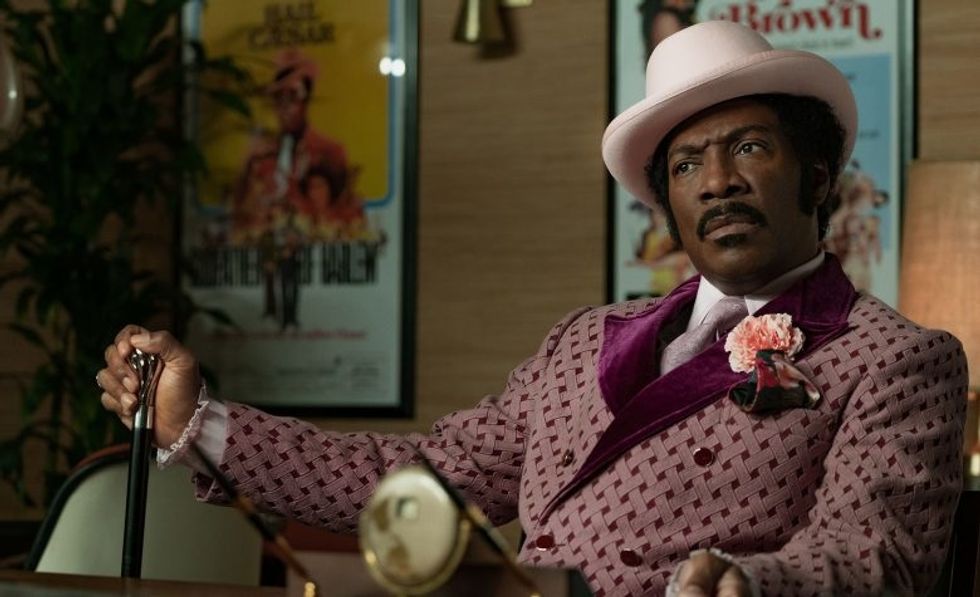 Moore, who passed in 2008, could hardly have hoped for a better representation than Eddie Murphy gives him here. And in his sweet, sensitive and hilarious portrayal of Moore, Murphy pays homage to his own bold and vulgar roots, while tapping into a realism he's never touched before. Clearly, Dolemite is not the only cinematic icon this movie has restored.