Music Features
The disgraced rapper continues to play us all for a fool.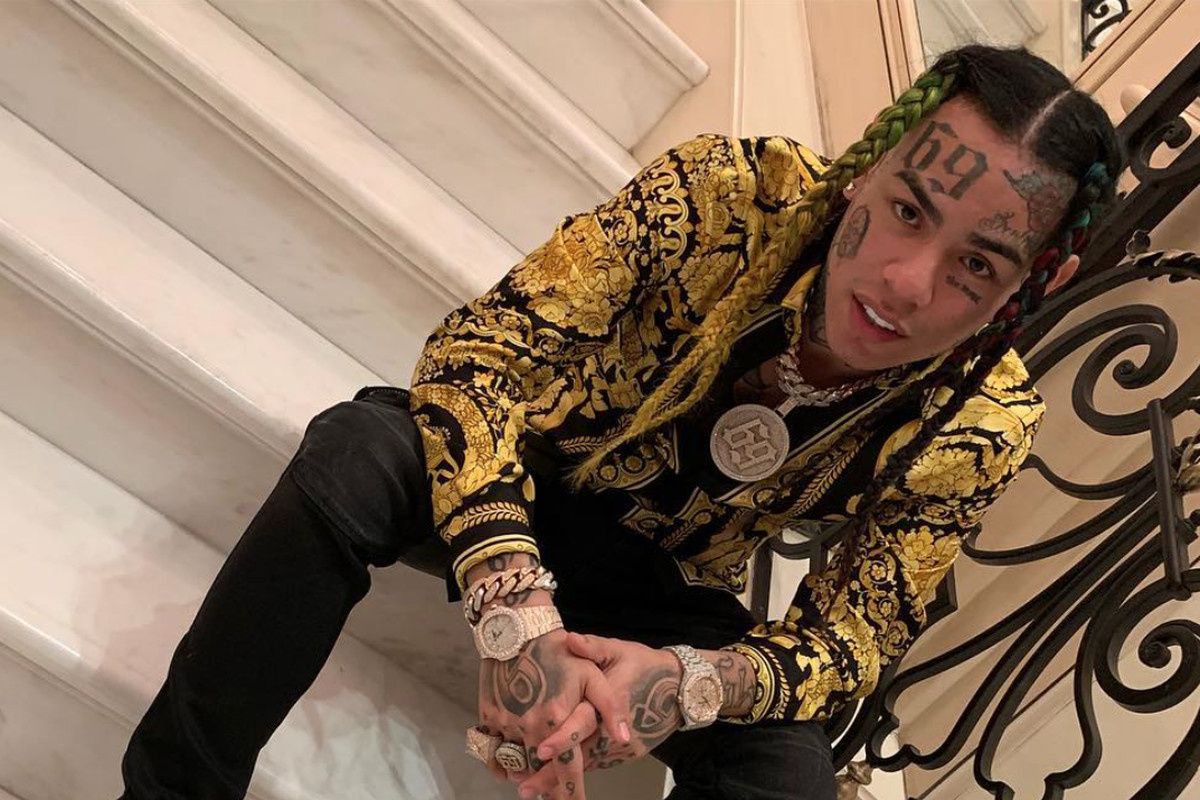 Tekashi 6ix9ine is the perfect pop star for 2020.
As Donald Trump tells Americans to drink bleach and disregard social distancing, the controversial actions of the loudmouth Brooklyn-based rapper seem to all be in line with the beliefs that make up the Twilight Zone existence of 2020. In the fall of 2019, when 6ix9ine dismantled the New York faction of the Nine Trey Bloods in the most high-profile federal racketeering case of the year, it was announced that 6ix9ine signed a 10 million dollar record deal with his former label while behind bars for his reduced sentence . Later that fall, Showtime, Snapchat, and the rapper 50 Cent all announced they'd each be penning their own separate docuseries focusing on the rise and fall of the Crown Heights emcee. In the public eye, pop culture icons continued to write off the rapper as a fraud, while behind the scenes, 6ix9ine continued to rack up notoriety as music's biggest antagonist. By the end of his sentence this past fall, one couldn't help but wait with bated breath to see what he'd do next.
---
So his latest feud with Ariana Grande, Justin Bieber, and Billboard should surprise no one. The rapper's exaggerated claims include that six credit cards paid for an increase in their streaming numbers, using inaccurate chart data that he provided on his phone–which Billboard confirmed has no verified connection to their Hot 100 algorithm. It all unfurled while he pushed a narrative of martyrdom, sending a video message to Grande that his fight for #1 represented the fight of the impoverished kids of New York, all while calling Grande "beautiful." Don't these actions sound a bit too familiar? These unsubstantiated controversies are thanks to the ever-changing narratives that have defined this past year's current events, as if facts can be picked apart and changed. 6ix9ine doesn't need facts to support his claims; he just needs people's attention.
As the second phase of Tekashi's career continues to unfold, the answer to how he'd conduct himself when back in the real world seems painfully obvious in hindsight. He never needed to do anything differently. Look at the cultural landscape right now. Trump has been accosted with countless accusations of fraud, sexual assault, political sabotage, and even war crimes, and yet with his stark denials, the allegations continue to disappear somehow. Tiger King's own Joe Exotic was actuallyconvicted and found guilty of hiring a hitman to kill Carol Baskins. Yet, thanks to the explosive success of Netflix's hit documentary, Exotic signed a deal for a TV show, a radio show, and is now set to be the new face of streetwear brand Odaingerous. All Tekashi had to do was carry on with the same self-justifying outbursts for attention that he'd been giving . "What did I do wrong?" He said in his first appearance on Instagram since 2018. "Be loyal to n***as that kidnapped me, beat the shit out of me on video, I'm supposed to be loyal to that? Y'all understand why I snitched, y'all understand. Y'all don't want to understand."
Since that statement, Tekashi's life has continued unfettered. His new song, "GOOBA," has amassed over 185 million plays on YouTube, and regardless of how the Billboard fight plays out it will still debut as the 3rd hottest song in the country. Meanwhile, 6ix9ine continues to troll everyone on social media, including legends in the very same genre he pollutes. It's clear 6ix9ine, like our president, remains a master of getting coverage. "It's jarring having a rapper tell you his entire persona was really just a money-making shtick and then step right back into the character," wrote Vulture. "But it's a misunderstanding of who and what Tekashi is...and what we've become as an audience...to think he'd do anything other than what he's done." But what's sadder is that fans are standing behind 6ix9ine, eating out of the palm of his hand as if he's just a misunderstood artist.
The only way to stop the destructive narrative of 6ix9ine is to rewrite the narrative of fame itself– to rethink America's toxic all-consuming love of celebrities and capitalist tycoons, to stop caring so much about people like Tekashi. "He is the new American dream," wrote Vulture. "He'll be with us as long as we're looking." In quarantine 2020, it's become impossible to look at anything else. In the end, our curiosity is his fuel, which reveals more of our society's flaws than his own. Tekashi 6ix9ine is a marketing mastermind, and he's playing all of us for a fool.