CULTURE
The bastard got away with it...for now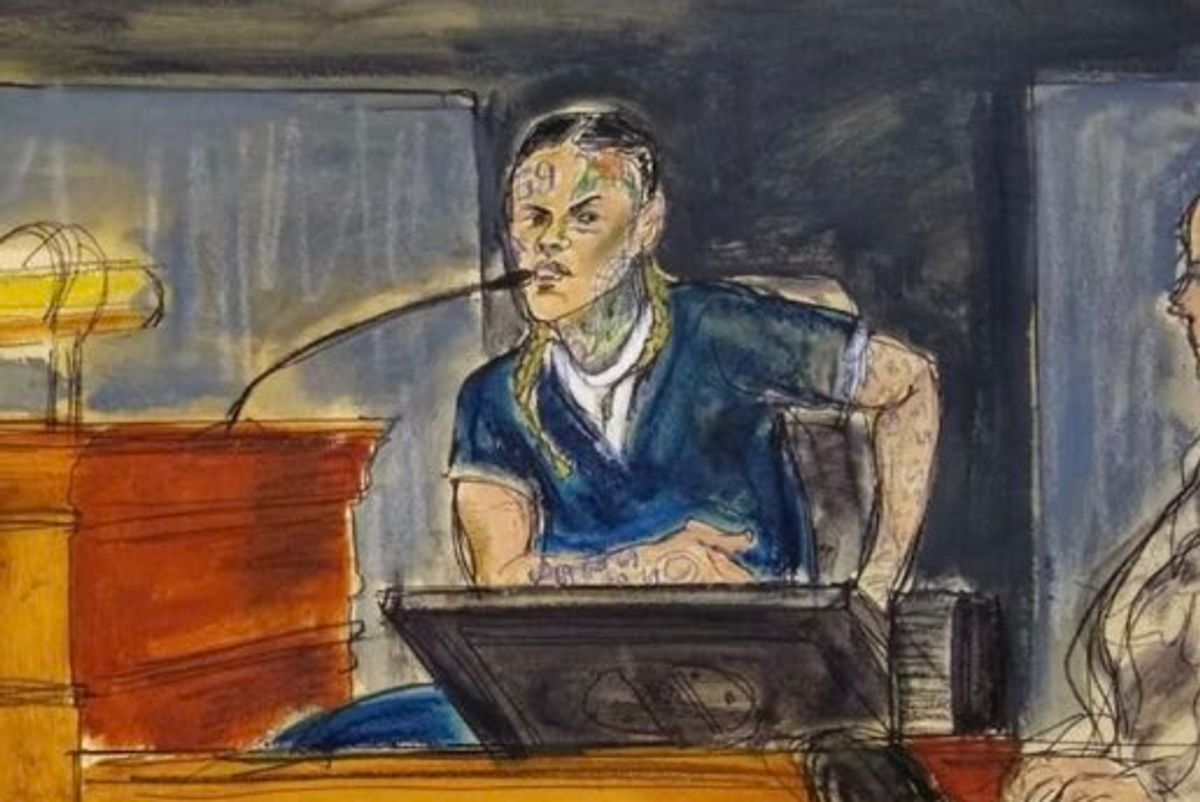 Exactly one year ago, 22-year-old Daniel Hernandez was known to the masses as a gruff, Bushwick-based rapper with rainbow-colored hair.
As Tekashi 6ix9ine, Hernandez's brash antics always spoke louder than his music, and, as a result, he became the perfect pop culture patsy. The more attention he got, the more attention he sought. By the end of his breakout rise in 2017, Tekashi 6ix9ine had already faked his own death. By the end of 2018, he was on trial for federal racketeering charges, among a slew of other crimes, and he faced a minimum of 32 years in prison.
The fall of 6ix9ine was imminent, and after Hernandez spilled his guts on the witness stand, exposing the wrongdoings of the Nine Trey Bloods, it seemed he had sealed his fate. In the case of two of his convictions, 6ix9ine's music played in court as confessional testimony, to which Hernandez agreed that his lifestyle was no different than the antics described in his music. The trial garnered an insane amount of media attention and in the process set an ugly precedent for the way rappers are charged. "6ix9ine worked with the authorities to argue that...his art reflects reality," wrote Pitchfork. "He is essentially the biggest rapper ever to say there is no difference between his life and his art, the argument so often and so dangerously lobbed at musicians with far less resources to defend themselves." Hernandez sang like a canary with perfect pitch, and his career was seemingly ending the same way it began: in the form of a meme.
Tekashi 6ix9ine Appears to Order Hit on Chief Keef's Cousin in Shocking New Video | TMZ www.youtube.com
But here we are, 13 months later, on the day of his sentencing, and media outlets speculated all week long how the saga of 6ix9ine would end. Word spread like wildfire (mostly by 6ix9ine and his defense team), that the rapper might walk away today with time served, to which the internet was divided. The judge did not go that route and instead sentenced Hernandez to 2 years in federal prison, plus five years of supervised probation. It seems to be a fitting end to the reign of 6ix9ine, with Daniel Hernandez emerging from his fame-induced coma to issue what appeared to be an honest apology for misrepresenting himself. "I was blessed with the gift of an opportunity that most people dream of but squandered it by getting involved with the wrong people," he told the court today. "I should have been true to myself and my fans."

But 6ix9ine's career is far from over. While behind bars, the rapper inked a $10 million record deal. Complex, Rolling Stone, and Showtime are all crafting various docu-series on 6ix9ine's life. With all this commotion, it's easy for people to forget that the crimes charged came at the expense of real victims. Prior to the sentencing, a handful of victims penned impact statements to Judge Paul Engelmayer and pleaded that Hernandez serves the maximum sentence. "[He] destroyed the normal adulthood that I was striving for," wrote one victim. Did the victims get the justice they deserved, or were their traumatic experiences ultimately undermined?
Either way, 6ix9ine still remains a hurricane, consuming media attention and money despite the very real destruction his actions have caused. As the public awaits the fate of another sour-puss pop culture autocrat, the trial of 6ix9ine in its entirety serves as a fair indicator for how justice is upheld against celebrities. They don't entirely get away with it, but they still kind of do.
From Your Site Articles
Related Articles Around the Web