There's nothing like ordering pizza or Chinese food on a night where you just can't bother with cooking. But in the 30 minutes of waiting for your seamless or grubhub order to arrive, you could be cooking a meal in 30 minutes or less. Yes, instant ramen noodles take 3 minutes in the microwave, but with all that sodium, it's not a healthy option.
It's nearly impossible to identify food that's fast, healthy, and cheap. If it's fast and healthy, it won't be cheap, if it's fast and cheap, it won't be healthy and if it's cheap and healthy, it won't be fast. There's only one way to get all 3: subscribing to a meal kit delivery system. Meal kit subscriptions, like HelloFresh, are the ultimate hack to eating fresh healthy foods; they deliver fresh produce and carefully-sourced meats and fish straight to your door with clear instruction cards, so you can create a full meal in 30 minutes or less.
We Get It - Grocery Shopping Is The Worst
The biggest reason that people order takeout is for the convenience. Grocery shopping means lugging heavy bags up four flights of stairs or on public transportation, updating a list of items all the time (then forgetting it in a drawer at home), then there's keeping track of what you bought so nothing goes bad. It's a huge time-suck, and if you don't have a Trader Joe's or a Kroger nearby, you're either paying super high prices at Whole Foods or navigating a food desert, searching for healthy foods with limited options.
But TakeOut Isn't The Answer
Time and time again, restaurants and chains are slammed for their enormous food portions, overpriced entrees, and massive calorie, sugar, and sodium counts. The reason we keep going back? The convenience. The greatest amount of thinking comes down to where to go for dinner, and what to order. That's why meal kits are taking over; there's much less of a mental load! Choose your meals once a week online, and then follow the directions when they arrive. They're fresh and delicious, and the best part is that they compare to your favorite meals from tons of different cuisines.
HelloFresh Chicken Parmesan vs. Olive Garden Chicken Parmesan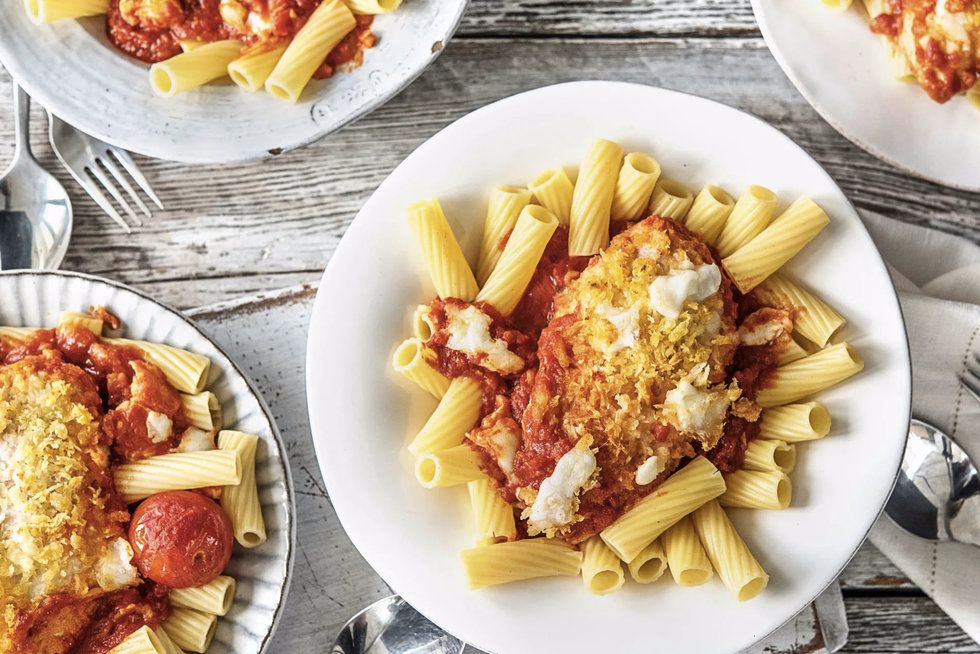 Olive Garden serves up two fried breaded chicken breasts with marinara and melted cheese over spaghetti at 1,060 calories, for a hearty, filling meal that may send you into a food coma. Get a drink to go with it, because the 2,980 grams of sodium are going to make you mega-thirsty, especially if you add the breadsticks. The chicken parm dinner by HelloFresh features baked parm over rigatoni. At 780 calories a serving - with 770 mg of sodium - it'll make a huge difference in the way you feel, without sacrificing any of the Italian comfort flavors you know and love. *Chef's kiss*

HelloFresh Steak and Potatoes vs. Morton's Steakhouse Steak and Potatoes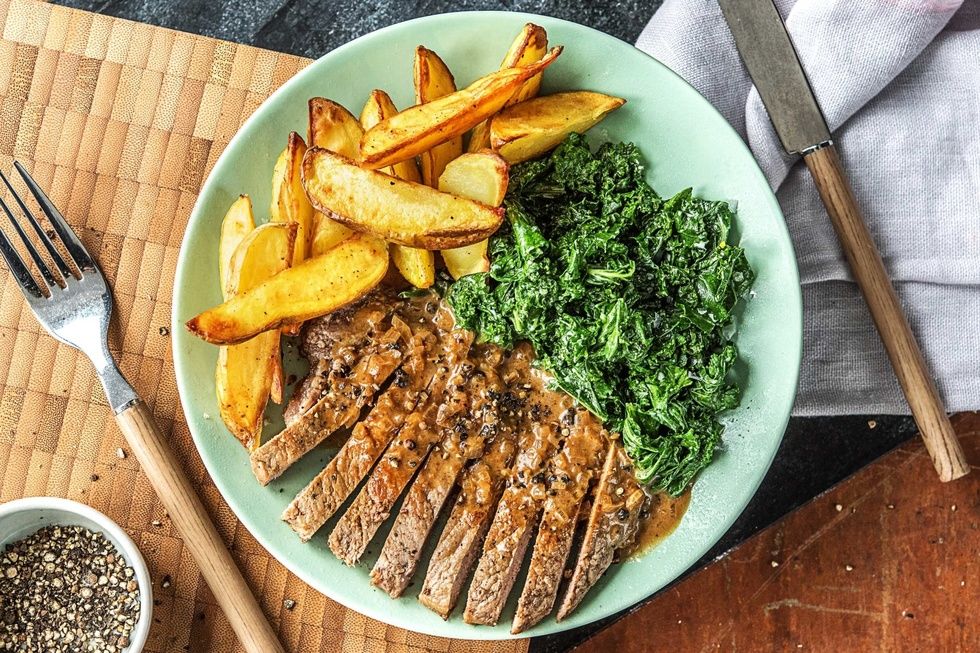 Ah, the classic American dinner: steak and potatoes with greens. It's a winning combination that's tempting at any restaurant. It's also usually the priciest option. At a steakhouse, you're going to pay at least $30 for a plate of steak, and maybe much more, but with HelloFresh, there's no upcharge. You can get a 6 ounce sirloin steak that you know is a carefully-selected high quality piece of meat for the same price. Also, with cooking instructions that are made to be as clear as possible, you'll finally be able to get your steak to the exact rarity you want: chef's favorite medium rare, or crispy well done, depending on your liking.

HelloFresh Burger Vs. McDonald's Burger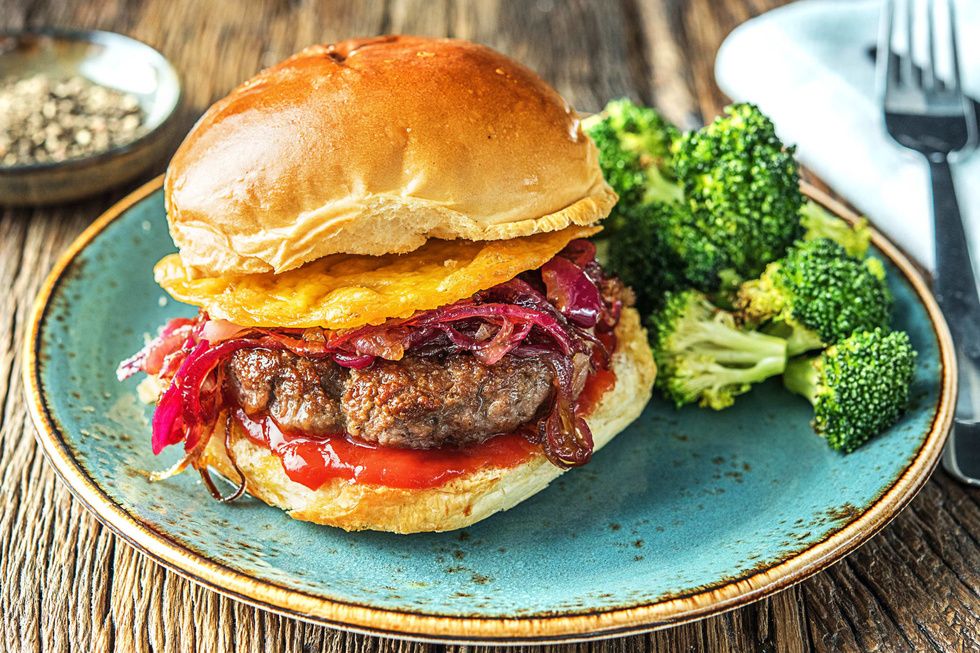 It's no surprise that McDonald's is unhealthy. The reason that it's one of the most popular fast food restaurants in the world is that it's so convenient. But in the time it takes to drive to McDonald's, wait in line, and get your food, you could cook a burger with crispy cheddar, and caramelized onion jam along with a fresh side to balance your meal. In 30 minutes, and with the lowest cooking difficulty, you can have this decadent burger in your hands. You also won't get that post-McDonald's "blegh" feeling. Hit up McDonald's when you want a free toy and a wave of nostalgia, hit up your fridge when you want a good-tasting burger.

HelloFresh Tacos vs. Taco Bell Tacos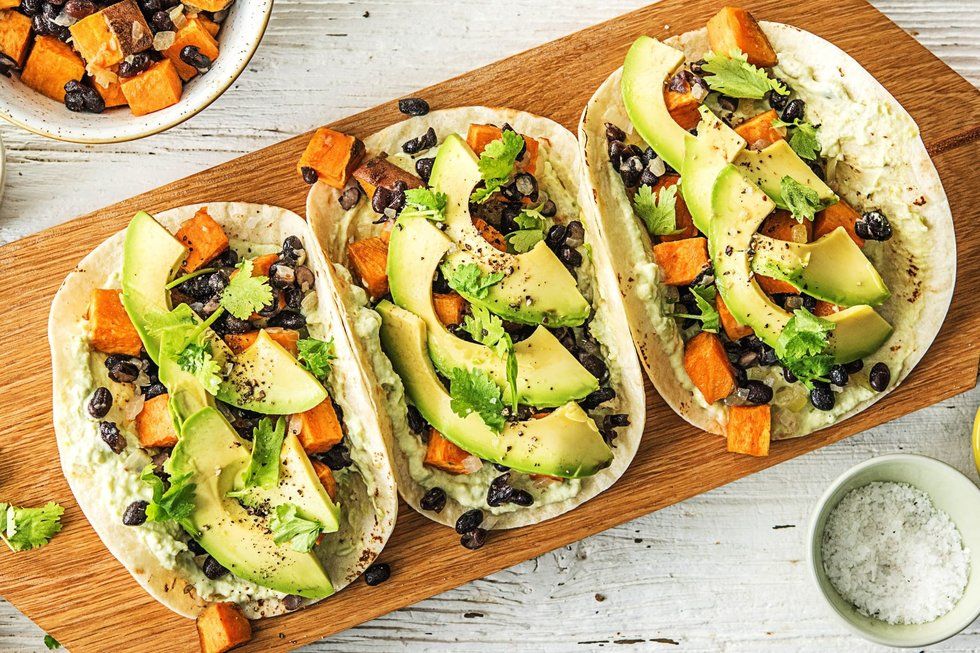 HelloFresh has had plenty of taco recipes, with different meats and fish, but this vegetarian version has earned a spot in the Hall Of Fame. If you're desperately craving a taco at midnight, heading to your nearest Taco Bell is a right of passage; for just $5 you can have a full meal, and for $10, you can feast like a king. But the maddeningly cheap food does come at a steep price; putting such a high amount of preservatives in your body can leave you feeling like sludge all night and all the next day. Making your own tacos still delivers that satisfying bite of carbs and greens, but without all the junk. With a zesty avocado crema, these will make your tastebuds dance. If you can't eat tacos without hot sauce, grab your favorite bottle from the fridge, or save up those Taco Bell packets for your drawer. Black beans, sweet potatoes, and avocados make these surprisingly filling, so you don't need to order 10 Doritos Locos Tacos for the same fullness.

With minimal prep time, HelloFresh is just as convenient as takeout. There are one-pot meals so you can skip the cleaning, family favorites so no one will complain, oven-only meals so you can walk away, and always just the right amount of sauces and toppings, so you don't end up with a shelf of white rice or balsamic dressing that's going to just end up in the trash. With plenty of plant-based options, and a focus on balanced meals that pack a ton of flavor with barely any prep, subscription meal kits are here to take over your grocery shopping and your takeout habits, so you can save money, calories, and time thinking about what you're going to eat for dinner tonight.