FILM
Try being cynical during this movie. We dare you.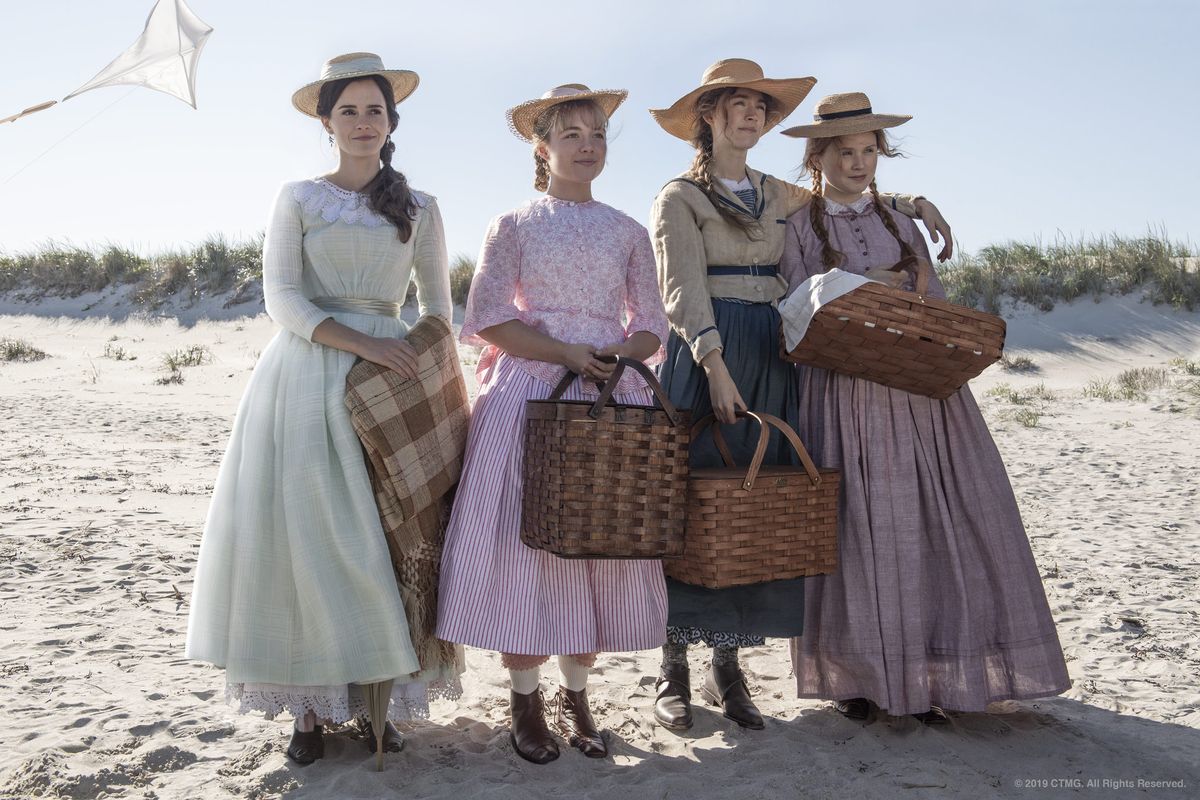 When asked by well-meaning older relatives—with faith in capitalism still shining in their eyes—if I want to have children someday, I usually respond with something like, "With fascism on the rise and an inevitable resource war on the horizon? With each day of inaction marching humanity closer to utter annihilation at the hands of climate change? I don't want to ruin my t*ts, Grandma."
Needless to say, I am a cynic by nature and circumstance and definitely an insufferable smartass.
2019 only further exacerbated my tendency to look on the dark side. Afterall, how can anyone truly believe that humanity has any fundamental goodness left with Donald Trump as president, cross-body fanny packs gaining in popularity, and CATS the movie existing? It's been a long year of absurdity in popular culture and politics; so dark and absurd, in fact, that my usual go-to feel-good flicks no longer do much to assuage my sorrow. I watched Love Actually on Christmas Eve and felt as empty as Kira Knightly's sallow, wan cheeks. Not even the precious ghost dog in Coco could touch my existential dread this holiday season. I was beginning to feel that there was nothing that could make the horror of 2019 feel distant, until, hungover and full of Sunday chilli, I accompanied my immediate family on an outing to see Greta Gerwig's Little Women.
As my mother's favorite childhood book, Little Women has always held a special place in my family's collective consciousness. Despite this, admittedly, my expectations were low. I knew the story well, and while I loved its relentless optimism in previous eras of my life, I struggled to believe the endearing March family and their romantic, simple adventures could possibly shine any light on the complicated darkness of 2019. I expected it to only make me feel worse, like a person in a depressive episode seeing Christmas lights.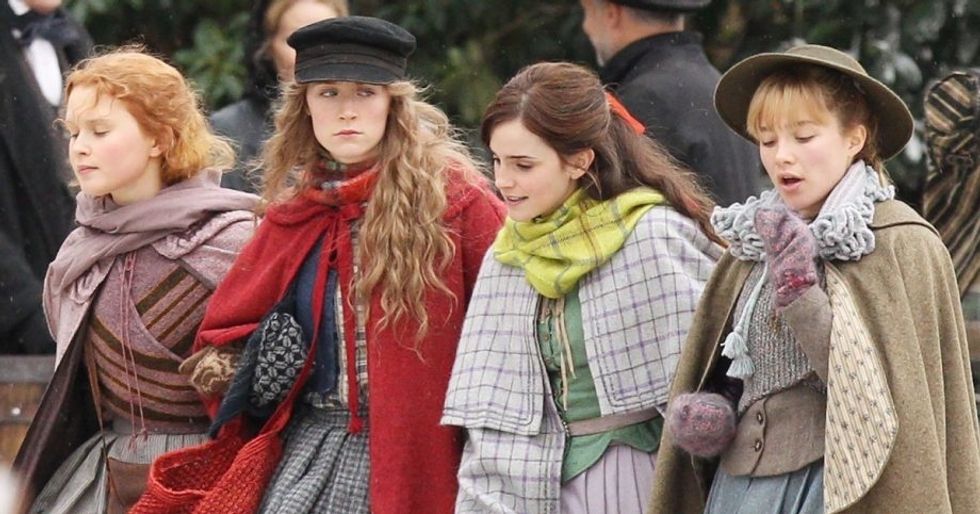 Saoirse Ronan, Emma Watson, Florence Pugh, Eliza Scanlen
Based on Louisa May-Alcott's 1868 novel, the 2019 remake of Little Women stars Saoirse Ronan, Emma Watson, Florence Pugh, Eliza Scanlen, Laura Dern, Timothée Chalamet, Tracy Letts, Bob Odenkirk, James Norton, Louis Garrel, Chris Cooper, and Meryl Streep. As the movie began, I was immediately arrested by the piercing blue of Ronan's eyes and the adorableness of Pugh's button nose, and things only got better from there. First of all, there was something so deeply appealing about Laura Dern as Marmie, the mother of the titular little women, that I questioned whether I wanted her to give me a bath or to take a bath with her. Anyway, Freud aside, the tears began to flow around minute 11 of the movie. I touched my damp face with shock. Since the night of the 2016 election, the tears of rage and sorrow have come with less and less frequency as numbness quietly set in. And yet, here I was...feeling? In 2019? Unheard of.
Matters only worsened as my cold, dead heart was warmed by the selflessness of Beth (Eliza Scanlen), only to be broken by her illness, revived by Emma Watson's dreaminess in a pink dress, sent soaring by Jo's (Saorise Ronan) insistence on following her dreams, and stirred again by Timothee Chalamet's ass in a pair of high-waisted trousers. Suddenly, my cares seemed to melt away. As Father finally returned from war, Donald Trump's Twitter account seemed like a distant dream. When Jo cried, "My sister!" as she pulled Amy from the frigid water, in my heart, the United Kingdom was still firmly a part of the European Union. As Frederic turned to see Jo clasping her heart during the opera and a slow smile spread across his face, it was as if low rise jeans had never come back in style.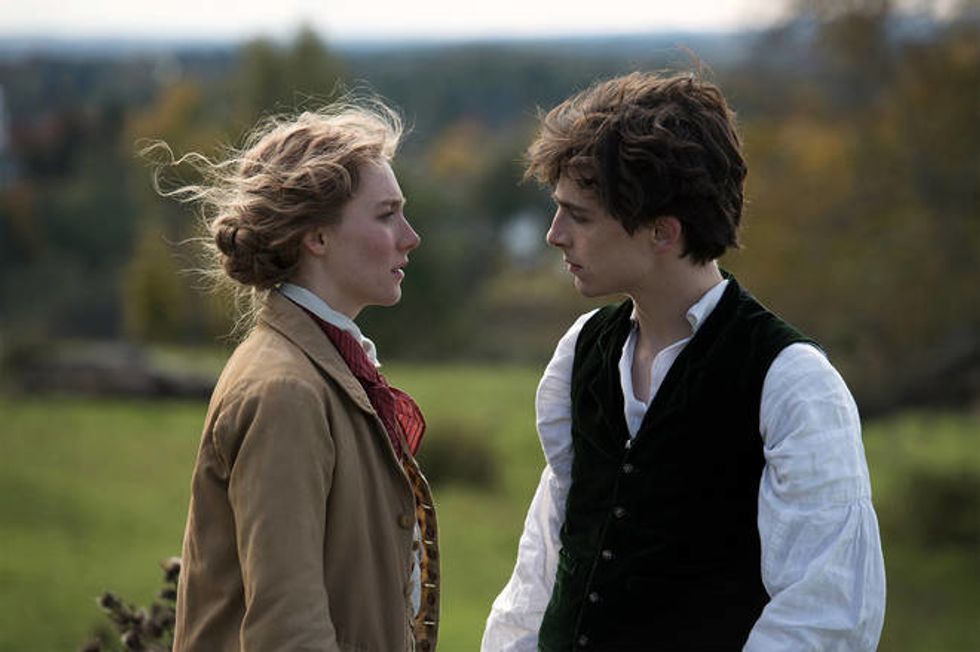 Saoirse Ronan and Timothee Chalamet
Indeed, there is something so consciously optimistic about Greta Gerwig's movie, so rebelliously pure, that even I—infamous for lamenting the scientific improbability of balloons lifting a whole house during a screening of Up at 12 years old—couldn't find any foothold for cynicism. It almost made me want to give in to my biological drive to reproduce and justify it with "maybe my kid will cure cancer!" or, more accurately in that moment, "maybe my children will put on adorable plays for the other neighborhood children like the little women!" Essentially, the movie dares to exist outside our collective exhaustion and despair, insistent on coaxing us into a kind of childhood delight, but it's also not without political, impactful moments that are presented so cleverly amidst the earnestness that they don't feel part of the monotonous drone of "political" cinema. Of course, part of the credit for the brilliance of Little Women must be given to Louisa May-Alcott, who managed to craft a comforting salve for heartache out of a story that, on the surface, is often devastating. But it was a stroke of genius by Greta Gerwig to make this movie now, in the midst of a time of international tumult, to offer audiences two hours of genuine relief from the brutality of 2019.
If you feel yourself (like me) retreating into your cave of sarcastic jokes, existential dread, and black turtlenecks, go see Little Women and let yourself enjoy it without guilt. It serves as a vital reminder that as long as we have each other, good stories, and deeply-needed respite from the real world, we may be able to gather just enough strength to make 2020 better than 2019. Maybe it'll even be great.