CULTURE
It's Miaou's World, We're Just Living In It
2023 Trend Prediction: Miaou is the celeb loved brand we'll be coveting all year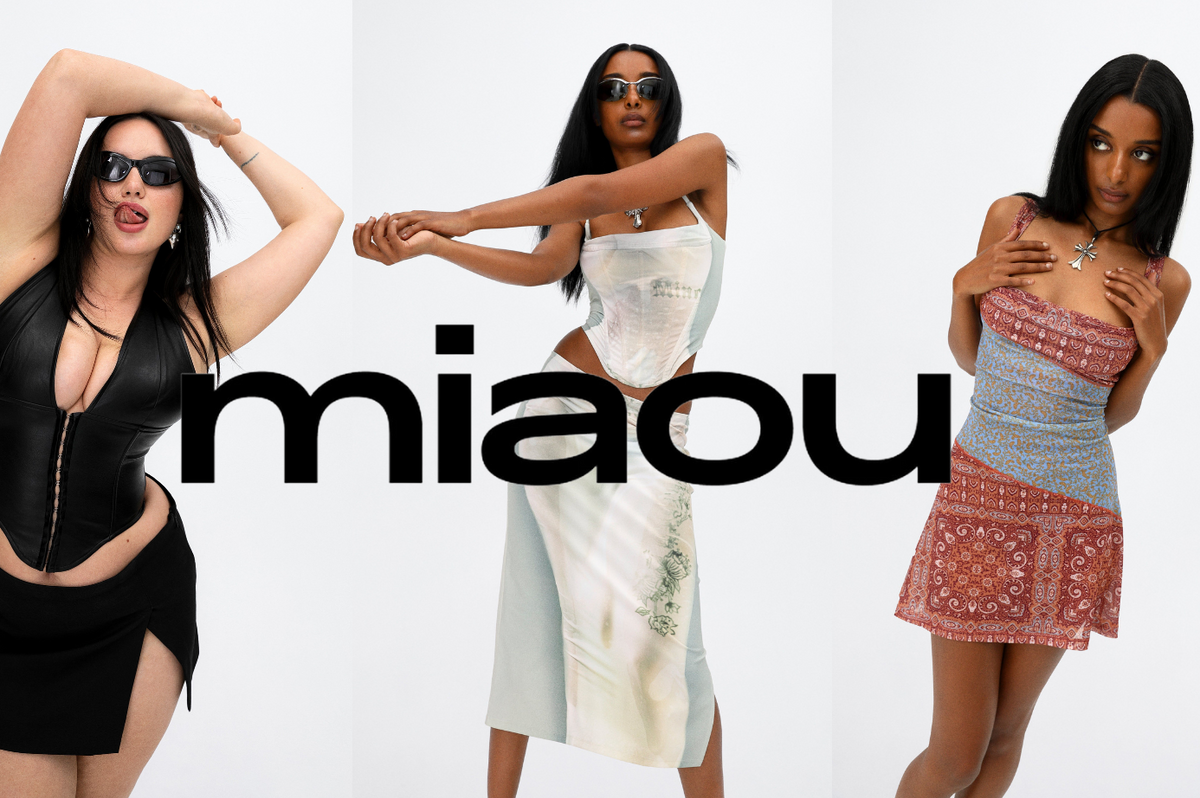 via Miaou
Another year, another 'it' brand. To me, eras are defined by their fashions. And fashion is dictated by the brands that dominate our feeds. In the age of microtrends and vintage fashion, a brand has to be truly standout to capture our attention.
---
We all remember when brands like I.AM.GIA and Realisation clogged our feeds on various influencers and celebs. Then there was the peak of the Reformation craze, which felt like a grown-up version of the Brandy Melville fervor of yore.
In quarantine, bold prints and avant basic fashion like Lisa Says Gah and House of Sunny were mainstays of our wishlists while we donned tie-dye sweatsuits and PJs. Patron saint of the post-quarantine look: Portiafrom White Lotus.
Even in the age of microtrends, certain brands ascend from the mess of viral items to become ubiquitous in everyone's closet. And right now, Miaou is the lauded brand of the moment.
Miaou (the french for "meow") is a vintage-inspired Los Angeles fashion label known for its new take on classic '90s cuts and their universally-flattering fits. Miaou is all about confidence and cultivating a perfect feel-good vibe.
This celeb-loved brand has been seen on literally everyone in the fashion world. Models like Kendall Jenner, Bella Hadid, EmRata, Ashley Graham, and Paloma Elsesser have been snapped in Miaou. And it's approved by fashion It Girls like Camille Charriere, Amelie Gassman, Gabriella Karefa-Johnson, and Devon Lee Carlson. And even superstars like Rihanna think it's the new it-brand.
As you'd expect, the brand is not cheap. Cue the awful SHEIN knockoffs. But, thankfully, it's not exorbitantly expensive either. Investing in a few key pieces is attainable and worth it to elevate your closet and get the "it" look. (Plus, it often goes on sale!)
Miaou has been slowly infiltrating it-girl closets since 2017. Their first viral piece was a pair of perfectly fitting pants. After mastering the perfect pant and releasing it in a variety of prints, Miaou became a lowkey favorite of top stylists everywhere. But in 2022, Miaou reached new levels of fame with even more high-profile fans and TikTok acclaim.
So we're calling it now: 2023 will be the year that Miaou finally becomes a household name.
With fun prints and essential basics, flattering cuts for every body type, a wide range of sizes, and a penchant for forecasting the latest trends, Miaou should be on your radar — whatever your personal style.
Here are some of the best picks to get from Miaou now before they sell out and you start seeing them on every cool girl you know:
All products featured are independently selected by our editors. Things you buy through our links may earn us a commission.
The Paloma x Miaou Dress
It's the "it" dress! Even if you've never heard of Miaou, you've probably seen this dress. It's a masterpiece, a mix of 90s-vintage vibes and peak Gen Z maximalism.
The Corset
At this point, a corset is a Gen Z going-out top staple. This structured shape comes in incredible colors for daytime and nighttime fits.
Python Moto Jacket
Brown leather jackets are in! But spice it up with this python print.
Python Skirt
Get the matching skirt, too! RiRi did.
Heavenly Bodies Set
It's giving Met Gala. It's giving renaissance. Romantic, wedding-inpsired fashion was one of the biggest runway trends from 2022 and this angelic set is a perfect way to participate — without feeling too precious about wearing all white. This distressed design is made to mix and match with your favorite boots or sambas.