Trending
Rock & Roll Hall of Fame Announces 2019 Inductees, Not Process
Organizers have been notoriously tight-lipped about their questionable nomination process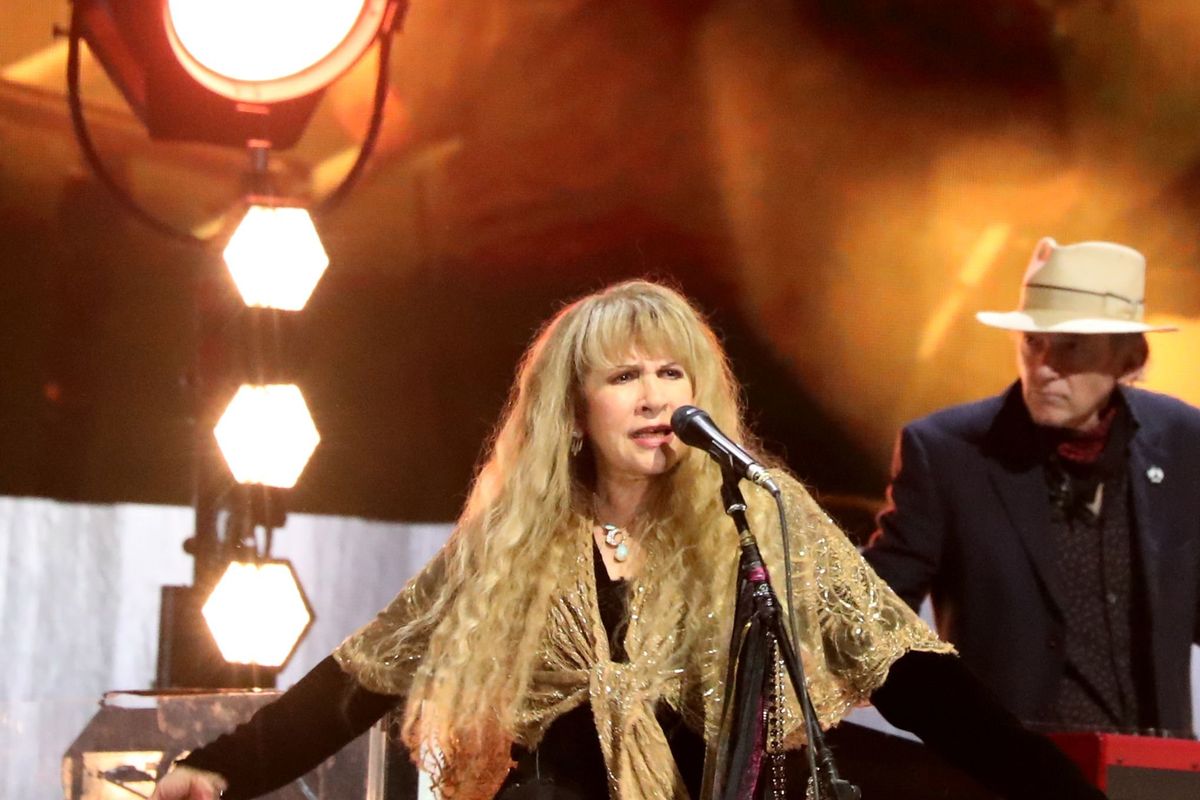 Photo by Matt Baron/BEI/Shutterstock
Stevie Nicks will become the only woman ever to be inducted into the Rock and Roll Hall of Fame on two occasions when the 2019 ceremony takes place in March of next year. Nicks, who will be honored as a solo artist, was previously inducted as a member of Fleetwood Mac in 1998.
---
"I have been in a band since 1968," Nicks said in a statement to Rolling Stone. "To be recognized for my solo work makes me take a deep breath and smile. It's a glorious feeling."
Nicks will be joined by Radiohead, the Cure, Janet Jackson, Def Leppard, the Zombies, and Roxy Music.
Janet Jackson also released a statement thanking the Rock and Roll Hall of Fame and saying, "I am truly honored and I am happy to be in there with my brothers." Jackson's brothers were inducted together as the Jackson 5 in 1997, and Michael Jackson was inducted as a solo artist in 2001.
As is the case with all public entertainment awards, reaction from fans will fall on a spectrum that ranges from pure ecstatic delight to Keith Moon-level meltdown. What does seem to bring consensus, however, is the notoriously vague nomination process.
"It all dies in the room," said Jon Landau, chairman of the nominating committee, in a 2011 interview.
According to the Rock Hall website, nominees are chosen by a committee whose members are appointed by the Rock and Roll Hall of Fame Foundation, the organization that oversees the ceremony. That's the extent of the official description, though journalists, industry members, and nominating committee members themselves have been more open about the process in recent years.
The process, as gleaned from interviews, quotes from anonymous sources, and Future Rock Legends, a group dedicated solely to speculating about prospective inductees, is as follows: each member of the nominating committee—comprised of 30 artists, managers, music execs, and journalists—propose two artists or groups for nomination. The only stated eligibility requirement is that artists must have released their first commercial records at least 25 years prior to nomination. Once nominations are submitted, the committee holds a closed-door, open discussion to narrow that list to 15 nominees. Ballots are sent to thousands of industry members and recording artists, and the 5 nominees with the most votes are inducted in a televised, highly-produced concert and ceremony.

Questlove, one of the more outspoken members of the committee, has compared the process to political lobbying. It seems an apt comparison, as committee members are given no criteria with which to nominate an artist, and many may have close relationships to potential inductees. Add to that the fact that committee members are traditionally older white men—like Landau and Seymour Stein, who both represent or manage artists that have been honored—who stand to gain financially from induction of certain artists (artist's album and merch sales generally increase with announcement of their induction) and the success broadcast—and they could easily move their meeting from a boardroom at the Rolling Stone offices to the floor of the House or Senate.
Questlove chats working with Kathryn Bigelow for 'Detroit' original song 'It Ain't Fair'youtu.be
There's nothing new about denouncing entertainment awards, let alone brushing them off as popularity contests. Yet, in terms of the Rock and Roll Hall of Fame, it's hard to imagine anyone waxing poetic about their favorite band finally getting their due considering induction is a result of an arbitrary, weirdly secret decision. (Also, the honor, which started in 1986, is barely older than the first work of its eligible members.)

It's easy to criticize a room full of highly-paid people celebrating themselves, but at least the Academy of Motion Picture Arts and Sciences, the Recording Academy, the Hollywood Foreign Press Association, and SAG-AFTRA provide clear and stated guidelines for their respective awards, and most are chosen by peers and/or experts. And, while the same can be asked of the Oscar predictors and the Grammy prognosticators, it feels even more worthwhile to ask anyone who feels so passionately wronged by the announcement of this year's inductees: who the fuck cares?
---
Rebecca Linde is a writer and cultural critic in NYC. She tweets about pop culture and television @rklinde.

---
POP⚡DUST | Read More...
Offset's Tweet About Cardi B Enrages Fans
Mumford & Sons' Delta Tour Converted Me Into a Fan
Everything Mike Pence Reminded Us of During That Oval Office Meeting