In 2017, 12 protesters donned The Handmaid's Tale's eerie red cloaks and white bonnets to march into the Texas Senate and protest a bill that forces women to carry non-viable pregnancies to term.
Since then, The Handmaid's Tale garb has become "the viral protest uniform of 2019," with women's rights activists protesting abortion bans and violence against women from Croatia to California. Protest fashion isn't a new tactic, but it's more potent than ever, from Handmaid's Tale star Elisabeth Moss taking inspiration from protesters to actor Billy Porter using his gender-bending red carpet appearances to bring attention to women's issues. But activists tying their message to pop cultural imagery has the potential drawback of tokenizing their causes as a passing meme or piece of online outrage, rather than calls to action.
With Alabama and Georgia leading the way on regressive state bans on abortion, the overlap between the series' fictional Gilead and the future of America's conservative policies is strikingly ominous. Even Margaret Atwood, author of the 1985 novel, told the BBC that her speculative fiction about government control probably wasn't as foreboding as it should have been. She said in 2016, "I don't think I was worried enough. I think if you're looking state by state some of the laws they're putting in right now I probably wasn't quite worried enough." Atwood added, "The Handmaid's Tale has actually become a meme in US politics. You'll find it turning up on Twitter. Somebody has to tell the Republicans The Handmaid's Tale is not a blueprint."
"Protest fashion isn't a new tactic, but it's more potent than ever..."
Elisabeth Moss, executive producer as well as lead actor in the series, also noted the show's similarities with real-life crises, from restrictions on reproductive rights to families being torn apart at U.S. borders. "It feels that line between [an] entertaining television show and real life, at that point I can barely see it," Moss said. "When I see those women wearing handmaid costumes and marching and protesting in them, I'm even more proud to put it on. I know what that costume stands for and what it means, and that's inspiring." Series creator Bruce Miller added, "I would love for our show to be irrelevant. That's the goal."
Activists in pursuit of that same goal have taken inspiration from the Hulu series in the "form of resistance cosplay," incorporating the costume into their protests. But from jokes on late-night TV to Kylie Jenner throwing a tone-deaf The Handmaid's Tale-themed birthday party, donning the red cloaks today still rings of cosplay rather than activism.
After all, riffing on the show's imagery began as a mere marketing stunt by the studio. In 2017, dozens of women were hired by the studio to dress in red cloaks and appear at the SXSW festival to promote the show before its premiere. That's when the executive director of NARAL Pro-Choice Texas, Heather Busby, saw an opportunity to make a political stance. She directed 12 protestors to run to a costume shop, purchase the costumes, and march to the Texas Senate gallery to protest a state bill restricting access to abortion. Similarly, The Handmaid Coalition is a political action group founded with the slogan, "Fight to keep fiction from becoming reality." In their mission statement, they describe, "The overall goal, like the imagery, is shared: protecting our rights and standing with organizations on the front lines of the fight for a fully equitable America. Our BODIES, our LIVES, our RIGHTS, our FUTURE."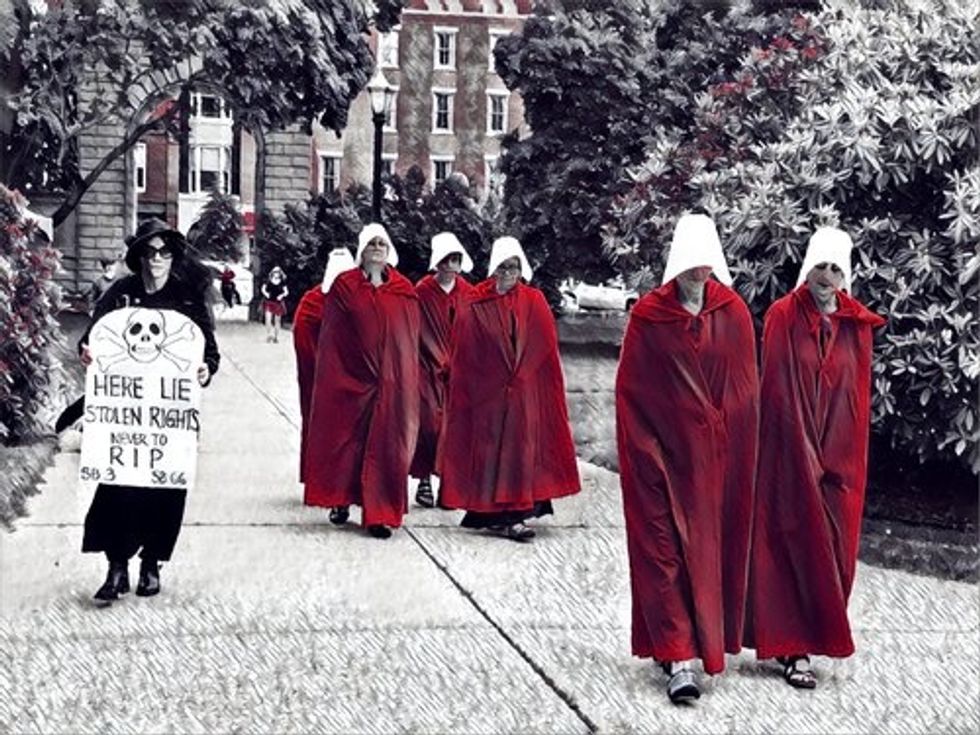 Photo: David Meuse
But when responses to protests mostly live on social media and in internet memes, is there a chance of making real change? As Wired pointed out, "Everywhere the handmaids go, the media follows: Their image has become a staple of late-night set pieces, campaign emails, and, praise be, Twitter jokes." Absent are policy changes or responses from policy-makers (the Texas bill protested by the first set of handmaid protesters passed). The cloaks and hoods are mostly treated as a form of "resistance cosplay" in the truest sense: It's playing dress-up for a cause.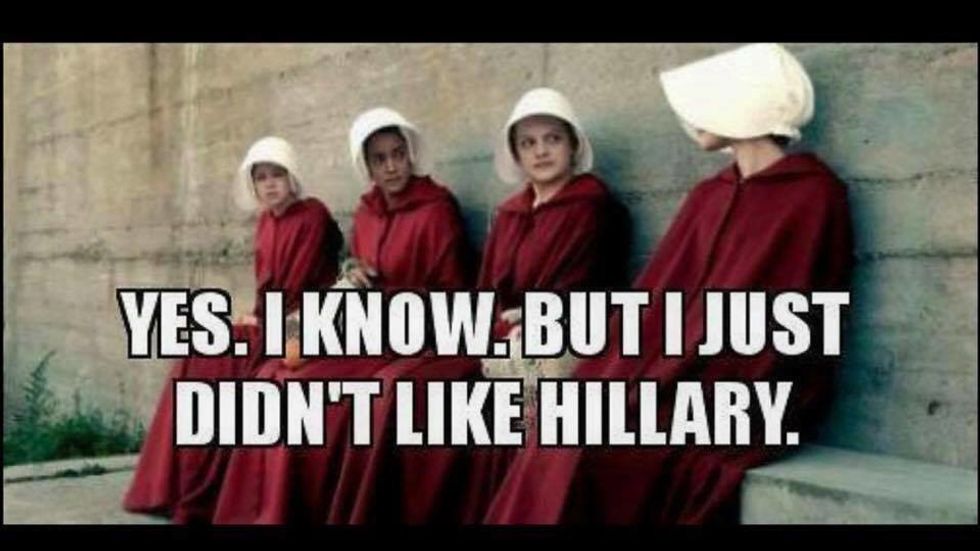 Trump's The Handmaid's Tale youtu.be
Still, Moss has faith that the imagery can make a striking statement that sticks in people's minds. "I hope that people take it that seriously," she says. "I hope that they don't just treat it as a catchy thing to say. I hope they take that feeling and put it into action. I hope that people take their feelings of frustration about the show's relevance and actually do something about it." The problem, as Wired critiqued, is that imagery alone isn't powerful unless it's attached to collective action: "The costume's flexibility is part of its power, but also keeps handmaids from being real drivers of discourse...Handmaids embody gendered pain and dread so vast it's hard to put into words: sexual violence, physical violence, governments taking control of bodies, bodies valued over beings, being reduced to a womb alone. All they really say is 'No to all that,' albeit in a highly concise and memorable way."

So far in 2019, the only win The Handmaid's Tale-style protests have earned is Kamala Harris making public comparisons to Alabama's abortion ban, stating "This isn't a scene from The Handmaid's Tale. This is happening in Alabama — in our country — in the year 2019," and the recent debut of season 3 earning high ratings. Ultimately, "Protest fashion is more about communicating rejection and anxiety than creating tangible change on its own." Whether it's Instagrammable #Metoo apparel or even the bright Yellow Vests of Parisian protestors, wearable messages of resistance are only acts of protest when they're connected to actions. Otherwise, it's an edgy fashion statement without any power to enact change.