MUSIC
The duo's stunning debut album explores post-Truth and Reconciliation South Africa through dizzyingly transportive folk-electronic-hip-hop.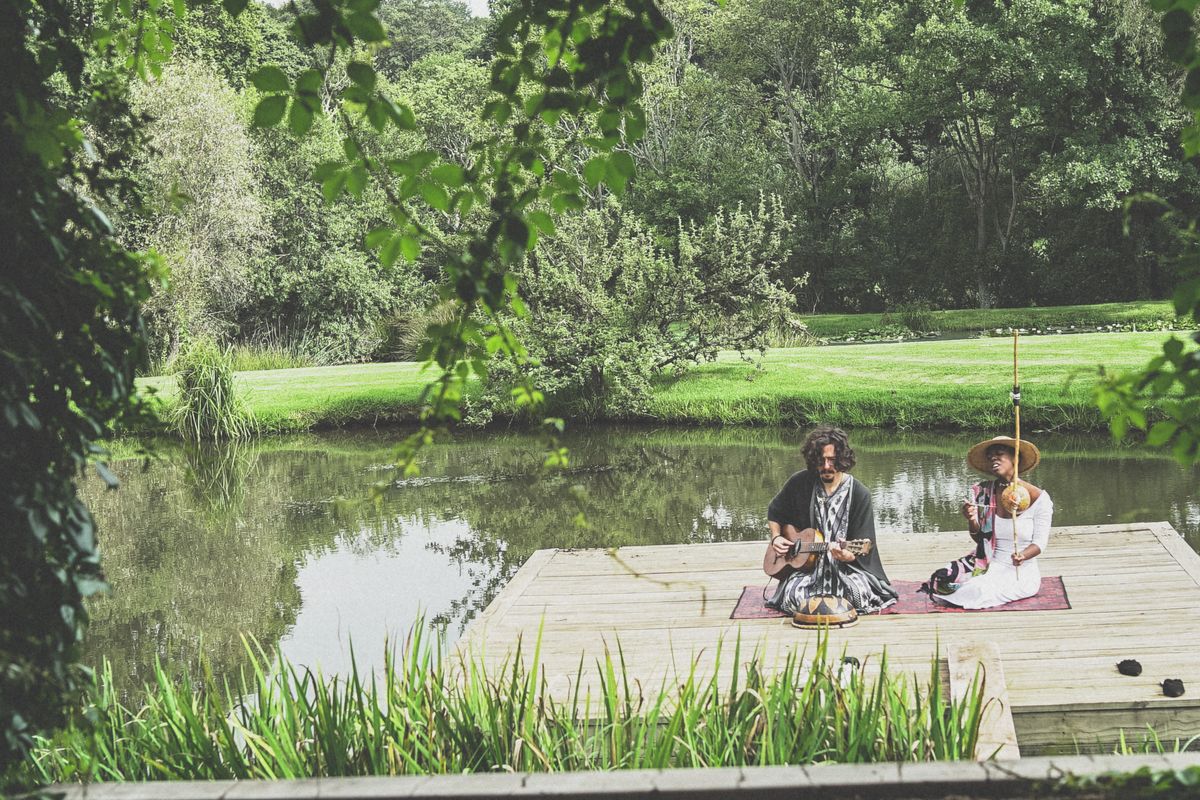 Tseliso Monaheng
"There was a time when listeners treated the mere existence of recorded sound as a miracle. A wonder, a kind of time travel," writes Randall Roberts in the Los Angeles Times.
If that time did exist, it's long gone. Today, many of us listen to albums as background noise, while doing a million other things.
But now that many of us are stuck inside because of COVID-19, we have the opportunity to listen to albums as they was meant to be heard, allowing every note, rhythm, and harmony to resonate as it was designed to. Now is the time to listen to music with no distraction, no phone, no subway screams in the background. Roberts calls this process "deep listening," and notes that "the point is to listen with your ears in the same the way you read with your eyes, to absorb the flavor as you would (yet another) velveteen swig of Cabernet."
If an album ever called for deep listening, it's dumama + kechou's buffering juju, out Friday, March 20 on Mushroom Hour Half Hour. The eight-song album clocks in at only 37 minutes, but it's the kind of music that exists on multiple dimensions and requires one's full attention.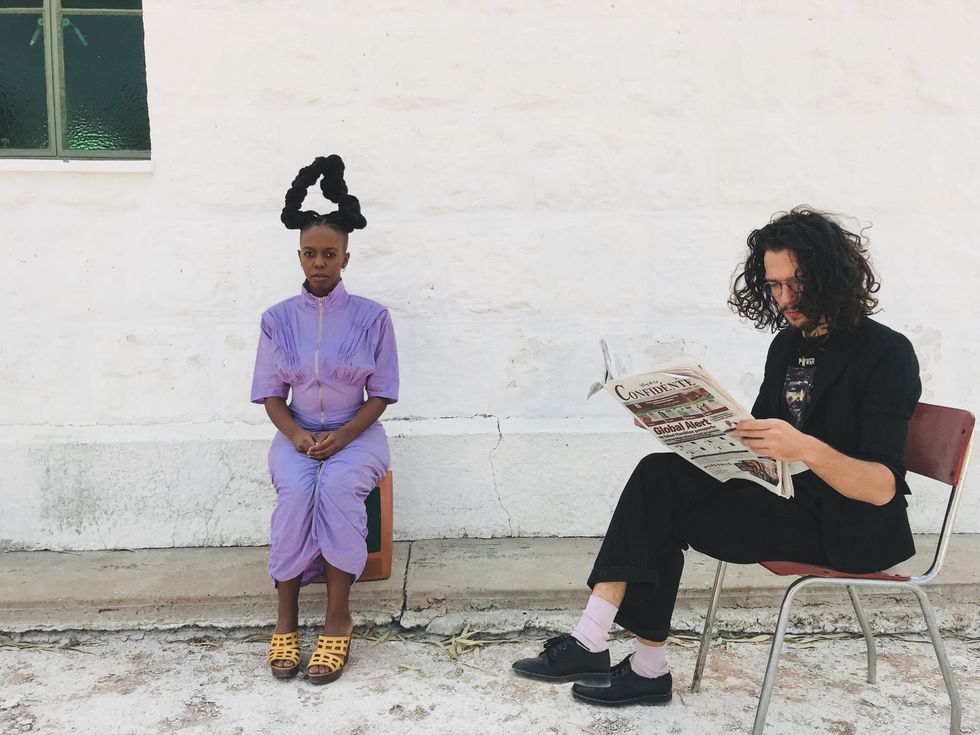 Ayanda Duma
buffering juju is sonically and narratively complex, which makes sense based on the context it was born in. Its creators dumama (Gugulethu Duma) and kechou (Kerim Melik Becker) met in Cape Town, South Africa during a time of intense student protests for free education, which in turn were contextualized by South Africa's striated history and present inequality. The two artists met while studying at the South African College of Music in Cape Town. Both were in the midst of spiritual breakthroughs of their own, and they wanted to explore music's healing powers together.

The product was a multi-dimensional album, part soundscape, part meditation, threaded with hip-hop elements and played on a multitude of instruments. Sonically, you hear metallic string plucking and hypnotic drum loops with synthesizers and abundant vocal harmonies. Narratively, the album tells a surreal story of a woman leaving prison, with each song a different chapter. The woman "is a shapeshifter—a mother, a child, an owl, a honeyguide bird. the sky and mountains unearth the tensions, memories and reflections buried in a generation's subconscious," the artists explained.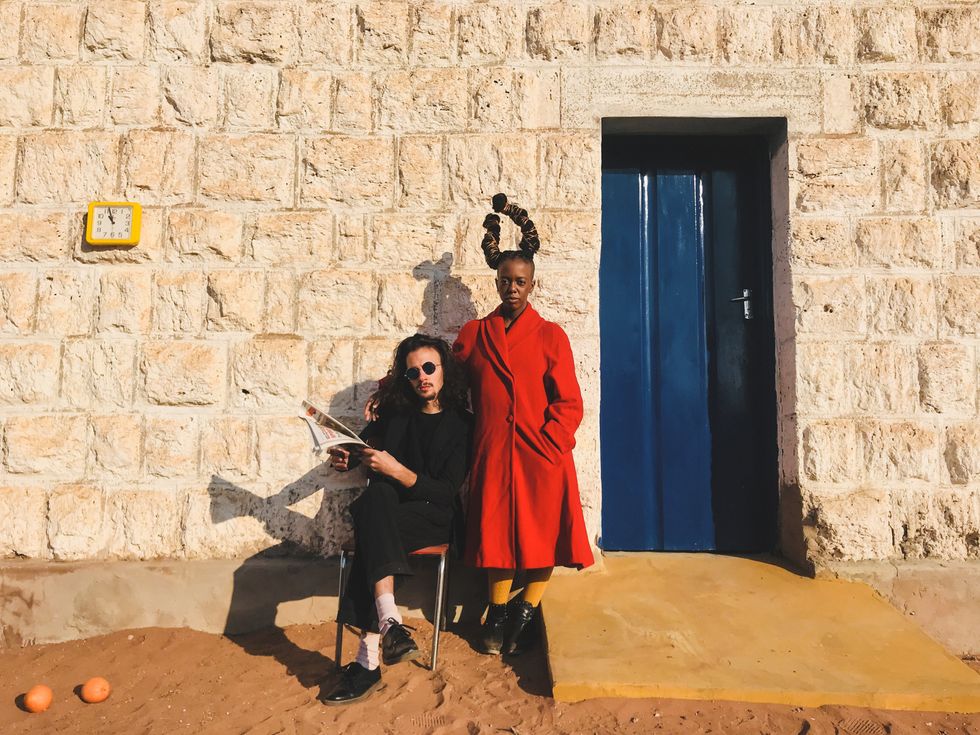 Ayanda Duma
On her journey down a seemingly endless road, the womxn meets a man who is the source of her pain, and the two embark on an interdimensional journey, traveling through dreams and listening to stories of women's suffering. At last, the womxn encounters an oracle and rediscovers her innate wisdom, and the man rediscovers his bond to community and his innocence. He then finds that she was his mother all along.

In the last song, "mother time," the womxn tells her son a story about a mother who has given birth to countless evil men who curse the world, but also she reminds him that her power is infinitely regenerative and healing. "She has given birth to many, many men of shallow sentiment who curse the world upon entrance," the artists wrote in their explanation of the song. "Here, she sits in the unknown, knowingly trusting the mysteries of the void. Here, she finds peace in knowing that the infinite and regenerative nature of her soft power will ripple through the multiverse and into the beyond."
"mother time" ties English lyrics and a traditional South African song together into an oceanic eight-minute slow burn. It's about the way trauma can spiral through generations and the way things reemerge decades or lifetimes after they seem to have ended. "She burns and she yearns to be heard nine lifetimes later," dumama sings, reminding us that the dead and the past return—often more visibly when places are haunted by trauma, which can distort memory.
"The vastness of Mother Time transcends time and space, and a lot of people have said it leaves them feeling warm, open or vulnerable," Dumama said. "The colour orange has come up a lot too, which is surprising, cause I always felt it as blue. It was a team favorite from early on in the process. Dion (our producer) worked on it, and completed pretty soon after we recorded it. The lyrics guide the meaning, but also leave it up to the listener to relate and create the thread into their lives." As for what the song is about: "Together, I guess we're contemplating our Mothers, Mother Nature, Unconditional Love, limitlessness, Time, Order/Disorder, and Bodies and Souls."

buffering juju views time as a ghostly yet compassionate mother, who is constantly cycling through birth and death, carrying stories from the distant past into the future. The whole album is a conversation between the past and the future; It fuses Xhosa folk and jazz with hip hop and electronic soundscaping, while telling a story that puts South Africa's past in context with current protests and futuristic visions. "It has an organic, natural, cyber and modern kind of energy—all rooted in African aesthetics of sound and storytelling," says kechou, a sound artist who specializes in live loops.
In a way, the album's story is also about loops: birth to death, suffering to regeneration, the cycle that happens over and over on micro and macro scales.
The concept of "deep time" refers to the geologic time scale. Like deep listening, understanding deep time is a way of appreciating something much greater, something way beyond our ordinary perception. And just like deep listening can help us travel to other times and places—say, a studio across the world—considering deep time can help us understand how connected we are to other places and cycles.
The concept of deep time has shifted over the years as it has become clearer that humans' damaging effects on the earth will long outlast our existence. "Deep time is not an abstract, distant prospect, but a spectral presence in the everyday," write David Farrier and Aeon. "The irony of the Anthropocene is that we are conjuring ourselves as ghosts that will haunt the very deep future."
In order to understand deep time, geologists sometimes cultivate a sense of the deep present, a "peculiar detachment in which it is possible for the effects of once-in-a-thousand-year events to be seen in today's landscape and for the prospect of rare and long-forgotten events to occur today." buffering juju—particularly the song "mother time"—seems to take a deep present worldview, understanding how interconnected the present moment is to other times. It's intended to be "a conduit to a past we were not necessarily present for, and a future where threatened indigenous technologies thrive in an increasingly digitised world," as the artists said.
But in the same way trauma can be passed on, so can healing—sometimes through dreams, sometimes through music. Today, the album's emphasis on healing has taken on a unique resonance. "We hope that buffering juju's effect is that of contemplation and healing during these times," said the artists. "There is clearly an imbalance that needs our attention, and we hope that these meditations on this womxn leaving prison can support us as we transcend the limitations of what we've been taught. May we leave the prison of our minds and seek a clearer connection with source."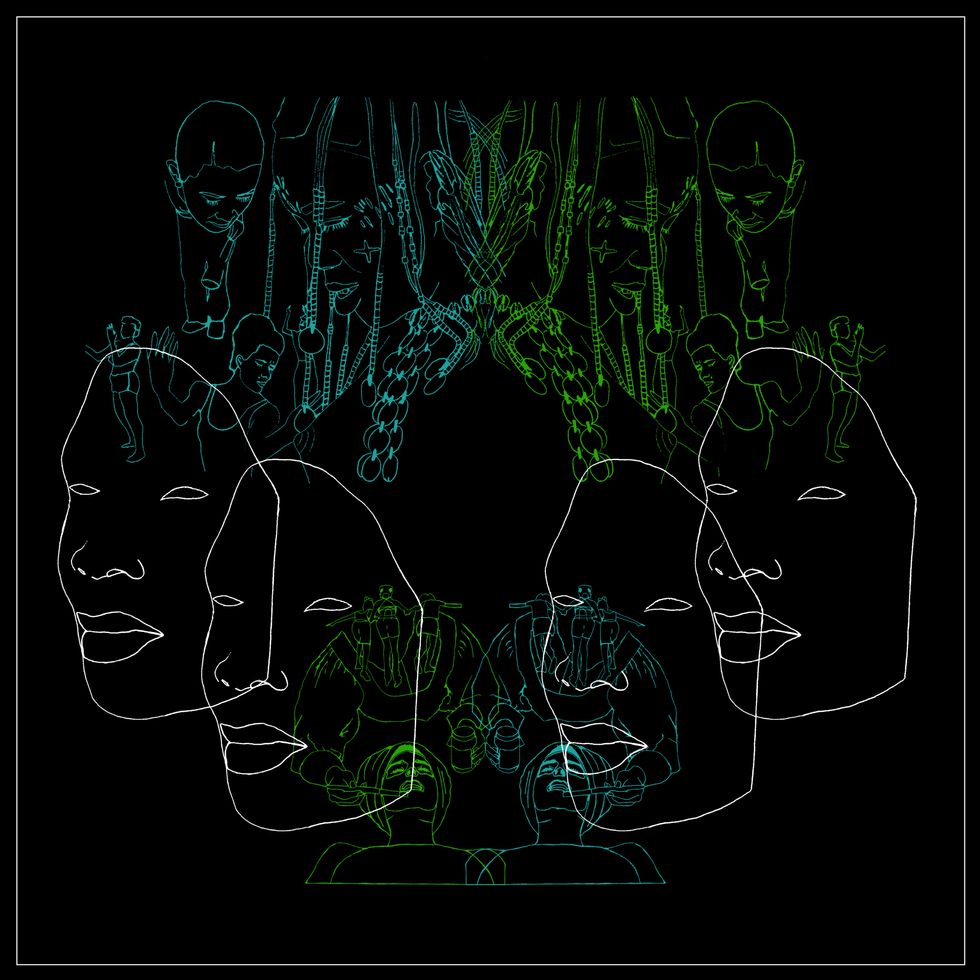 Duduetsang Lamola
"We hope that buffering juju can hold space as a dance partner to move with, moving through internal blocks as we lean into a resistance against all that no longer serves a collective humanity," they added. "We hope that in this temporary time of self-isolation, we cultivate and connect with the juju we need to transform the toxicity, together. We hope it can bring peace to people as they are spending more time with their own thoughts. We hope it can put pains and fears into perspective considering the narratives of the album. We hope that justice is prioritized, and self-compassion is fulfilled."

buffering juju