"In many ways the record is symbolic for us. It represents us going the extra mile as a band."
A band who describes themselves as writing their songs over long weekends and late nights produced their debut album earlier this year, one filled with as much emotion as most of our Friday nights with friends (the sort of nights we will never forget). To accompany this incredible project, TENTS is exclusively premiering their latest video for the single "Shoulder to Shoulder" with Popdust. They also chatted with us about what the process was like for producing the video, how much they love their debut record, and what they will be up to in the very near future.
Check out the video for "Shoulder to Shoulder" below:
---
How did you all come to make music together?
Amy and I have been playing music together for about 8 years. Chris came to us through a mutual friend, Josh Brine, who used to be our drummer. Chris originally was going to come sit in on bass, but shifted over to guitars eventually.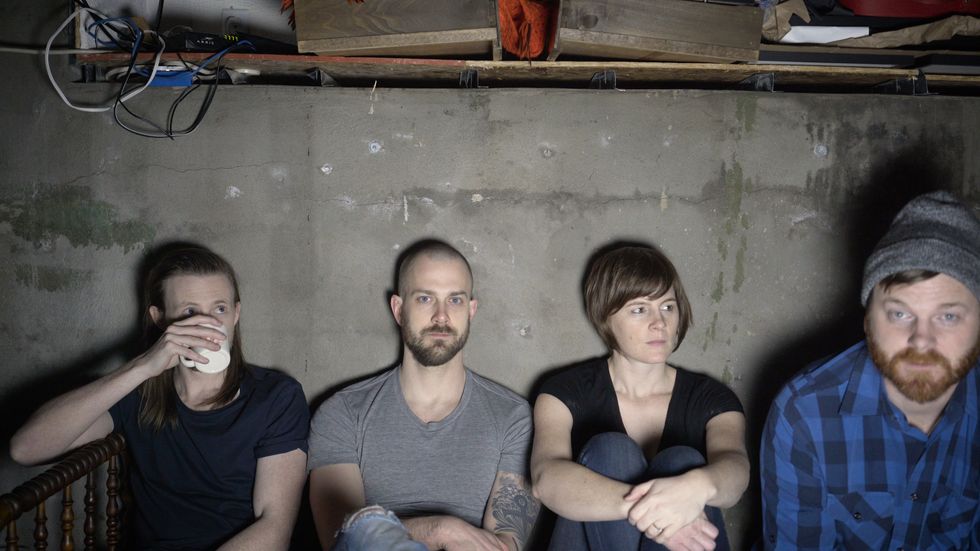 Courtesy of Big Hassle PR
You have been described as a "comfort-pop" group. Can you explain this genre a little bit?

We use that designation because we see our music as being comforting. A lot of the narrative is about home and family, allowing oneself to be comforted... So it just feels right.
What was the filming process like for the "Shoulder to Shoulder" video?
Our manager, Luke, and I (Brian) make a lot of content together. We had the idea of doing a single shot, speed-ramped video that just features Amy and I having a nice time singing together. It seems to resonate with the song. We were doing pre-production for the music video and we decided to do some test shots in the park a few blocks from our house. We went there and were surprised how well it worked, so we just stuck with the location.
The song has a very emotional, personal story behind it. Do you think this is captured within the video?

The song is autobiographical for us. Drinking wine in a public park, laughing and making eye contact and enjoying each other... Also the environment. The little green patch in the middle of a busy urban area, it felt like a strong and meaningful backdrop for the song. Interestingly enough, the crutch was incidental. It is not directly related to the song, but it fits in symbolically. I (Brian) tore my medial meniscus while playing soccer. I was hoping I'd be able to do all that walking without the crutch but it just wasn't happening. Sooo we just shot it.
The track is from your debut album. How do you feel about that record?
We love that record. We worked really hard on it and it was the first album we've put out with Badman Recording Co. Dylan at Badman has been so supportive. In many ways the record is symbolic for us. It represents us going the extra mile as a band... Trying extra hard, believing extra hard. There's moments on it we can see improving on, there are bouncing off points for our next efforts, but it was a great debut for us. We are thankful to have had the opportunity to make it.
You will be heading on the road for your tour in October. What are you looking forward to with that?

Touring is so fun. Every tour we feel like we're in the groove by the end and wish we had time for more. You spend so much time as a recording artist chipping away at these songs in isolation. Touring is our chance to really feel the songs IRL. See people's faces and feel connected to the outside world. Making a record is filled with highs and lows, but it's a grind and it can feel like a marathon, especially at the end, and especially with us doing all our own production and recording and arranging. It's just a lot. When we finally get to tour, everything kinda makes sense. It's the best.
What is coming up after that for you guys?

We are almost done with our next record! We are putting it out some time early next year. We are sharing our process on YouTube in a sorta haphazard way, and we are just always grinding.
---
---
Rachel A.G. Gilman is a writer, a former radio producer, and probably the girl wearing the Kinks shirt. She is the creator of The Rational Creature and suggests you check it out. Also visit her website for more.
---
POP⚡DUST | Read More…

BOX OFFICE BREAKDOWN | It is About to Get Filthy Rich
R.I.P Moviepass pt. II: an Update
READY TO POP | Henley, The Dill & More Wear a Wild-Child Heart on Their Sleeve