MUSIC
The Brooklyn newcomer's first album feels like the start of something that could last a long time.
Sometimes stillness can generate more revelations than any amount of frantic movement. Swimming Bell, fronted by Brooklyn's Katie Schottland, is proof of this; a project born of stagnancy, it seems poised to become something much larger.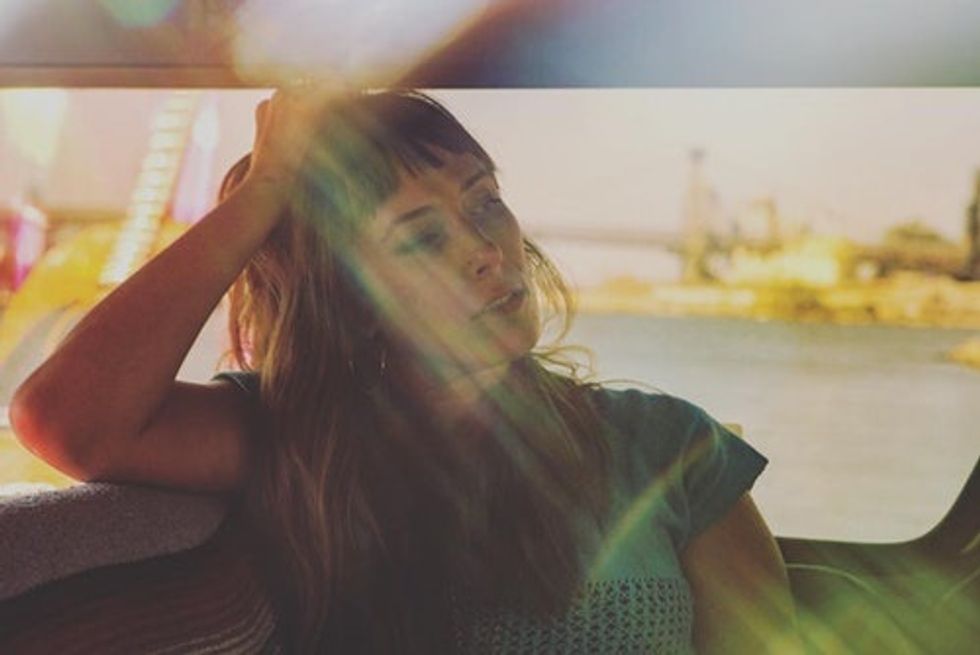 Image via Ticketfly
Schottland's musical career began when a broken foot forced her to slow down, giving her the time she needed to learn guitar. She puts this skill to good use on her debut album, Wild Sight, which features full-bodied playing and a musical inventiveness that sets her apart from her many indie-folk contemporaries.

Wild Sight is a collection of unhurried songs that each travel far, reaching cosmic heights through softly psychedelic instrumental arrangements. The album feels made for driving home from the beach, for windy festival stages, for nights spent watching candles melt on screened-in porches. It's the sort of album that you can play over and over again, gathering new shards of wisdom or following different sonic paths.
One standout track is "1988," which layers Schottland's soft, strong vocals over light strumming and flickering arpeggiation. "Inside your language, I heard who you are," she sings, a line containing the kind of nuance and abstraction that characterizes the bulk of the lyrics on Wild Sight. "I was born inside your arms," she sings a variation on the themes of creation, love, and becoming.
'1988' by Swimming Bell www.youtube.com
Swimming Bell - 1988 | Sofar NYC www.youtube.com
Schottland is adept at spinning everyday experiences and tools into much vaster entities. One of her greatest strengths is her use of vocal harmony; over and over again at different points, waves of vocal lines gather together to form oceanic choirs. "Quietly Calling" is a great example of this, building up from nothing to hypnotic patchworks of sound. But she's strong on her own, too, with songs like "Left Hand Path" and "Love Liked You" guided forward by the lead vocal, steadfast amidst flustered peals of electric guitar.

The album is full of changes, both in terms of its musical shifts from sparseness to abundance as well as the genres it draws from. Songs like "Love Liked You" blend folk, country, and Americana, and the album traverses a wide variety of other styles; for example, "We'd Find" plants itself firmly in the dream-pop realm. "She'd won some battles, she lost the fight. It's you," Schottland sings, as the song takes its cloudy, ethereal journey into the abandon of all-encompassing love. But the album never grows pessimistic, never gets too lost in the ether. Instead, despite its wavering, abstract lyrics, it feels charged with an internal life force that makes each song feel present, homegrown in California sunlight, with deep roots in the solid ground.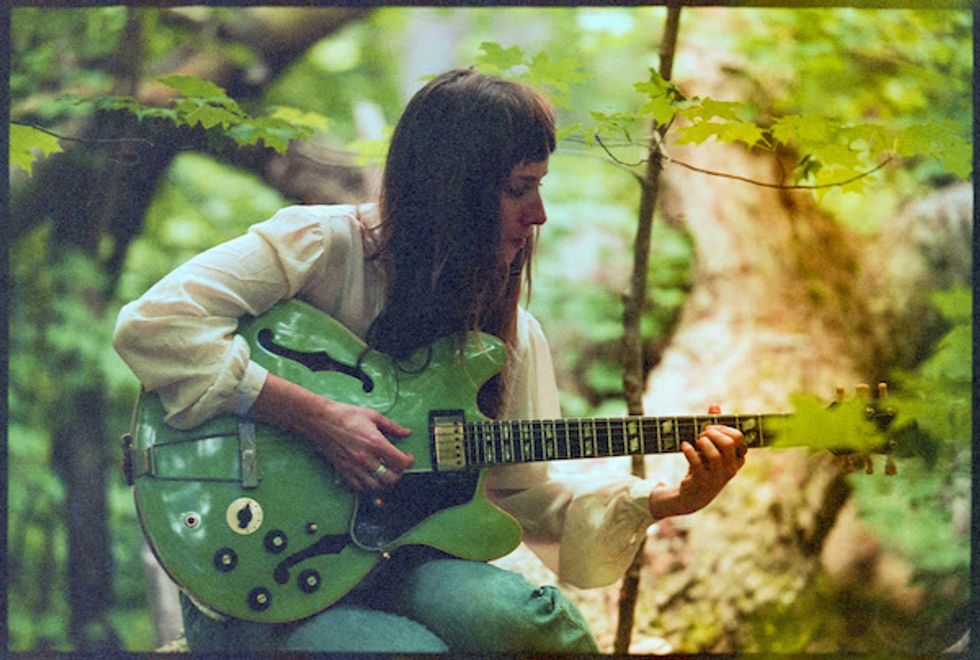 Image via The Deli NYC
Though it rests on strong foundations, Wild Sight is constantly in motion. Schottland is an expert at transitions, at shaping the peaks and valleys of her songs. "Got Thing" builds to a vibrant climax, then doubles back to a space of restraint at the moment it reaches its height. Sometimes these contrasts can feel chaotic, just as the lyrics can grow knotty. "You got your messy hair and crooked teeth. You don't look like your name, but you're a wild sight to leave. You're my moonshine," she sings on "For Brinsley." At times the album resembles this anonymous lover—songs like "Wolf" unravel into cycles of dissonance and shimmering, cluttered synths.

The album feels like an artist testing her wings, oscillating between restraint and release, gathering droplets from whatever collective river of the mind holds its ageless melodies. Swimming Bell is still coming into her own—sometimes her music seems like it's trying to be something else—but when it relaxes into what it truly is, it becomes a force of abundance, sounding like the sort of thing that could last a very long time.
---
Eden Arielle Gordon is a writer and musician from New York City. Follow her on Twitter @edenarielmusic.

---
POP⚡DUST | Read More...

Foals Throws Apocalyptic Dance Party on New Album
Gabrielle Aplin Returns with Another Hit Poised to Top the Charts