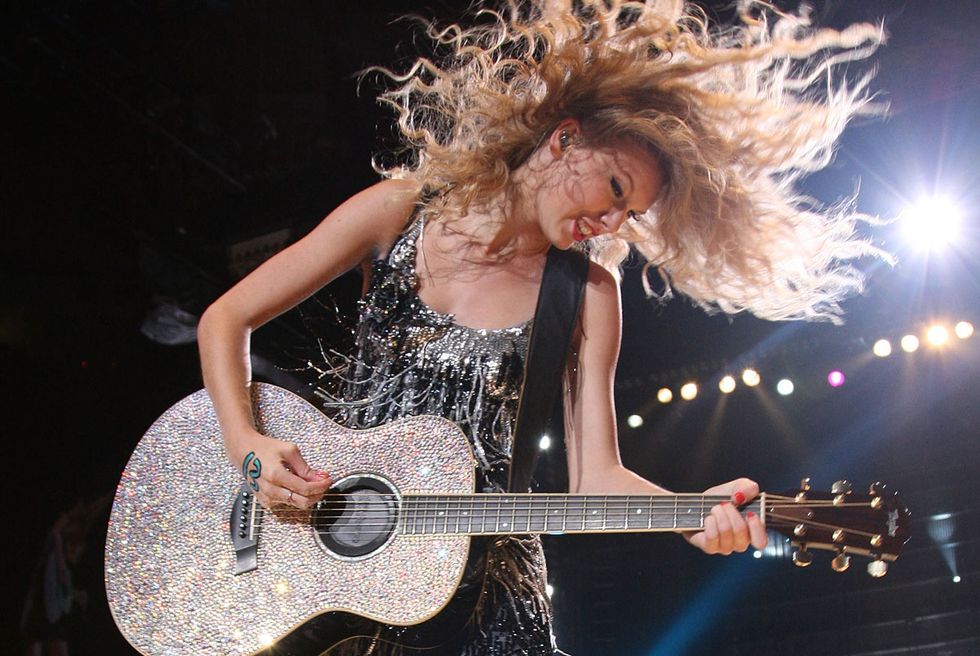 Is she really the sweet, sincere Southern girl she appears to be?
Nope. She's actually a sweet, sincere Northern girl: raised in small-town Wyomissing, PA (near Reading). Her love of country music blossomed when she was nine or ten years old. A self-described word nerd and writer of poetry, she was drawn to the genre's tradition of storytelling. Her love of singing may have come from her grandmother, an opera singer, and she learned her first guitar chords from a computer repairman. When most kids were still reading Judy Blume books she was honing her songcraft (though she may have also been reading Judy Blume books, too). Soon her family relocated to Nashville and she began seriously pursuing a musical career. Her biggest musical influence is another crossover star from a cold weather climate, Canadian mega-star
Shania Twain
.
With all her talent, success must've come pretty quickly.
Yeah, pretty much. What some singers call their "struggling artist" period, she'd call "being 11." There was a little rejection during her earliest Nashville days but things started rolling after the 12 year-old Taylor got asked to sing the National Anthem at the U.S. Open tennis tournament. She was playing at Nashville's famed songwriters' hangout Bluebird Café when Scott Borchetta saw her and quickly signed her to his fledging label, Big Machine. The life of a teenager and the life of a songwriter are inextricably linked for her; the biggest hit from her self-titled 2006 debut, "Our Song," was actually written for a ninth-grade talent show (Swift says she never intended it to be an on album).
Usually country singing is about "good singing," but her voice doesn't seem as strong or note-perfect as those of other country stars. Is that an unfair assessment?
She's definitely a songwriter first and a singer second. Her voice is thin, a little reedy, not nearly as powerful as you'd expect from a country artist as successful as she is. But that's part of her everygirl appeal; she sounds like someone doing Taylor Swift karaoke. And besides, she's always been open about valuing writing over singing. "A song is a favorite song not because the singer can hit and hold a high note but because of the words, their meaning," she said. "Sure, you have to incorporate a great melody. But I'm proud of those lyrics."
Speaking of lyrics, is the song "Dear John," from 2010's Speak Now, about John Mayer? And has she written other songs about boys?
It is and she has. "Dear John" is the most straightforward of her relationship songs, and it's quite the boy-scarred barnburner. The rueful "Forever and Always," from 2008's Fearless, addresses the end of her romance with Joe Jonas of the Jonas Brothers: "Did I say something too honest that made you run and hid like a scared little boy," she sings. That's pretty hardcore. And the apologetic "Back to December," from Speak Now, is rumored to be about Twilight heartthrob Taylor Lautner. "When I go through something I write a song about it," she says. It works. "Back to December" reportedly made Katy Perry cry.
Her songs definitely are personal but, c'mon, does she really write everything on her records? Don't professional songwriters write most country songs?
She doesn't do it all herself. Her most frequent co-writer is Liz Rose, a middle-aged mother of three, who, for some reason, knows how to help Taylor tap into her twangy teen angst. Swift did write all of Speak Now on her own, mainly, she says, because she was so busy—and so inspired—she didn't have time to call any song doctors. "I'd get my best ideas at 3 A.M. in Arkansas when I didn't have any co-writers around, so I would just finish it."
Getting back to boy trouble, did Kanye West ever apologize for stealing Taylor's moment at the Video Music Awards?
Well, when you screw up so bad even President Obama calls you a "jackass" you'd better make nice. And, to his credit, Kanye did attempt to make amends on Twitter and during an appearance on Jay Leno. Taylor came out of thing smelling like a rose, even joking about it when she hosted Saturday Night Live: "You might be expecting me to say something bad about Kanye," she sang in a parody song performed during her monologue. "But everything's okay. I've got security lining the stage!"
Can we really call her music "country"? It seems more like pop?
Why can't it be both? Swift is as MTV as she is CMT. Usually country stars like Taylor's hero Shania go from country to the soft-rock or adult contemporary markets. But Swift's age, her music's teenpop touches and her ability to mirror the experience of her young fans gives her music a universal pop appeal that's pretty much unprecedented for a country artist.