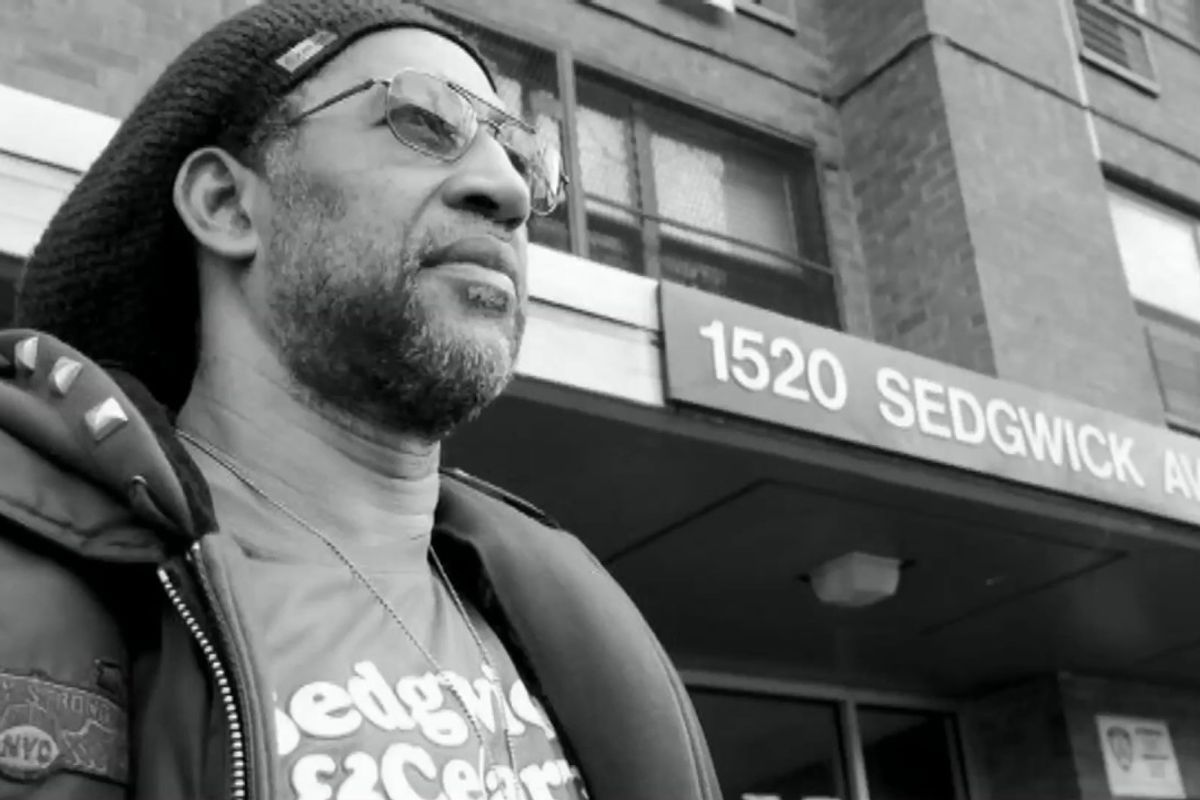 On this day in 1973, Clive Campbell, the Jamaican-American "selector" known as DJ Kool Herc, hosted a "back to school jam" at 1520 Sedgewick Avenue in the Boogie Down Bronx of New York City.
Armed with a booming sound system and reggae beats, Herc– a shortened nickname for "Hercules"– commanded insatiable audiences across the South Bronx with his unique looping technique called the "Merry-Go Round." "[I knew that] they were waiting for this particular break," Herc later said, "and I got a couple of records that got the same break up in it. I wonder how it would be if I put them all together."
---
The subtle trick elongated the audience's favorite parts of their favorite funk records and kept the energy high. The widened section was known as "the break" or "the get down." "The beauty of Herc's set-up was that once he would find that section of the record, he would create a loop live in front of the crowd using the two turntables and the crossfader on the mixer," wrote Complex.
Kool DJ Herc, Merry Go Round www.youtube.com
The method of the "Merry-Go-Round" quickly became universal among the Bronx's other pioneer DJ's. DJ Afrika Bambaataa, who headed the legendary hip-hop unit Universal Zulu Nation, added to the "breakbeats" in his own way, infusing the sounds of salsa, West Indian music, and rock and roll. His 1982 track "Planet Rock" was one of his biggest crowd-pleasers and sampled an electric piano from the German quartet Kraftwerk. Meanwhile, Theodore Livingston, otherwise known as Grand Wizzard Theodore, also began toying with "breakbeats" and in turn invented what is now known as "scratching," which helped the records bounce and sound more percussive.

Then came the almighty Joseph Sadler, better known as Grandmaster Flash, who founded the Furious Five, the first-ever hip-hop group. Together, they incorporated poetic rhymes alongside Flash's slick instrumental breaks. Best known for their funky track "The Message," Flash invented cutting, which involved playing the same song on two separate turntables and snapping back and forth between them to create an entirely new record (he also invented the now-iconic backspin).
Grandmaster Flash & The Furious Five - The Message (Official Video) www.youtube.com
But what evolved from the South Bronx in 1973 has now transformed American culture as a whole. Hip-hop has sunk its teeth into everything from dance to fashion and has wholly redefined American culture in the mere 47 years it's been around. It has single-handedly become the most impactful genre to ever exist in music–and not merely because it sounds dope.
Still, despite mainstream's embrace and occasional exploitation, hip-hop has remained, first and foremost, a platform for hustlers, philosophers, and critical thinkers. "Hip-hop as a musical and global cultural form forces us to think critically about what we define as valuable knowledge, who we recognize as knowledge producers, and how knowledge can be created and shared," wrote The University of Oxford.
The genre has overtly challenged authoritative perspectives and always shed light on the urban struggles for the underrepresented. In turn, it's birthed an incalculable number of storytellers and urban prophets, who all relentlessly grind for their city and their family. They fight to educate the masses and inspire other underrepresented people to succeed against all the odds.
Freddie Gibbs & The Alchemist - Scottie Beam featuring Rick Ross (Official Video) www.youtube.com
"Visualizing the realism of life in actuality, f*ck who's the baddest, a person's status depends on salary, and my mentality is money-oriented," raps NY emcee A.Z. as he reflects on the morbidity of life. On his legendary feature on Nas's 1994 hit "Life's a Bitch," A.Z. uses a double entendre to prophesize that life can only feel real to a person if they fully immerse themselves in their existence.
"The revolution is the genocide...my execution might be televised," Freddie Gibbs raps on 2020's "Scottie Beam." In just a few bars, he dissects the morbid cycle police killings and how "the revolution" won't happen until more people of color die. "Cash rules everything around me," Method Man chants, frustrated, on Wu-Tang Clan's 1993 hit "C.R.E.A.M." as he reflects on the frustrations of capitalism.

For the last 47 years, hip-hop has always documented the American underbelly. Now, as the squeaky-clean revisionist history of America seems to further erode in 2020, it's important to remember where we heard the truth from first, because it definitely wasn't from a textbook.
Want to Read More?